While ago, we wrote an article about share the bed with your pets which showcases a custom bed that allows owner to sleep with their pets. It gets a lot of attention and we also get many questions asking us to share more about such design. Hence, we put sometime together, and prepare today's collection – Multifunctional pet furniture. These furniture is not only look good, but also space efficient furniture that houses your pet while serving another function.
However, not all of them can be purchased. Some of them are just DIY products. But they are still good inspiriation though.
catHAUS
The catHAUS is envisioned as a domestic retreat for an undomesticated species. Playing off of the iconographic conventions of the familiar gable roof, the catHAUS operates at the scale of both shelter and furniture – manipulating both into a feral landscape. While the exterior is abstract and neutral in its materiality, the plush interior is finished in synthetic turf and vertical supports wrapped in sisal rope.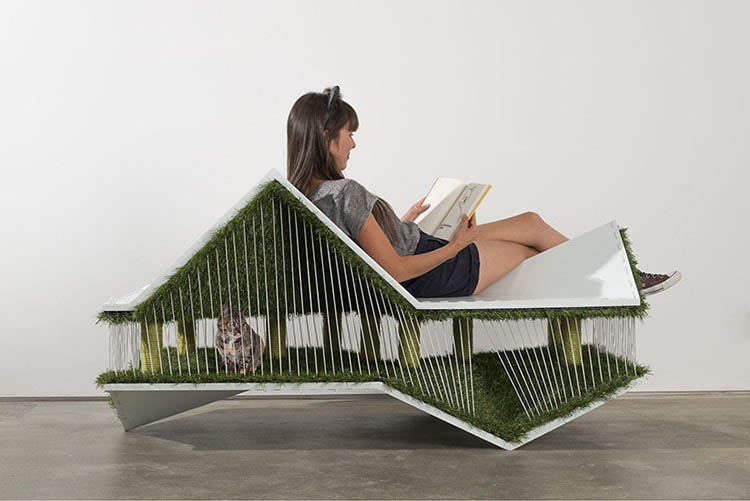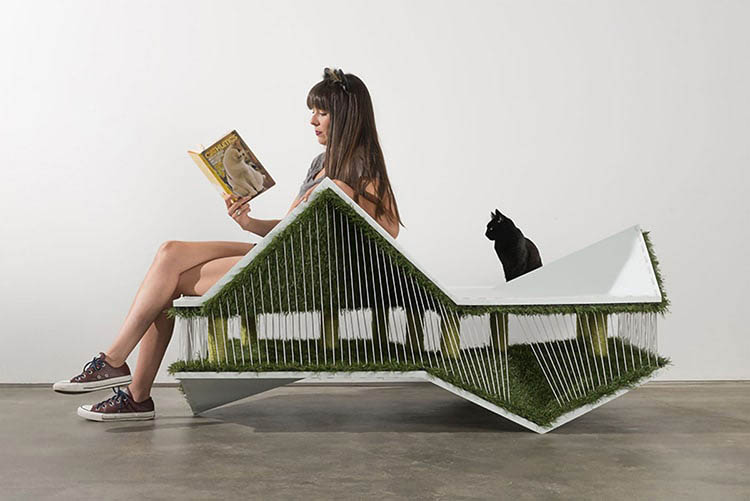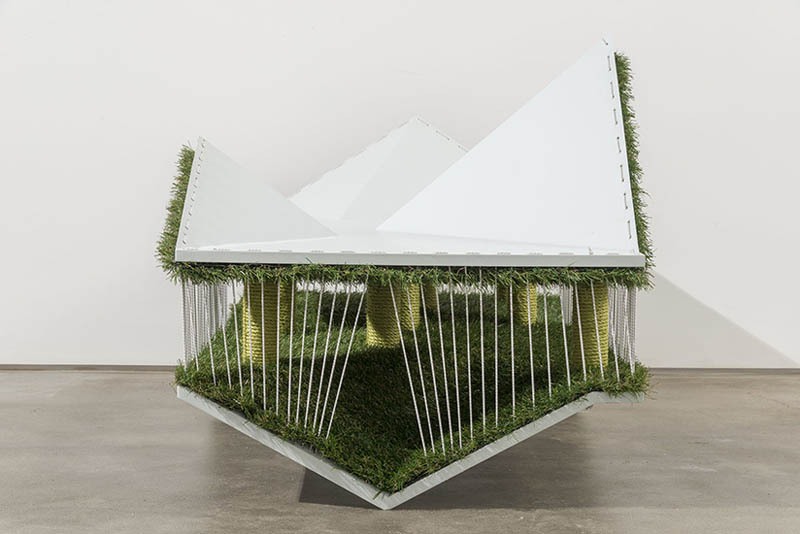 rocking-2-gether chair
Rocking-2-gether chair with integrated cat/dog house combines the idea of shelter and body relaxation. Relax and spend time with your cat or dog.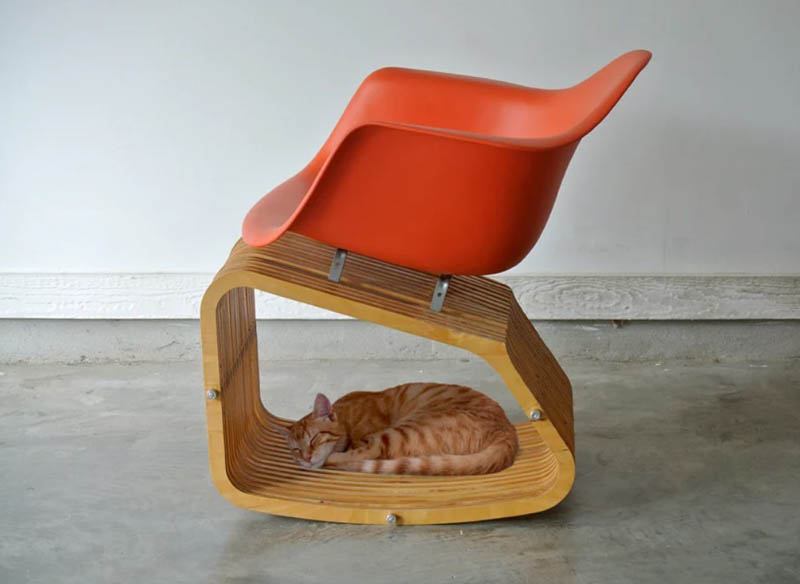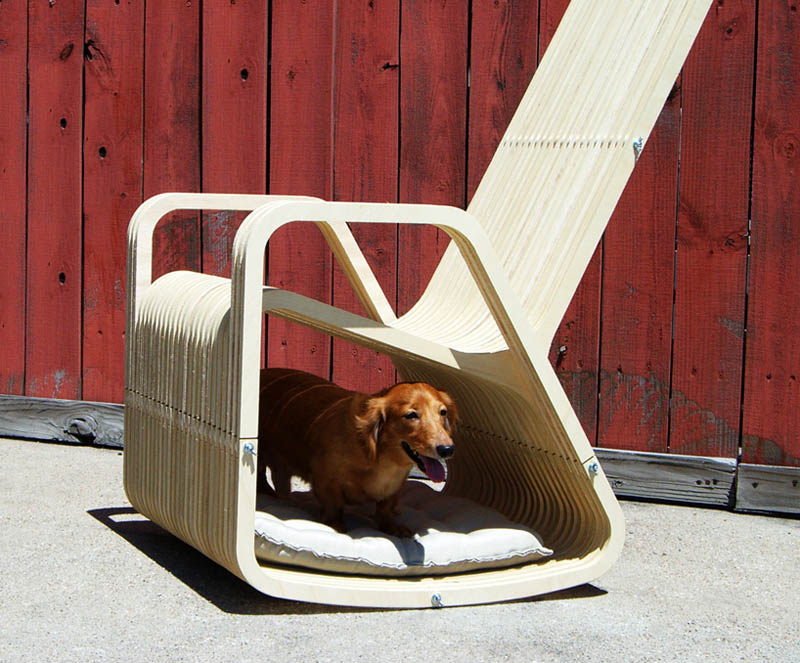 Cat Silo
The cat silo fits seamlessly into your living space: While your cat enjoys the grey cushioned base and the two grey sisal scratch pad panels, the top provides table space for cat parents. This piece is available in a black woodgrain finish with gold metal legs. It is constructed of composite wood and measures 14.65"W x 14.65"D x 26.3"H.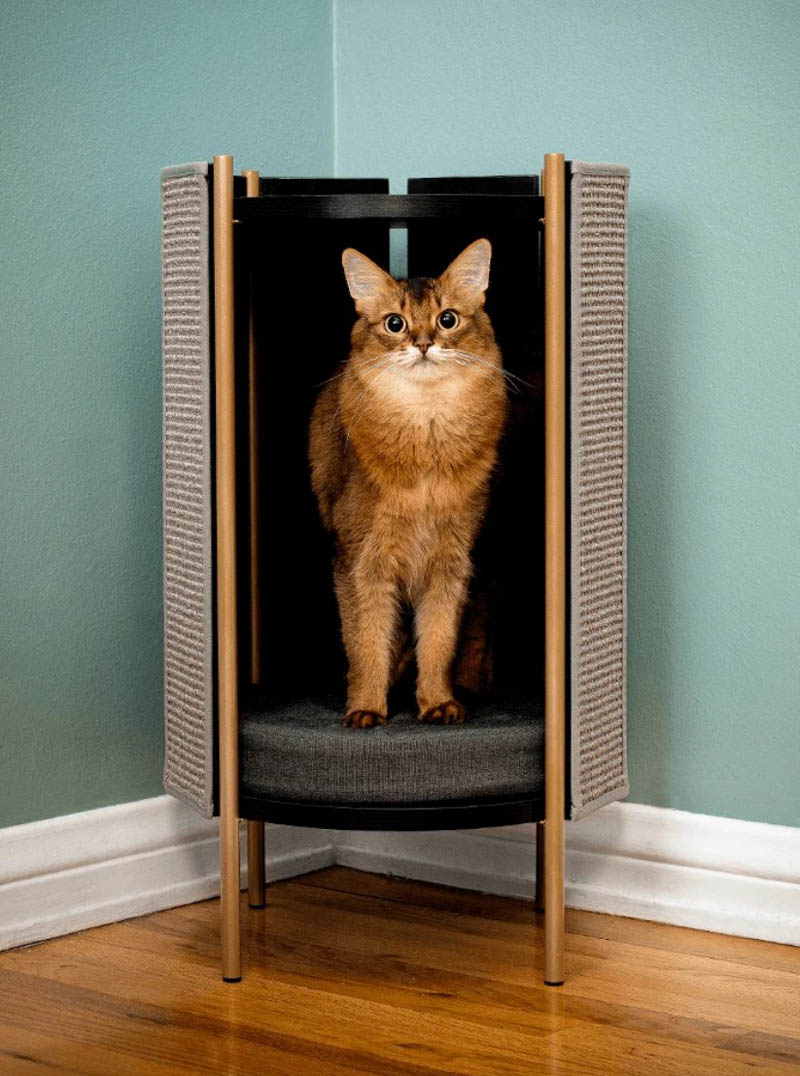 Cat Side Table
Make the most of your space and provide a hideout for your kitty complete with a soft grey cushion. The cat side table features a modern grey woodgrain finish, black metal trim, and our unique vegetable-dyed sisal scratch pad. This side table is constructed of composite wood and measures 20.91"W x 15.51"D x 23.07"H.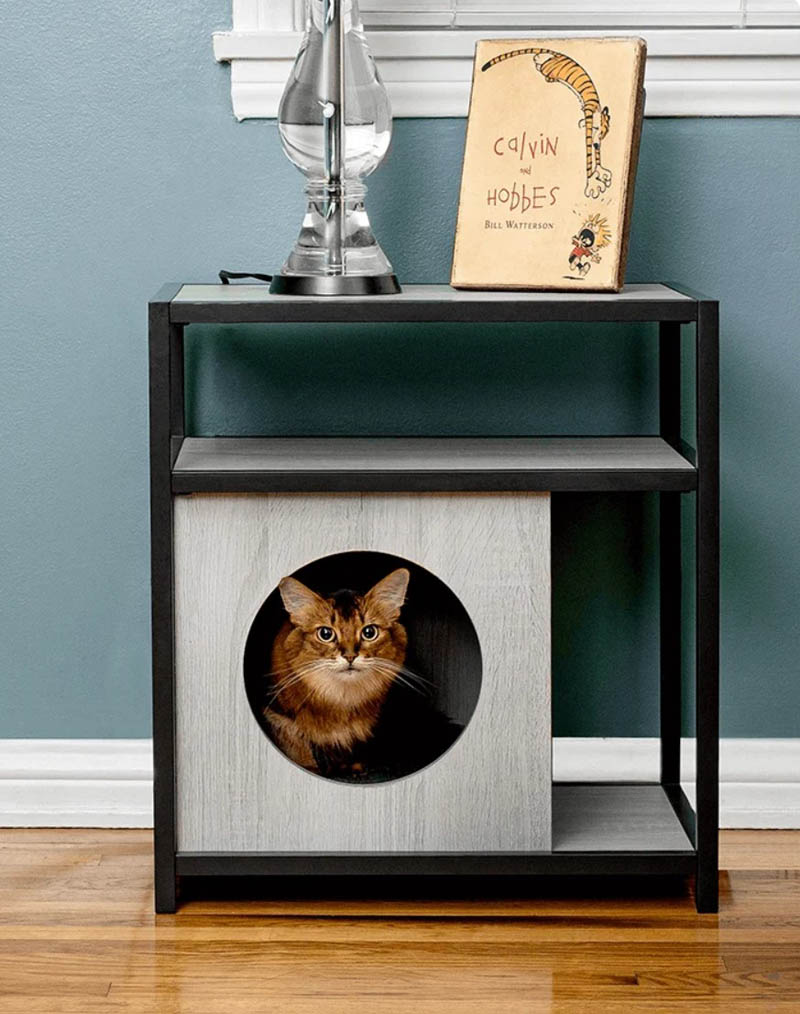 Kikko table
The simple form and ascetic character of the Kikko table make it a top representative of Scandinavian style and purist design. The main feature of the Kikko table is not only sophisticated simplicity but also functionality combining a coffee table and a comfortable resting place for the cat. The table is ideally suited to a variety of spaces, enriching it with a subtle touch of elegance and a comfortable place to relax with coffee in hand and a furry friend at its place.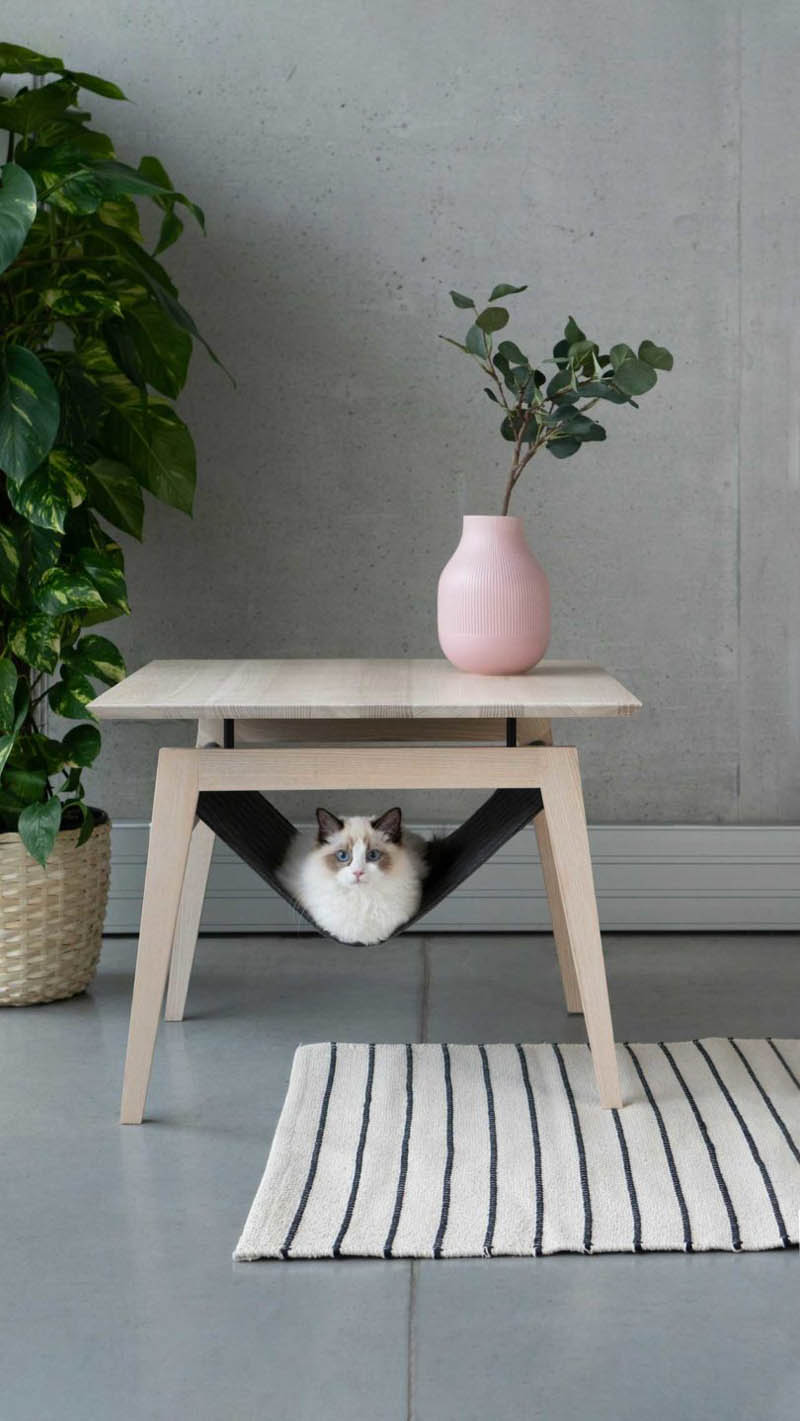 Pet Step Window Perch Bookshelf
Pure white bookshelf with contrasting grey step pads & perch blend in seamlessly with your modern home décor.
28" tall, padded window perch provides your pet the environmental enrichment they need & helps decrease anxiety, boredom, or negative emotion.
Two premium storage baskets help declutter your home by storing your pet's toys, treats, & accessories or items around your house that need a home.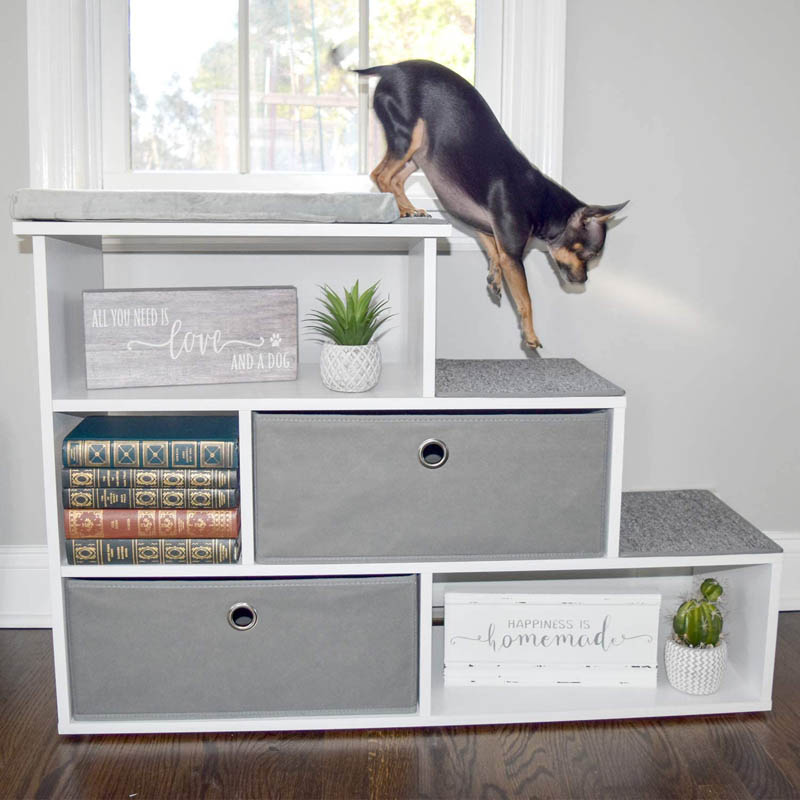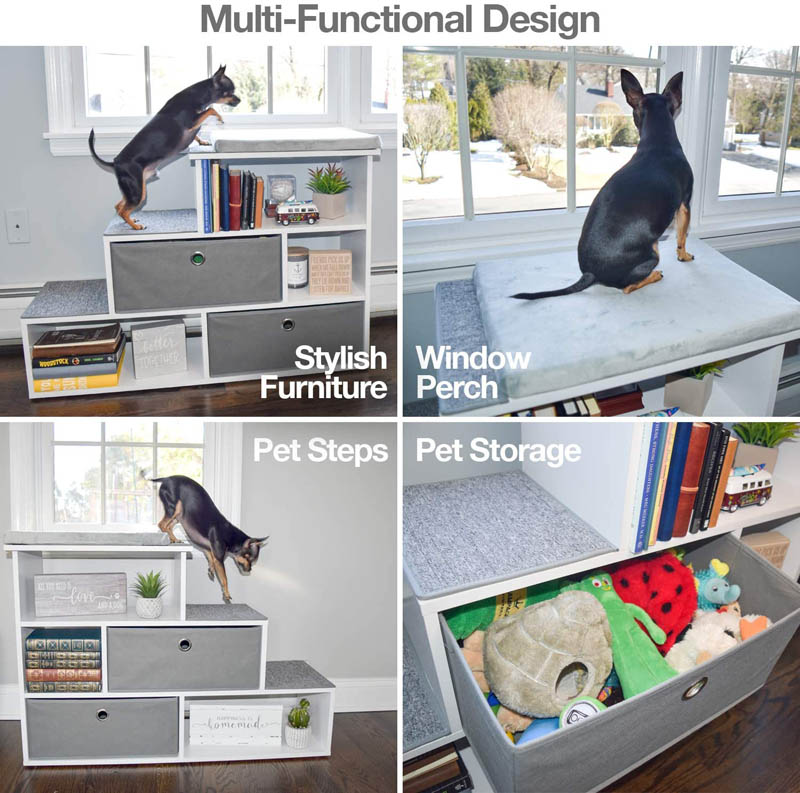 Baxton Studio Pet Houses
A stylish and versatile design makes the Claire cat house a wonderful addition to any space. Made in Malaysia, this convenient piece acts as a secluded place for a litter box and is fitted with a front entrance to provide your cat easy access. The Claire is also equipped with a storage compartment underneath the entrance, making it ideal for storing treats or pet supplies. Assembly is required and walnut brown finished wood gives the Claire a contemporary look that fits well in the modern household. Organize your cat's life with the utility of the Claire cat house.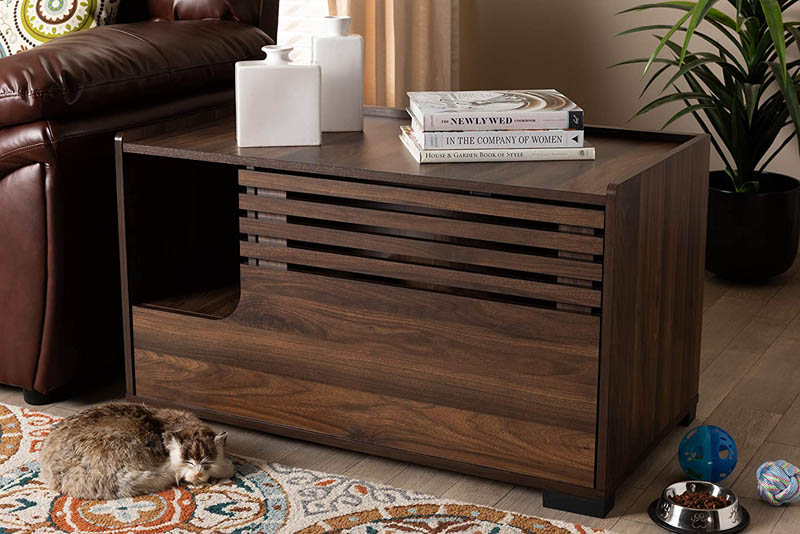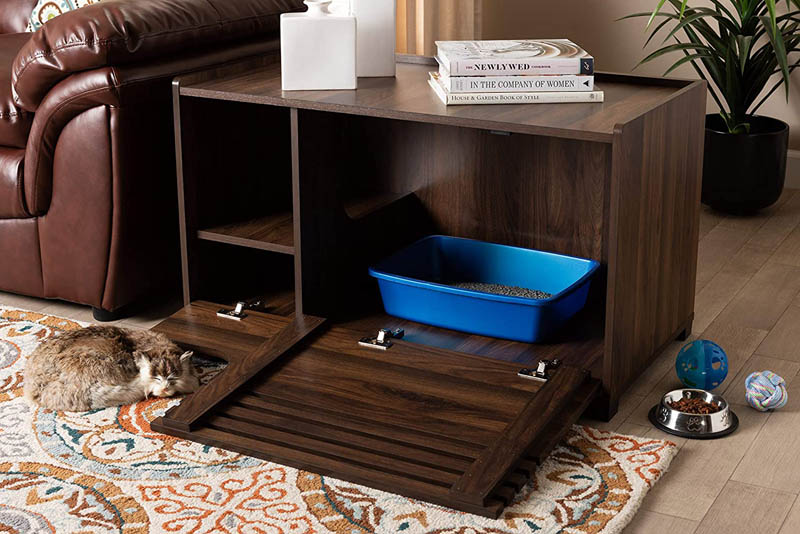 Dog house Sofa
The "Dog house Sofa" is part of a line of pet furniture designed for the Korean brand "m.pup". It was created by designer Seungji Mun and enhances the harmony between humans and pets. If you have dogs at home you will know about their obsession with sofas, this piece of furniture is good enough for whetting their curiosity.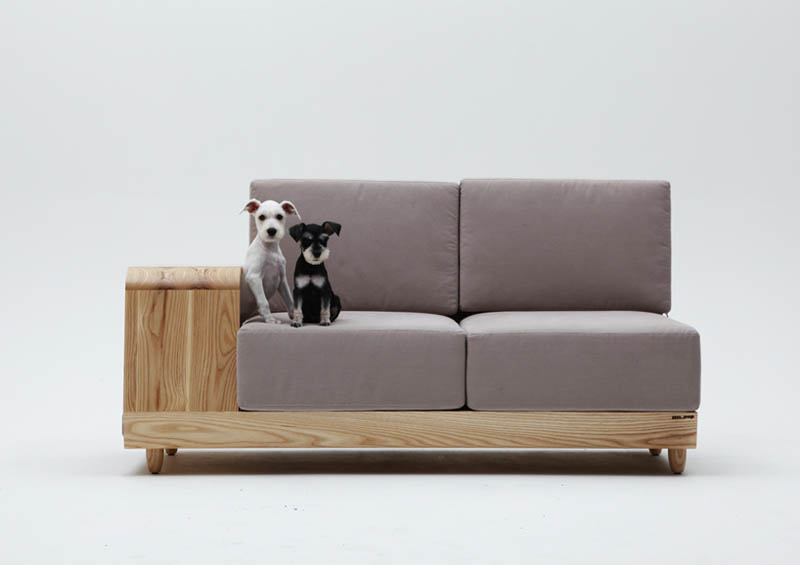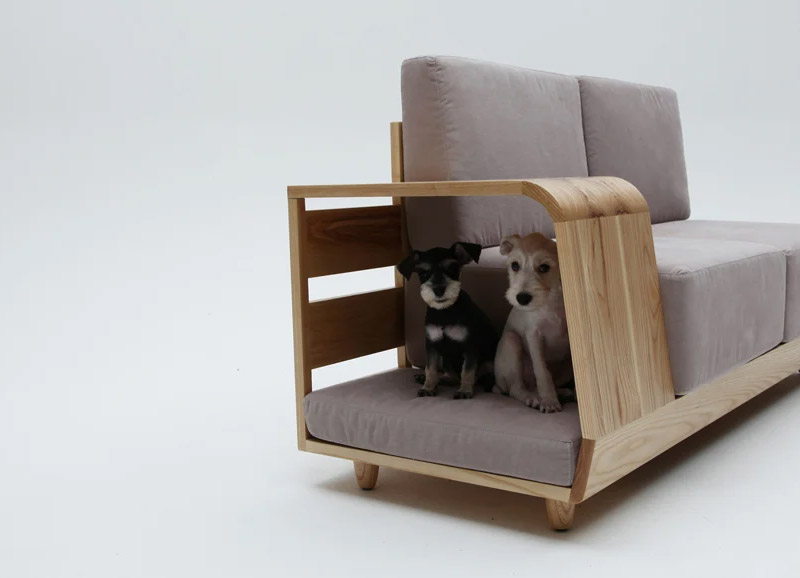 HAMMOCK
The table has a big basket looks like a hammock. Seeing through the glass top makes the image of the hammock much more h3er. It seems to look at the things through a museum showcase or a store window. The object is emphasized the concept of the things and the balance of materials and shapes. You could throw some fruits, magazines or remote control in this basket. Sometimes, your cat might be there…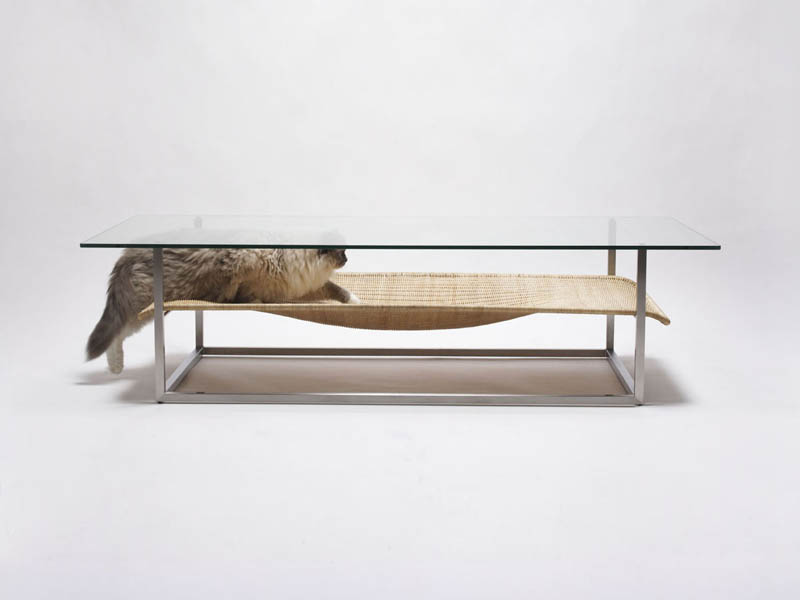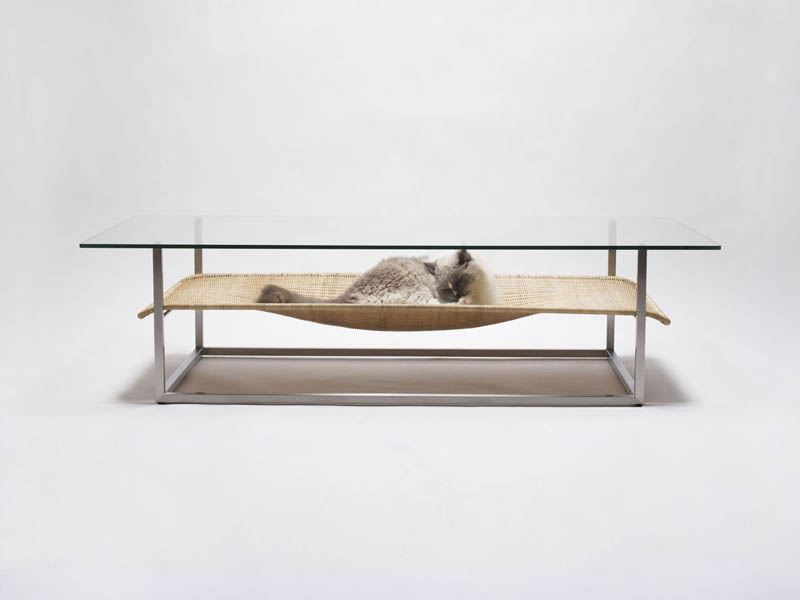 Cat Litter Box Enclosure with Storage Drawer
Multi-functional, there is a spacious space at the top where pets can rest. The inside of the cabinet can also be used as a lounge.
Large tabletop for storing your magazines, potted plants, lamp, laptop, etc
Adjustable door, handle design, and elegant appearance.
To hide your cat's litter box, making your house clean and tidy.
Suitable cat hole for cat to easily access.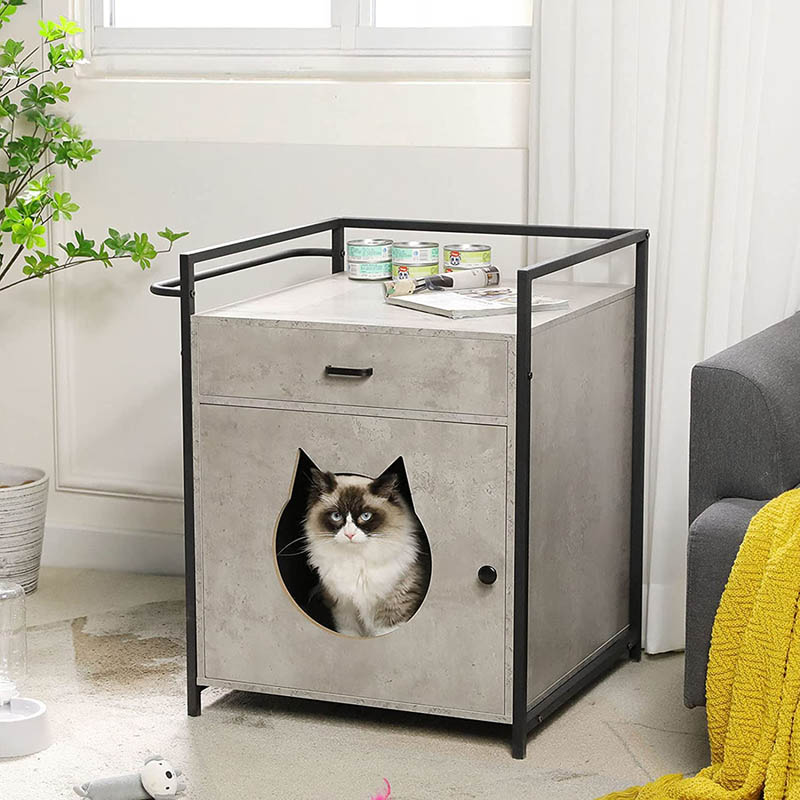 This post may contain affiliate links. If you make a purchase, Design Swan may earn an affiliate commission. Please read our disclosure for more info.