Today. we will have a sweet touch, talking about some creative and useful kitchen gadgets. When it comes to Kitchen Gadgets, there are many different kinds, sizes, and limitations, but that doesn't mean they cannot be creative and practical at the same time. Here are 12 different creative and practical kitchen gadgets that are sure spice up your kitchen and give you a brand new experience of cooking. I just love those goodies and can't wait to collect them:)
We are a participant in the Amazon Services LLC Associates Program, an affiliate advertising program designed to provide a means for us to earn fees by linking to Amazon.com and affiliated sites.
The FoodPod [buy on Amazon]
This funny looking silicone bag is remarkably useful.
The foodpod is a modern silicone cooking tool designed to save time when boiling, blanching or steaming by conveniently containing, removing and draining foods like eggs, veggies, shellfish and more in one easy-to-use vessel. Simply place foods in the foodpod and put in water to cook. Lift from water, let drain. Remove from foodpod. Enjoy!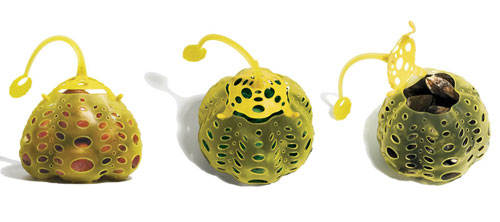 Adjustable Rolling Pin [buy on Amazon]
This rolling pin takes the guesswork out of preparing pizza, pie bases, lasagna sheets and filo pastry. It comes with three sets of removable discs that raise the rolling surface by different amounts, to create the required pastry thickness – either 2mm, 6mm or 10mm.
This ingenious device also ensures that the pastry or dough is rolled to an even thickness throughout and, via measurements etched into the wooden surface, to the exact size required.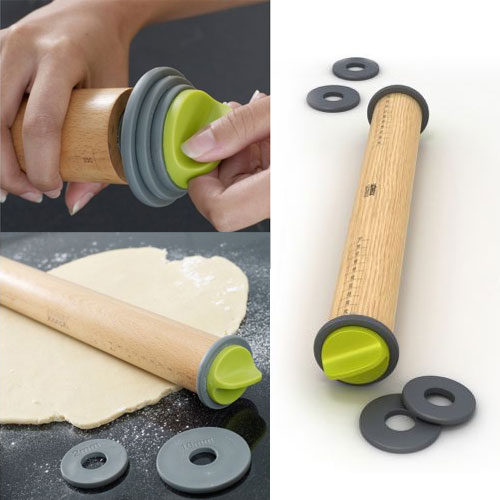 Message your toast [link]
Nothing gets your morning going like a cup of joe and a piece of toast slathered in your favorite spread. Of course, it can also be the time of day when things are hectic to start. Kids running around, people in and out, everyone trying to remind everyone else about the super important soccer meet after school. Next time, put it on toast.
This toaster by Sasha Tseng incorporates a little message board where one can read quick notes. The message also gets "toasted" into the toast itself so it gives new meaning to "read while you eat".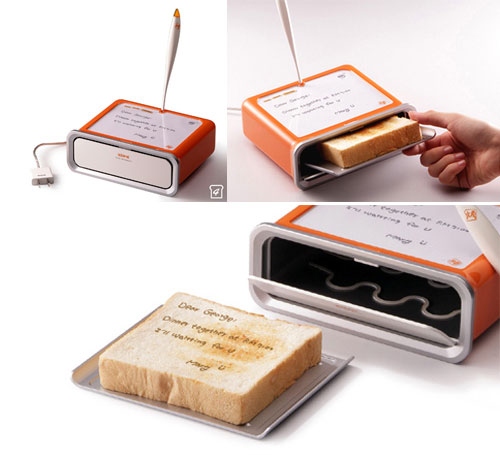 Cutting Board Scale [link]
This cutting board has an integrated scale within a defined area on it's surface. This allows a person to both cut and measure ingredients on the same surface with very little extra effort. Simply put, it precisely reduces the steps of preparation, dishes to clean, and time wasted. There has been a tranformative trend in cooking based around the science of food. Central to this is the idea that precise measurement leads to more possibilities for new flavors. Recipies will become more demanding, requiring simple ways to be precise in the kitchen.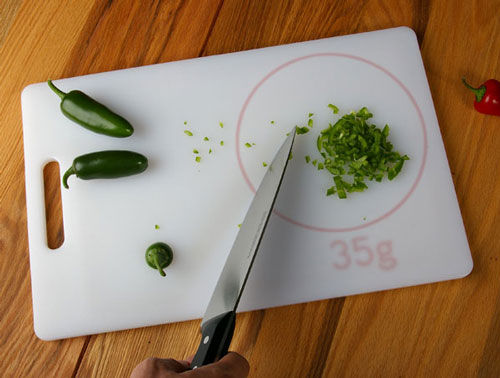 Throwzini's Knife Block [buy on Amazon]
Whether you have a zeal for throwing steal or you're a cutlery connoisseur, Throwzini's Knife Block is for you! In 1938, the Wheel of Death introduced a spinning target! Decades later, knife throwing still lives on in the modern day circus and it can live on in your kitchen with the Throwzini's Knife Block. Made of hand crafted wood, it comes complete with 5 stainless steel razor sharp professional chef knives. Each knife is held securely by magnets in individual protective sheathes. Just give it a spin. It's stylish, versatile and functional. The Throwzini's Knife Block is a cut above the rest.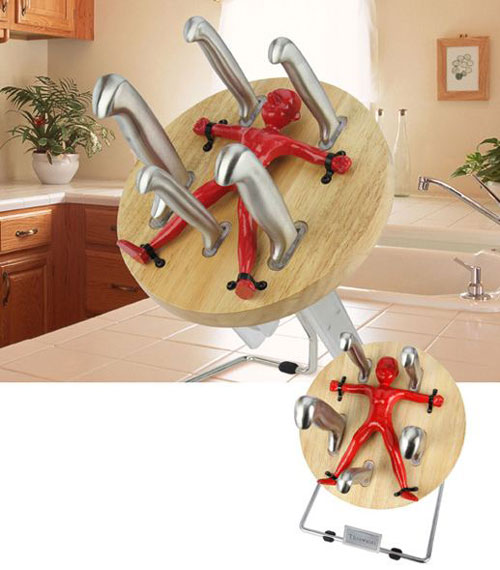 ONE Teakettle [link]
ONE is a single vessel designed to both boil and serve, enabling a simple, more direct user experience. The ONE Teakettle has an intuitive magnetic trivet that attaches to the base only when the kettle is hot, so the user can bring it directly to the table for serving. Decorative graphic patterns are applied with thermochemical inks, which become visible as the water boils. The visual cue that the water is ready also creates and elegant aesthetic at the table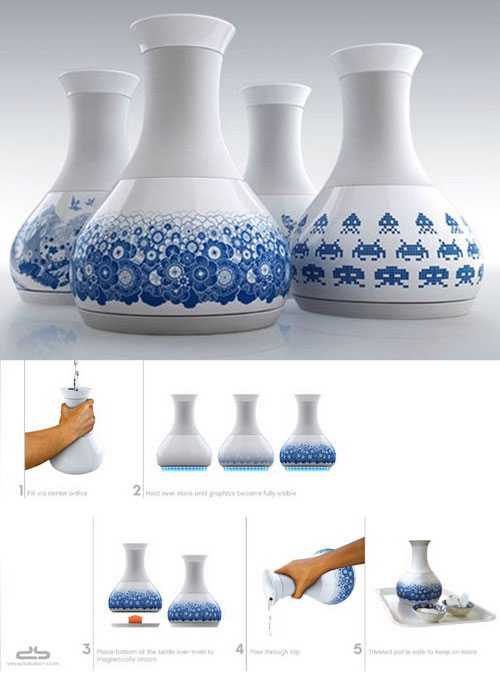 Zip and Dry Apron [link]
With a removable terry-cloth towel zipped to the bottom of this apron, you always have a dish towel within reach.
ZIP&DRY is an apron made with two different types of fabric attached to each other by a zipper. The top part of the apron is 100% cotton with easily adjustable straps, plus a loop in the back for hanging. The lower part is made from a super absorbent 100% cotton towel. These two parts can be attached together or detached using their connecting zipper.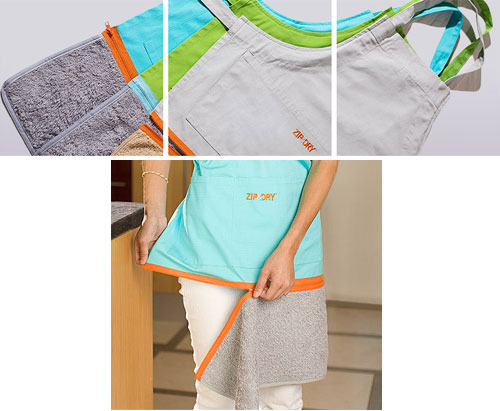 Peter Petrie Egg Separator- Egg Out The Nose [buy on Amazon]
The Peter Petrie Egg Separator is the most unappetizing kitchen tool ever, but you can't deny, it is funny. Just crack an egg into the hand-crafted ceramic head and tilt it forward.
When the yolk is blocked by the nose, the albumen tastefully drips into your bowl while the yolk is left behind. The Peter Petrie Egg Separator is skillfully made by potters and is perfect for egg white omelets, cakes and other recipes.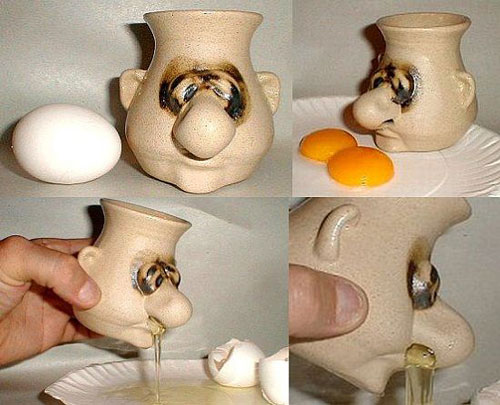 GIN & TITONIC – sink one in your drink [link]
Ice ahoy!! You get 4 ocean liners and 4 icebergs — just add gin, Leo DiCaprio, and Kate Winslet for a perfect party. Individual peggable recyclable clear boxes.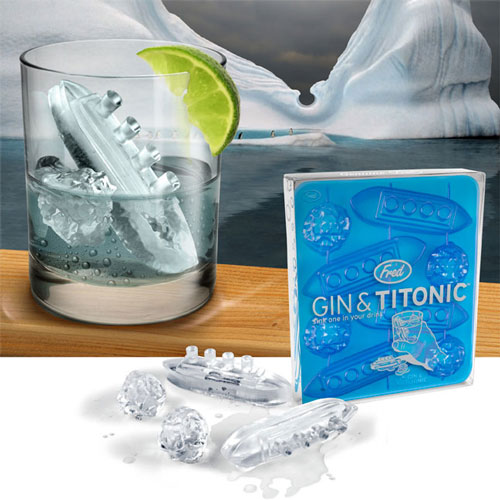 Corn Stripper [buy on Amazon]
The OXO Good Grips Corn Stripper features a container that catches the kernels as they are stripped from the cob. Simply push the Corn Stripper down the length of the cob and the kernels collect in a convenient 1/2-cup capacity container. Turn the cob and continue stripping until all kernels are removed. Kernels can be poured out of the top hole of the container into a bowl or onto a plate. The soft, non-slip grips cushion your hand during use and the stainless steel blade will not rust or dull. The Corn Stripper comes apart for easy cleaning and all parts are dishwasher safe.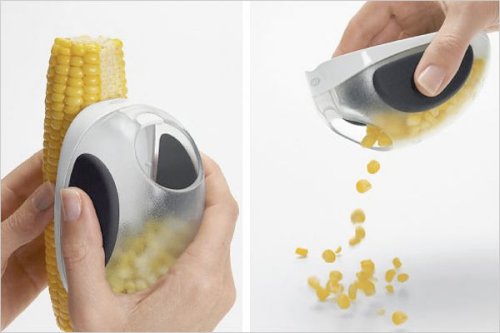 Pig Nose Bowl Cover [buy on Amazon]
A regular bowl and pan cover that will give you an extra laugh in the kitchen and gives a whole new meaning to 'Pigging Out'.
Looking as though a pig is trying to burst through the rubber, the pig's nose has been designed to be used as a kind of handle with which the rubber seal can be lifted and placed over hot foodstuffs without causing scolding.