Handmade planter can be any shapes while head planter is definitely one of the most popular design. The artstis from Etsy either recycle the old doll or craft using cemeric or resin to create below unique head planter. From creepy baby head to fashion woman head, from ancient god head to star war Chewbacca head. There are various planters and we have handpicked some of our favorite designs below. Take a look and hope you can find one for your home.
Creepy Baby Doll Fly Head Planter Terrarium
This creepy baby doll head planter terrarium with glow-in-the-dark beads will look perfect in your spooky home!
Measures approximately 10 x 6 x 6 inches. Plant is artificial. Base is filled with a mixture of large glow-in-the-dark and shiny pink pebbles, bone shaped beads, and a beautiful shimmery gold crushed glass crystal.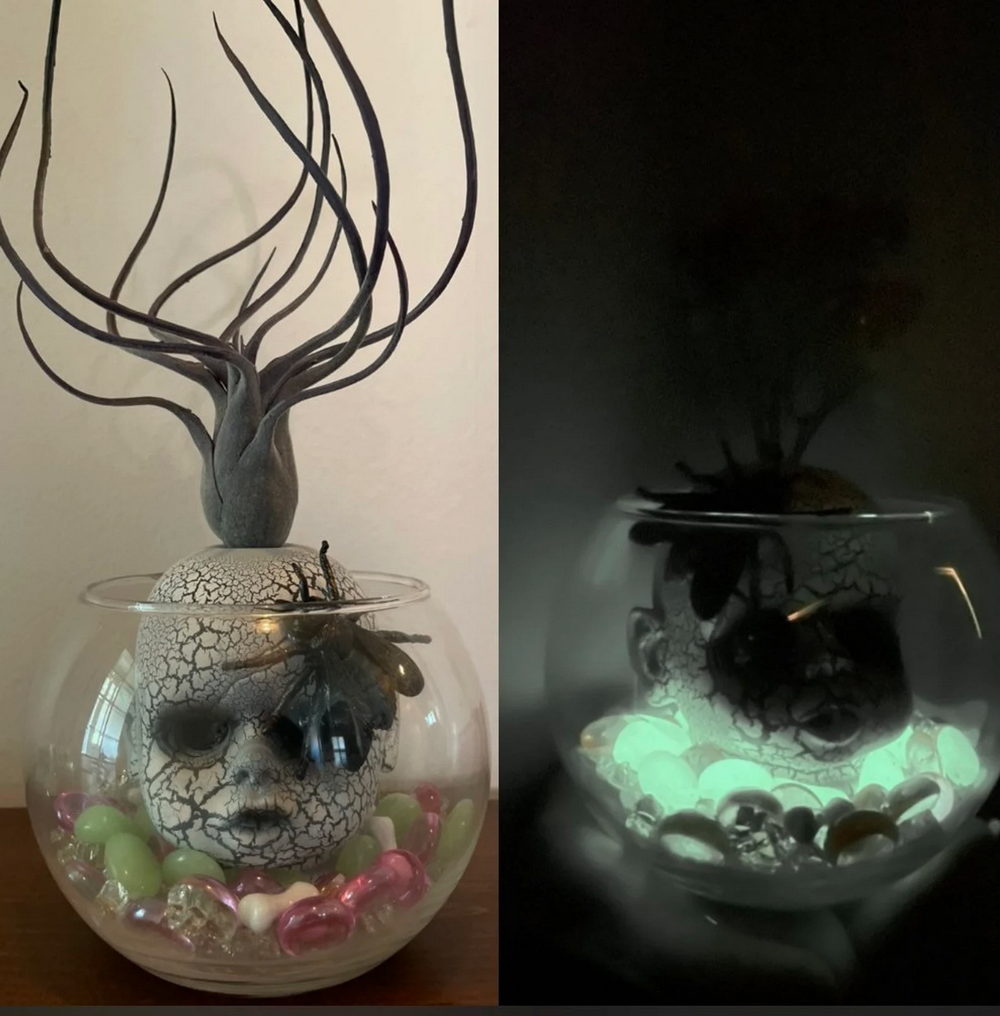 [buy on Etsy]
Colorful Head Planter
Beautiful and colorful family face planter / vase for your house. It serves as a planter or make a gorgeous decor by itself. Add some small home plants like succulent and you get a piece of beautiful artwork in your home. This pot is the perfect size for any small house plants like succulents, cacti etc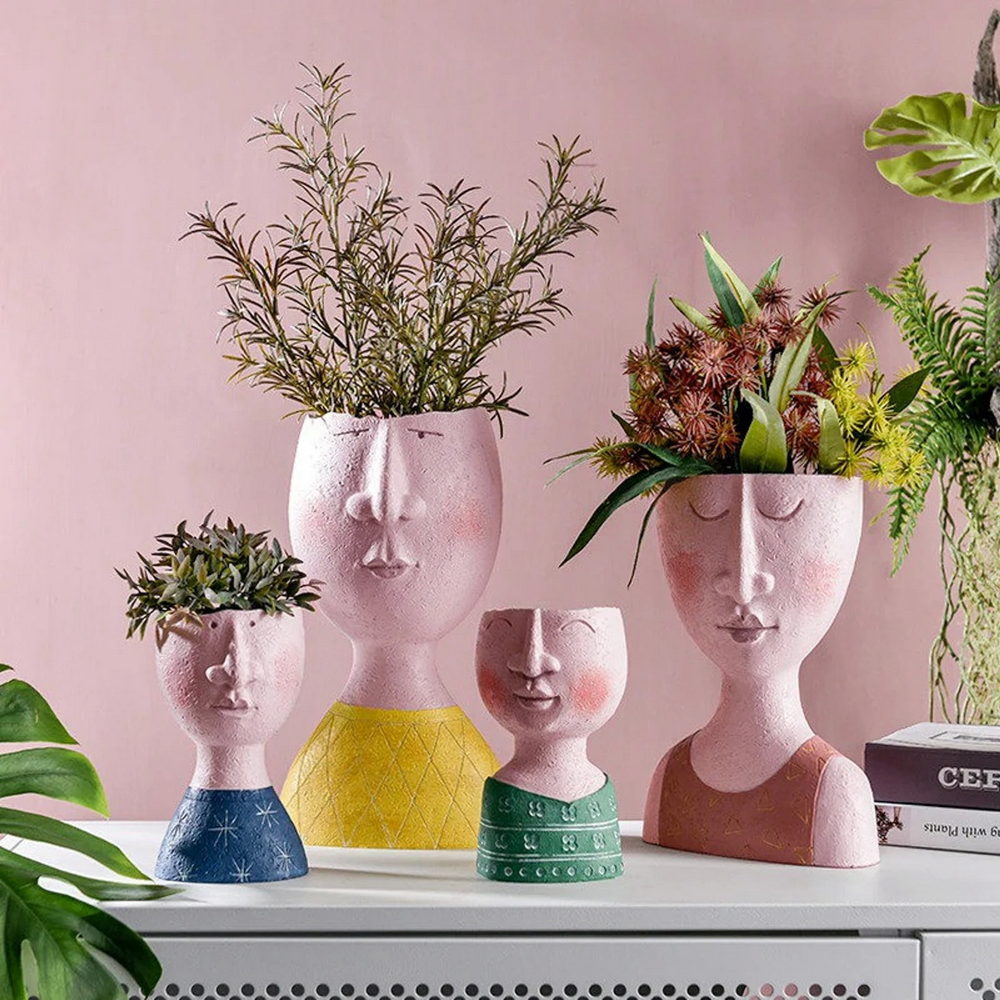 [buy on Etsy]
Face Head abstract Flower Planter
Made of high-quality resin material, safe and non-toxic modern humanoid resin portrait vase succulent flower arrangement flower pot. Very suitable for growing succulents, herbs, cacti or small/medium plants or flowers.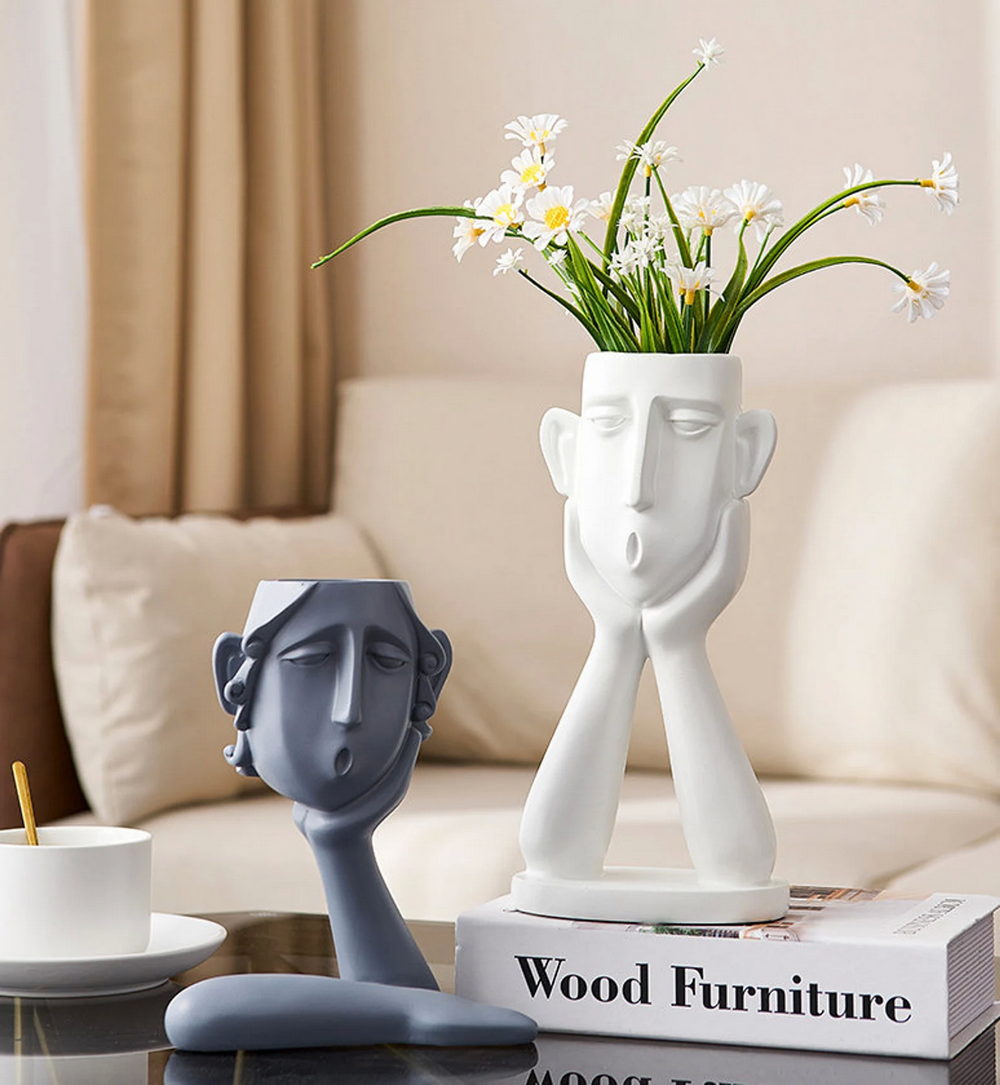 [buy on Etsy]
Ancient greek roman god head vase
The vase is incredibly beautiful even better in person, combing traditional ancient greek gods/goddesses and a beautiful planter for your favourite flowers / plant!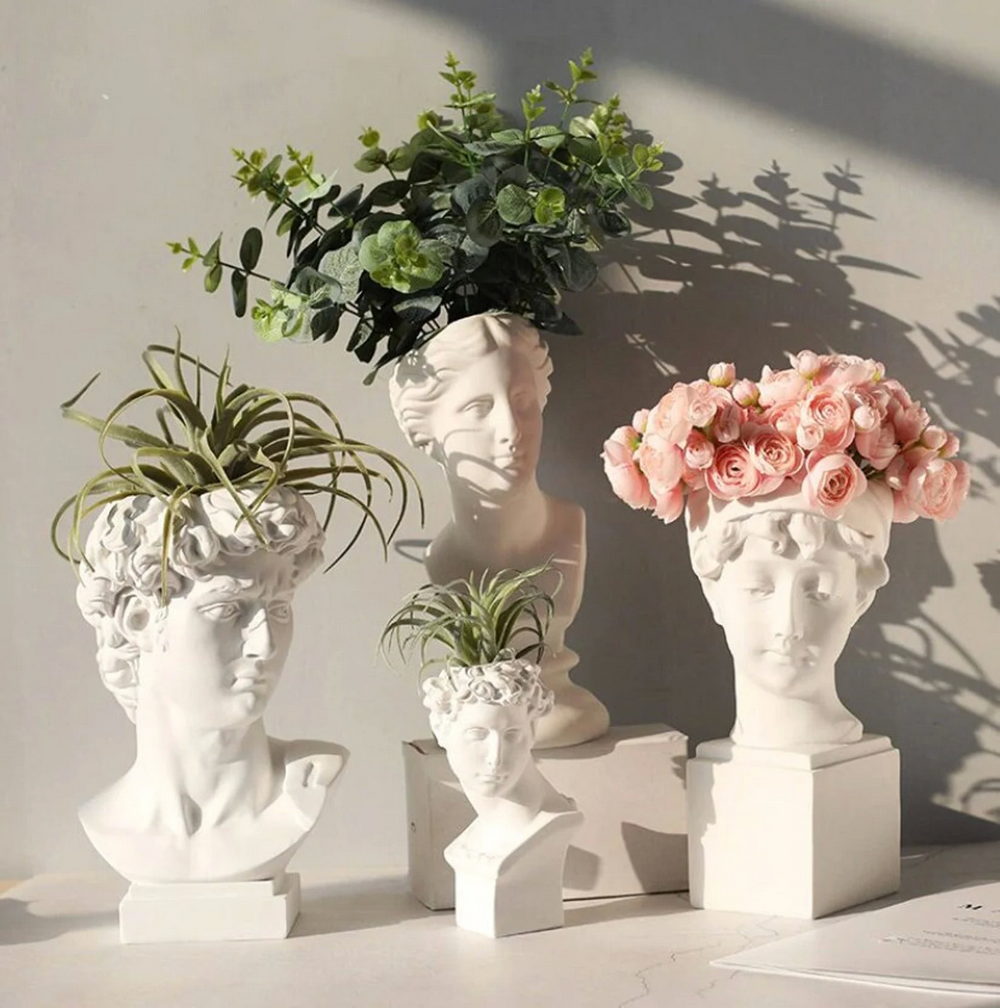 [buy on Etsy]
Head wall hanging pot
This decorative ceramic wall vase is made of clay. It is decorated with various glaze, completely covered with glaze from the inside, hand-painted, the decorative head is a vase for flowers or plants.
Handmade beads hang on the ear.
Unique vase, face sculpture.
Size: height 17.5 cm; diameter 8 cm; width 11.5 cm.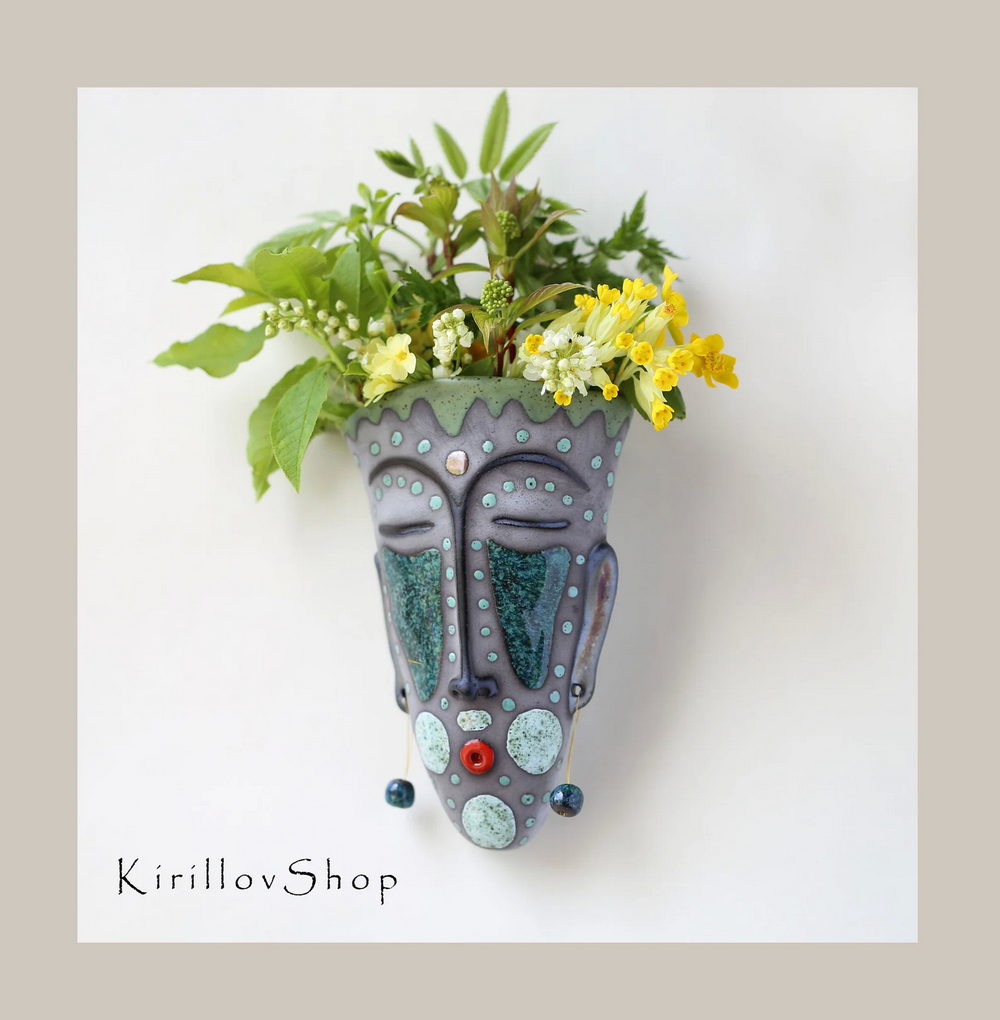 [buy on Etsy]
Creative human face vase portrait vase
Ideal for flower arrangement art, adding plant flowers to bring greenness and freshness to your house. A great addition to add charm and beauty to your living space.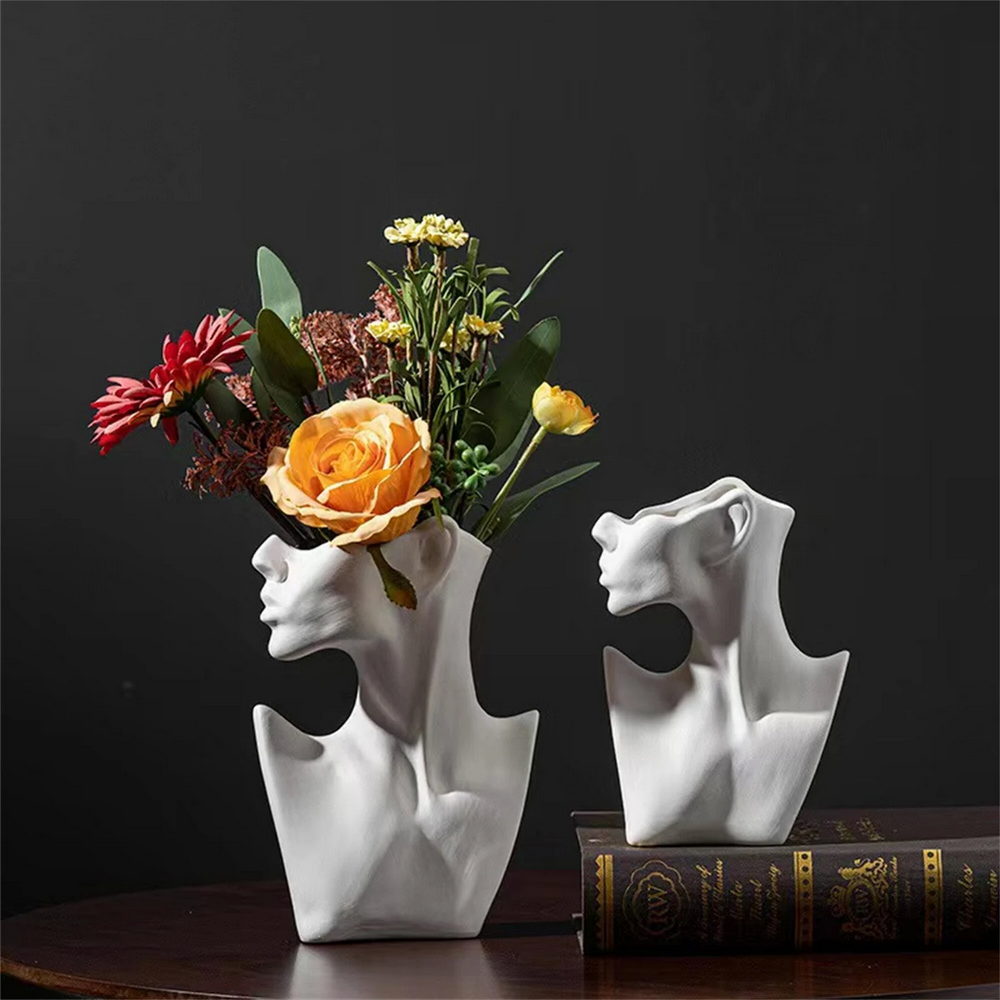 [buy on Etsy]
Dried Flower Head Vase
This ceramic lady face planter is exclusively handmade. The ceramic is high quality with shiny glaze so it appears elegant.
It will lighten up your room and corners. This vase will add more joy and happiness to your home.
Your small plants and flowers will never be unnoticed with this elegant head planter.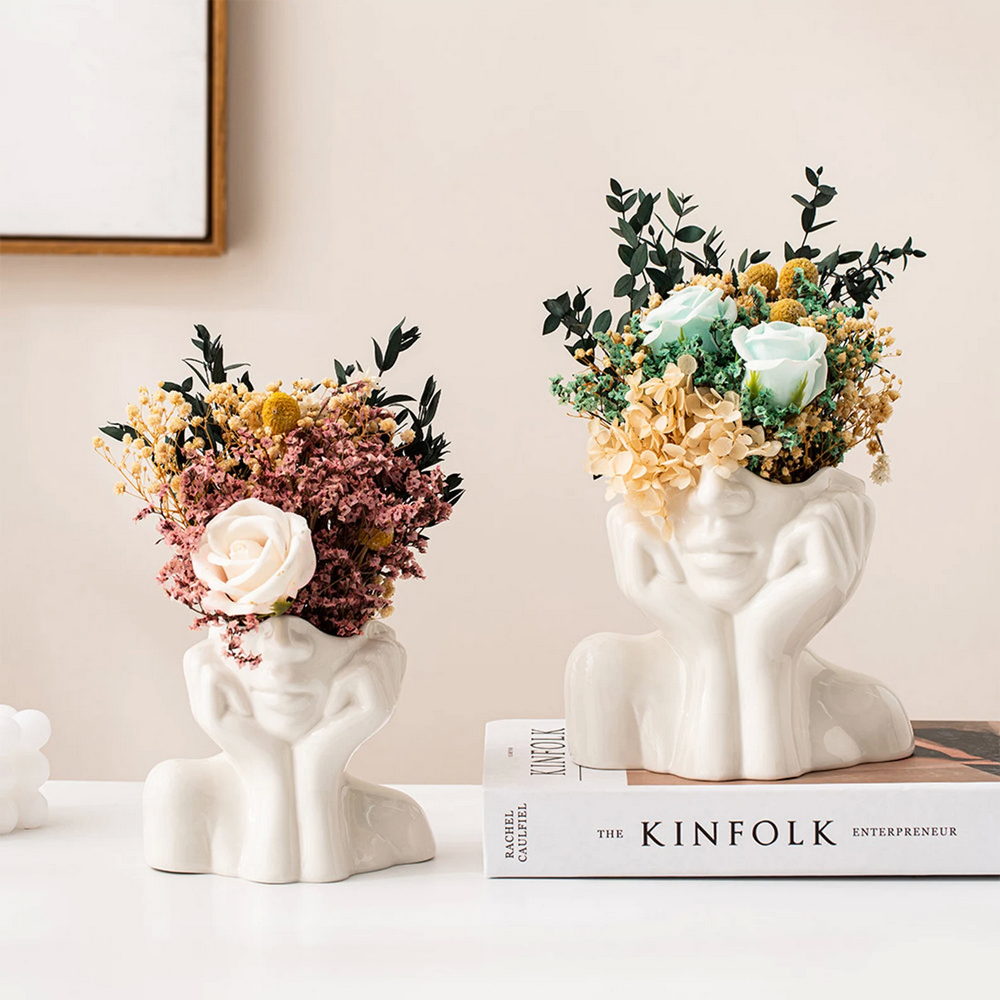 [buy on Etsy]
Girl Face Head Planter
Crafted from high quality resin material which makes it impervious.
This extraordinary piece of art can be used for air plants , succulent plants , dried flowers, fresh flowers or any plant or flowers of your choice.
Height : 6.77 inches
Width : 4.72 inches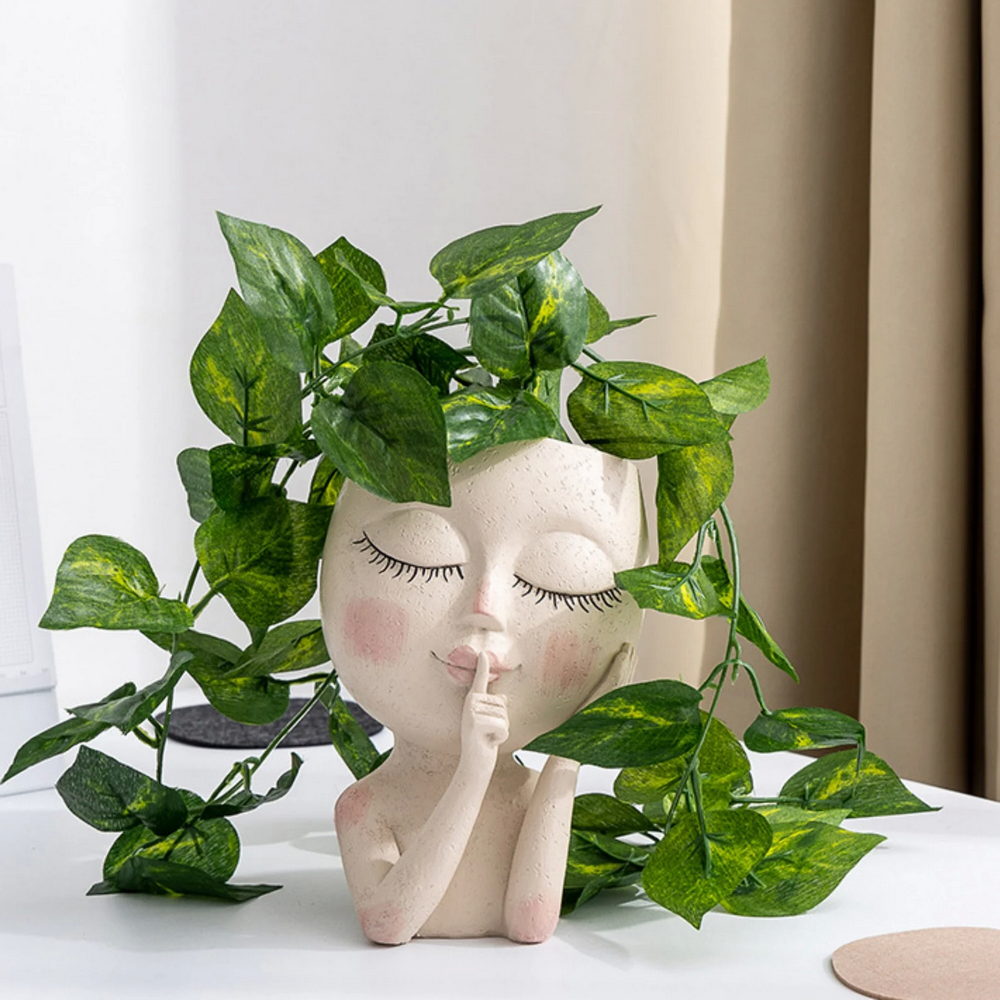 [buy on Etsy]
Cement Easter Island pot set
Color tone can be vary (stronger or lighter) as this product is handmade. It is natural to all colored concrete products and makes each product a unique item.
Pot has a small opening and it is best for dried and artificial plants. Air plant (tillandsia) also fits the pot well and it is recommended.
Dimensions:
Planter: Height: 9 cm (3.54″) | Hole opening diameter: 2 cm (0.78″) | Hole depth: 5 cm (1.97″)
Statue: Height 4.5 cm (1.77″)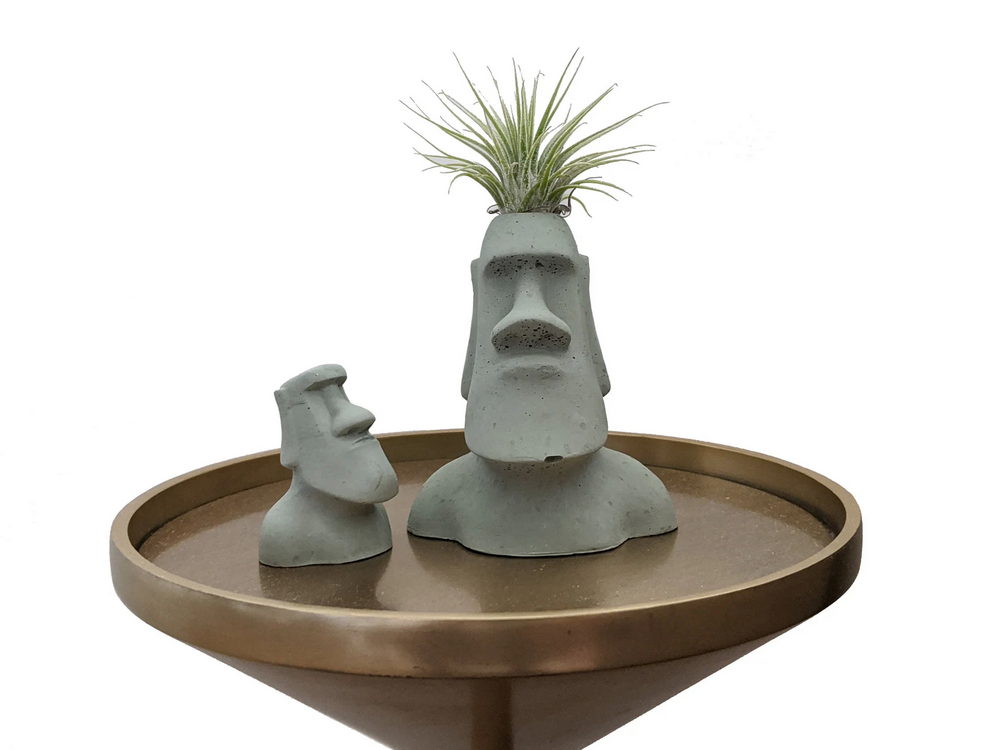 [buy on Etsy]
Baby Doll Head Planter with Saucer
The Baby Doll Head Planter is 4.75in Tall x 4.5in Deep x 4.5in Wide (12cm x 11.5cm x 11.5cm).
The Saucer is 5.5in x 1in (14cm x 2.5cm)
Each Baby Doll Head Planter with matching Saucer is hand-cast resin, hand-finished, and will have minor characteristic variances.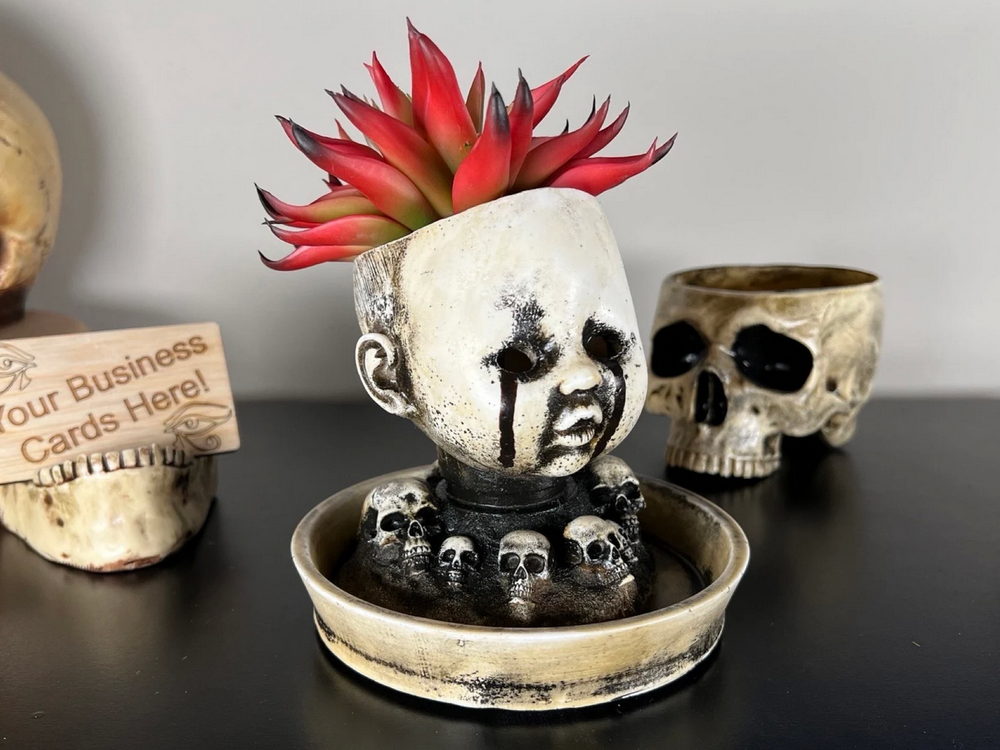 [buy on Etsy]
Buddha Head Planter
Bring Zen and peace to your home with this minimal buddha head planter. This planter will add the perfect showpiece to your home to create a space that you and your loved ones will surely love.
Each planter is made to order with eco-friendly bioplastic, which is strong, lightweight, and good for the environment — so you can add something extra to your home and feel good doing it!
Small : 3.5in X 2.5in X 3in
Medium : 6in X 4.5in X 5in
Large : 8in X 7in X 7in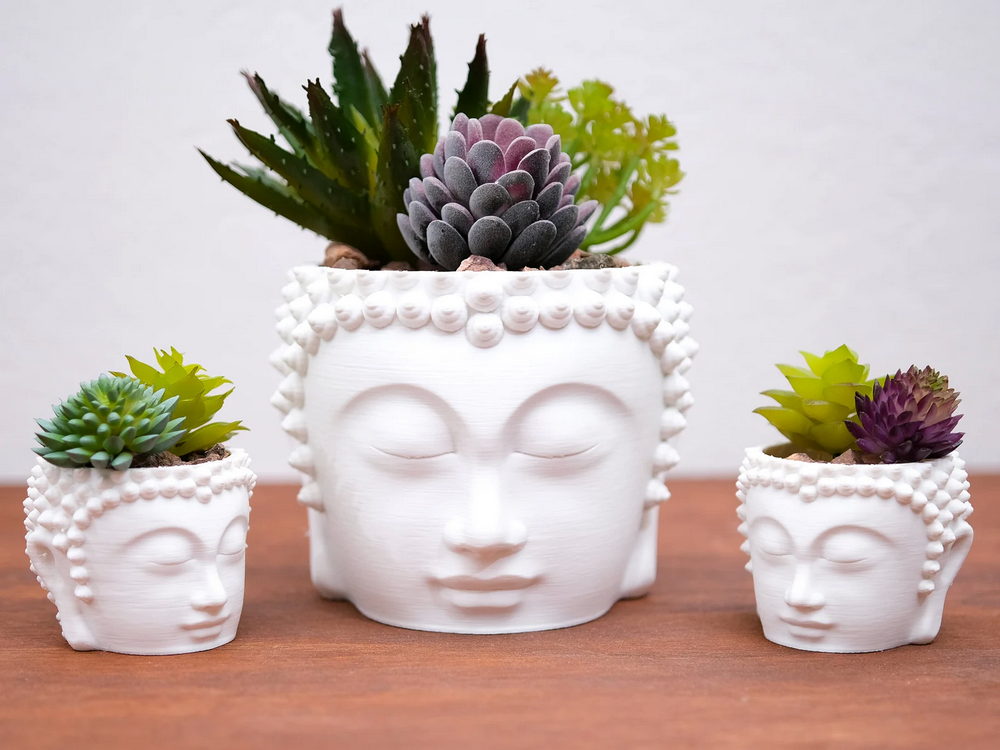 [buy on Etsy]
Bronze Chewbacca Head Planter
Bronze Chewbacca planter is a painted plastic helmet (not real metal)
Height-5″ (slight variance due to random broken edge)
Opening Width- 5 1/2″
Opening length- 5 1/2″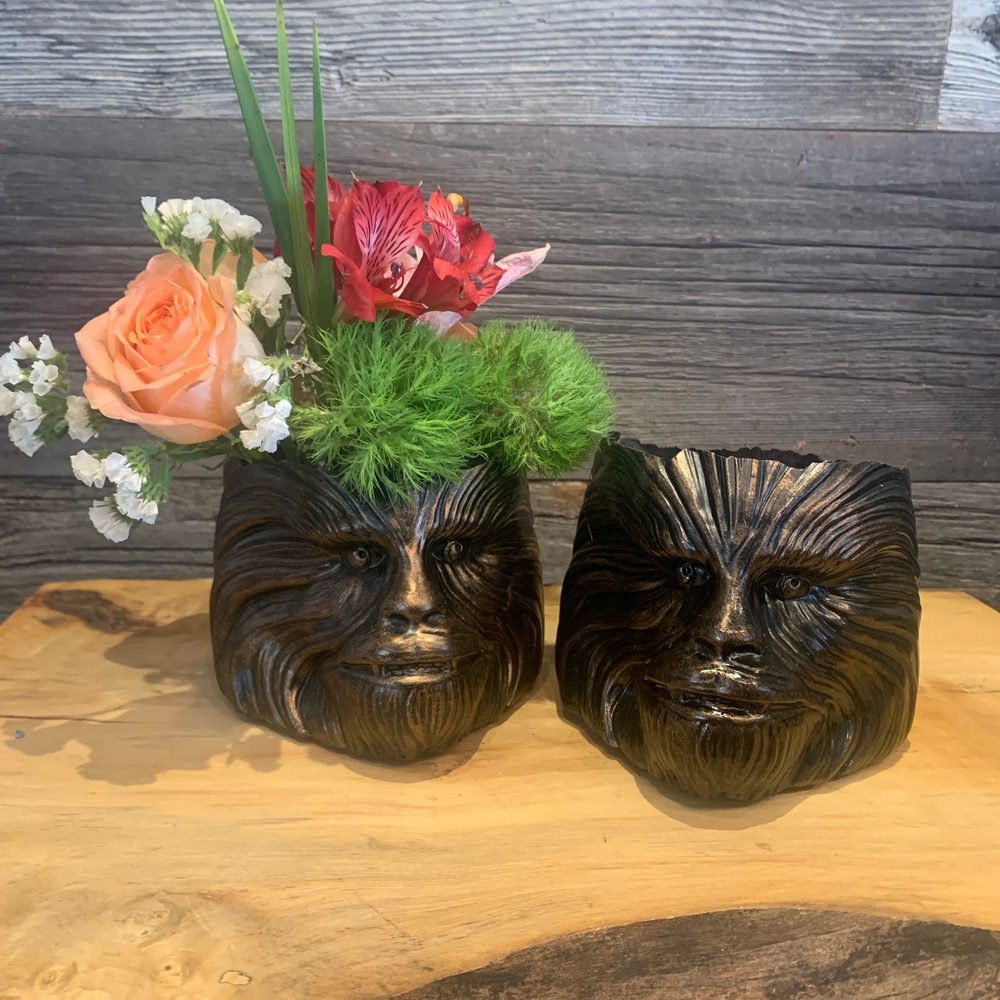 [buy on Etsy]