A right rug can be a real drag in interior design. There is a large variety of models and sizes to pick from and the final decision can really make all the difference for the look of a room. In this post, we will present you 13 Contemporary and Stylish Rug Designs. They are really elegant and eye-catching designs. which will definitely spice up you home if you have one.
We are a participant in the Amazon Services LLC Associates Program, an affiliate advertising program designed to provide a means for us to earn fees by linking to Amazon.com and affiliated sites.
1. Turn the Rug Season
Turn the Rug Season is a rug that brings the freshness of green spring even in late autumns, and also the warm colors of autumn in the middle of spring. We are in September right now and the autumn is almost here, but if you want to feel the fresh greens of spring at the end of the autumn simply turn the seasons every time you feel like it with this versatile rug. The rug is made using durable material that promises to keep your door steps alive for years. No matter what the season , you have the season of your choice right at your doorsteps.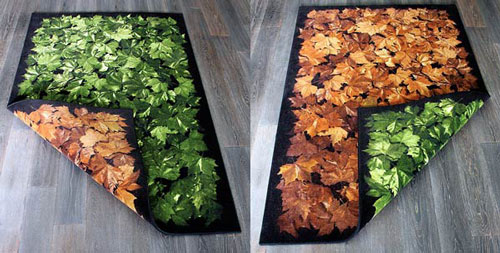 2. Organic Floral Pattern Rug
An organic floral pattern reaches into the white space on this rug, yet this pattern is more than grooves and layers. Designer Esti Barnes has cut these layers right through the rug itself, exposing the bare wood below. The hand-tufted Ethereal rug can be ordered by customers in any color or size.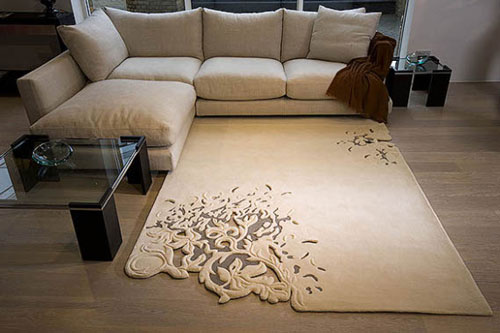 3. Contemporary Rugs HZL [link]
HZL is a collection of contemporary rugs by Henzel and they are built upon a foundation of creativity and a desire to make rugs a key element of interior design. Henzel's rugs are handmade using two different techniques according to their characteristics and best expression: hand-knotting and hand-tufting.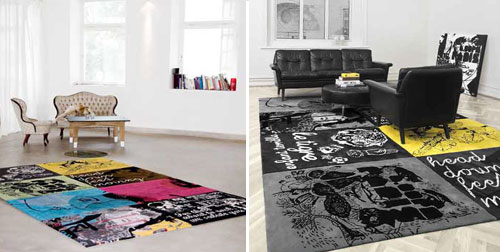 4. Roses Rug
[
link
]
The rug collections speak to us about a world that begins and ends with tactile sensations. The evenly-shaped pieces of felt that characterise this rug give its surface volume and constant movement, inviting it to be touched, caressed, lived. It is a simply stunning rug design!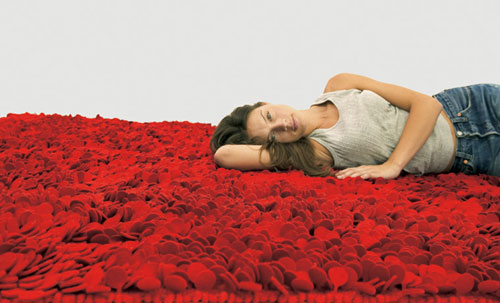 5. Woody Wood Rug
[
link
]
While it could be very easy to go overboard on a forest/nature inspired furnishings these days, we immediately were drawn to Yvette Laduk's Woody Wood Rug for its clever interpretation of a timber cross-section. With textured concentric rings and a burnt "bark" edge, the design is both simple and unique.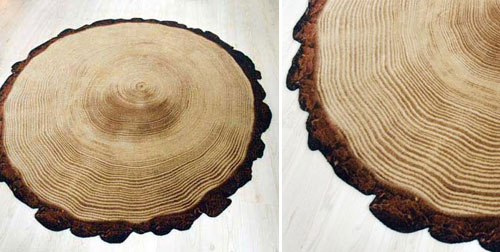 6. Stone-Wool Rug
[
link
]
Their irregular shapes and perfectly combinatorial colors allow the Stone-Wool rugs to be placed in a multitude of spaces and to create capriciously repetitive patterns. One stone from the beach, processed by the sea, is chosen and used to give shape to a woolen carpet, being processed again, this time by technological means entirely respecting its outline. This collection gives shape to a concept that breaks with the parameters of traditional design.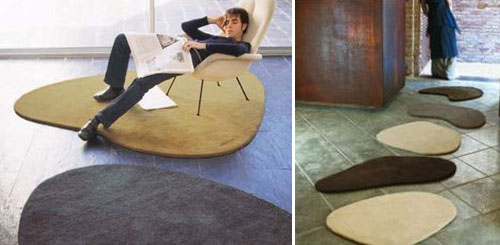 7. Stella Rug
[
link
]
The Stella Felt Rug is made from felted 100% merino wool and will add a decorative talking point to any room. The design, a contemporary take on lace making, looks equally striking on carpet or natural wood floors. This beautiful felt rugs are strikingly bold for they sport a fresh take on another traditional craft, lace-making. They are not only pleasing to the eye but also to your feet as you walk on the soft, warm rugs.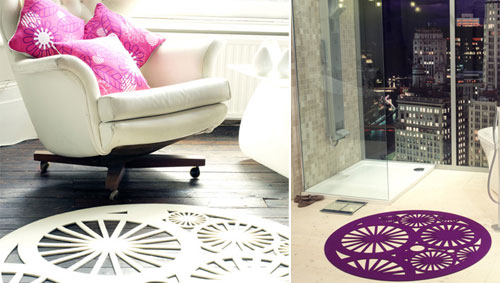 8. Handmade Wool Pebbles Cobblestone brown Area Rug
[
buy on amazon
]
This beautiful pebble rug is crafted out of 100% wool. It looks good, and makes you feel like you are in the middle of nature, near a mountain river. If you have anything in the house that occasionally projectile vomits, you might want to choose a floor covering with less texture, 'cause whatever gets between those pebbles is gonna wanna stay between those pebbles.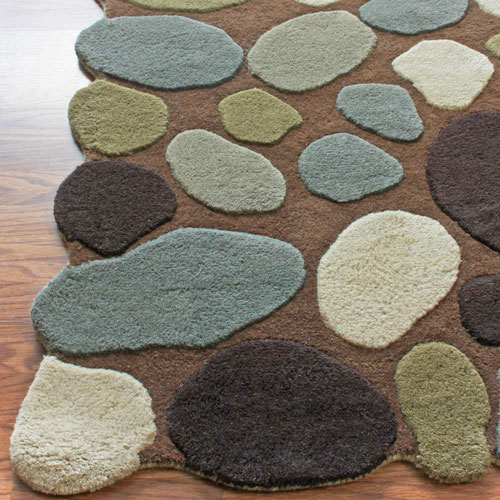 9. Rugs USA Puzzle
This puzzle rug is full of fun and style. It includes classic puzzle shapes with 100% wool. With this rug, you can puzzle your own floor or wall decor.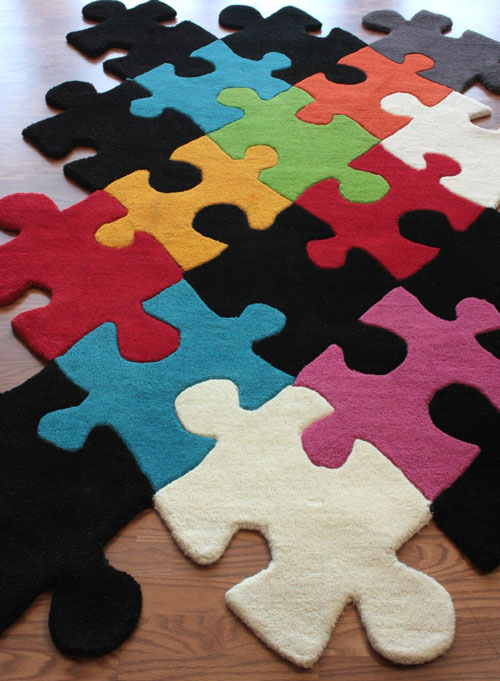 10. Global Warming Rug
[
link
]
Global Warming contrasts the comfort and softness of a rug with a thorny problem that is specific to our time. Following the age-old tradition of using rugs as a means for communication and a cultural record, NEL is portraying global warming in a scene that invites us to reflect on our impact on today's world.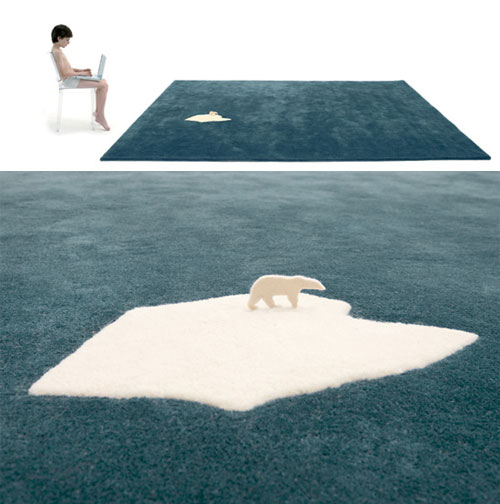 11. HAY – Pinocchio Rug
If ever there was an apt use of the term "eye candy", this rug seems to qualify splendidly. The Pinocchio rug by HAY is a delightful, multi-colored bestseller. The name epitomizes the childlike simplicity of this playful and wonderfully bright, circular rug. Designed by Hay (a Danish company), the rug handcrafted in Nepal using felted, 100% pure new wool.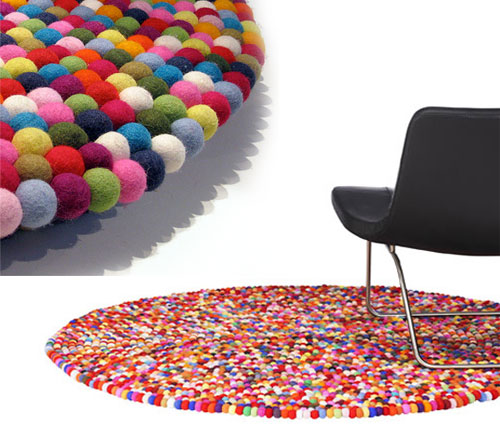 12. Forest Roll Rug
[
link
]
Forest Roll from Aguiniga Design ~ innovative forest-feeling goodness that folds up nicely when not in use… for dreamers and schemers alike who like to lie in their imaginary forests in the fall between fallen logs and piles of leaves. And it can be folded up nicely when it is not in use.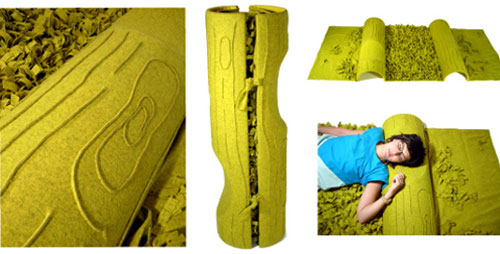 13. Bearskin Rug
The Bearskin Rug by Eelko Moorer a London based designer and visionary in product design is a product that is a little bit unusual. Made of urethane rubber the rug can be put on the floor or mounted on the wall (a mounting system has been placed into the rug). In the past if you have a real bear skin rug this would be a symbol of luxury and wealth, and this rubber rug can be a cheap replacement for an original bear skin rug, that is quite expensive.