If you want to make your bathroom clean and modern or just want it be attractive for kids and encourages them to brush their tooth, you might want to have one of below Toothbrush Holders. From abstract glass holder to luxury silver or porcelain holder, from funny robot holder to beautiful coral shaped holder, there are also many animal shaped toothbrush holders which will definitely be loved by your kids. Take a look at these 15 Cool and Unusual Toothbrush Holders and turn your morning washing into a funny and stylish thing with these cool bathroom accessory.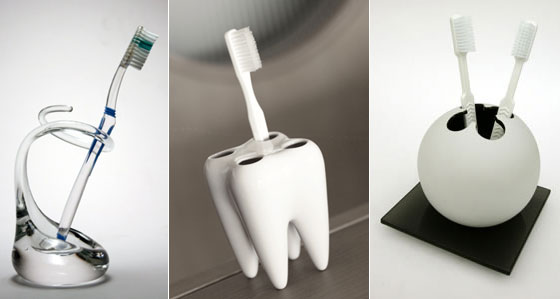 We are a participant in the Amazon Services LLC Associates Program, an affiliate advertising program designed to provide a means for us to earn fees by linking to Amazon.com and affiliated sites.
1. Glass Toothbrush Holder [link]
Beautiful toothbrush holder made from molten hot glass by designer Brad Turner. Handmade from solid galss, each holder has a stable, weighted base that likes to stay put.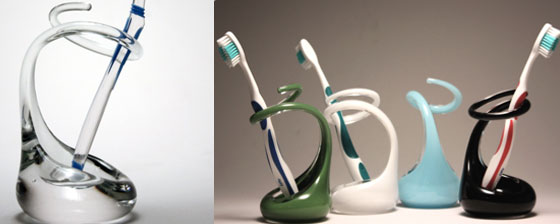 2. Robot Clips – Toothbrush Holder [buy on amazon]
Geeky as they are, Robots are very cool. They're even cooler if they're going to be holding your toothbrush, your razor or just about anything it can hold. These Robot Toothbrush Holders easily stick to your bathroom wall using a suction cup. They're sold blind boxed, which means if you're to buy one you'll be surprised by which one you're going to get. A surprise is always a nice bonus!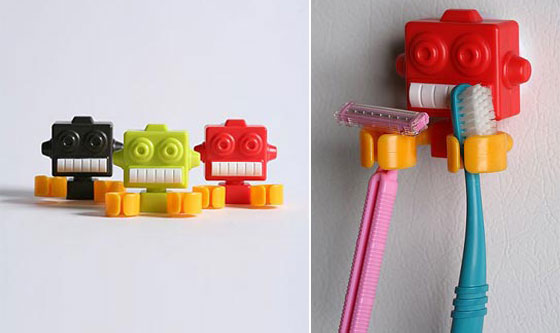 3. SMILE TOOTHBRUSH HOLDER [buy on amazon]
With its suction cup back the Smiley Face Toothbrush Holder attaches firmly to mirrors glass tile and stainless steel protecting your toothbrush from germs. Made of sturdy plastic it snaps over the head of any size toothbrush and has quick-dry ventilation slots.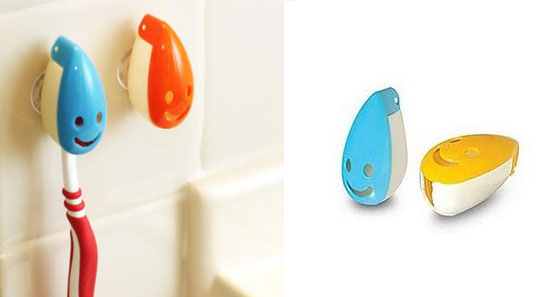 4. Interdesign Toothbrush Holder [buy on amazon]
Stainless Suction Multi-Toothbrush Holder, Hold your toothbrushes in your shower for easy convience.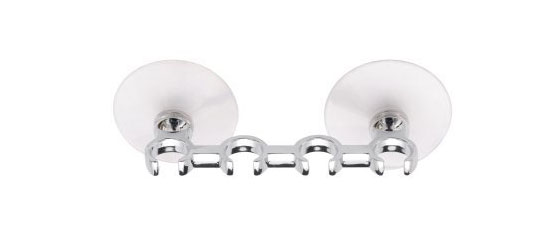 5. Kontextur VIKTOR Toothbrush and Razor Holders – real silver [buy on amazon]
ontextur's mission is to bring modern solutions to often muttered quandaries regarding the bath & home including, Where can I put my toothbrush and/or razor besides the same old cup? and My toothbrush doesn't even fit in these holes? Teaming up with the talented NYC based Icelandic designer Hlynur Atlason, Kontextur presents the VIKTOR toothbrush/razor holders. Sleek and strong, asymmetrical and whimsical, these new yet familiar objects are an elegant solution to a decades old sink dilemma… in sets of 3 shapes, available in 18k gold, real silver, and black nickel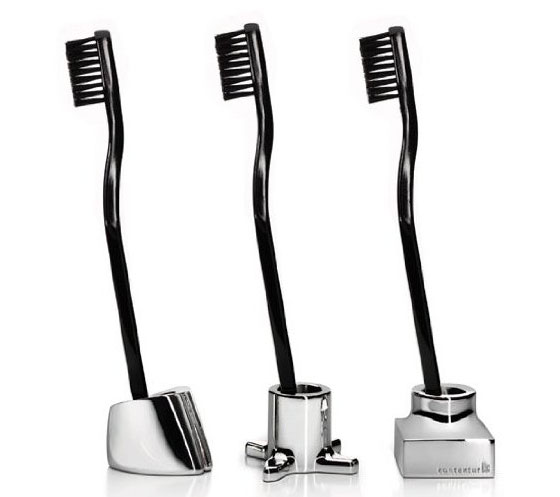 6. Feel Good Toothbrush Holder [link]
Keep Your toothbrush safe with one of the Feel Good gang wrapped around it. These cute little characters are a great gift for adults or children.
With suction pads attached to their backs the feel good people are able to go anywhere. Simply find a hard surface, breathe on the back of the pad and stick them to your tiles.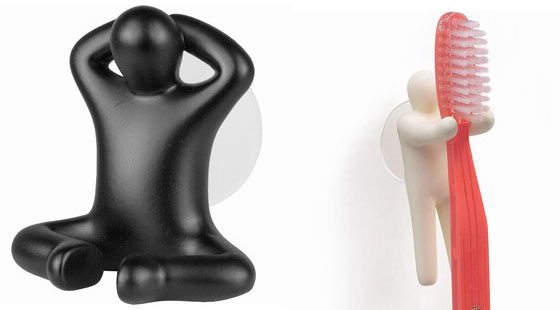 7. simplehuman chrome oval toothbrush holder with caddy [buy on amazon]
Even little things deserve good design. That's why our chrome bath line doesn't just look great, each product has a functional improvement to work better, fit better, and make your life just a little bit easier.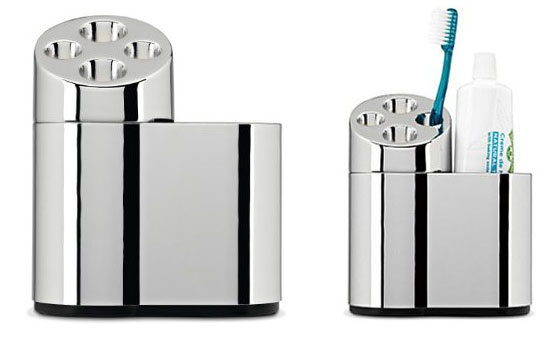 8. Allure Home Creations Hoot Toothbrush Holder [buy on amazon]
Easy Care wash with arm water
Durable plastic resin won?t rust
Use with matching hoot shower curtain (sold separately)
Decorate the entire bathroom with the Hoot collection (each sold separately)
Natural toned owls on a white ground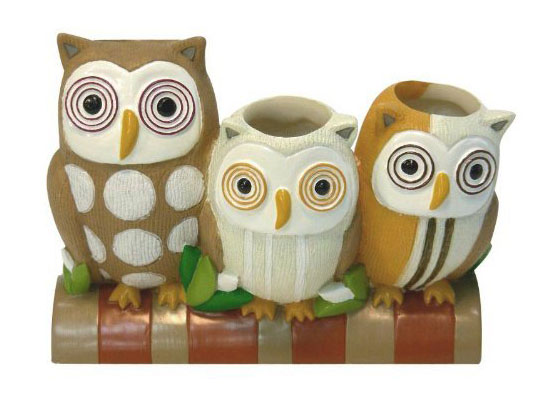 9. Umbra Rubber Grassy Organizer [buy on amazon]
Unusual grass-like organizer from Umbra; holds toothbrushes, office supplies, or kitchen utensils upright between blades of grass
Made of soft molded rubber with rigid grass blades; design by Thea Yuzyk
Varying space between blades for thicker items; easy to clean
Measures 6 inches long by 4 inches wide by 4 inches high;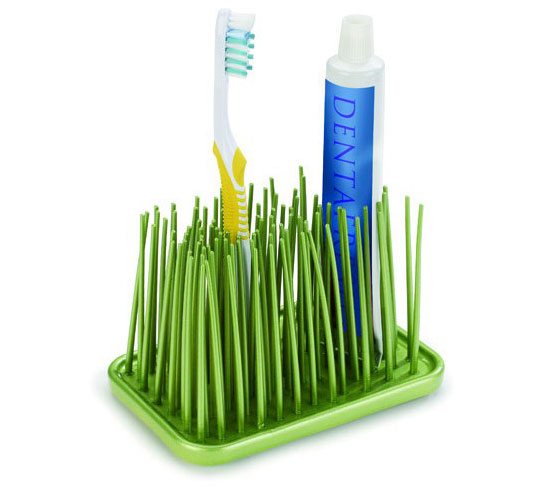 10. Mediterraneo Toothbrush Holder by Emma Silvestris [buy on amazon]
The flowing and floating beauty of marine life is the inspiration for the "Mediterraneo" Toothbrush Holder. In addition to storing toothbrushes, the holder also be used to store pens and pencils and makes a great table top adornment. Whether in your bathroom or on your office desk, the lively design is sure to spruce up its surroundings.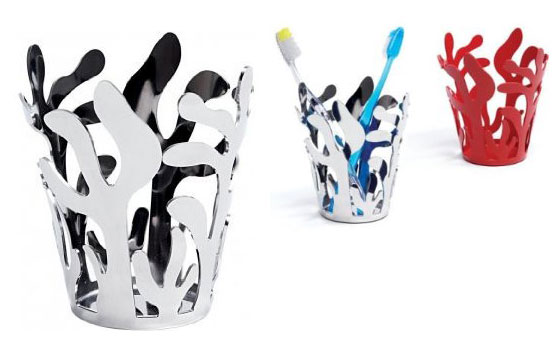 11. Tooth Toothbrush Holder [link]
The tooth, the whole tooth, nothing but the tooth. Not all cavities are bad…in this case they're a handy spot to park your brush, his brush, her brush!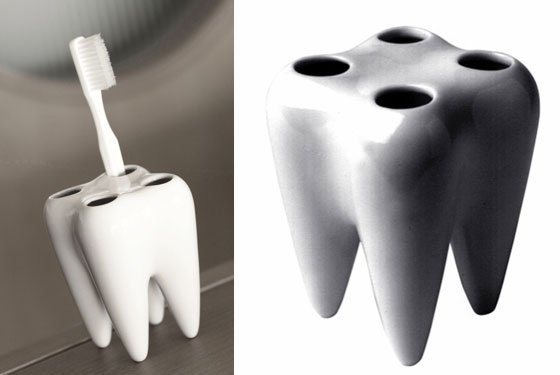 12. Flipper Animal World Toothbrush Holder [buy on amazon]
It is designed to keep your toothbrush dry and protected from dust and harmful bacteria
Suctions cups at the back helps mount to mirrors, glass and tiles easily.
Fun designs get your kids brushing their teeth without a hassle
A great way to store your toothbrush while traveling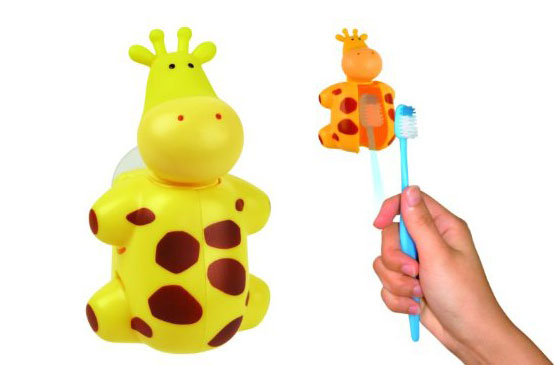 13. White porcelain Toothbrush Holder [discontinued]
Luxury toothbrush holder in tactile white porcelain makes an excellent unique gift idea. Hand crafted like the rest of our products and comes with a metallic black inner glazed finish and glass base. Exclusive to stylishlife.co.uk. Plants and props not included. Dimensions: 13 cm x 13 cm.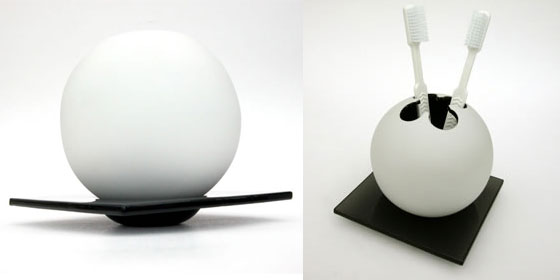 14. Bacova Guild Mountain Retreat Toothbrush Holder [buy on amazon]
Unique moose shaped resin Lodge look toothbrush holder.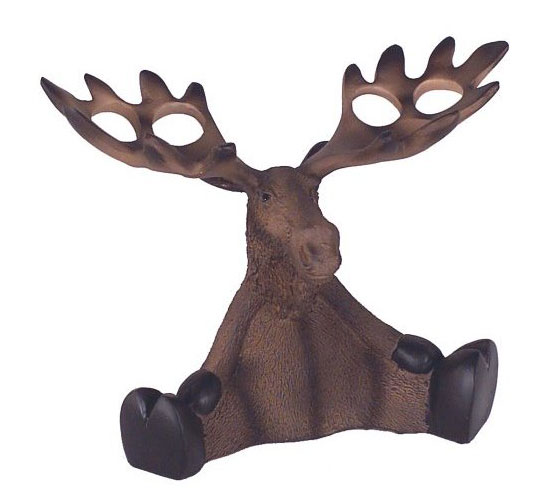 15. Funny Tree Shaped Kids Toothbrush Holder [buy on amazon]
Holds up to 4 toothbrushes.
Tree & owls made of resin, base made of plastic.
Features bobbling accents.
Glossy finish.
Measures approx. 7-1/4 x 6-1/4 x 4″.