We know that it might sound a bit hard to believe but the average person spends one third of their life sleeping. Yes, you read that right! In fact, the Sleep Foundation recommends that healthy adults require somewhere between 7 to 9 hours of sleep per day. They recommend that one of the best ways to achieve better sleep, among other things, is by creating a sleep-inducing bedroom.
Since sleep is such an integral part of our lives, it is very important for everyone to curate a bedroom space that is inviting and comfortable. After all, the bedroom is your sanctuary where you return after a busy day to unwind and de-stress.
So if you are looking for ways to create a space that speaks to your aesthetic, we have some wonderful ideas to help you get thinking. Added to that, we reveal some helpful tips so that you can bring practically any idea under the sun to life to create a stylish and unique bedroom.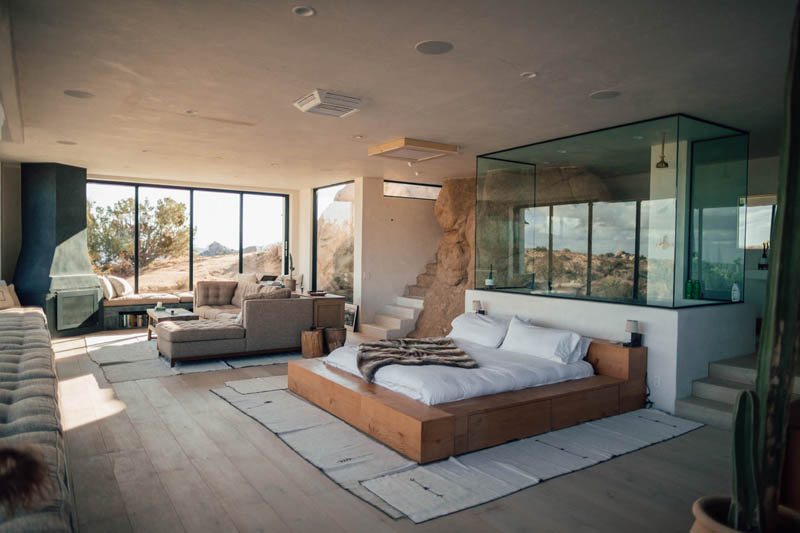 Photo by Roberto Nickson on Unsplash
Puzzle It Up
Many of us grew up with a love for puzzles and spent hours on cozy Sunday afternoons or summer vacation days trying to figure out where the pieces fit. So if you are trying to revive a sense of nostalgia, including puzzles as part of your bedroom interior design will not only be unique but a lovely walk down memory lane.
Some quirky ideas include putting up a framed version of memorable custom jigsaw puzzles above your bed or on a wall in your bedroom. You can actually invite your loved ones for a get-together and have a puzzle game night and then frame the puzzle you all made as a reminder of the good times spent with family and friends.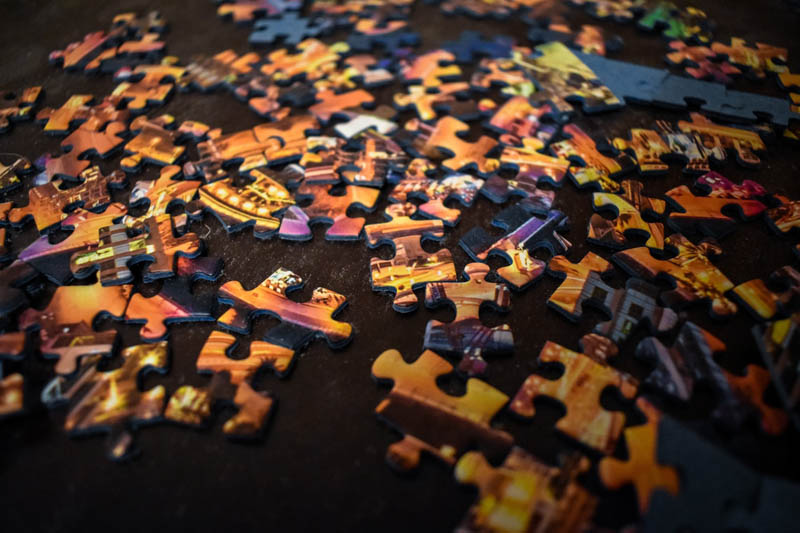 Photo by Fabian Kühne on Unsplash
If you are generally fascinated with puzzles, a great idea is to opt for puzzle coasters and place them on your bedside table. This is also a pretty romantic gift for giving your partner when living together.
Additionally, if your room is largely monochrome or basic, we advise adding some color and authenticity by using puzzle pieces as a way to break away from the monotony. This could include custom printing a picture on wooden puzzles and hanging it up on the wall instead of just printing a paper picture. Some ideas for pictures that you could customize on puzzles include those of your loved ones, your favorite place, or a beautiful picture you took while on holiday. The bottom line is, puzzles give you the flexibility to be as creative as you want.
Build The Perfect Reading Spot
While many people may be complacent with a soft throw and some fluffy cushions as their reading spot, you can really go all out and fashion a bedroom nook that is exclusively dedicated to reading.
Our top choices for building a truly unique reading spot include making a reading nook beside a bookshelf and preferably, opposite a window overseeing some fantastic greenery. You can either create a window seat, include a hanging armchair, an indoor hammock, or even a Papasan chair.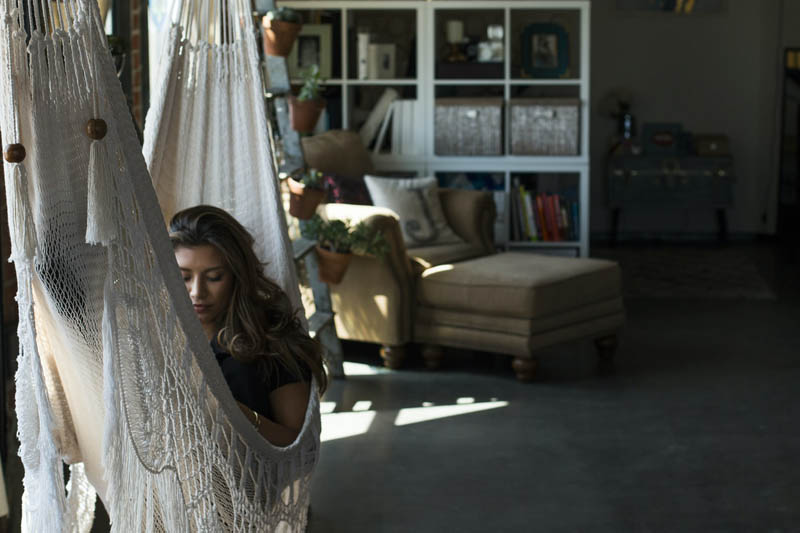 Photo by Mike Bowman on Unsplash
Better yet, if you have the space, consider hiring a professional and breaking your bedroom into two spaces, where one would include your bed and wardrobe, and a second area would be dedicated to your reading pursuits. You can divide the room using folding screens, a barn door, or if you feel up to it, even small stairs to completely isolate the reading nook from the rest of the room by creating two architectural levels. All these measures will give the impression of a much cozier and wider space since you will have two separate retreat spots in your bedroom.
It's All About The Wood
One of the classiest yet unique ways to elevate your bedroom space is by including as much of nature as possible.
If you are into that rustic, country-style decor, this is the perfect fit for you. Opt for an eccentric bed or headboard that is made of either twig, birch tree, or any kind of reclaimed wood. This will bring a little bit of nature to your bedroom, which is a great way to help you feel more grounded and at ease.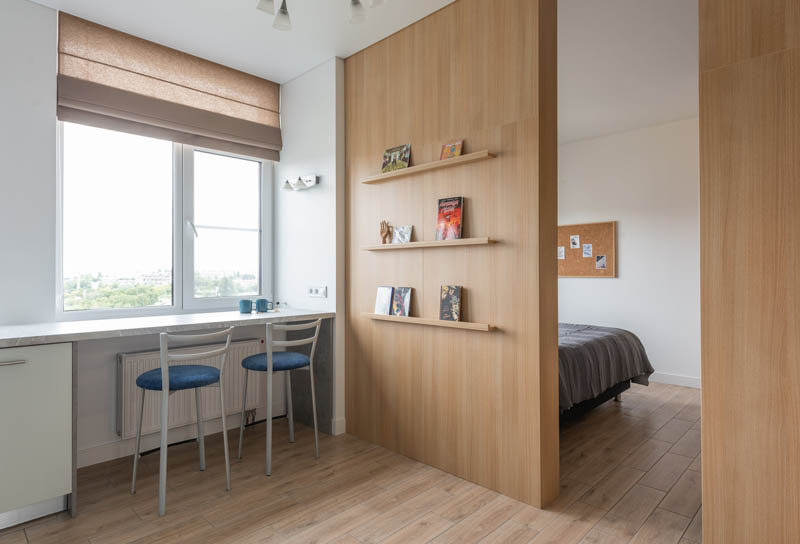 Photo by Max Vakhtbovych from Pexels
Rather than just choosing the usual options of having a wood-paneled wall, floor, or ceiling, you could remove the traditional door to your bathroom and opt for a wooden sliding door. Another great idea is to create a nook for your bed and frame the edges with reclaimed wood that is painted in your favorite color.
You can also grab a piece of log, paint it, and place it beside an armchair so that it can be used as a mini coffee table. Or, you could check for some unused wood in your local area, collect the pieces, and create a rustic feature wall behind your bed in different patterns and colors.
Make It Personal And Groovy
An excellent way to uniquely design your bedroom includes getting crafty and showcasing some hidden talents.
First, take stock of what you own and make a note of what can be displayed. In this regard, our top tip would be to collect all items of sentimental value and display them on a hanging shelf. Remember, it is your bedroom, and the more you exhibit little trinkets from the past, the more unique it will become.
If you have a flair for the arts, we suggest painting a mural or even doing a little graffiti art on one of the walls and installing accent lights to show off your talents. Additionally, if you are a traveler, you can create a travel wall by putting up pictures, postcards, ticket stubs, festival passes, and even foreign currency notes. This will add a bespoke touch and a distinctive character to your bedroom.
Some Insider Tips
As a rule of thumb, you may want to consider some essential details before incorporating any of the above ideas in your bedroom. First, you would ideally want to center your room around a loosely based theme to enable a seamless flow of design and style. From nomad, industrial, vintage, or minimalist Scandavainan, the choice is yours!
Second, consider the size of the room and estimate what additions will make it look more open and cozier. In this regard, choosing a color palette becomes important. Try keeping two major colors in the room and add hints of other colors of the same family for a more streamlined look.
Lastly, whatever you do, make sure that you utilize ample lighting because this is one interior design element that can make or break your space. Choose multiple light sources including table or floor lamps, recessed lighting, or accent lights to create the perfect ambiance.
Parting Thoughts
Decorating your bedroom is an exciting experience that is full of possibilities. It gives you the freedom to express yourself to the fullest in a space that is completely yours. So begin by brainstorming some ideas, draw up a budget, and get started!
We wish you all the best in designing the bedroom of your dreams!