The kitchen sink is often one of the most overlooked parts of a kitchen. Not everyone considers a sink as a statement piece, or something at the top of their wishlist. Still, it's used daily and truly should be a focal point of any renovation or upgrade.
To help you understand all there is, we'll take a look at 5 of the best kitchen sink materials you should consider. And once you have your mind made up, you can take the next step for installation thanks to bookaplumberonline.com.au.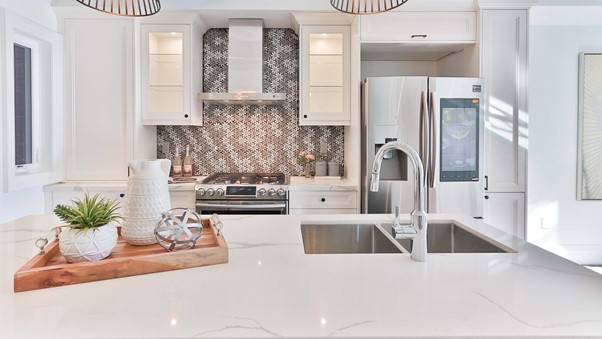 Stainless Steel Sinks
Stainless steel is an enduring, versatile material for sinks and appliances alike. It's the most popular kitchen sink choice because of this. Budget, style, and shape can all be catered for, and even colour.
Basins can be installed as undermount, overmount/drop-in or farmhouse, complementing a range of benchtops. Whether you have marble, laminate, stone, wood or granite, a stainless steel kitchen sink will suit.
Shape is also no restriction, so there's no need to limit creativity. Choose from double bowl sinks, single bowl insets, round, square or rectangular sinks… the possibilities are endless. In reality, the only downside to consider is that it shows water marks and scratches easily.
Still, where traditional mirrored stainless steel can show imperfections, a brushed or satin finish hides them. Alternatives such as brushed brass, gunmetal and copper also offer flexibility in colour selections.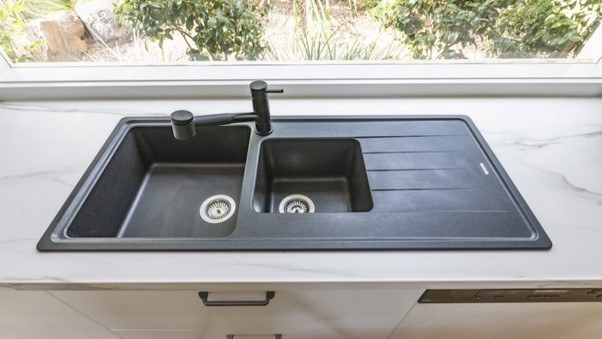 Composite (Granite, Quartz)
When you're after a classy, durable material, you want composite granite or composite quartz. The best composite sinks include 80% of the main material, mixed and blended with high-quality acrylic.
Composite sinks are incredibly easy to maintain as the non-porous stone surface does not show water marks, and is hard to scratch or damage. Many claim that composite materials are the best option, and the long-lasting qualities ensure it has a slight edge on stainless steel. The price likely reflects the additional benefits, although composite sinks typically sit in an affordable range.
Granite composite and quartz composite sinks are available in a variety of styles and colours, including reliable blacks, browns, greys and white. There is always a shade to suit, whether it's a dark statement or lighter undermount sink. To really show off the colour and texture, consider a composite farmhouse sink.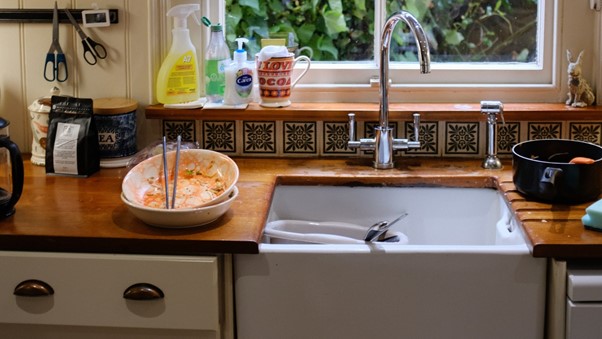 Enamel (Cast Iron)
Cast iron sinks offer a porcelain-like appearance with added durability thanks to the outer enamel coating. The enamel cast iron sink is smooth, classic, and can be found in homes of all eras. There's no risk of cracking or chipping, and you can rest assured that there will never be any complaints about performance.
Many enamel kitchen sinks feature as statement farmhouse sink pieces. However, they also make for great drop-in options. The traditional aesthetic means you can enjoy an antique vibe in a historic home, or go for country-chic in something more modern.
One of the main considerations when installing an enamel sink is the undersink support. They are weighty, meaning you need more support than a simple stainless steel sink. Other similar options include fireclay, which has the same look and feel, but is less likely to stain or scratch.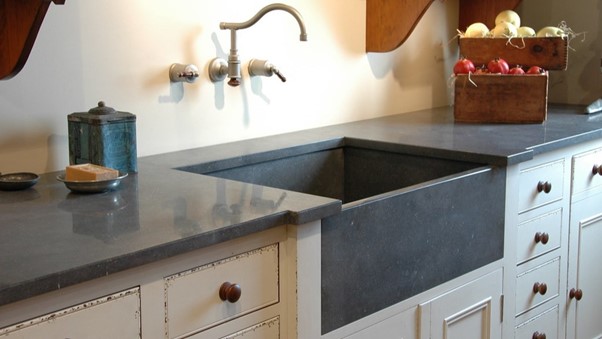 Stone
Natural materials like stone, or even wood, provide depth and beauty. And while composite sinks are a more affordable option, if you want the real thing and have cash to splash, go for a pure stone kitchen sink.
The likes of pure granite, quartz and marble will create a major statement in any home. Each material is unique as there's no mold or mixture – everything is pure stone with natural variations and texture. You can rest assured that your stone sink is one of a kind. However, they do lack the traditional in-built extension for draining dishes, so you will likely need additional drying accessories.
The stone also provides a beautiful juxtaposition to softer elements, or lighter colours. Alternatively, a stone sink can be an extension of your benchtop, allowing smooth lines to flow throughout.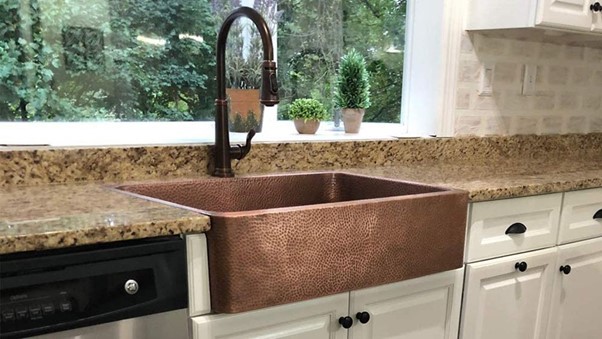 Copper
It's undeniable that copper sinks provide a dazzling first impression. Copper is a high-end feature that never corrodes or rusts. As an investment piece for the kitchen, you can remain confident that everyone's going to love your copper kitchen sink.
However, maintenance does require some extra attention. Copper fixtures, including tapware, will need to be dried regularly to reduce the risk of water marks forming. It can also tarnish, hence the need for specialised cleaning.
The main consideration for copper will be the cost. As one of the most expensive materials in the list, you want to be 100% sure about what you want. If you are investing in a copper kitchen sink, it should be able to stand on its own as a statement piece.