Designing or remodeling your kitchen is an extended process that requires careful planning. A clear picture of your budget and the space restrictions for your kitchen are fundamental starting points for this process and can directly impact the designs for your new space. You may be seeking to install a few upgrades yourself or may instead be seeking the assistance of a few kitchen design companies to take your project to the next level. Either way, there are a few universal design techniques to keep in mind before getting started on your kitchen.
Kitchens are highly customizable spaces that can be built from the ground up with your needs in mind. The first step for any design process is to consider what you want to see in your ideal kitchen setup. Do you have any specific appliances or appliance features in mind? Do you have any new storage needs for either food or cooking equipment? Perhaps your new kitchen features an open seating area. There are likely a few in-person and online showrooms available in your area that can get you started with finding the specific features you'd like to see in your kitchen.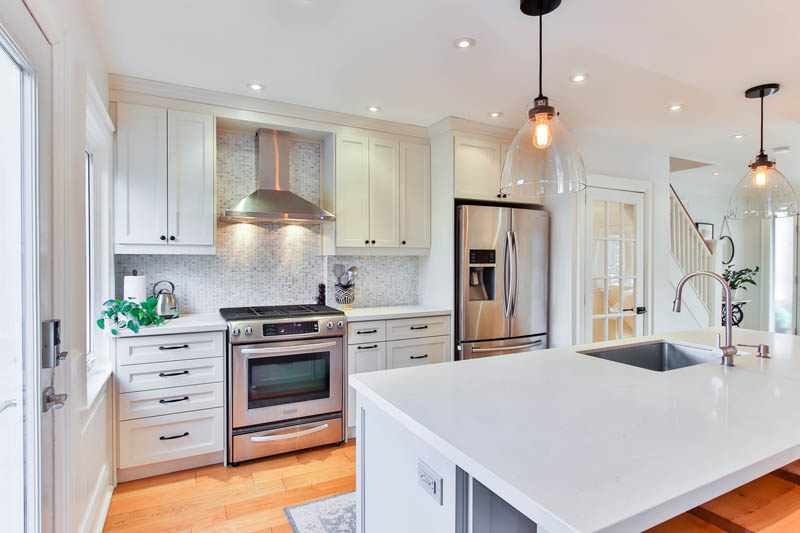 It's always helpful to have a list of "kitchen ideals" to start with when launching into the nuts and bolts of the design process. Before getting started on your project, make sure to consider these six layout tips that are critical for any kitchen design.
Begin with an Open Floor Plan
An open floor plan is essential for establishing a modern yet timeless kitchen design. The kitchen should be well-connected to other areas of your home's living space and should not be isolated. There's no need for a kitchen to have that fourth wall when a countertop or kitchen island can still provide a clear division between your home spaces. Many modern kitchens utilize a one-wall design to achieve this division.
An open floor plan for your kitchen keeps the family close and provides room for a new seating area without feeling cramped. Open plans with kitchen islands are also particularly great for allowing people to move throughout the kitchen space without getting into the main work area of someone who is preparing food. Transitioning to an open floor plan can be challenging to implement depending on the home, but it always ends up being an important long-term investment.
Let in Natural Light
Natural light is a critical part of creating a comfortable and clean kitchen space. When putting together formal plans for your remodeling project, consider adding a window near the sink in a central kitchen location if you don't have one already. Building in a capacity for natural light in your kitchen can help make the space feel more open and accessible.
If you have a limited amount of space for building in windows, you may want to consider building in an overhead skylight. Besides allowing natural light to flow in from above, a skylight can be a great interior design setpiece. A skylight can even assist with ventilation for the kitchen and has the potential to lower your electricity bill. If you are interested in incorporating a skylight into your kitchen design, check out these captivating kitchen skylight ideas.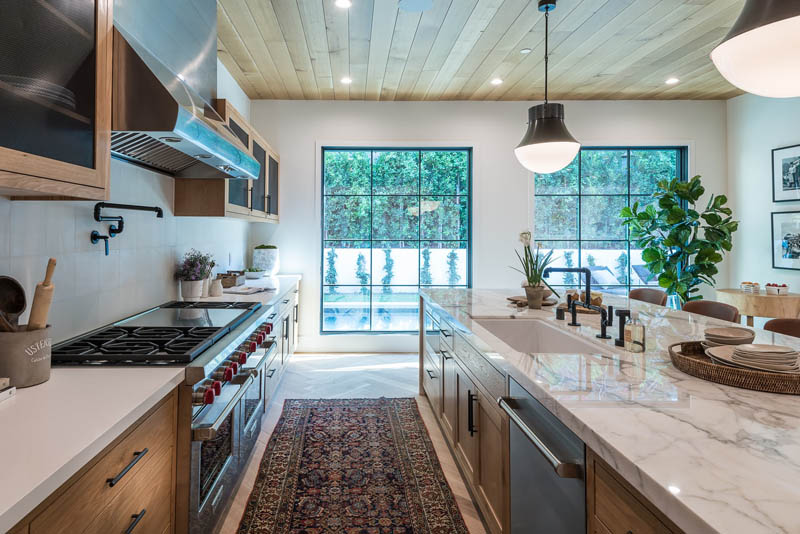 Keep the Cabinets Convenient
The functionality and convenience of various kitchen features can depend upon the accessibility and capacity of your cabinets and pantry. Everything within the kitchen should have a designated home, so you always have the ability to keep organized countertops with a minimalist appearance. In addition, make sure everything you frequently use for food preparation is accessible and easy to reach.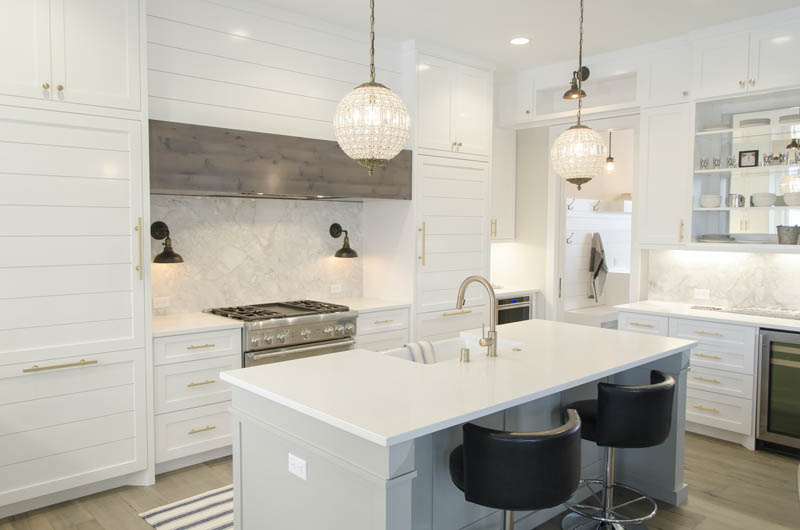 Stick with Stone Countertops
Stone countertops are a practical necessity for a kitchen design that lasts long-term. Luckily, there are many stone countertop designs available that stand for their unique patterns or color. Granite and marble are the two options you might want to consider first, simply because they are easy to maintain. Stone countertops are among the strongest countertop surfaces, which means they are difficult to scratch or stain.
Quartz countertops are another excellent choice for your kitchen countertops, though the cost is often higher per square foot when compared with granite. Quartz also has more customizable patterns or veining- check out this guide for a side-by-side comparison of quartz and granite countertops.
There are a few common choices for countertops that are not stone, but you may want to look elsewhere because of their lack of durability. These choices include ceramic tiling, which may stain more often than other materials and look somewhat old-fashioned, and wood, which is unlikely to avoid scratches and can be harder to seal. There is also stainless steel, but this surface will leave your kitchen with an unappealing cold or industrial appearance.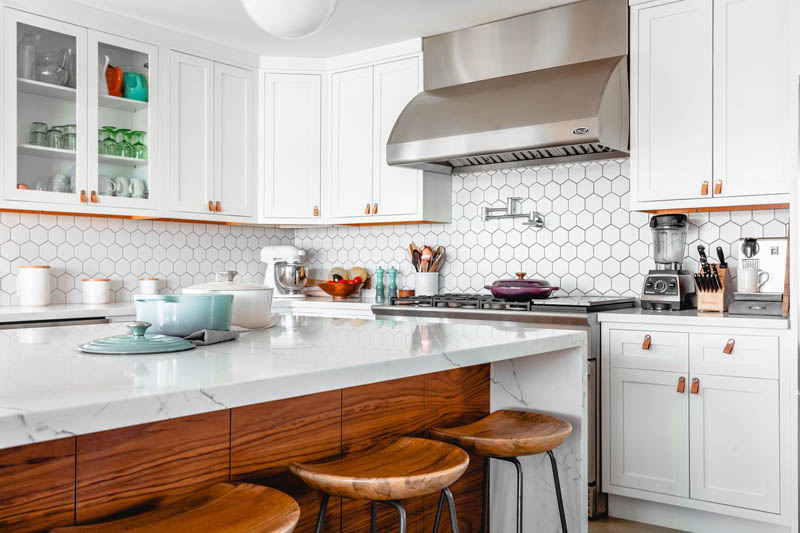 Create a Comfortable Living Space
The well-designed kitchen is so much more than a workspace. Including seating at a table or bar area can go a long way in connecting the kitchen with the rest of your living space. Building in a space for serving appetizers or drinks can also make the kitchen a comfortable area for visitors and house guests. Keep throughways in the kitchen open, so it's easy to enter or leave the room.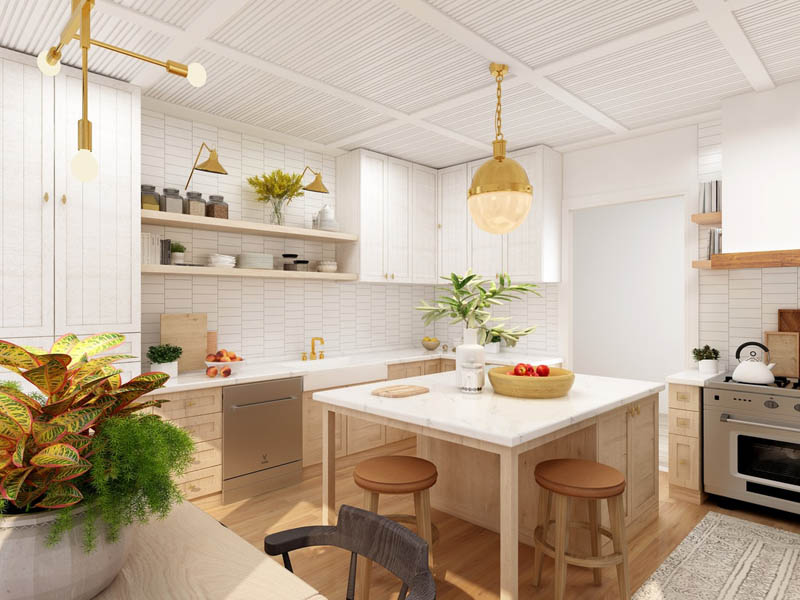 Maintain a Kitchen Workspace Triangle
When designing a kitchen, make sure you don't forget the basics. Every kitchen needs a defined workspace area between major appliances. This workspace should form a triangle shape between the sink, refrigerator, and stove. The throughways in the kitchen should be clear of this triangle to prevent interference with someone preparing food.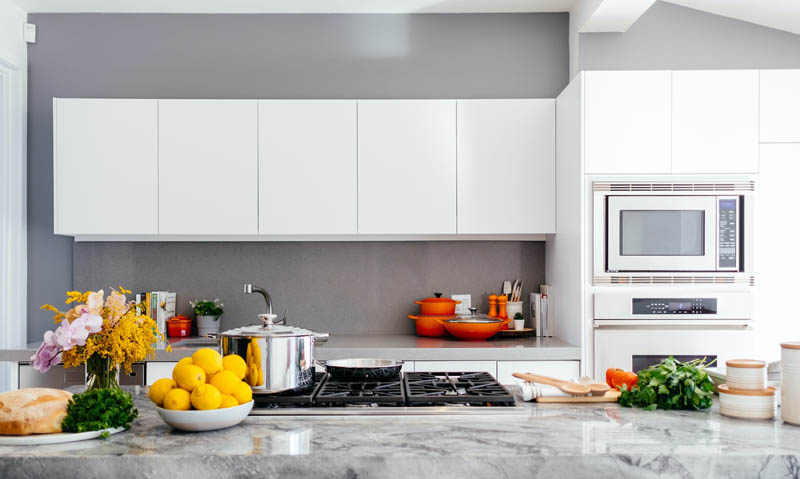 Conclusion– 6 Tips for Planning a New Kitchen Layout
Making a plan for your new or remodeled kitchen always involves a close understanding of your space and how your family uses the kitchen. With custom kitchen designs, it's possible to build in solutions that fit your specific wants and needs. Throughout the planning process, you will need to choose between various layout and design options. Make sure to remember the basics of kitchen design when planning your layout, with consideration for everything from countertops and appliances to cabinets and lighting.