A small patio often looks like a big challenge to decorate and put to use, but it doesn't have to be like that.
No matter the size, you can make it your own little comfort corner. All it takes is a little imagination and skill to create your outdoor magical retreat. Some moderate investments in outdoor decor could also make a big difference.
Here are a few ideas on how to transform a patio into a place where you can reset and unwind at the end of a busy day.
1. Ensure privacy
The first and most important thing you have to do is ensure privacy in your future relaxing zone. You want a private, secluded space where neighbors won't bother you. Also, you want to minimize the noise from the street. You can achieve that in a few ways: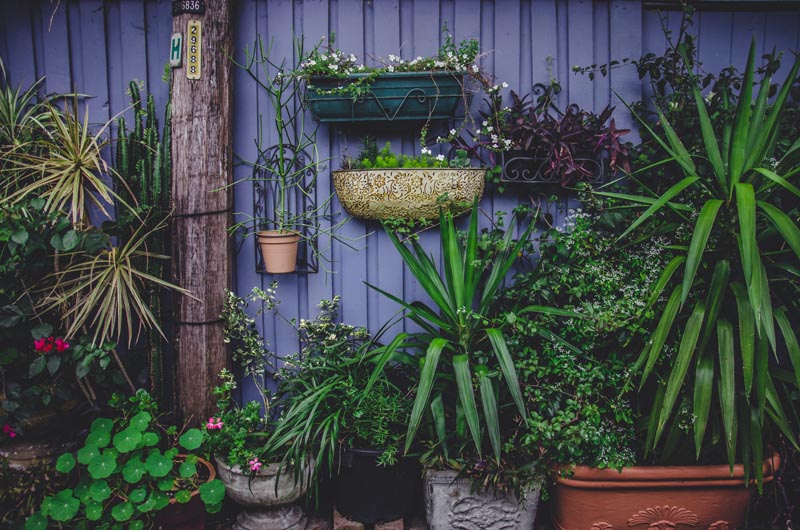 Build a fence
Grow a hedge
Make a DIY vertical garden wall
If you opt for a fence, choose a natural-looking wooden fence. Wooden fences are more expensive and they will require maintenance — but in the end, wooden fences look great and they boost the curb appeal of any backyard.
Hedges are also a great option for ensuring privacy. An added benefit of growing a hedge is that it can improve the quality of the air you breathe.
A vertical garden is similar to building a fence, but it allows you to plant your favorite plants and enjoy greenery or the scent of flowers.
There are plenty of options on how to build a vertical garden wall — but we love the tin can fence garden by CieraDesign.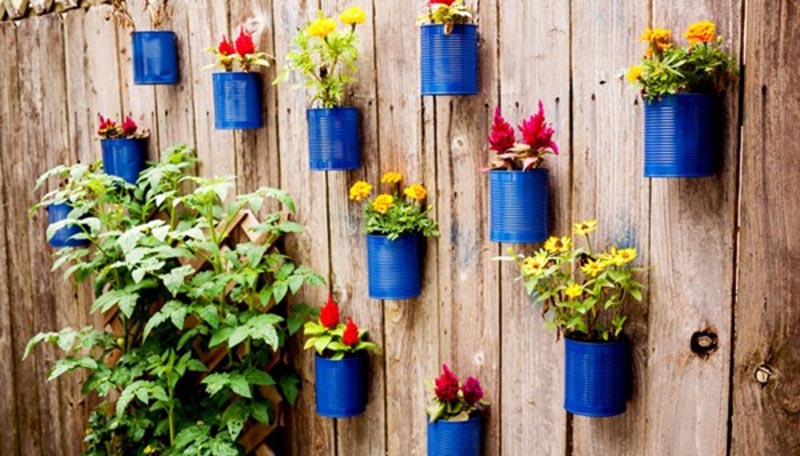 Image source: CieraDesign
It looks beautiful, it's easy to make, and you are reusing tins that would end up in the trash.
2. Install atmospheric lighting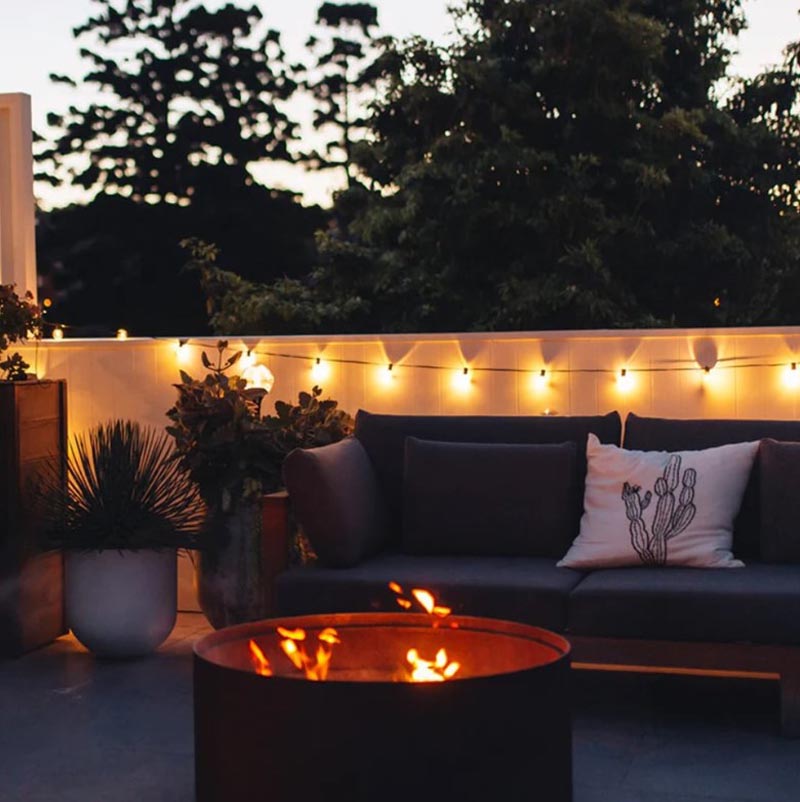 Image source: Hoselink
You can do wonders on your small patio with proper lighting. Invest in solar lights since they are eco-friendly. With decorative solar lights, you are:
not spending electricity,
saving money, and
cutting your carbon footprint.
Another perk of solar lights is that you won't need to install wiring, and you can change the position of lamps.
To create a romantic and peaceful atmosphere, hang string lights across the rooftop. You can hang them in zigzag or parallel. You can experiment and see what you like best.
Also, try to add some dim lights to the walls. You don't want all light coming from the same source; you should aim for small solar lamps placed all over the patio for the best experience.
Use real candles to enhance the atmosphere and charm of your patio.
3. Add plants and greenery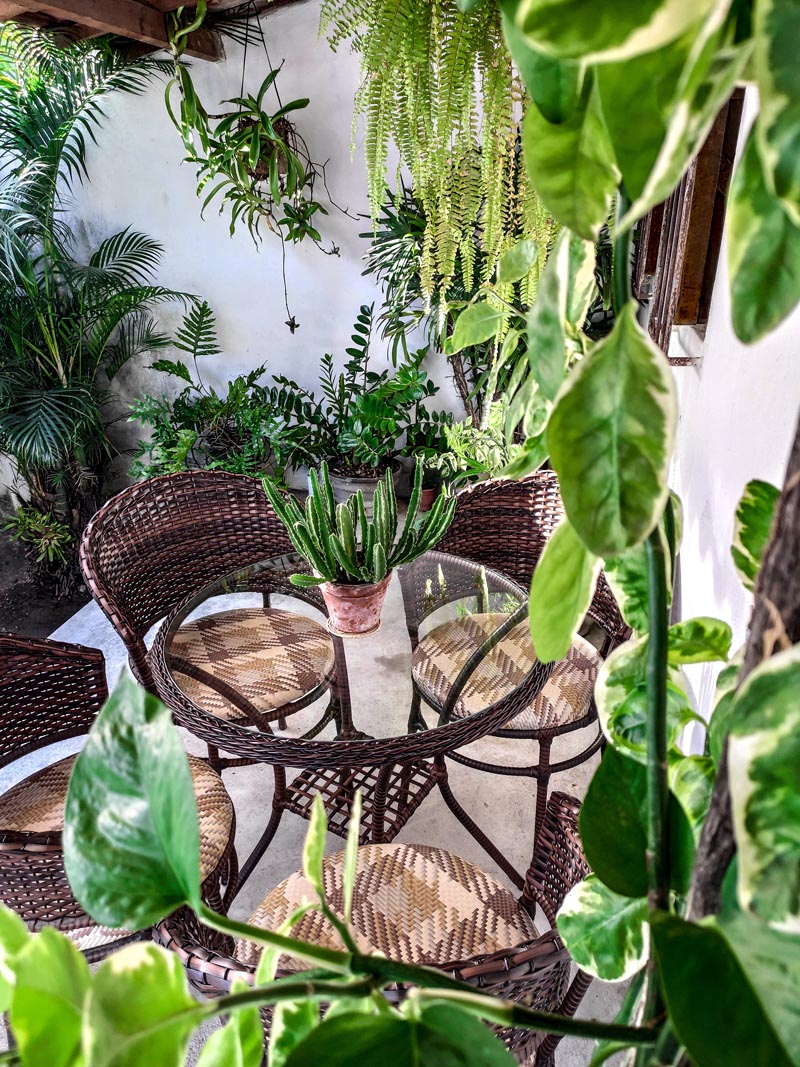 Plants are a must on your patio. You have to decide which kind of plants you want to grow. We like the edible patio garden ideas where you can eat what you grow on your patio.
You can start a little herb garden and enjoy rosemary, basil, or oregano scents and use them in the kitchen. It is a win-win combination.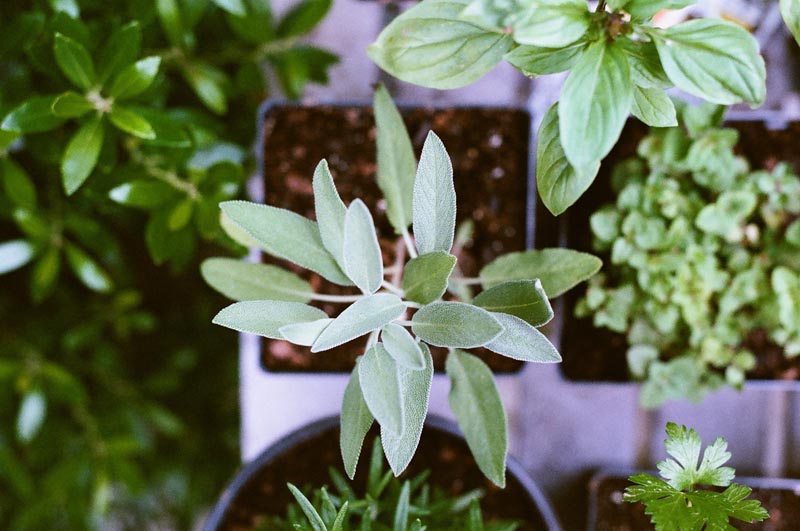 If you want to enjoy beautiful flowers on your patio you should consider container gardening for your perennials and annuals.
Some of the most suitable perennials to grow on your patio are the ones that can survive the winter in the container and bloom again next spring. Here are some of our favorites:
Armeria maritima (Sea Thrift)
Bergenia (Pigsqueak)
Echinacea (Coneflower)
Primula (Primrose)
And many more.
When planning your perennials' layout, bear in mind where they will be placed. If that is a shady spot, opt for shade-tolerant plants like the Kaffir lily.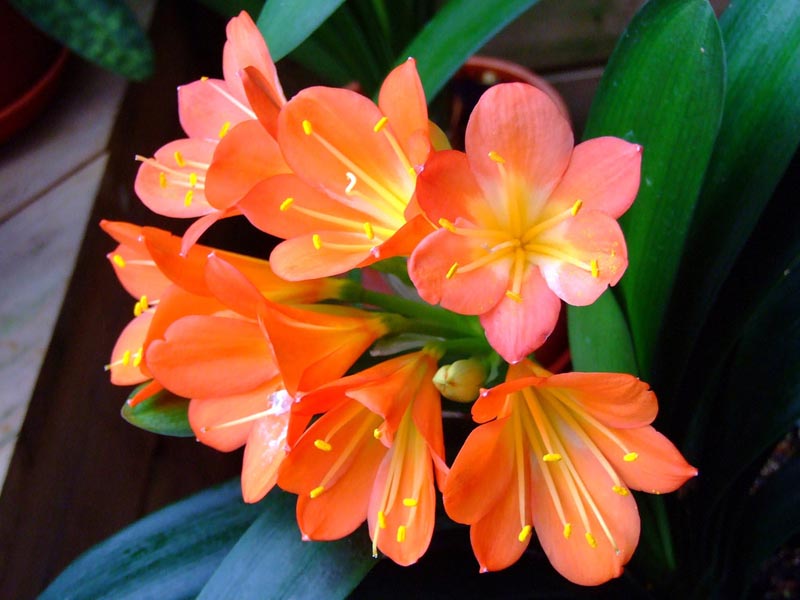 4. Make it cozy and natural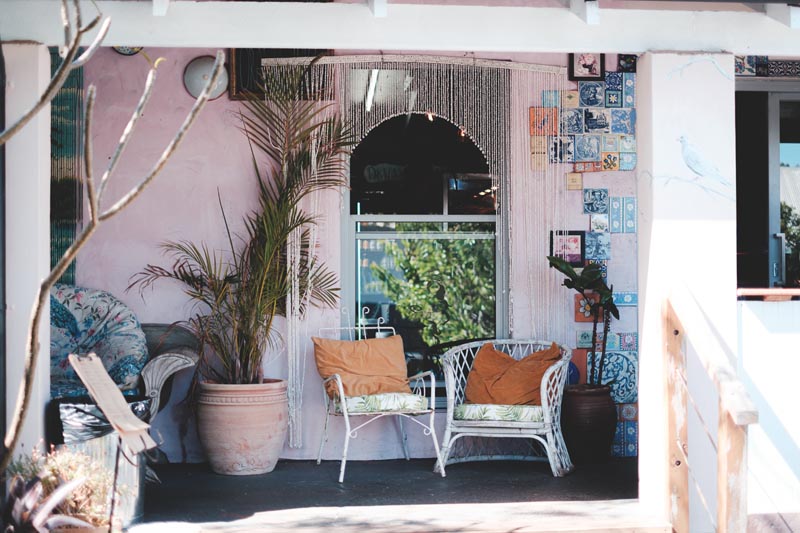 Your small patio is your outdoor space where you want to unwind, reset and enjoy. And for that — you need to create a calming atmosphere.
You can achieve that by choosing furniture made from natural materials like wood, rattan, and textiles from wool, cotton, or linen. Stick to natural tones like brown, ivory, beige, and gray. Even scientific research suggests that natural materials and colors can boost your mood.
Make sure that you choose the correct size for your patio table. Try to make place for two at least, and add two extra floor pillows for unexpected guests. Furniture with built-in storage would be perfect so you could always have a place for blankets and pillows. If there is room, a rocking or hanging chair would be a great addition to the cozy atmosphere.
In the picture below you can see how — with very little furniture, the right decor, and some plants — you can create a cozy outdoor space.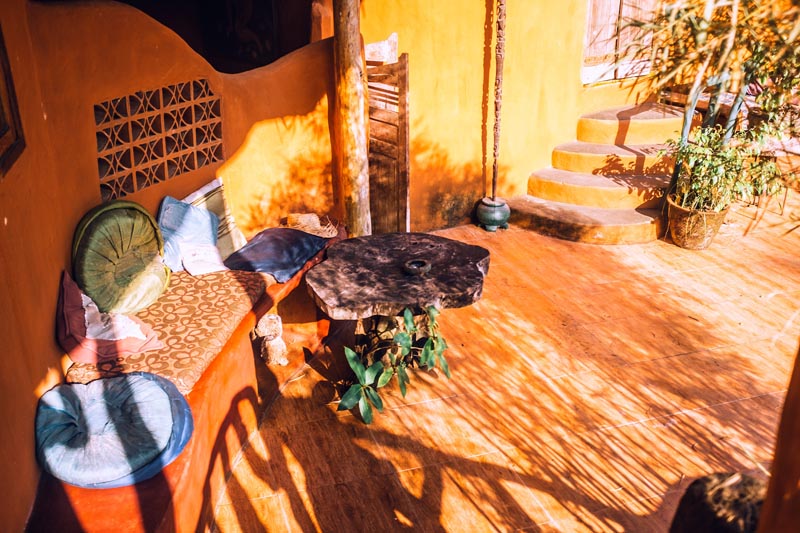 5. Add a fire feature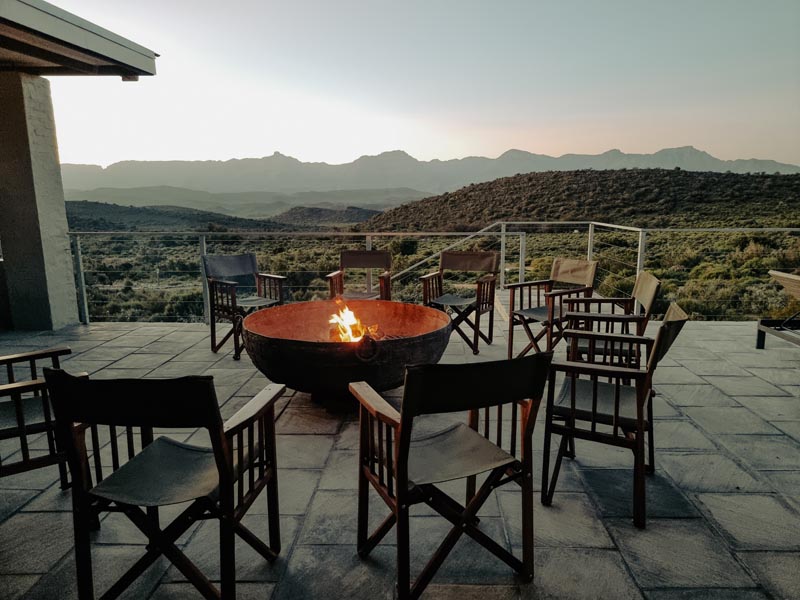 By adding a fire feature to your patio you can really create an impressive outdoor space. But before choosing your fire pit design, you must check the laws and regulations on open fires in your county.
Rules can be different from place to place but some of the most common regulations include the following:
An adult must supervise the fire at all times.
If the wind is stronger than 15 miles per hour — don't use your fire pit.
Keep children and pets away from the fire.
By making sure you follow these simple and common-sense rules you will ensure the safety of your home and family.
Now, about fire pits.
You can build your own fire pit but we suggest buying a fire pit that will be appropriate for your small outdoor space.
You can find fire pits from different materials on the market. Also, they can be wood-burning or gas fire pits. You can even go with an electric patio heater.
If you want a wood-burning fire pit — a great choice would be a smokeless fire pit. With these kinds of fire pits, you can enjoy smoke-free marshmallows with your friends!
You can also choose from a large selection of:
Gas fire pits
Tabletop fire pits
Or even fire pit tables.
It all depends on the available space, your preferences — and your budget.
6. Make it usable all year long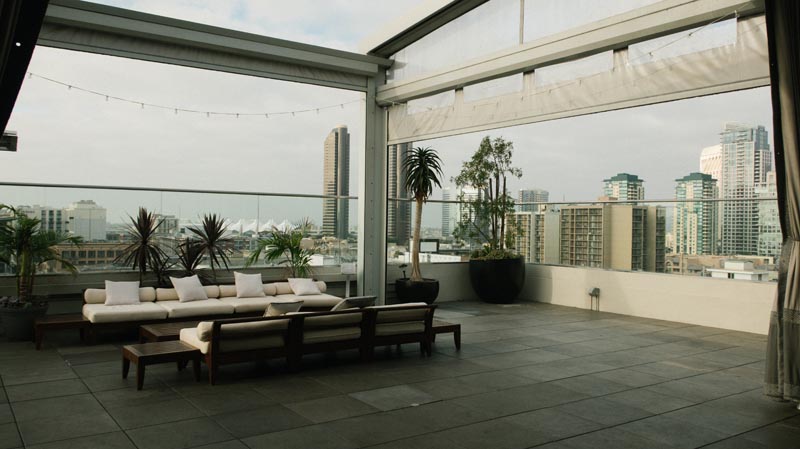 You want your patio usable all year long, to enjoy the outdoors even in winter times or on rainy days. You can build a roof over your patio but that is a quite costly investment.
The more cost-effective option would be installing a retractable awning or a pergola.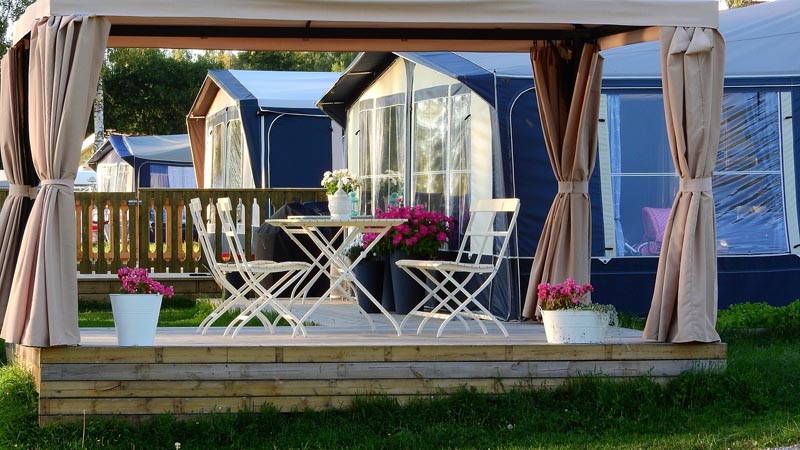 There is a vast choice of materials awnings are made of. They can be from durable textiles, plastic, steel, etc. Pergolas are usually made from wood or aluminum.
Both are great choices to create a space protected from rain but also from the hot sun. Also, they will boost your patio appearance and add value to your home.
7. Add a vintage touch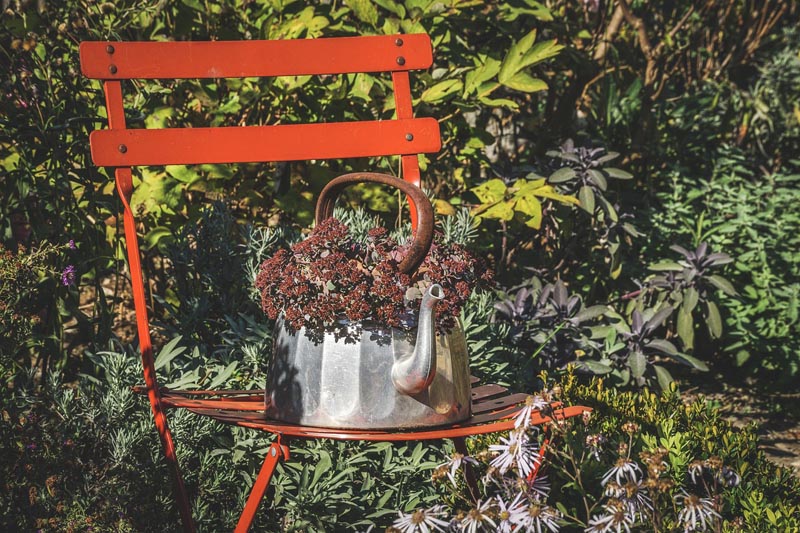 Vintage style can be particularly charming. Vintage furniture made of iron and wood is very practical for small spaces because it is smaller and can usually be folded.
If you are into this style, take a bit of effort and find some original vintage decor like:
lanterns,
vases,
wall mirrors, and
old bowls or teapots.
By adding those extra details you will achieve a retro aesthetic and create a chic holiday atmosphere.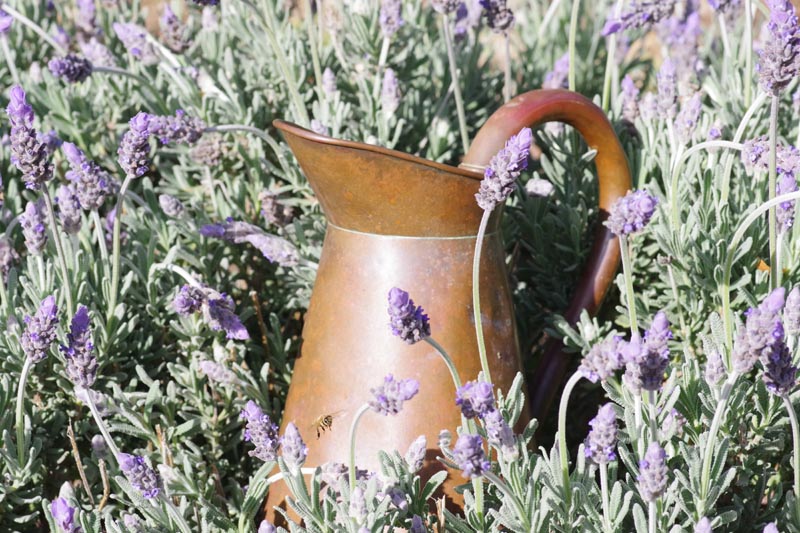 Most important: listen to yourself
When designing or upgrading your patio, think about functionality, but also try to create a place you will enjoy. Put your personality, lifestyle, needs, and habits first.
Don't make a boho, vintage, or modern patio because it is trendy or your friends like it. This is a place for you —- and for your family.
In small spaces, balancing practicality and aesthetics is of the utmost importance. We hope that some of our ideas inspired you to create a great place for enjoyment, relaxation, and socializing.
_________________________________________________
Annie Morton is an avid nature lover from rural Australia. After some international adventures, she has settled in New York City. If you have some questions about Hoselink Garden Hose Reel she is the person to talk to.