Whether you live in a rental or own your home, you want your space to feel like yours. Adding your personal style to your walls is a great way to do that, but it can also be expensive. Here are some affordable wall decor ideas to make your space look great without breaking the bank. Keep reading for more!
Hang a series of canvas prints.
High-quality art doesn't have to be expensive. Save money today by investing in cheap canvas prints that show off your personality and style. Canvas prints come in many different sizes and depths to dress up any wall in your home regardless of size or color. Plus, it's easier to keep your budget in mind when not purchasing canvas prints directly from a professional photographer.
If a picture says a thousand words, let your walls be the story of your life. Immortalize those once-in-a-lifetime moments with the ones you love or frame the simple pleasures of life in a heart-shaped collage. Your travels, your hobbies, and your family all deserve to be showcased in a way that brings a smile to your face.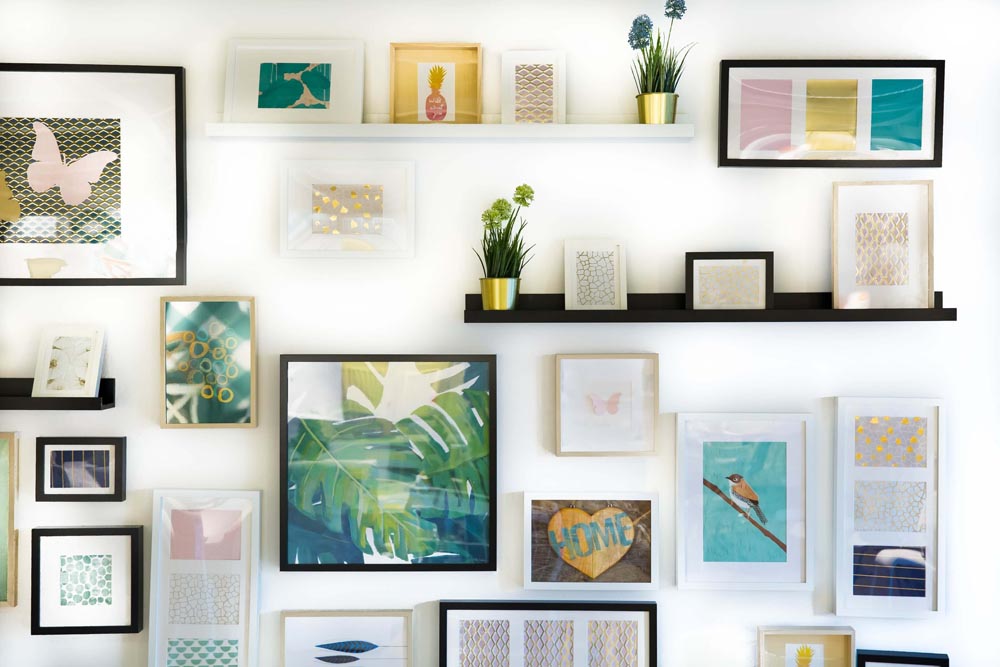 Canvas prints bring dimension, scale, and color that add to the decor of the room. There are varying canvas depths and textures, so don't be scared to switch it up to add a bit more variation to your home. Remember you can have a bright and personalized home while sticking to your home decor budget.
Use wallpaper to add texture to a space.
Wallpaper is experiencing a surge in popularity because it effectively adds texture, pattern, and color to a room. There are a variety of different types of wallpaper available, so you can find one that will fit your style and budget. If you are looking for a subtle way to add interest to your walls, consider using textured wallpaper. Textured wallpaper can add dimension and visual interest to a room without being too overpowering. Various textures are available, so you can find one that will complement your decor.
If you are looking for something bolder, consider using patterned wallpaper. Patterned wallpaper can add personality and character to any room. There are an infinite number of patterns out there, so you can find one that fits your style. If you are looking for a splash of color, consider using brightly colored wallpaper. Brightly colored wallpaper can brighten up any space and inject some personality into the room. There are many different colors available, so you can find one that matches your decor perfectly.
Add some eye-catching shelving.
Adding eye-catching shelving is a great way to add visual interest to a room and provide extra storage space. Various budget-friendly shelving options are available, so you can find the perfect type to match your decor. Metal or glass shelves might be a good fit if you're looking for a sleek and modern look. If you want something more traditional, thick wooden shelves can be a good choice. Wooden shelves add a cozier, more rustic vibe and are typically more affordable than shelves made of other materials. No matter what type of shelves you choose, add some visual interest to a room and provide some extra storage space.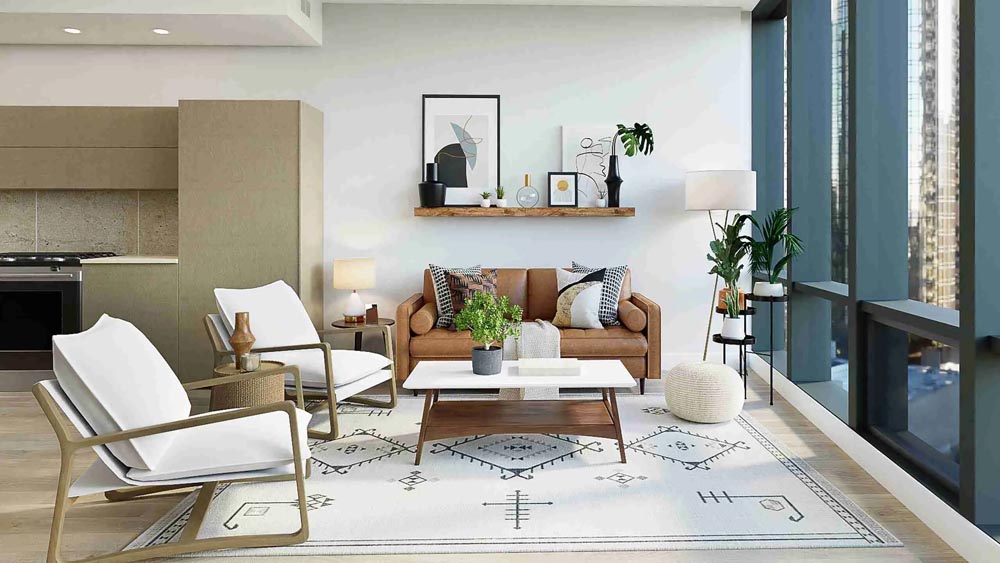 Once you've selected the perfect shelves, think about how you want to decorate them. You can display your favorite books, photos, or plants on the shelves to add personality to the room. If you have many items to store, consider using shelves with multiple levels to provide more storage space. If you want a more minimalist vibe, consider placing a small plant alongside a sentimental photo on sleek floating shelves. Shelving is a great way to add extra storage and visual interest to any room in your home. With various options available, you're sure to find the perfect shelves for your needs.
Use paint stencils to liven up a room.
Painting your walls is a classic way to update a space, but for even more interest, consider using a paint stencil to paint your own designs. Paint stencils are available in different designs and are a very affordable way to add some personality to your walls. Popular stencils tend to gravitate more towards simple designs and shapes, but there are also stencils that can help you add floral designs, fun patterns, or anything else you want.
Stencils are also fantastic for nurseries or children's bedrooms. With a stencil, you don't have to worry about spending money on wall decals or posters. Have your child choose what designs they want, like cute wildlife designs or funky shapes. Make sure the paint colors you choose for your wall and stencil design complement each other. Once the stencil is painted on, you'll have a fun shape on your wall that will serve as a unique focal point in the room.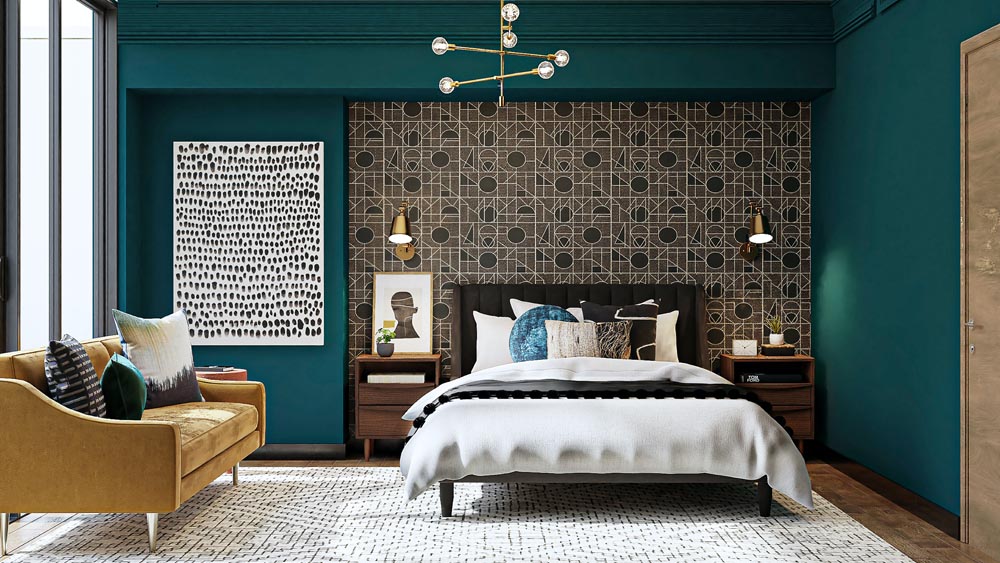 Use mirrors to make your space feel bigger.
When it comes to interior design, one of the most popular tricks to make a space feel bigger is to use mirrors. Mirrors reflect light and make a room look larger, so they're great for small rooms or apartments. Not only do they reflect light, but they also add visual interest and can be used as a focal point in a room. While mirrors can be expensive, you can find some wonderful vintage mirrors with eye-catching frames.
Try to place a mirror opposite your windows. This will help to reflect the natural light and make the room feel brighter. Make sure you invest in a few small mirrors and at least one large mirror. More oversized mirrors create the illusion of space and reflect more of the room, so this is the best type of mirror to get if you want your space to feel bigger. If you want a room to feel wider, hang your mirrors horizontally. Also, a beautiful and well-placed mirror acts as an excellent focal point in a large room, so consider adding a big mirror above your living room couch or in your dining room. Be sure to keep the rest of the wall decor minimal.
Affordable wall decor can add character to a room without breaking the bank. Consider adding one or several of these options and see your personality blossom throughout your home.