Finding the perfect Mother's Day gift can be tricky. Sometime, even you will to spend that money, you might still not be able to get a gift your mom like. Sure, you could craft a DIY Mother's Day gift but most of these crafts will become one of those collectibles and displays standing by itself without any usage. I am not saying it is not good. But I am a practical person and I hope my gift is useful instead of a display.
Hence, this year, I rounded up some cool health and natural beauty related products. The best part of those products are that they can be re-used and good for your body. From bathtub pillow, to toe stretcher, from facial slimming strap to heat massager, from beauty related to health related, any of them can be a good mother day's gift. What do you think?
This post may contain affiliate links. If you make a purchase, Design Swan may earn an affiliate commission. Please read our disclosure for more info.
1. Luxury Bathtub Pillow [buy on amazon]
Cloud of Softness: Unlike skimpier cushions, this sumptuous spa pillow envelops your head, neck & shoulders in blissful comfort.
Relief for Pressure Points: Premium "wave-pattern" stitching provides strategic support for sensitive joints & muscles. Helps prevent aches & soreness.
AirMesh Technology: With its 3D ventilation, your breathable bath pillow allows constant, refreshing airflow. Dries fast; won't get hot & soggy.
Stays Put Securely: No more slipping & sliding. 6 extra-strong suction cups keep your Bath Haven pillow firmly fixed to the back of your tub.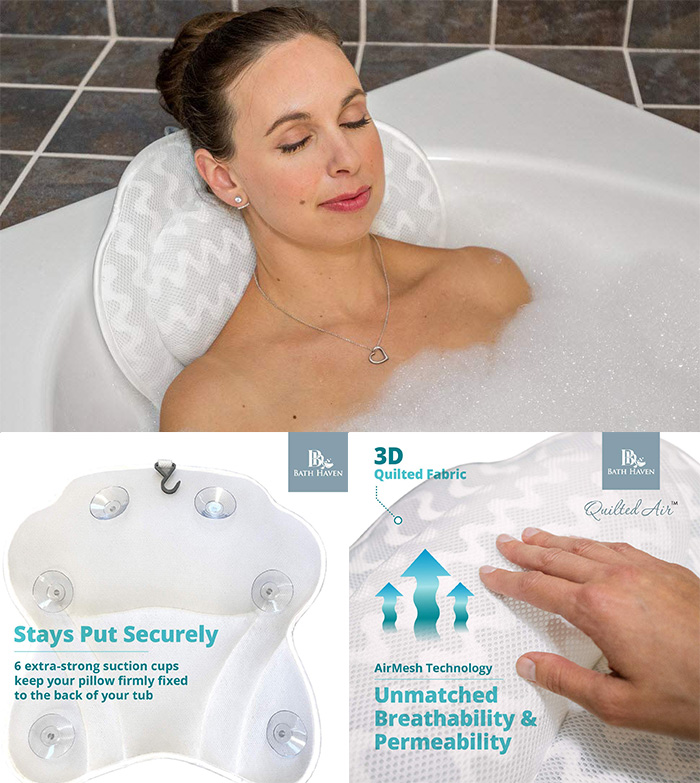 2. Body Back Buddy Trigger Point Back Massager [buy on amazon]
The authentic Body Back Buddy trusted by millions of professionals and consumers since 1995
Designed to be the only massage tool you need to achieve fast, simple relief for your whole body
2 hook design makes it easy to reach every trigger point from head to toe
11 knobs in 3 shapes soothe painful muscle knots in your back, neck, & shoulders, and speed recovery
100% American Made using medical-grade resin. Lifetime warranty included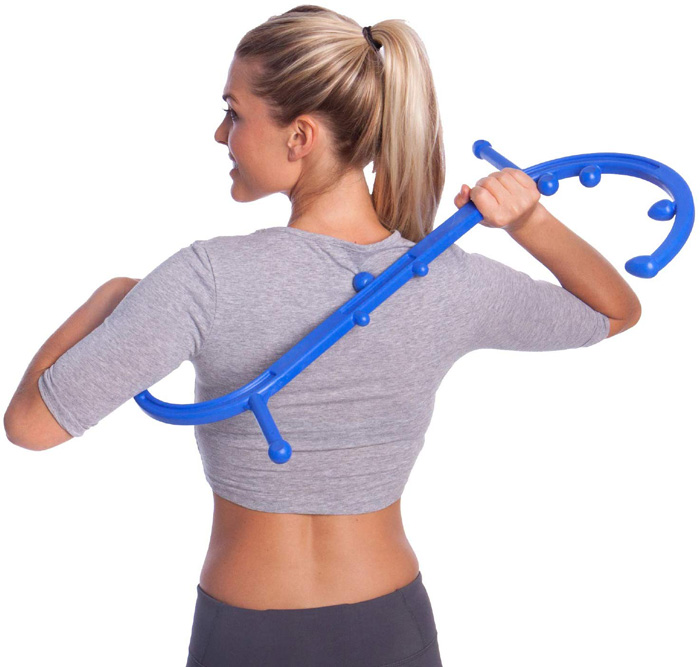 3. Jade Roller for Face, Neck and Body [buy on amazon]
This eye, face, neck and body massage tool is 100% natural, relaxing and refreshing while reducing wrinkles, fine lines and those dark circles under your eyes. What's more? Your face and skin will glow and look younger every time. The natural real Jade can also help with the blood circulation as you massage your face and neck giving you the cool feeling. Having a good massage can also help you to get a good night's sleep. It is the ideal massage and anti-aging treatment without any worries of side effects.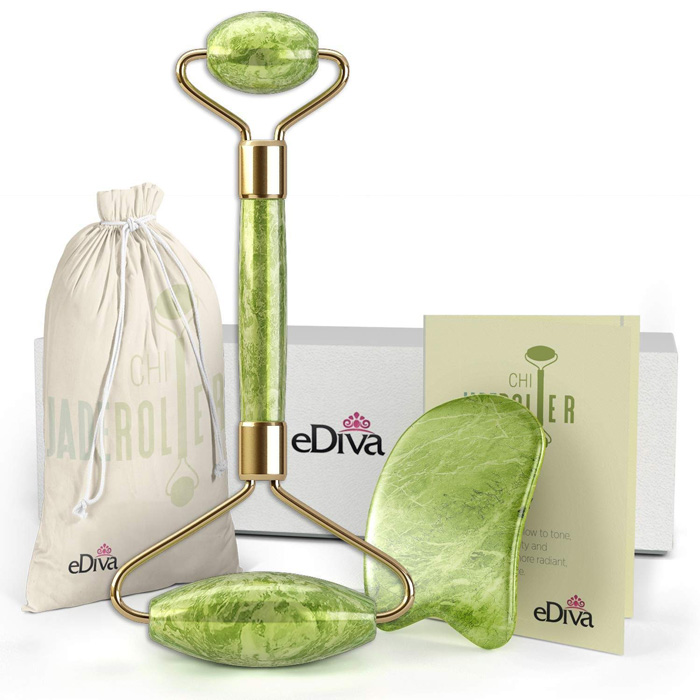 4. Gel Toe Stretcher [buy on amazon]
If you are suffering from Bunions, Hammer Toes, Plantar Fasciitis, or Chronic Foot Pain, YogaToes GEMS are a must. Endurance, balance, and mobility all depend on well-functioning toes. GEMS soothe aching feet and strengthen neglected, weak toes – fixing foot problems naturally.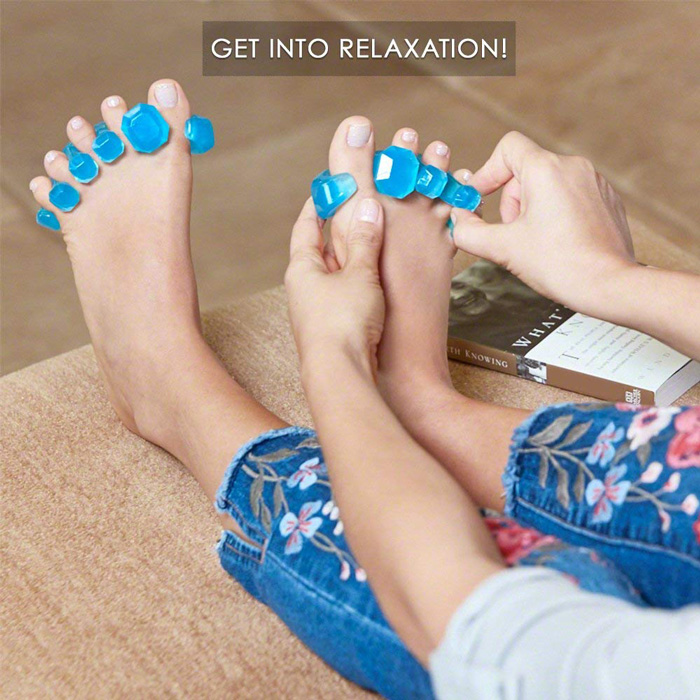 5. Facial Slimming Strap [buy on amazon]
This face-lifting belt is made of skin-friendly, soft and breathable material. It has good elasticity. Adjustable design. This Face-lifting bandage can feel free to adjust the tightness. It is suitable for most people.
You can wear this Chin Strap while sleeping, watching TV, doing housework and resting, keep your chin up, avoid double chin and improve facial contours. The face-lift belt can be reused, washed with warm water and then naturally dried.
This facial slimming chin strap uses a safe and simple physical method to improve the shape of the face. Evenly force on facial tissue, promote blood circulation and tighten neck, cheek, and chin. The skin-friendly material is mild to the skin, has no side effects, is safe to use, It is the best gift for female friends.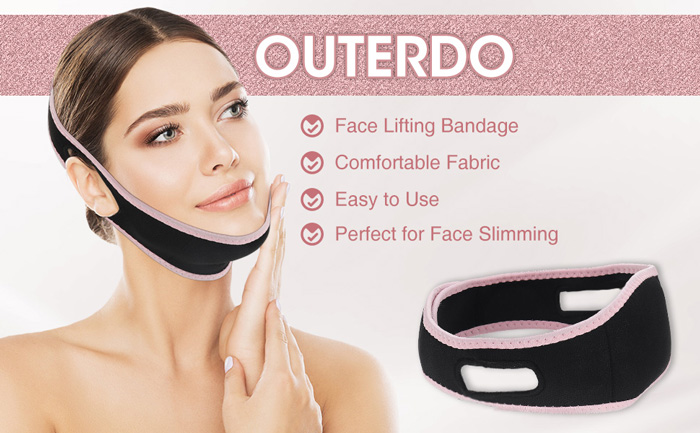 6. Lourdes Sonic Head Spa Alilan Octopus Scalp Massager [buy on amazon]
The Lourdes Sonic Head Spa Alilan Octopus Scalp Massager resembles a mini octopus that sits on your head, its ten "tentacles" providing stimulation to your scalp. All you need do is put on your head and push up and down. You can vary the modes and patterns of vibration, each lasting three minutes. And since this is a Japanese beauty and wellness device, it's also super cute. Available in pink or black color variations, the "octopus" even comes with stickers so you can decorate it.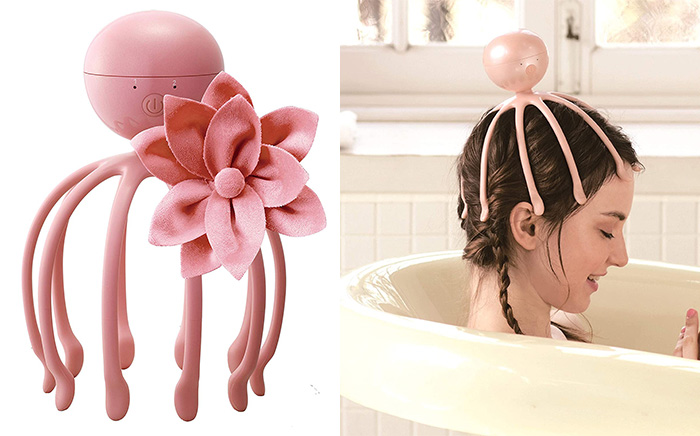 7. Back Massager with Heat [buy on amazon]
Neck pillow massager is ergonomically designed to merge with the contours of your body for a perfect fit. You can position the electric massage pillow anywhere on your neck, back,shoulder, foot or leg while lying on a bed, couch, or just sitting on a chair.It can be said to be a body massager. Back massage cushion features 4 massage nodes that deliver a powerful circular kneading,imitate real masseur's hands. Back massager pillow also allows you a customized massage when it comes to speed and direction. It is portable, mini and can be used in the office, home ,car or when traveling.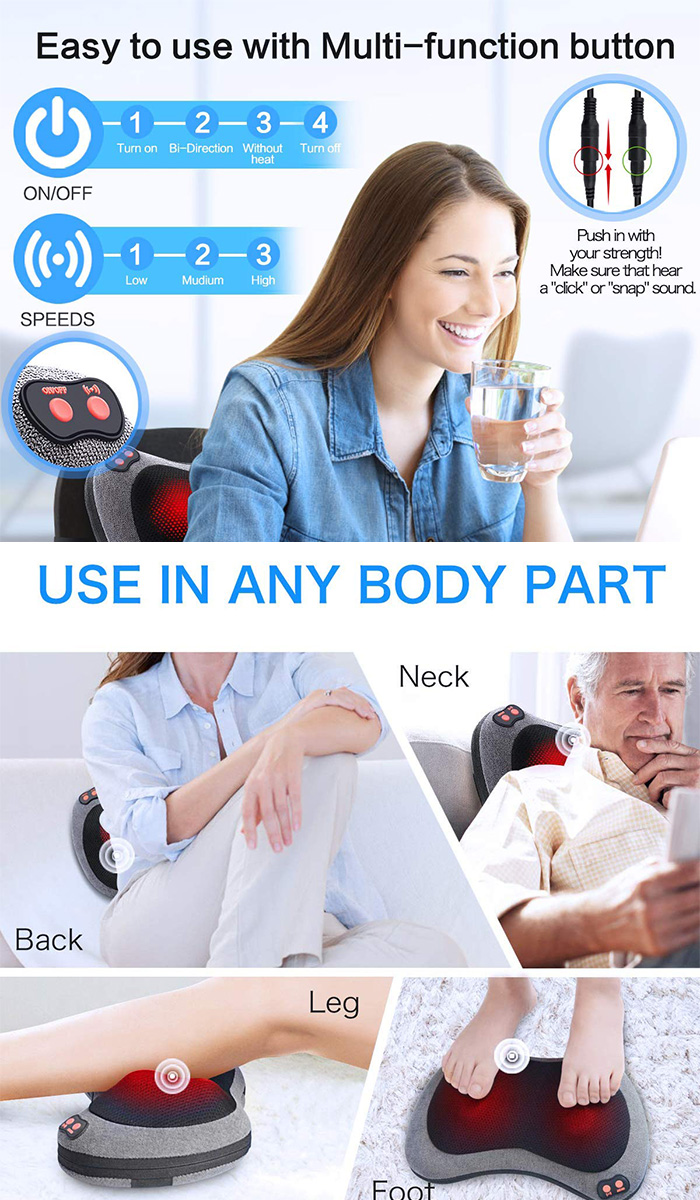 8. Essential Oil Diffuser Bracelet [buy on amazon]
This is anxiety ease essential oil diffusing bracelet Jewelry for women. You can drop your favorite essential oil or perfume on it to calms emotions,relieves tension and stress in daily busy work, driving, sleeping, long-distance travel, overseas business trips.
Add 2-3 drops of your favorite essential oil on the felt pad, this aromatherapy bracelet will make you surrounded by a charming and pleasantly aroma for a whole day.8pcs washable and reusable cotton pads with different colors can match any clothes.