A method for developing 3D printed pizza made to the headlines in the news between 2016 and 2017. From printing food to printing chocolates, there has been a lot of progress made since then. To know more about what all you can print food using 3D printers, you can visit Pick 3D Printer. The website offers guides, reviews and much more on 3D printing. And Beehex, a startup, did try to achieve the result with its audacious project. After having raised $1 million for it's audaciously out of the box project, nothing has been said or written of Beehex's Chef 3D pizza printer until now where it is believed to be a reason behind the success of sugar products in the bakery.
A new bakery in Columbus, Ohio that sells cakes and cookies, decorates its products using a Sugr-bot 3D printer. According to the reported system for this 3D printer, the operator of this printer has to place a cooked cake or cookie inside the printer. Extruding frosting and icing on the surface of cookies or cakes that are placed on the printer takes place in its customized designs.
It is to be noted how technology takes into account current times' important needs i.e. social distancing which has led people to make sure others keep their hands-off their belongings as much as possible.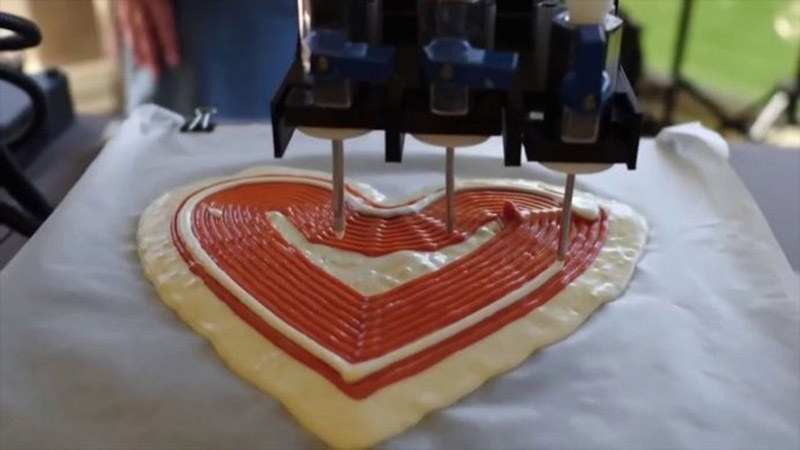 Working of Sugr-bot bakery during the time of Covid-19
Orders for pick up and home delivery were taken past weekend by this bakery. In general, as per reports to some websites, the team of Sugr-bot bakery confirmed how it produced 25 orders and hopes to ramp up 100 to 200 customizable baking orders per week. So, as a customer, all you have to do is order your cakes and cookies online on Sugr-bot bakery's website. For ordering the cake, you are given options to choose from a design catalog.
The chosen data becomes the input data for the Sugr-bot machine. After receiving the data, the machine makes sure that your order is ready within two hours from then. The human intervention in this uniquely designed and conceptualized system comes when the baked good is placed into the printer and finally into a box. Keeping in mind the curiosity of a customer, each customized cake is delivered with a video of its making process.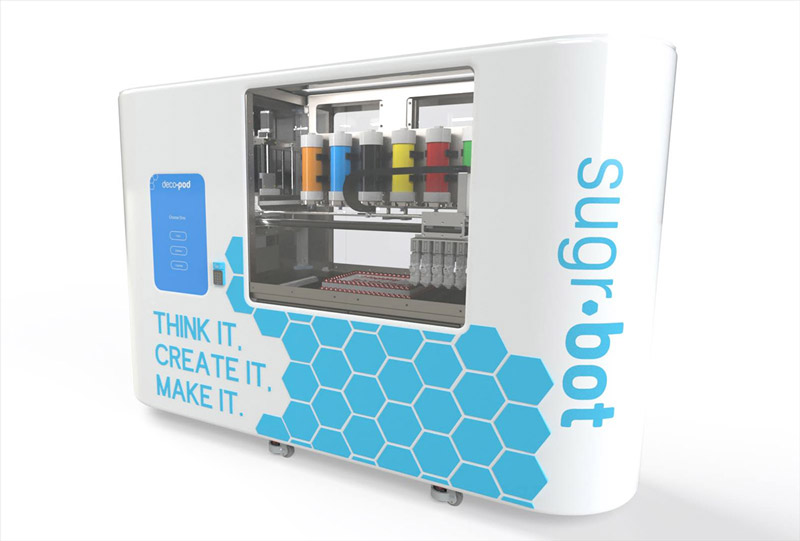 On the website of Sugr-bot
There are five tabs on the homepage of Sugr-bot website. Starting with the Home tab, you have Collections, Cakes, Cookie Cakes, and Special Requests. A picture of a knife cutting a cake on a plate is just behind the texts "Custom Cakes & Cookie Cakes. Made and delivered to your door on the same day. SHOP NOW." To make it clear in the minds of readers and hence visitors of this website what to expect while clicking on Special Request, the website makers have a heading at the top of the homepage that reads out "For large orders or custom designs, reach us through Special Request."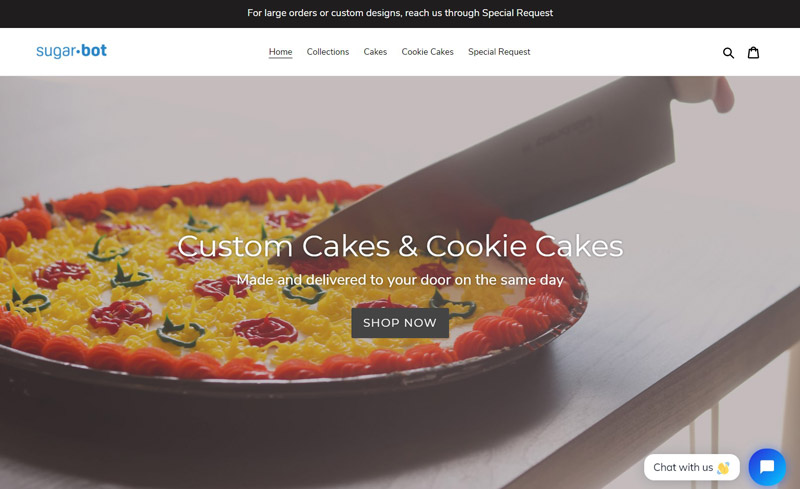 Scrolling down on the website, you can see the Our Collections section of the Sugr-bot bakery which is categorized into seven different categories:
Trending.
Birthday.
Back-to-school.
Elections.
Expression.
Anniversary.
Halloween.
You can click on any one of those pictures and prices of cakes and cookies in that category.
Scrolling down even more on the website, you find a little About Us section with a picture of the machine that custom makes Cakes and Cookies, followed by reason to choose a Cloud Bakery and re-informing you about how Sugar-dot bakery takes in special orders.
The website makers mention Sugar-not being a store-less bakery and pioneering in space, by being different from traditional shops and able to offer quality treats at low costs in the little paragraph about the company.
When you click on the 'About Us', the webpage that opens up to you tells you about situations when it is best to order from Sugr-bot.
Collections, Cakes, and Cookie Cakes display choices for you to select from. Collection, for example, displays choices in categories according to the celebration occasions. The Special Request tab opens up a Contact form that asks for you to fill in the information and your message. It also gives you an option to upload your design.
A Chatbox, email id, and contact number are provided to assist you with your ordering journey on sugarbotbakery.com. Sugr-bot can be an example of how people can enjoy even during the time of Covid-19 when they cannot go out, by being sure that the product they are ordering is completely safe because humans are only involved in one step of the production, whereas the rest is taken care by the machine, thanks to the new technology.
The Conclusion
Beehex is said to be founded by a NASA spin-off, specializing in 3D printed food using a technology that delivers automation in customizing food for its producers. This cake-decoration machine was unveiled and announced after the company had been given acclaim for its pizza printing technology in May 2020. It is under the brand name DecoPod and Sugr-bot seems to be a special edition of DecoPod.