We've seen designers recycle a lot of waste , such as used tire, old electronic components and plastic bag to create something amazing. And now, we can add vintage airplane parts to our collection. MotoArt is a team of designers who transform airplane parts into sleek, highly polished modern pieces of furniture, like bed, chair, table and coach. It is really impressive to see those recycled furnishings and sure to please every airplane enthusiast's flight of fancy. [source]
1. Mile High Bed
Designed and fabricated from two DC-9 rear stabilizers and a C-130 inner flap. The bed is 11′ long x 7′-6″ wide x 4′-6″ high. All surfaces are sanded and mirror polished. The bed is accented by 1/2″ Plexiglas and illuminated with internal LED lighting. The smooth surfaces provide a wonderful playground for you and your co-pilot.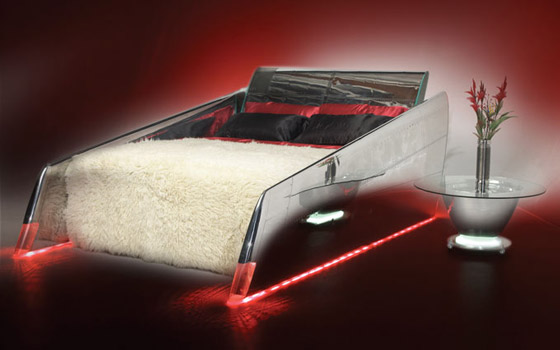 2. PW-747 Cowling Bar
This dynamic bar is sure to win over your guest with a authentic cowling that housed a Pratt & Whitney jet engine that powered the Boeing 747. Each custom fabricated piece includes a 1/2" tempered glass top, supported by mirror polished aluminum stand-offs. Behind the bar includes a hardwood bar counter top with bottom shelves for storage. Available in multiple finishes including mirror polished.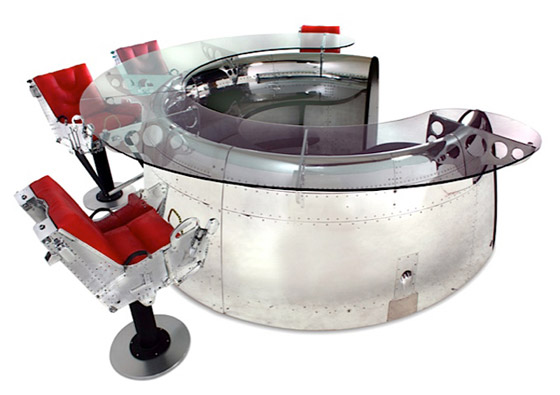 3. C-119 Credenza
Using a C-119 Aileron and a Boeing 707 Damper Valve, MotoArt designed this credenza with custom wood cabinetry, turned aluminum laminate, internal illumination with florescent & LED lighting, topped with 3/8″ polished edge tempered glass.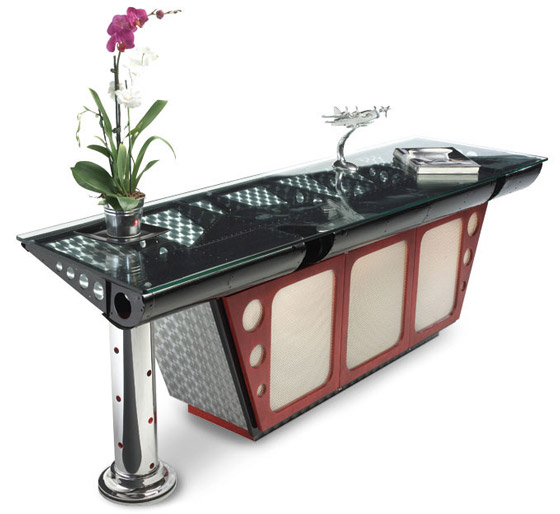 4. C-130 Outer Flap Airplane Desk
The epitome of strength and prowess, C-130 desks and the C-130 conference tables transform any executive office space into an aesthetically bold command center. The original C-130 flaps are recovered from points all over the world and carefully transported to our studio. Here they are expertly crafted and retooled into either a C-130 flap desk, or C-130 conference table.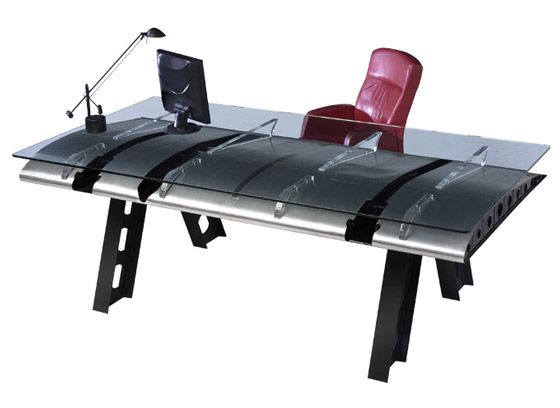 5. B-25 Mitchell Bomber Airplane Desk
The aluminum frame, once covered in cloth, is exposed to reveal design details of the elevators and rudders used to form this fine piece of executive furniture. The desk surface is 1/2″ tempered glass with wooden legs that can be stained or clear coated as you prefer.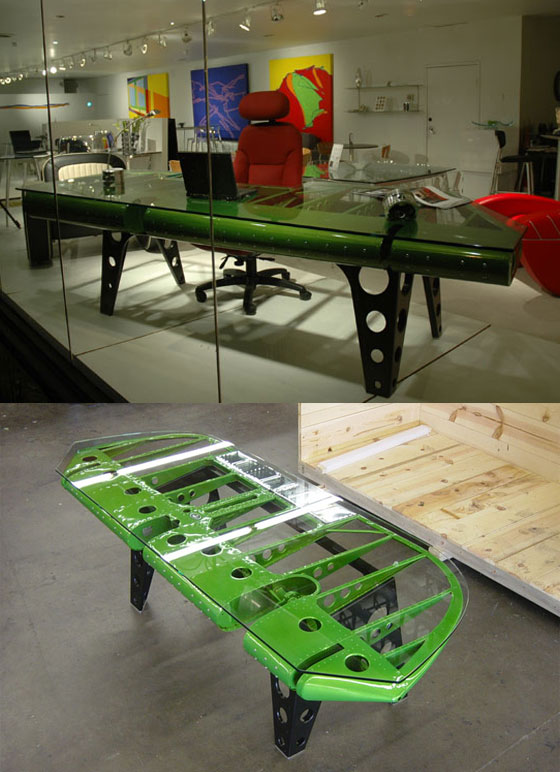 6. KC-97 – Fuel Cradle Desk
Soar into the stratosphere powered by the MotoArt new KC-97 Fuel Tank Cradle Desk. These cradles served as supports for the jet fuel tanks in the KC-97 Stratotanker that is based on the famous B-29 Bomber. These tankers kept our planes in the air 24 hours a day during the crucial Cold War decade of the fifties.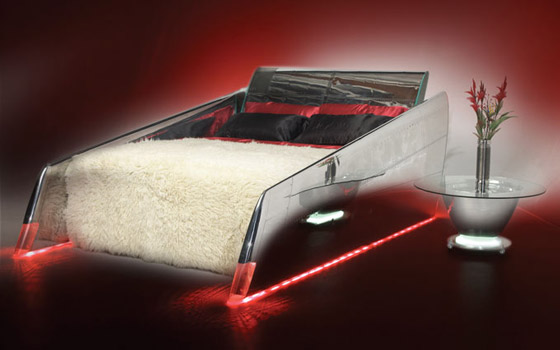 7. Albatross Float Tank Couch
Designed with an Albatross Float Tank that has nautical lines with tons of rivet detail. This lucky pontoon was rescued from the bone yard and now starts its new life as an incredible, extremely limited MotoArt couch.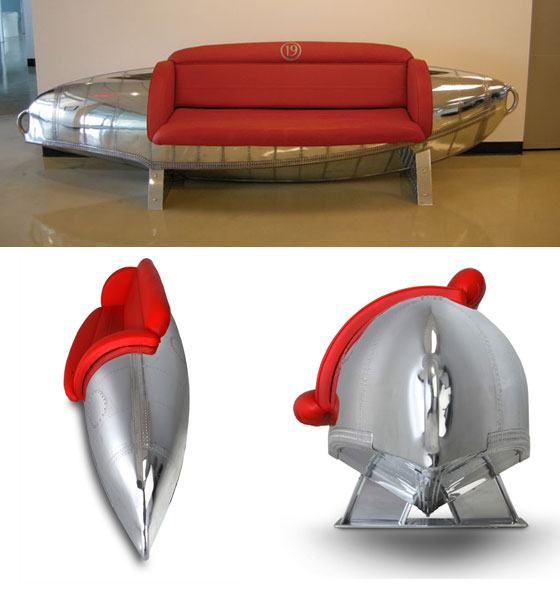 8. F-4 Ejection Seat
This low riding F-4 chair has a custom fabricated aluminum base that is powder coated wrinkle black, with double wheel casters. The seat bucket is designed with either a racing red upholstery or your favorite color to match your décor. The authentic F-4 bucket seat has been left in original condition to reflect this Vietnam era bird.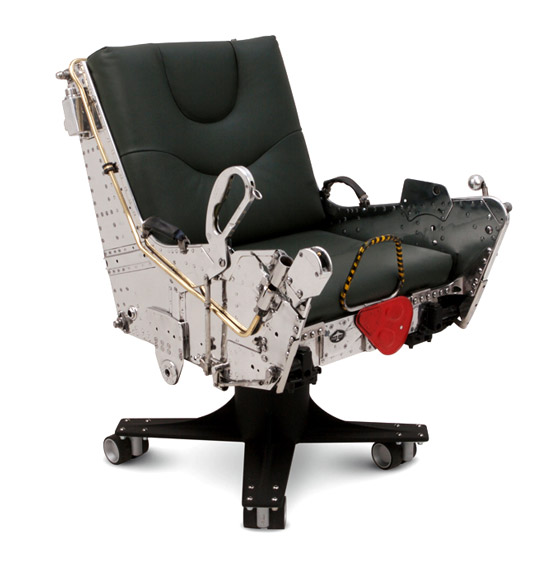 9. 727 Conference Table
Built from the horizontal stabilizer of the Boeing 727, it rests on sturdy aluminum, anodized I-beams punched with lightness holes in true aeronautically designed fashion.

10. DC-9 Nacelle Coffee Table
The MotoArt DC-9 Nacelle Coffee Table is 52" long x 49" and is available in either round or oval glass tops. MotoArt sands all imperfections of the nose cowl and beautifully polishes each to a mirror finish. The inset of the cowling includes a jet engine stator and polished nose spinner that is grounded to a defused 1/2" plexiglass bottom. It has optional internal illumination that make this Nacelle Table come to life.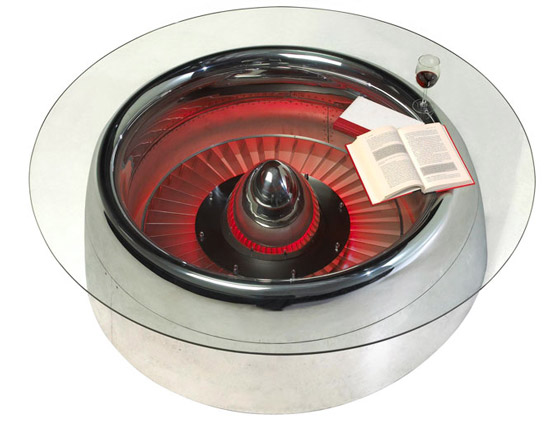 11. F-4 Phantom Coffee Table
Each limited edition F-4 Phantom Table includes 10 authentic burner cans in a circular, 34″ diameter layout x 21″ high. Each burner can is powder coated in Reflective Silver and the cluster is topped with 3/8″ tempered glass, 40″ in diameter.