Creating a project for a small apartment or house doesn't reduce the amount of work and effort. On the contrary, you have to give a double thought to how to maximize space efficiency and let tiny rooms look brighter, airier, and bigger. Working with the most essential tools and items, both beginners and experienced users can come up with brilliant design ideas.
Stay tuned to find out more crucial tips that will benefit your project-making significantly. We would also advise you to use a home design app Live Home 3D to simplify this mundane task. Let's get started!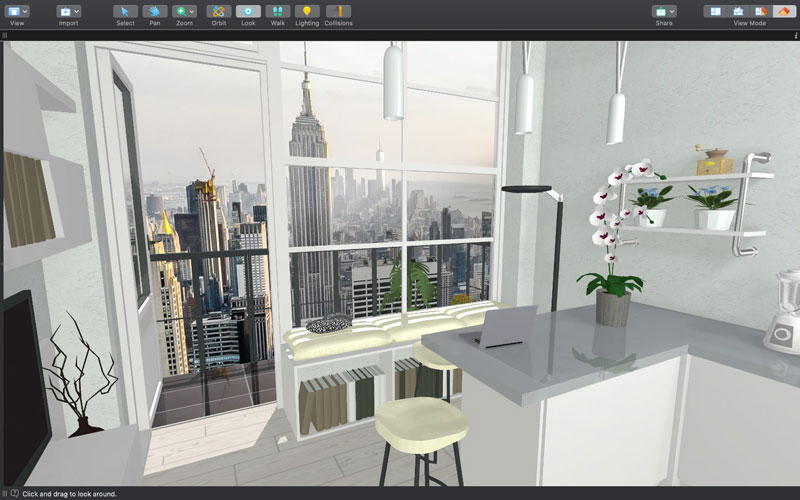 What You Should Know About Tiny Homes
Naturally, choosing more minimalist places for living isn't full of drawbacks only. The list of benefits includes the following:
The reduction of maintenance and purchase expenses. At the same time, the spendings for in-built services (lighting and heating bills) are also less, compared to large houses.
It is easier to keep on environmentally-friendly means to proceed with work schedules and leisure time.
Once you are aware of excellent ways to use tiny home potential to full extent, it is simpler to realize why brevity is the soul of wit and that overconsumption doesn't lead to living confidence and comfort.
Tips and Recommendations to Start Your Design Project
Long before you can see yourself in a beautiful and multifunctional place of living of your own, it is a must to plan all the details to avoid any risks of failure. From this perspective, working with digital tools like Live Home 3D is a lifesaver. The required materials are at your fingertips. Besides, there is no need to switch between the programs to experiment with furniture styles and types.
Of course, that's not enough. Your strategy will define a lot as well. Here are some important aspects to implement in your project.
Narrow Down the List of Premises
When it comes to choosing what things are necessary for a house, there are so many things to consider, which are all important and have a great influence on the result. You should take into account how many individuals are going to live there, how much time they will spend inside (remote or full-time job, for instance), and other scenarios. This approach will let you get rid of unnecessary space-eaters:
rooms, which aren't actively used;
pieces of furniture that are cumbersome for your location;
duplicated premises for guests that visit less than regularly, etc.
As you see, being sincere with your interests and objectives is the best tactic. After brainstorming ideas, shorten the list length and pick up the most crucial positions from your ranking of useful goodies.
Combine Rooms and Areas
Given the resources that are at your disposal are limited, maximizing their efficiency is possible by making them multifunctional:
Coming up with multi-level designs is a stunning solution. Your kitchen can be easily transformed into a living room, your bedroom can become a gorgeous location for entertainment, satisfying the needs of work-life balance — the number of possible solutions is unrivaled.
This relates to the choice of furniture, in particular. For instance, the preference can be given to a fold-down table, matched with a bookcase, convertible tables, and sleep chairs, as well as Murphy beds, and more.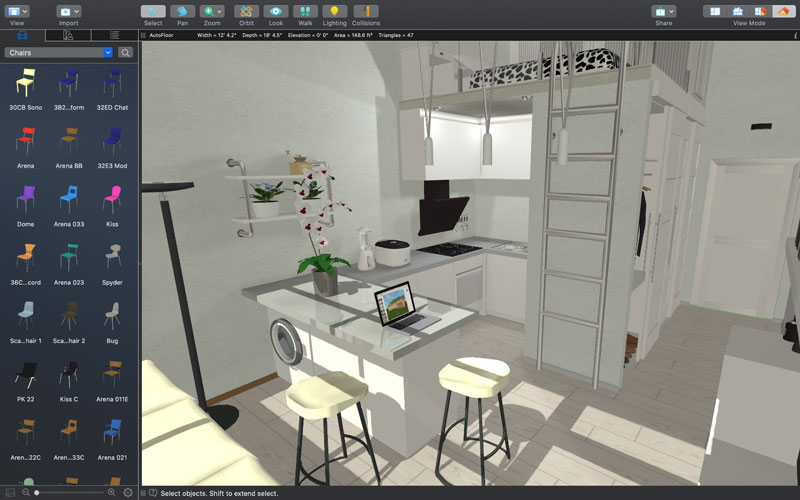 Right Building Materials
The sequence of events for owners of houses and apartments will be slightly different. The first category of users will have to face more difficulties in selecting appropriate building materials. Your space has to be as ergonomic as possible. Choosing low-cost materials may turn into a disaster — they will be too massive for a particular room in your tiny home.
Here are some more details to pay attention to:
The surrounding climate is influencing. Regardless of what type of living space you have, it is a great thing to ensure excellent air ventilation, for example, protection from heavy rains, snowfalls, etc.
The durability and availability of the desired materials play an essential role for realizing your architecture project timely and properly.
Think about sustainable design and how demanding the materials are in terms of maintenance.
Color Wheel Schemes
Dark silhouettes are magnificent, undoubtedly. However, for small spaces, they are less functional. With the help of light and cool tones, even tiny homes will seem larger and more capacious.
How to Light a Tiny House or Apartment
If you have an opportunity to build your future castle from scratch, the best thing is to reach the balance between sunlight and artificial light sources. It is recommended to do the following:
Never refuse to add big windows to your layout. If you are afraid of excessive sunlight, there are additional solutions to control it (exterior and interior shading means).
Take into account your own comfort, giving more attention to the window and door location. Experiment using home design software.
The Final Advice
The mission to create a worthy project for your dream tiny home is easily achievable — don't let your panic take control. Thanks to ready-made templates and customizable samples, provided by Live Home 3D, your task is simpler than ever before. The program supports iPhone, iPad, Mac and Windows devices, and offers a choice of appealing projects and furniture, including house and apartment designs, and will be a perfect source of inspiration.