Retreating to a beautiful bedroom that offers sanctuary from the stresses and strains of everyday life is always a relaxing option, especially when a weekend away is not on the cards anytime soon. Transforming your own bedroom into a haven of peace and tranquillity need not be expensive. You can incorporate luxury items such as opulent silk curtains and a stunning sleigh bed by sourcing these second hand from sites such as http://www.ebay.co.uk.
There you can pick up a set of silk curtains along with tie-backs and pelmet, perhaps from a French chateau or smart English house, for a fraction of the cost of new furnishings. Some alterations may be needed, but there are plenty of companies who will take up curtains for you to fit a more modest house.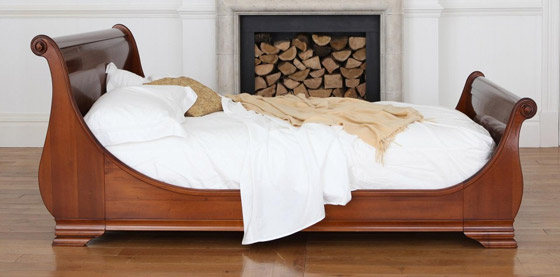 Design Your Way offers some pictorial inspiration for designing every aspect of your bedroom. Whether you go for modern designs or a more traditional look, there is sure to be something here that inspires you.
Bed
Choosing a 'statement' bed that becomes the focal point of the room is a great place to start your redesign. Sleigh beds are traditionally made from wood, but more modern versions use iron or steel, and all incorporate the trademark scrolled foot and headboard. This type of bed is large, comfortable, and will definitely make a stunning focal point for any bedroom.
King and queen-sized beds in general have a dramatic impact and, with the addition of luxurious bedding and quality linen, will transform an average bedroom to look like a five-star hotel.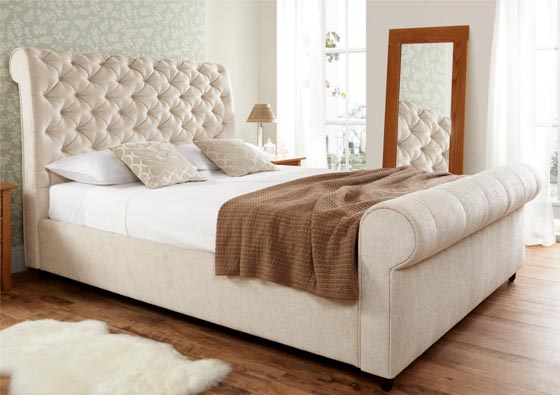 Bedding
The phrase 'less is more' definitely does not apply to luxurious bedding. Layering high quality crisp bed linen and soft, warm covers feels like the height of luxury. For a sumptuous result the layers should include:
• Two layers of Egyptian cotton sheets, the first one fitted and the other flat
• Top sheet, again made from Egyptian cotton
• A soft blanket
• Feather and down duvet that folds around you
• A bedspread or other type of soft, fluffy throw
• Plenty of feather and down pillows with crisp Egyptian cotton pillow cases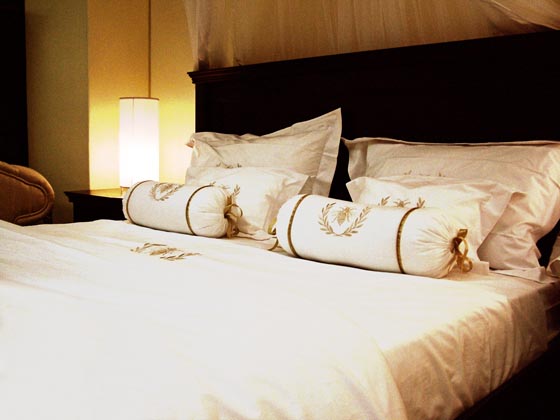 Mattress
A cost-effective way to breathe new life into an ageing mattress is to buy a mattress topper. For a luxurious feel, a sheepskin mattress topper offers warmth in the winter and coolness in summer, and a feather topper provides a soft and fluffy base on which to sleep. Memory foam mattress toppers have become very popular, and are great for evening out the undulations in an older mattress.
A good trick to make your mattress feel like new is to turn it over every now and again – it will feel like a new mattress for a while, and with the addition of a topper, saves the expense of buying a new one.
Once this haven has been created, you will want to stay there all day!
Lighting
Bedroom lighting has a dramatic effect on the overall look of a room, and while the main light is needed on occasion, subtle bedside lighting completes the ambience for a truly luxurious bedroom.
A low level of light from small bedside table lamps is all that is needed to create a soft and relaxing effect. A peaceful atmosphere can also be achieved using opaque or low energy light bulbs.
The Channel 4 website offers lots more design ideas for a bedroom that will rejuvenate mind and body at the end of a long day. Luxury bedrooms need not be expensive – it just takes a little thought and planning to put together a sumptuous place to escape.