When it comes to eco-friendly and maintenance-free exterior buildings that are both cost-effective and easy-to-assemble, they don't get much better than the SteelMaster Quonset Hut.
Originally designed as a quick solution for troops in World War II, the Quonset Hut is now being used in a variety of different ways, and it's easy to see why. They are pre-engineered to withstand extreme weather, LEED energy star rated for the ultimate in comfort, and feature an abundance of interior space.
But what are the specific applications you can use the Quonset Hut for? Here's are 5 suggestions.
Garden shed
One of the Quonset Hut's most popular applications is as a garden shed. Because it comes as a pre-fabricated kit, you don't need any building experience to put together the arches, making them perfect for DIY enthusiasts everywhere.
No matter the size or shape of your outdoor space, the Quonset Hut comes in a range of customisable options too, giving you control over every aspect of your new shed.
Small business
Finding the right location for your business isn't easy, especially if you don't know whether buying or renting would be best. But this is where the advantages of a Quonset Hut become obvious.
Not only can you set-up shop wherever you've got enough land to do so, you'll also benefit from a comfortable and cost-effective working environment. The Quonset Hut features a special coating called Galvalume Plus that reduces the heat inside of the building in the summer and makes it easier to heat in the winter.
Car garage
Quonset Huts more closely resemble aircraft hangers instead of car garages, but their unique design offers more than just aesthetic appeal. For example, the arch-style structure provides 100% usable space on the inside by eliminating the need for beams and trusses to maintain strength.
This is thanks to redesigned steel panels, which also simplify the building process. The result is maximum space and strength for a minimum price.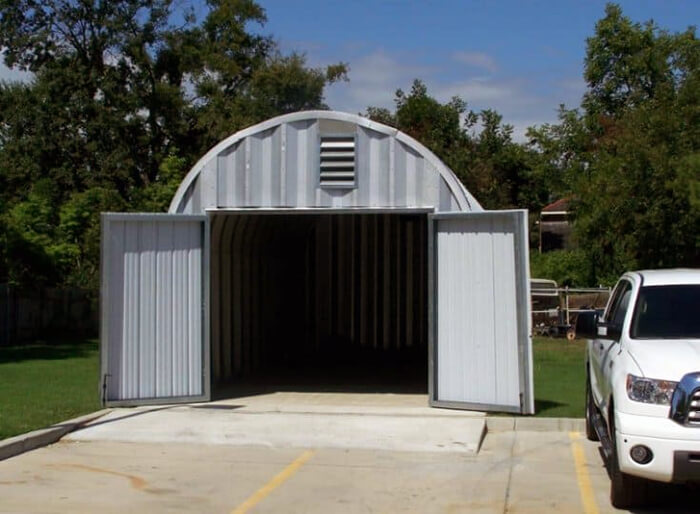 Home office or workshop
The primary purpose of the Quonset Hut has always been utility, making them the ideal solution if you want to have an office or workshop at home. The fact you get to construct the building yourself is an added bonus for handymen and women.
There's no need to worry about your tools, equipment or important documents either. Customers of the Quonset Hut say their buildings have survived category 4 hurricane force winds, devastating tornadoes, earthquakes, and severe winter storms.
New home
This last suggestion might seem rather novel or even outlandish, but a lot can be said for choosing the Quonset Hut as your new home.
First and foremost, they come in different models and widths to perfectly suit your requirements. Second of all, they will help you save money on energy bills, maintenance and insurance due to their unique construction. Last but not least, Quonset Huts are built to last for many years after completion and come with a 30-year warranty from SteelMaster.