Since the Valentine's Day is approaching, I would like to talk something romantic. What people normally do when they try to make a proposal? Buy the ring? Prepare a nice dinner? Order some flowers? They all work but someone did something out of box.
DIY enthusiast Eric Page spent hundreds of hours crafting the perfect gift for his girlfriend, Shirin. Page's unique project is as impressive as it is extensive. Working off the theme "The Perfect Fit," he created an four-page puzzle book where each page were a chapter, and each chapter was locked until Shirin solved a puzzle about their relationship. After a correct answer, she moved onto the next chapter. Page produced the book from wood and structured each spread as a box. The craftsmanship is impeccable, but it's the surface details that are really stunning.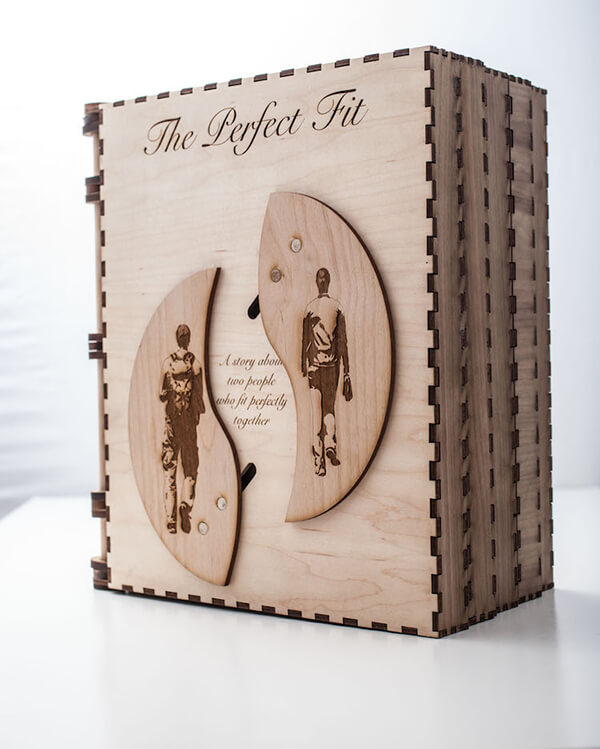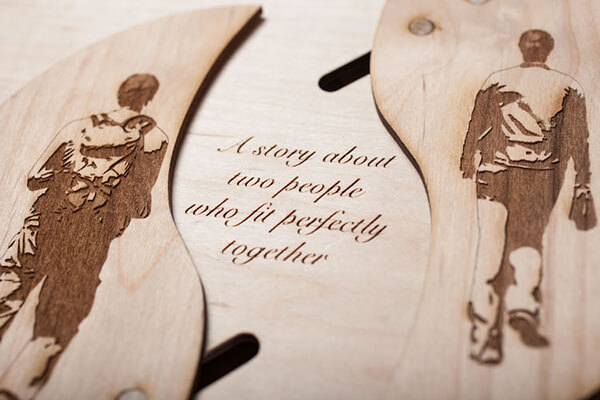 Chapter 1 – Once Upon a Time
The first chapter is the story of the day they met at a Christmas Festival called Santacon in San Francisco. Page was dressed as Super Santa and Shirn was Ms. Gingerbread. In order to move to the next chapter Shirn had to find Super Santa and Ms. Gingerbread from an array of Christmas characters and line them up with a mistletoe, because their first kiss was under a mistletoe.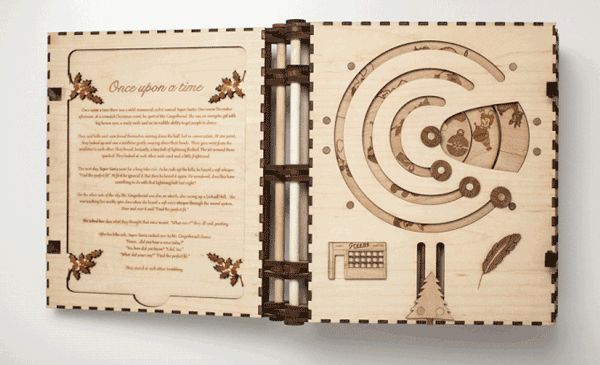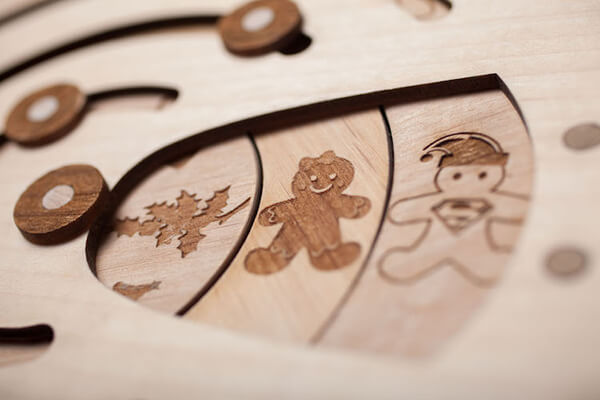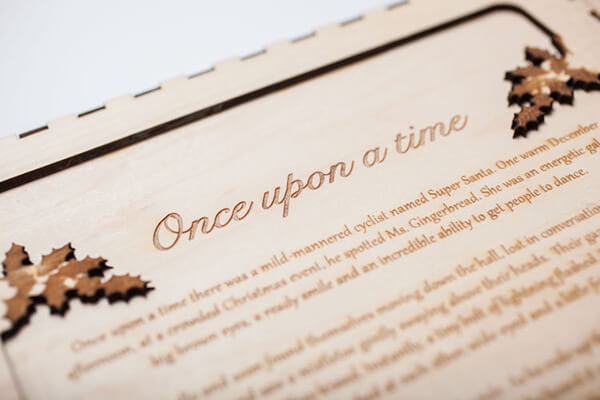 Chapter 2 – A Life of Adventure and Change
The second chapter is the story of their adventures on the road with their RV, nicknamed The Slim Roller. As Shirn moved the RV, little wooden icons popped up on the road. These were either fun things they did together or obstacles they had to overcome. Like how Page got really sick on their first date but Shirn went out with him again, Burning Man, Zion National Park, sleeping in a Walmart parking lot stranded in Elko, Nevada and escaping a grizzly bear in Alaska.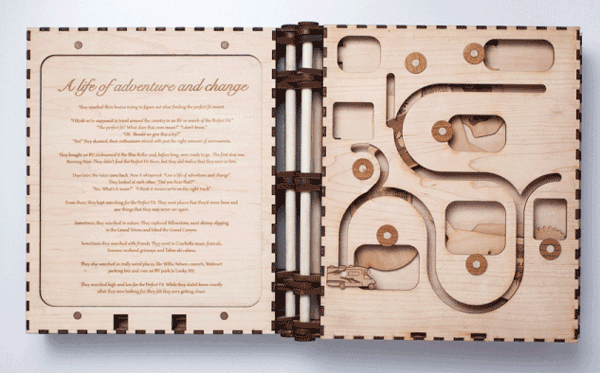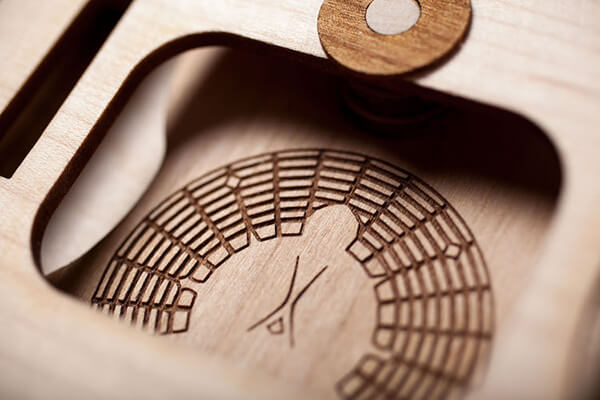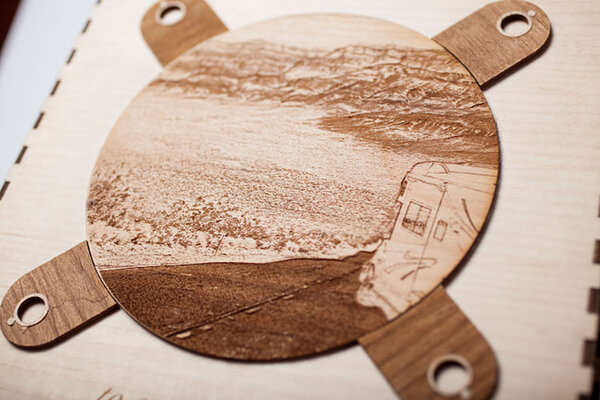 Chapter 3 – The Trusty Sidekick
In the 3rd chapter, Page brought Pickles, their adorable labradoodle puppy into the story.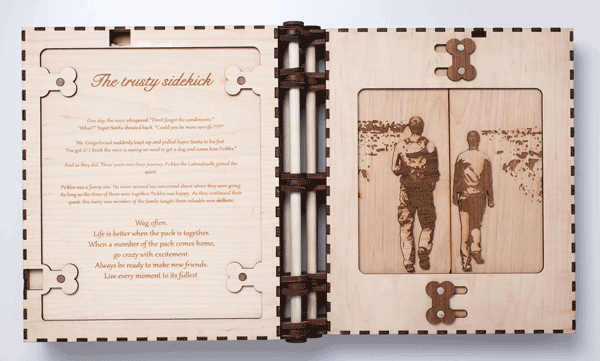 Chapter 4 – The Perfect Fit
And the final chapter is when Super Santa finally figures out that Ms. Gingerbread is his "Perfect Fit". And that he would walk 500 miles and he would walk 500 more just to be the man who walked 1,000 miles to fall down at her door. And now he needed to know if Ms. Gingerbread felt the same way about him. The last puzzle is ancient Persian Artwork with a hidden opening. When Shirn finally figured out how to open it, the ring was inside and Page was down on one knee, asking me to marry him.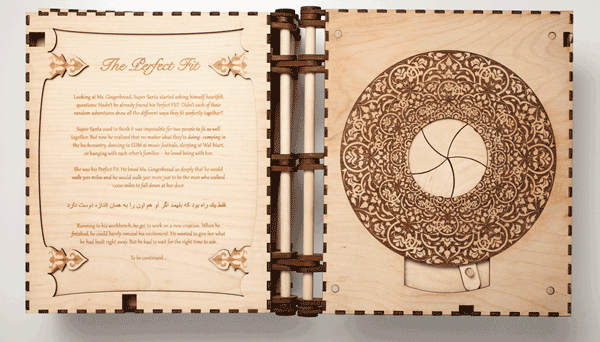 Last but not least, the rign was designed and made by Page himself. What a romantic and touching proposal. If you are interested in how Page built this book, head over here to find all the details.