Kitchen design trends change each year in Canada as new products and aesthetics emerge. It can feel daunting to try and keep up with kitchen renovation trends if you want to achieve a modern-looking kitchen. When it comes to the latest kitchen trends, there are some that can feel dated quickly and some that will ensure your kitchen maintains a classic and modern style through the years. This article highlights the ten most popular kitchen renovation trends and how to use them to make your kitchen feel more modern and function efficiently. The Top 10 kitchen renovation trends in Canada for 2023 include:
Installing a statement backsplash as a focal point
Using smart devices and appliances
Creating open-concept kitchen layouts
Incorporating natural elements for coziness
Using eco-friendly or upcycled materials
Installing two-tone kitchen cabinets for contrast
Using hidden storage solutions for a sleek look
Adding matte finish hardware for a stylish aesthetic
Using bold color schemes or accessories
Hanging unique statement lights for a modern look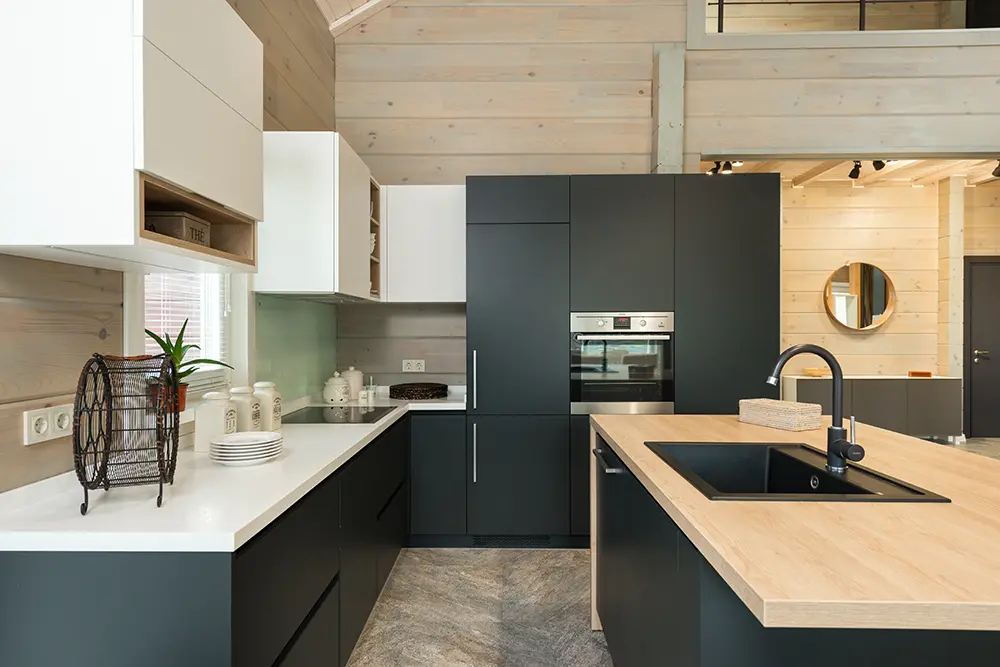 Have a Kitchen Renovation Company Install a Statement Backsplash
Backsplashes are an eye-catching way to instantly update a kitchen because they create a focal point in the space. There are many materials to choose from when installing a backsplash, but the most important considerations are its durability and ease of cleaning—you'll want to install a backsplash that is non-porous, like stainless steel, glass, quartz, or porcelain. You'll want to hire professionals to install your backsplash because they have the expertise to do it correctly. If you're looking for reliable kitchen renovations in Toronto you'll find a plethora of information on Renowell about types of backsplashes to enhance your kitchen's aesthetic.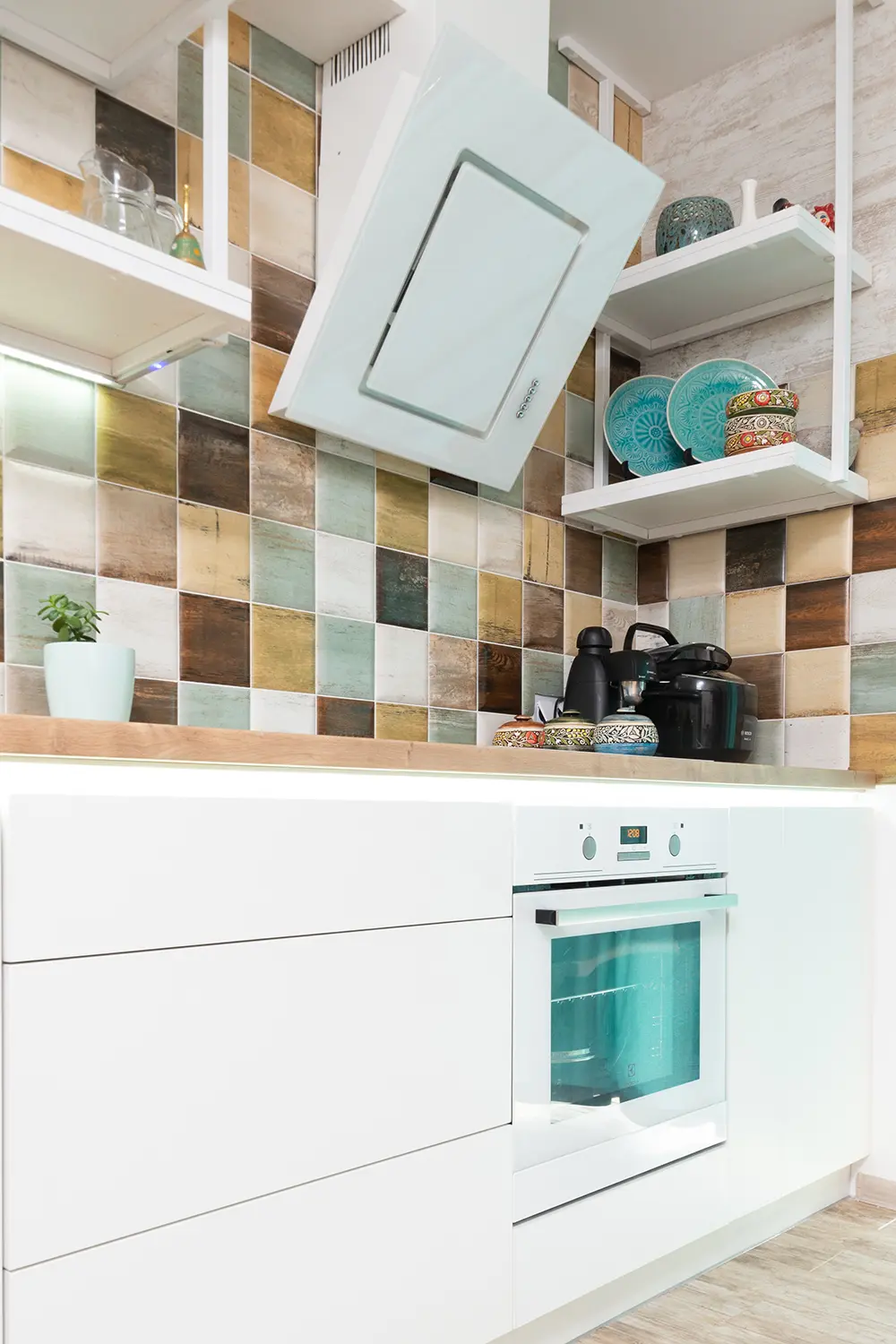 Smart Technology and Appliances
Homeowners are constantly looking for ways to reduce their electricity bills while making their lives a little easier with new technology. Faucets that turn on and off with simple hand motions make food prep a breeze, and programmable appliances like slow cookers, air-fryers, and coffee machines mean you can prepare your meals and drinks ahead of time and turn the devices on or off from your phone when you're not home. DesignSwan discusses seven reasons why updating your appliances is a good idea in 2023.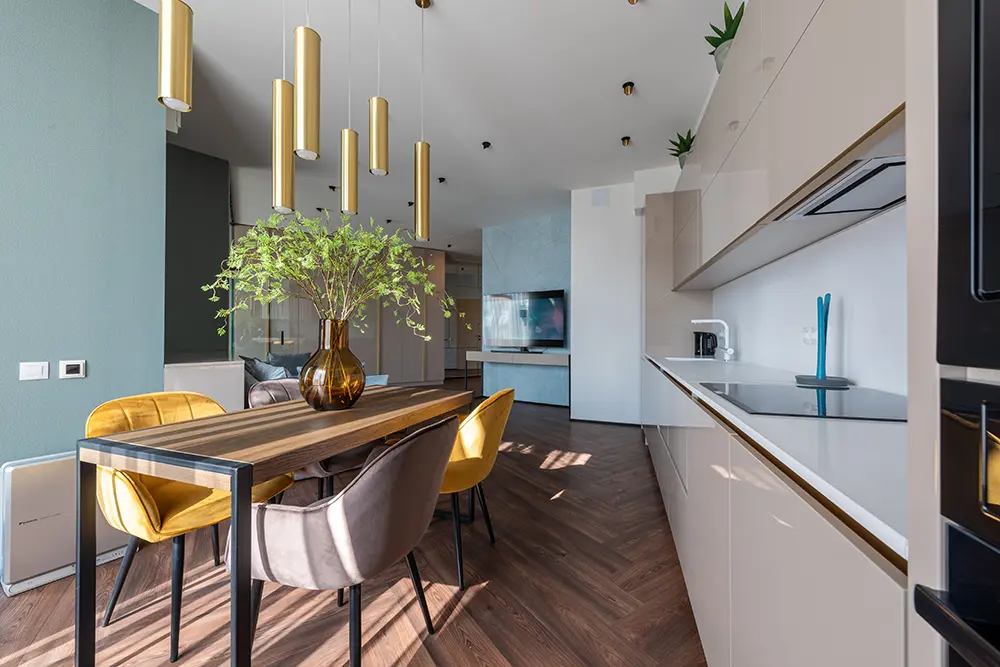 Natural Elements
Adding natural accents to a kitchen gives it a cozier feel. Including a plant or cut flowers on an open shelf or tabletop brings nature indoors, while incorporating wood elements with a display of interesting cutting boards or a hardwood floor adds warmth and texture to a kitchen. Of course, natural light is one of the most beneficial natural elements in a modern kitchen because it warms up the space and improves mental health, so install a large window in your kitchen to maximize the light.
Open-Concept Layouts
Whether you have a small or large home, open-plan kitchens that occupy a shared living or eating space are a kitchen renovation trend that has grown in popularity as busy families try to spend more quality time together.
Open-concept kitchen layouts like the ones described in The Spruce are great for entertaining guests and encouraging more interaction. These free-flowing multipurpose layouts are also ideal for busy parents who want to help their children with homework while preparing dinner during the school week.
Two-Tone Cabinetry
Installing cabinet doors and drawers in two or more colors adds interest to a kitchen by creating visual depth. Using darker colors on the bottom cabinetry and lighter colors, or colors that match the walls, on wall-hanging cabinets makes the kitchen feel more spacious.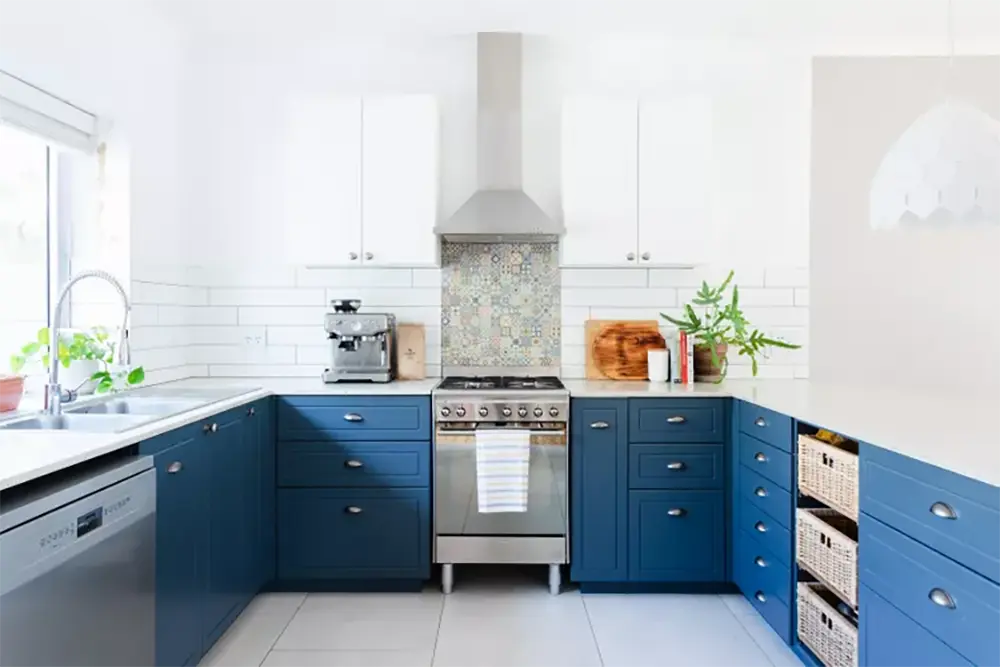 Eco-Friendly Materials and Appliances
Interior designers find innovative ways to repurpose materials in kitchen renovation projects. A manufacturing team in Brazil recently developed a technique to recycle glass that can be used for semi-translucent countertops by fusing multiple layers of glass in a kiln. Their invention, "Bubble Glass," creates an interesting focal point in a kitchen. Energy-efficient appliances are another popular kitchen renovation trend in 2023 as energy prices continue to escalate. New appliances like A-rated dishwashers and no-frost freezers use less electricity than older versions—many modern fridge-freezer combos also use "vacation mode" to further reduce energy consumption when not opened daily.
Unique Hidden Storage Solutions
Stylish storage solutions are a must in a modern, well-designed kitchen. Having mismatched spice and condiment bottles on visible pantry shelves can make a space feel disorganized and cluttered—you'll want to put those things away in a narrow pullout cupboard that allows you to easily access everything without unpacking the items in the front row. A trashcan is an unsightly but necessary kitchen object. I have installed a hidden tilting drawer to conceal the trash and keep food odors at bay.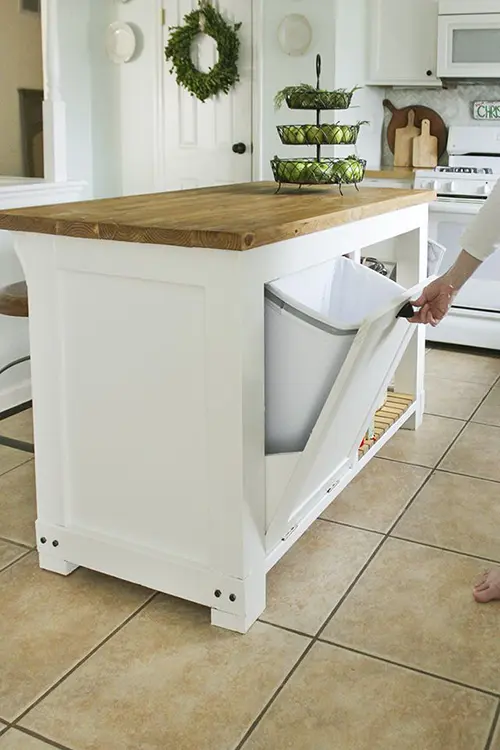 [Image Credit]
Matte Finish Kitchen Hardware
Gone are the days of shiny faucets and cupboard handles, requiring endless hours of wiping and buffing to achieve a sparkling clean kitchen. Matte hardware like faucets, cupboard handles, pulls, cabinet feet, light fixtures, and switches means you can have a sleek kitchen that looks pristine with minimal effort. You can choose matte kitchen hardware in a variety of colors that either match the cabinet doors for a streamlined look or stand out to create contrast.
Use Bold Color Schemes
Modern kitchen trends favor neutral color schemes, especially when the kitchen is open-plan. There are ways to include exciting pops of color with intentionally displayed appliances and decor. A dynamic colorful, framed artwork can hang over a breakfast nook or paint a blank wall in a bold accent color. A red retro-style refrigerator and barstools covered in royal blue vinyl add pizzazz to my plain kitchen.
Unique Statement Lighting
Task lighting is essential for an efficient kitchen, but you don't have to have boring fluorescent tube lights to get the job done. Lighting is one of the easiest ways to give a kitchen instant glamor, whether the aesthetic is industrial chic or contemporary luxury. Lights hanging over kitchen islands usually include groupings of three that span the island's length. Vintage-style LED lightbulbs that mimic Edison bulbs are still the most charming light option because of their unique shapes and energy efficiency.
Summary of Top 10 Kitchen Renovation Trends in Canada
| | | |
| --- | --- | --- |
| 2023 Kitchen Trends | Key Elements | How To Apply the Trend |
| Smart Devices and Appliances | Programmable devices. | Use an instant pot with an app to control cooking time. |
| Open-Concept Layouts | Multipurpose spaces. | Include a dining table with ample seats in the kitchen area. |
| Natural Elements | Natural stone and wood decor make a kitchen feel cozy. | Arrange a vignette of wood breadboards on a shelf. |
| Eco-Friendly Materials | Recycled or repurposed items can be used as decor. | Use reclaimed wood as cabinet paneling, or create a driftwood chandelier. |
| Two-Tone Kitchen Cabinets | Dark and light colors add depth and intrigue to cabinets. | Use lighter-colored cabinet doors on the wall cabinets and bold dark colors on the lower cabinets. |
| Hidden Storage Solutions | Innovative hidden storage that conceals canned and bottled food. | Use slim pull-out pantry cupboards on sliders to utilize awkward spaces. |
| Matte Finish Hardware | A matte finish cooking range or cooker hood. | Install matching handles, faucets, and light fixtures in matte or satin finishes |
| Statement Backsplashes | Unique backsplash in porcelain tiles or a single glass sheet. | Install a natural stone or stainless steel backsplash behind the stove and sink. |
| Bold Color Schemes | Neutral cabinets with a pop of color. | Display a statement retro mixer in bold color on a countertop. |
| Unique Statement Lights | Retro lightbulbs inside large geometric metal light fixtures. | Hang lights in groups of three for a cohesive look. |