2013 almost comes to the end. At the last day of this year, we did some research of our work and asked ourselves what posts were interesting to our readers. And here is the top 10 Popular Posts of 2013 on DesignSwan. If you missed those posts before, maybe it is a time to take a look again. In the end, we want to wish our readers:
Wishing you a fabulous 2014
with full of great achievements and experiences.
A meaningful chapter waiting
to be written Happy New Year!
10. The Porthole: a Simple and Elegant Infusion Vessel
The Porthole, designed by Crucial Detail design studio in Chicago, is a simple and beautiful infusion vessel that can be used for cocktails, oils, teas, or any infusion imaginable. It was a very successful project on Kickstarter one year ago and gained significant attention after is debut. Made of iron and glass, the beautiful infusion vessel can be used to make all kinds of drinks, and also as a work of art. Just load it with fruit, herbs or whatever else you want, close the glass plates and you can pour the liquid through the opening.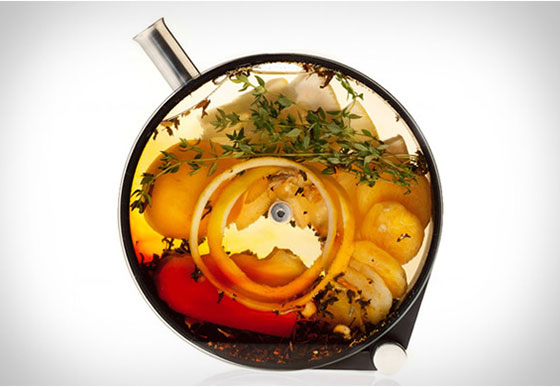 9. 12 Cool Wall Planters for Urban Dweller
It is always difficult to have some green at home when you live in a big city. Each inch is full of stuff and the only place left is wall. Maybe that is the reason for the invention of wall planter – bring your wall to life with a stunning hanging garden. Fill these with air plants, succulents, moss, herb or even cutting flowers, you can easily create your own small spheres of botanical wonder. Take a look at the 12 Cool Wall Planters we rounded up for you, and hope it will give you some inspiration to create a breathtaking plant display to your home.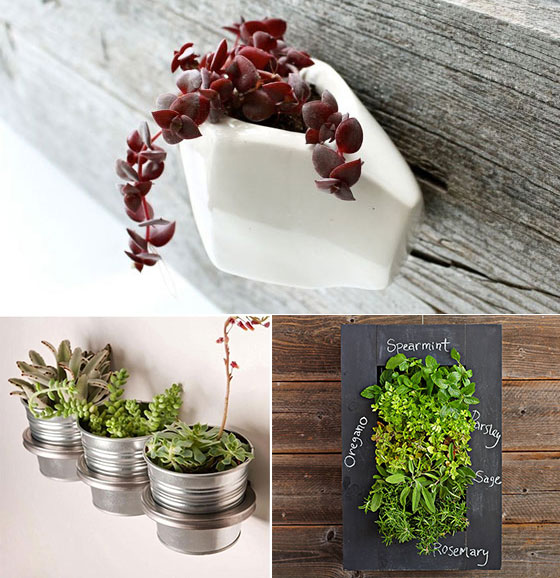 8. Creative Curtis Tea Sketches by Victoria Dmitrenko
Moscow based designer Victoria Dmitrenko combine advertorial thinking, photography art and Photoshop ability create an exceptional series of ads for Curtis's fruit flavor tea. With the idea of each taste as a tea service, these images had us thirsty for a brew and hungry for the kettles all at the same time! Love the idea, the subtle use of color, the intricate details and mouth-watering effects.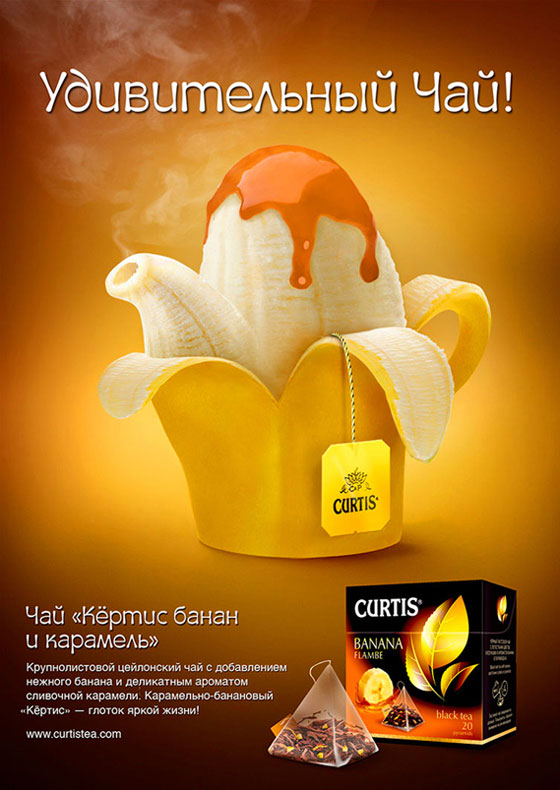 7. Smart 32sq m Apartment Design in Moscow
32 square meters, it might sound like a very unwelcoming and cramped home. However, it is very open and well planed place. Instead of actual wall, designer use shelf system as dividers, smoothly separate bedroom and kitchen area. Moreover, the open shelf easily create a sense of openness throughout the apartment. The dinning table clearly incorporated into the shelf divider, which can be folded onto the shelf to save plenty of space in kitchen. Dark floor contrasts well with the light color furnitue and wall, making the room looks even larger and brighter. Great design and awesome solutions.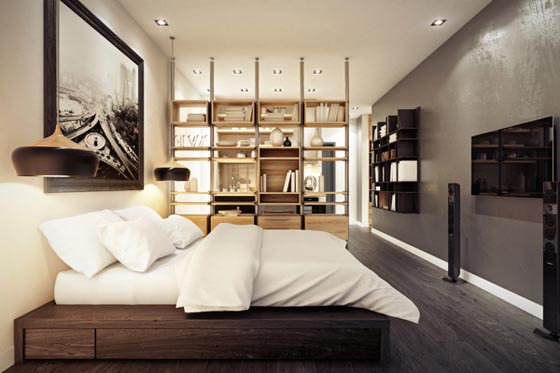 6. Stick Insects: Delicate Insect Sculptures Made of Matchsticks
After the interesting "chicken sculptures made from eggshells", British artist Kyle Bean brought us another playful series called "stick insects". There are three bugs and each one is formed out of headless matches and simply held together with glue.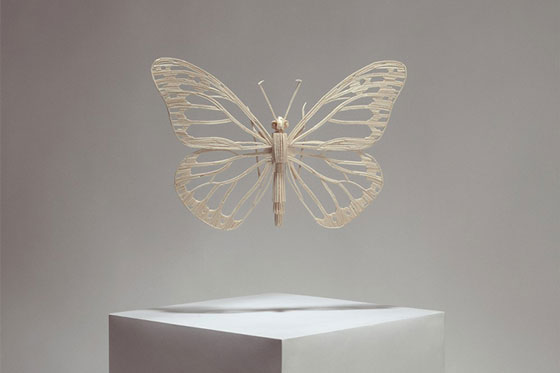 http://www.designswan.com/?s=Stick+Insects%3A+Delicate+Insect+Sculptures+Made+of
5. Vessel: Elegant Hammock Bathtub for Ultimate Relaxation
Vessel, is a new and elegant bathtub designed by Splinter Works by combining a hammock and a bath tub together to provide the ultimate vehicle for total escapism. It is constructed out of carbon fiber for its strength and ability to form complex curves. Designed for use in a wet room, Vessel is suspended from the walls and does not touch the floor. It is fixed with stainless steel brackets that can be covered over, or left revealed. As for drainage, there is a a built in water release at the base of the design, though a down pipe drain can also be installed if needed. With this sleek bathtub, the peaceful experience of kicking-back in a hammock has been further enhanced by combining it with the immersive comfort of soaking in a hot bath.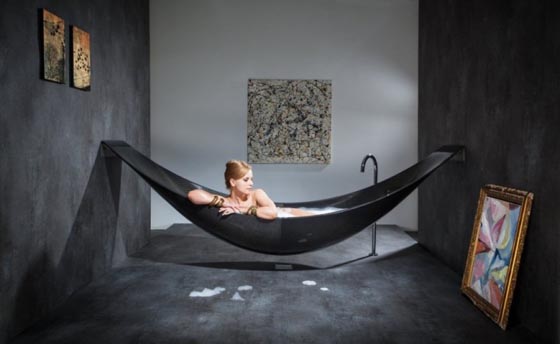 4. 7 Cool Swing Chairs for Indoor and Outdoor
Who doesn't like swing chair? Hang in the air and enjoy the cozy comfort. You can put them wherever you want it to be, inside or out. It's for after that hard day at work, or something fun for the weekend. Picture yourself, chilling out and relaxing, wherever and whenever you want. Isn't that great? Check out below 7 Cool Swing Chairs, you can not only swing by yourself but also swing with your family or your co-workers.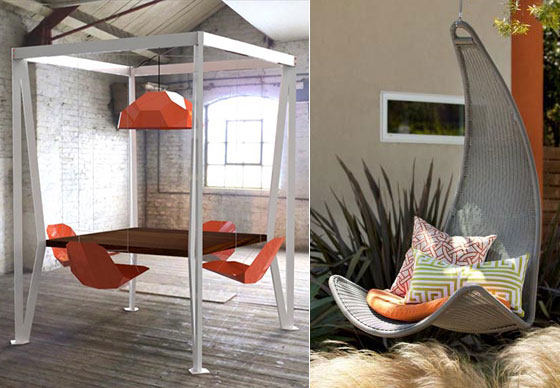 3. Stunning Sugar Sculpture Produced by 3D Printing Technology
Since invented, 3D printing technology has been widely used in various area and 'The Sugar Lab' just show us another usage of it – producing high-end edible objects for use on wedding cakes or table centerpieces. These beautiful sugar sculptures displayed below were made by Los Angeles architects Kyle and Liz von Hasseln, using a process similar to standard 3D printing: a mixture of alcohol and water is applied selectively in layers to wet and then harden the sugar. The resulting pieces taste like normal sugar, but way pretty. The designers said: "We see 3D-printed sugar as the best place to start, in terms of 3D printing food. It's primed to embrace technology like 3D printing as a design tool, and we're just tapping into that."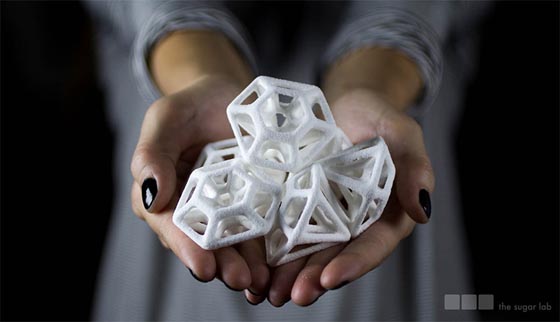 2. BUILD: Creative Modular Shelving System with Various Combination
Designed by British designers Jack Godfrey Wood and Tom Ballhatchet for furniture brand Movisi, the "Build" shelving provides a striking and flexible interior solution. Made with 100% recyclable and emission-free high-performance plastic foam, "Build" is a series of identical units that tessellate in various orientations. Each unit is connect with triangular clip at the back. Hang-able or stack-able, the irregular sections can be arranged in a variety of configurations. More than a shelf, the shelving unit can also be used as stools or tables.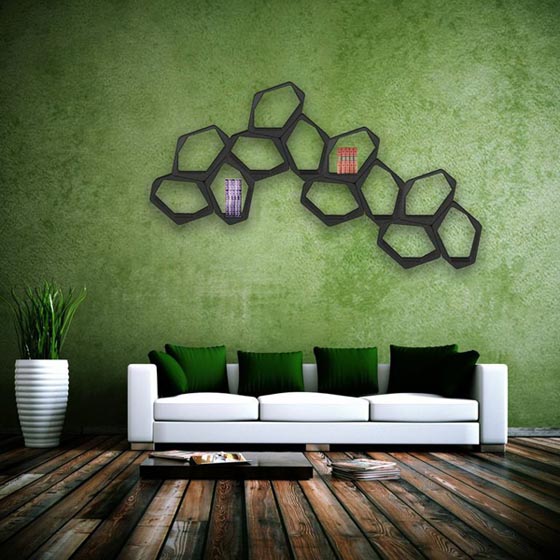 1. 20 Beautiful Examples of Waterfall Photos
Waterfall, as its name stands, is a mass of flowing water rapidly dropping over a steep cliff which might be one of the most beautiful scene on this world. The beauty and charisma of these waterfalls is so immense that no one can resist staring at them and keeping taking photos to capture the moment. In this post we rounded up 20 Beautiful Examples of Waterfall Photos around the world. Mountain, water, splash, hope it bring you some coolness in this summer.