Your garage area can be a mess of things that you don't know what to do with. A lot of garages have too many items and it's hard to fit inside your car when the time comes for a family trip. Cleaning and organizing is something we usually neglect, especially if we don't have the right tools or information on how to deal with the situation. For top ways to organize your garage, explore this comprehensive guide which not only offers insightful tips on organization but also provides valuable insights on how to style your polyurea coating for a functional and aesthetically pleasing garage space. Here are some ideas on how you can organize your garage:
Use Storage Boxes
Garage storage boxes are a great way to keep your garage tidy for those inevitable times when you simply can't be bothered to clean it. They're also particularly useful for storing seasonal items such as Christmas decorations, camping gear, and summer clothing. Most storage box manufacturers offer a wide range of sizes with various capacities, allowing you to choose the right size for your specific needs. These boxes can be tucked away neatly on your garage shelf or hung from a wall hook so they don't clutter up your floor space.
Package Your Spare Parts
Spare parts are often essential pieces of equipment for most vehicles, yet most people have no idea where they put them once they've taken them out of their packaging. A good way to avoid this is to use a tool caddy to store your spare parts. Also, if you're storing old paint tins it's advisable to get rid of them because leftover paint can spill and potentially damage the floor of your garage.
Maximize Your Workbench Area
Most people don't realize there are several different ways you can maximize the space on your workbench. For example, you could use pegboard hooks instead of laying out tools directly onto the bench or hang smaller items from nails or screw-in hooks on some kind of board that sits above your work area. You might also consider using some kind of wall storage unit where you can store larger items such as ladders, garden shears spades, etc. Some units offer additional hooks where you can store tools such as screwdrivers, spanners, and hammers. Alternatively, if your workbench is against an outside wall or window you could consider purchasing one of those small suction cup hooks that'll hold heavier items for you.
Utilize Your Garage Ceiling Space
If you have a garage with low ceilings or simply don't have enough room to store all your belongings, why not store some of them on the roof? Many garages are fitted with sturdy beams that could hold several boxes without them sagging. You might even be able to fit an old mattress up there for those times when you need a quick nap. Just make sure it's safe before using! If you have a garage with high ceilings then it might be worth investing in some kind of ceiling storage rack. These racks are incredibly versatile because they'll hold almost anything from bicycles to old paint cans so it gives you the chance to move out anything that isn't being used at the moment.
Online Storage Units
When you're looking to save space in your garage but aren't quite ready to give away certain things just yet, consider renting an online storage unit. These units are usually much cheaper than hiring a larger commercial storage facility and because they're available at any time of day or night, it couldn't be easier to use. Simply visit the website, pack your boxes and send them off using one of the many courier companies they often partner with. As long as you keep them inside their storage unit when not in use, you could store items for years before deciding what to do with them.
Install Cabinets
It's important to utilize the space available in your garage as efficiently as possible. Many people make the mistake of leaving their rarely used items simply piled up against a wall or sitting on an old tarpaulin which quickly becomes dusty and difficult to clean. It's much better to install some cabinets against that wall so you can store things like car fluids, paint tins, and other flammable materials safely away from everyday use. This will also help keep tools organized and easy to find when needed. Cabinets can be a great choice for other storage needs. Another thing most garages lack is good storage for gardening equipment. If you already have enough garden furniture stored elsewhere consider installing one of those tall cupboard units with doors at the bottom so you can safely store a lawnmower, hedge trimmers, or any other equipment you don't want to risk damage from. Not only will this help keep your garden tools neat and tidy but it'll also make them much easier to find when needed.
Permanent Locker Space
If you're really struggling for space then consider buying some permanent locker space. These are particularly popular in places like schools and colleges where students need somewhere to store their sports gear and shoes during the school day. They also make great homes for pets like cats and dogs if there's an animal shelter nearby that'll let you adopt them! Most local councils offer spaces for between $50 – $100 per year, which you can reserve for up to three years and the best part is they're yours as long as you keep on paying.
Add More Shelves
If you can't find anywhere to store your things in your garage then try adding more shelves. These days, shelves come in all kinds of sizes and shapes so it should be easy to add a few in without having to spend too much money in the process. For example, if you have old wooden pallets in the attic or garden shed then consider placing them on top of some sturdy trestles near the walls and using them for storage purposes. Old crates make great containers for tools such as screwdrivers and spanners where they'll lie flat rather than roll around when turned upside down like they would inside a bucket or toolbox. Many garages also benefit from having several overhead rack systems installed since these tend to keep items off the floor and out of harm's way.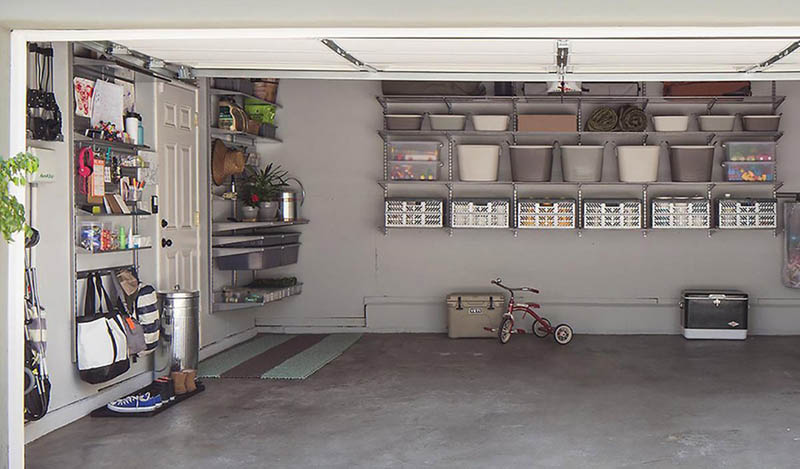 If you really can't find any storage space at all then take a good look around your garage and think about how it might be organized better. For example, if you have a lot of bulky items like skis or children's toys stashed away underneath the stairs then why not convert the area into a small utility room? You could always put a washer/dryer combo in there instead of using them inside the house. The same goes for old lawnmowers that can work just as well outside as they do indoors. Many people also choose to install extra lighting inside their garages to ensure everything cast in shadows is easily visible from anywhere within the room itself.