Big or small, tiny or massive, vintage or modern – a coffee table can become a stylish and bright accent in any interior. A coffee table is a 100% must-have, without which no interior of a modern living room can be complete. This is not only a practical and functional interior item but also a bright accent that can give individuality to your home. In this article, we will share with you some ideas on how you can use a vintage farmhouse coffee table in your living room.
Vintage Coffee Table in Your Interior
Contrary to rustic farmhouse coffee table designs typical to such pieces of furniture, these interior items are distinguished by their increased reliability and functionality. The catalog of farmhouse coffee tables usually contains a model range developed by several global furniture factories. A vintage-style table can be equipped with several types of mechanisms: for example, small wheels for mobility or a folding design.
To achieve strength and reliability for the frame, manufacturers often choose oak veneer, but metal or stone products are no less common. It frequently happens that luxury living room furniture sets have special patterns or ornaments. If a vintage coffee table has a glass surface, then it is also subject to a special decoration. For a harmonious combination with any interior, tables are represented in a wide color palette. They will not only create an atmosphere of pleasant and romantic memories but also greatly decorate the interior with their unusual look.
The vintage black or white farmhouse coffee table is usually rectangular but it can also be round, triangular, square, and so on. Its height does not usually exceed 60 cm, it may have a wooden surface or be covered with tempered glass. Such a table is the center of the living room, the point around which the seating area is located. Therefore, the farmhouse coffee table set should correspond to the general vintage style of the room.
Varieties of Vintage Coffee Tables
Vintage tables remind us about a special spirit of a bygone era, combining the romantic mood and memories of past decades. Their endless variety is a great chance to choose a model for every taste and for any room, whether it is a living room, bedroom, office, or kitchen. The vintage table is always practical and comfortable. It does not serve as a decoration but is quite a usual everyday piece of furniture. However, they can be different in design:
almost all tables are distinguished by curly carved legs, the presence of decorative elements, a pattern under the lacquered surface, and inlay;
Models made of rattan must have a glass top to create a perfectly flat surface;
Wooden tables are not always polished, sometimes it is a matte noble surface;
Round tables have one, three, or four legs, carved in the form of balusters or having a strict geometry;
Sometimes, you can come across the DIY farmhouse coffee table with decorative elements and drawers.
Some people prefer folding coffee tables with extra storage space. With their help, the owners can make the interior quite original, as well as free up space in the room. Before buying, it is important to consider which models, dimensions, and designs will suit individual needs.
An excellent option would be a coffee table-chest – an unusual item of vintage style interior. Such a unique table can be used as the main accent in a colonial-style room. These are original, unusual, stylish interior items that will attract the eye of every guest. Moreover, these coffee tables can be used as a decorative element in other rooms. They may become unusual, stylish bedside tables. The bedroom at the same time will look mysterious and vintage. Meanwhile, you can store a lot of things in the chest itself.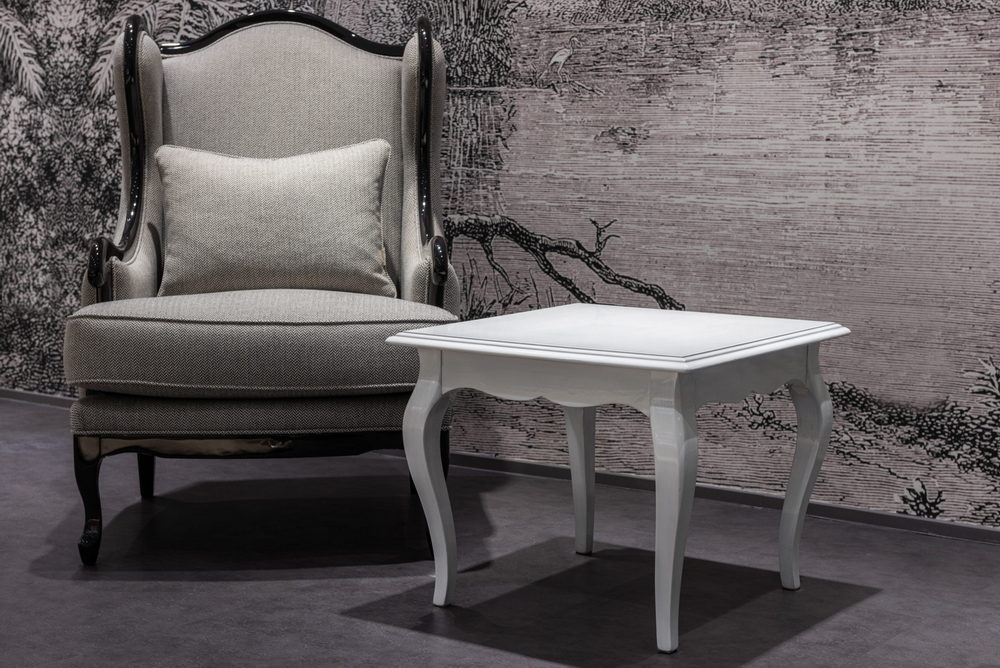 Coffee Table Care Tips
After buying a vintage coffee table, it is important to properly care for it. Then, it will serve for a long time and please the owners. Our experts have given several recommendations on its care:
It is important to monitor the temperature in the room. Excessive humidity is dangerous for vintage furniture.
If there is a heat source nearby (fireplace, heater, etc.), it is important that the farmhouse end table is as far from it as possible. Wooden items can dry out from such a neighborhood.
If moisture appears on the table, it should be removed immediately.
Do not place hot objects directly on the surface of the coffee table.
The wood product cannot be cleaned with glass cleaners or abrasive sponges.
Do not place the coffee table where sun rays can reach it. Ultraviolet is destructive to the vintage surface.
It is important to protect a table with a glass top from heavy, sharp objects.
The surface must be wiped with a soft cloth or special wipes for furniture care.
Choosing a coffee table is a responsible task. You probably want your coffee table to be beautiful, stylish, and at the same time affordable. In addition, the product must harmoniously fit the interior of the room.