No wine lover has ever avoided the problems caused by a poorly functioning corkscrew and we have bad memories attached to these failures. You probably will ask yourselves how to find a corkscrew that will work the best. From our options, a cool corkscrew should not only be rugged enough to use on the toughest corks but also a prefect decoration for your kitchen or bar. It should be fun to use, fun to look at and also servers as a fun conversation piece. Here we rounded up 10 Cool and Unusual Corkscrews and hope you like them.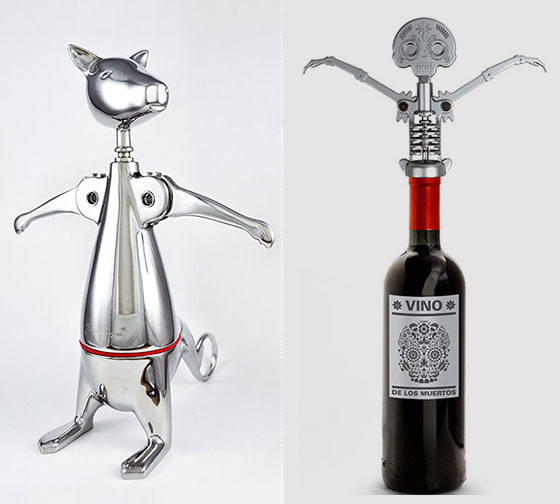 We are a participant in the Amazon Services LLC Associates Program, an affiliate advertising program designed to provide a means for us to earn fees by linking to Amazon.com and affiliated sites.

1. Kangaroo Corkscrew [buy on amazon]
Who doesn't love kangaroos? Especially ones that open wine bottles. The cool new Kangaroo Corkscrew is just that, a sleek and sculptural corkscrew shaped like a little kangaroo with a handy bottle opener at the end of its tail. Just lift up its top half to reveal the screw, twist its head around until the screw is embedded in the cork and push down the arms to pop it out. Unfortunately, this one doesn't hop.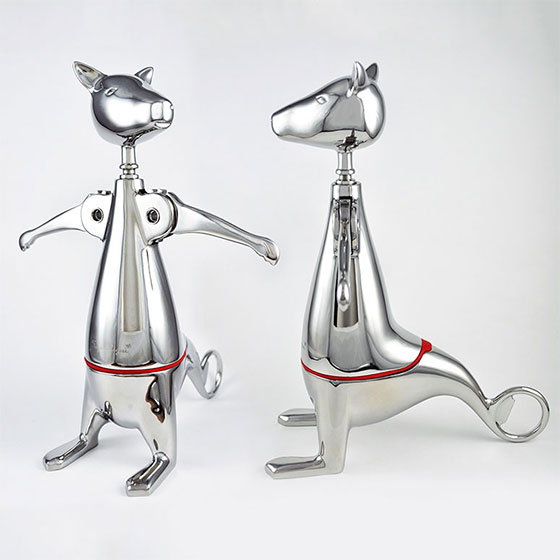 2. Vintemp Waiters Corkscrew Infared Thermometer [buy on amazon]
If wine could talk, it would tell you all about the new VinTemp Corkscrew. The only corkscrew in the world that can read the temperature of wine from outside the bottle. Simply place VinTemp on the outside center of the bottle, press the button, and read the display.
Warm Chardonnay-Not anymore with VinTemp Corkscrew!

3. Urban Trend Planetary Corkscrew [buy on amazon]
What do automatic transmissions, electric screwdrivers and corkscrews have in common? They all use planetary gears: the "sun" or the center gear engages all three "planet" gears or outside gears for maximum efficiency. Planetary gears are ideal where ruggedness and high torque are needed. Opening a corked bottle can really be a chore. With the 6:1 gear ratio in the Planetary Corkscrew, removing the cork is easy.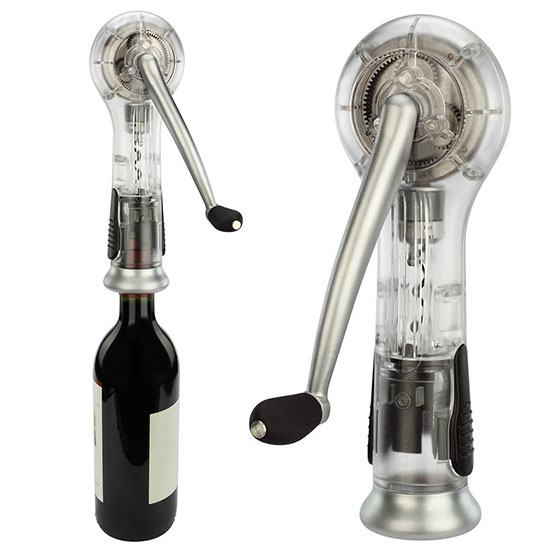 4. Metrokane Rabbit Corkscrew [buy on amazon]
Black Rabbit corkscrew by Metrokane combines function and modern style
Made of strong polycarbonate metal and reinforced nylon
Uncorks any wine bottle with one pull
Ergonomic grip pads for comfortable operation and velvety black finish
Foil cutter and extra spiral worm included; 10-year warranty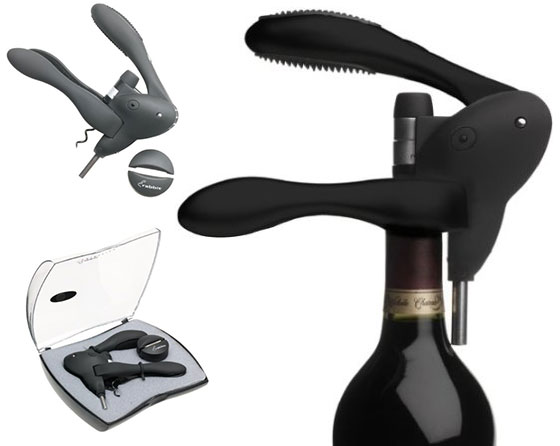 5. Kikkerland corkscrew [buy on amazon]
Day of the dead skeleton inspired corkscrew
Designed by stephanie suarez as part of the mexico design challenge
Double lever, standard spiral, and cap lifter for easy cork extraction
Made of steel
Measures 8 by 3 by 1-1/2-inch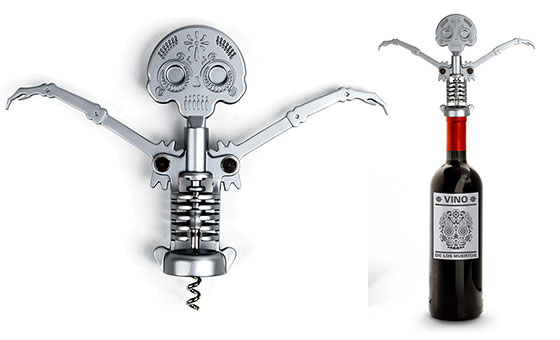 6. Twist Corkscrew and Decanting Pourer [buy on amazon]
Corkscrew Blade Twist with rubber coated surface, practical wings and the Teflon-coated spiral. The two sides of the corkscrew hide a smart magnetic lock that causes the corkscrew components to swivel back into place after use and remain there while the corkscrew is stored in the drawer. Bouquet and taste come to the forefront as the wine passes through the rubber coated stopper of Decanting Pourer Blade. Four small holes replicate the patented Venturi principle, providing further aeration and enhancing the taste experience.
1 x Corkscrew BladeTwist
1 x Decanting Pourer Blade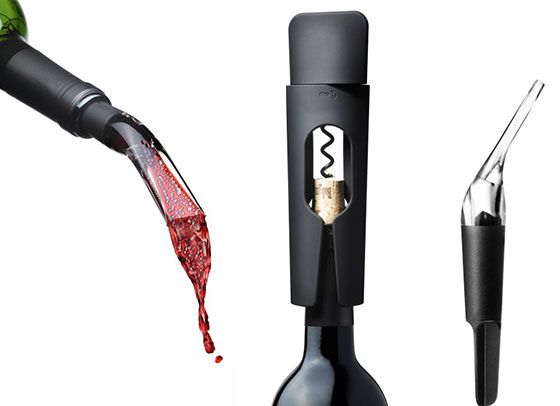 7. Trudeau Trulever Corkscrew Set [buy on amazon]
Easy to use wine corkscrew
De-corks your wine bottles with a simple lower and lift movement
Trulever coated with a durable non-stick coating; worm is constructed of stainless steel
Features an easy to use foil cutter; removes foil with a simple quarter turn
Includes stand and an attractive and useful tin gift / storage box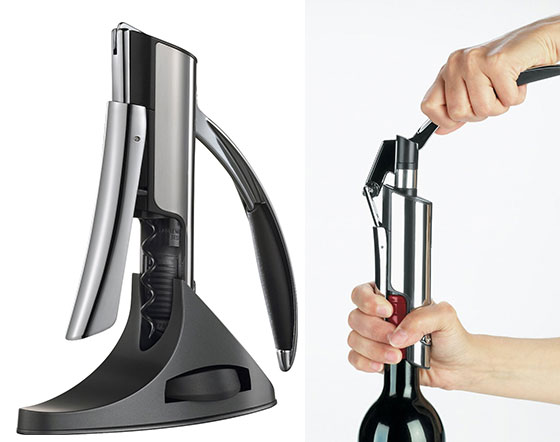 8. Picnic Corkscrew [buy on amazon]
The small, clever corkscrew consists of a combined case/handle with a hard plastic core covered with soft, grooved silicone, which provides a good grip, and a Teflon-coated spiral with a ring at the base. To open a bottle of wine, simply pull the spiral out of the case, turn the case into a handle by placing it in the ring, and the corkscrew is ready to use.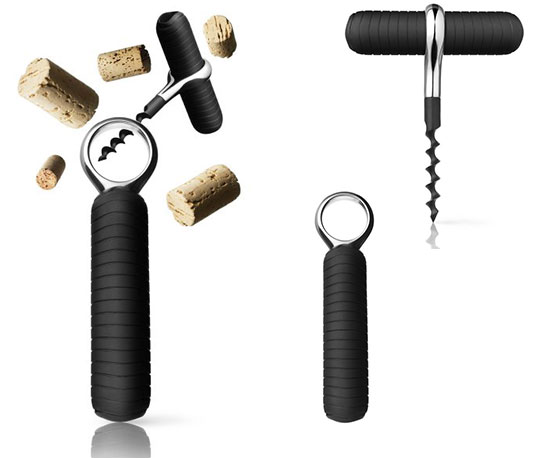 9. Vino Variable Wine and Processo Corkscrew [buy on amazon]
Designed by Wagner Design
This piece a recipient of the Good Design Award
Handsome European design with patented clamp
Great for the home bartender
Perfect for wine-related gift baskets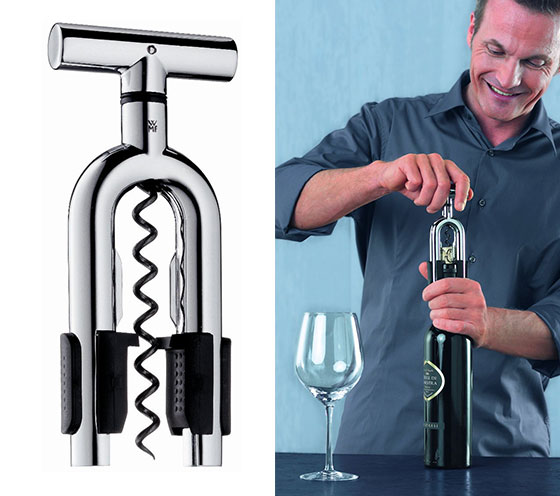 10. Classic Wine Bottle Uncorking Machine with Hardwood Base [buy on amazon]
The Allavino UM702 Wine Uncorking Machine allows you to easily uncork your bottle
Polished Antique Bronze Finish
Constructed of Zinc Allow and Steel
Attractive Cherry Finish Wooden Base and Sturdy Steel Bracket
Dimension: Overall: 6 1/2″ W x 10 15/16″ L x 23 1/4″ H