Stacking game is fun. From the very simple cup stacking to the classic Jenga to its other variants, the family of stacking games keep growing.
Big blocks stacking game are good for kids to learn stack and balance. It helps to develop their fine motor skills and encouraging critical thinking and problem solving. While the more complex ones are great for adults, especially during as a party game. It combines friends, skill, suspense, laughter, and maybe a little luck.
Here are the latest 9 stacking games we found online and you can check our previous article if you want to see more options.
This post may contain affiliate links. If you make a purchase, Design Swan may earn an affiliate commission. Please read our disclosure for more info.
Goat Yoga Wooden Stacking Game
Fred's GOAT YOGA is a fun-yet-challenging stacking game – but relax, it's not a stretch to win! Your goal is to stack and balance the baby goats while keeping everything completely zen. Set is made of solid wood and includes 9 baby goats, a lotus pose base, and a muslin storage bag.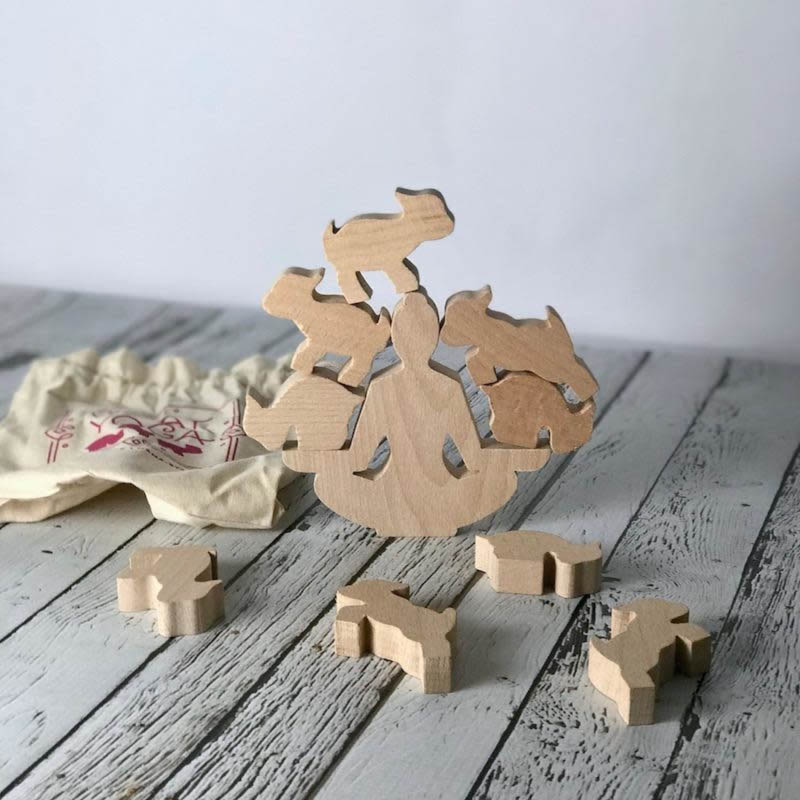 [buy here]
IUP OH! sushi game
The 'Sushi Stacker' tabletop game comes with 48 sushi pieces in total with eight different styles along with a set of chopsticks. The game is available exclusively from Firebox and is a charming game that's suitable for families or large groups of friends.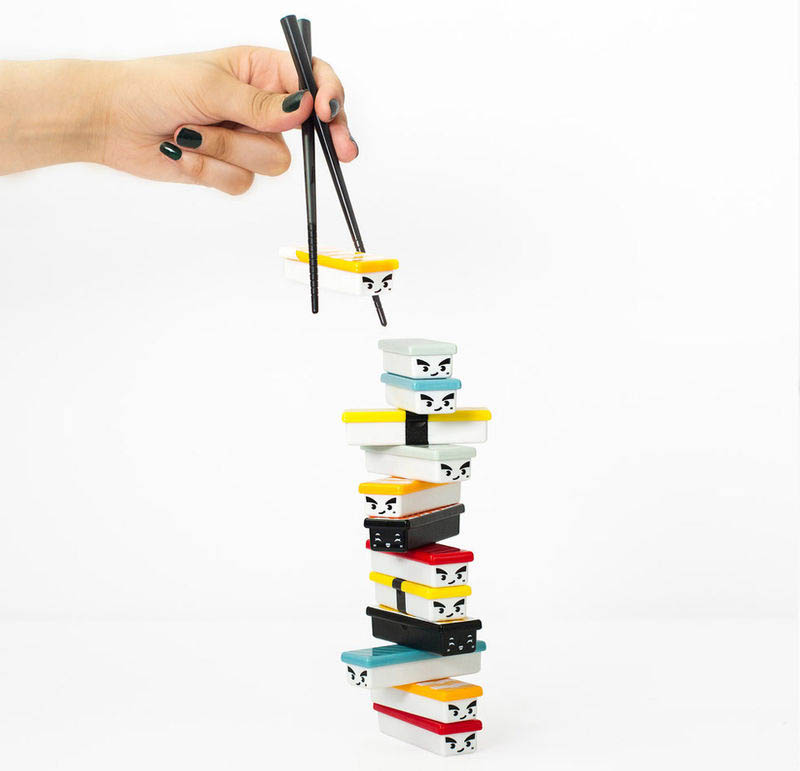 [buy here]
Tipping Chef
Take turns piling on the pastries but don't let the Baker drop it all! Includes pies, cakes and croissants!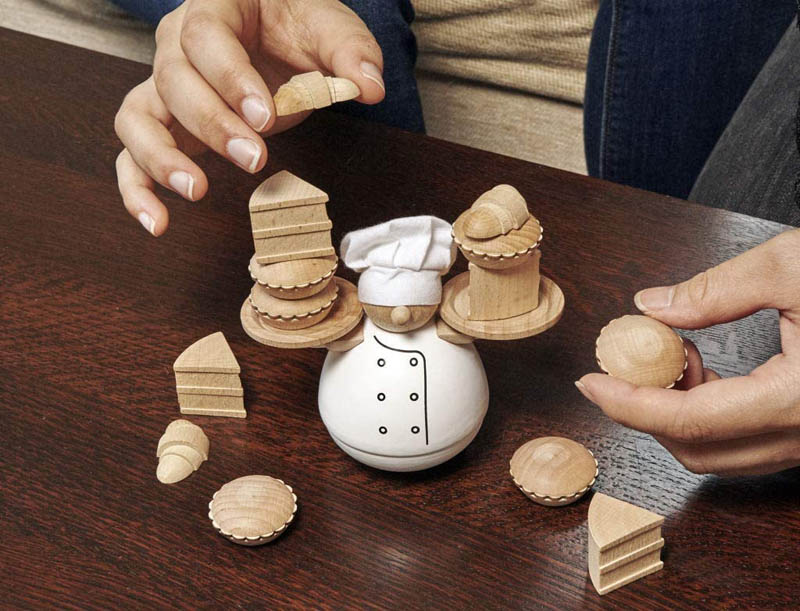 [buy here]
The Circus Stacking Puzzle Game
The brightly multicolored menagerie of Circus Animals and Performers are made for durability and endless fun – Manufactured from thick solid wood and ingeniously shaped to nestle and stack!
Includes: (10) Wooden Figurines, (10) Cards, Rules of Play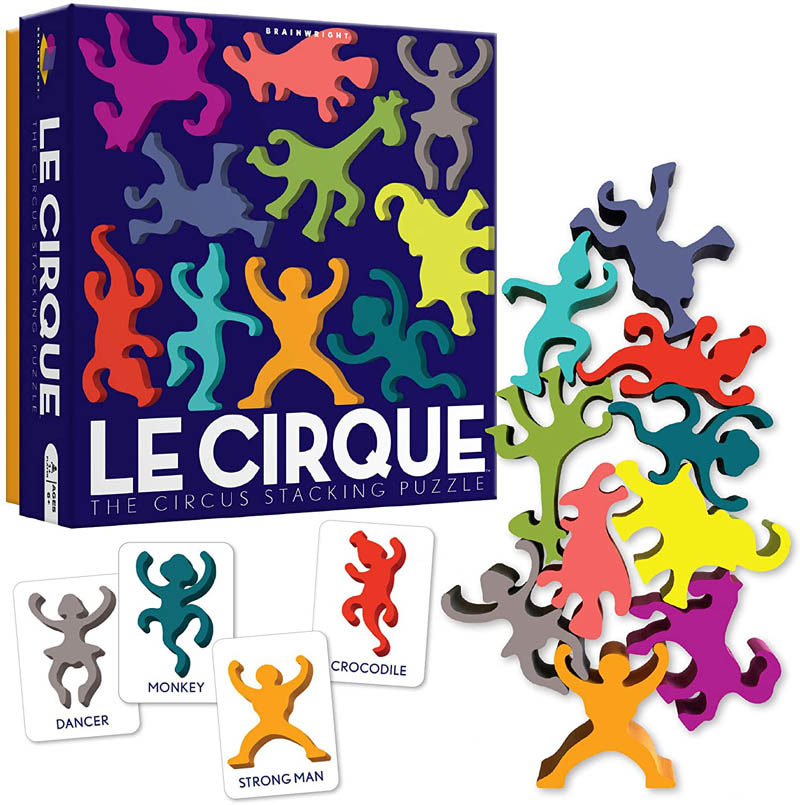 [buy here]
Yutianli Wooden Stacking Games
Bottle challenge game is suitable for many occasions, such as birthday party, adult party, parent-child activities, coffee shop and so on. The game can be played by one person or multiple people. Appropriate games can reduce the pressure of adults' life and work and children's learning pressure. It can also improve your hand coordination and your thinking ability. The toy set is made of pure wood, one wooden bottle, one wooden tray and 80 pieces of wood are all in a wooden box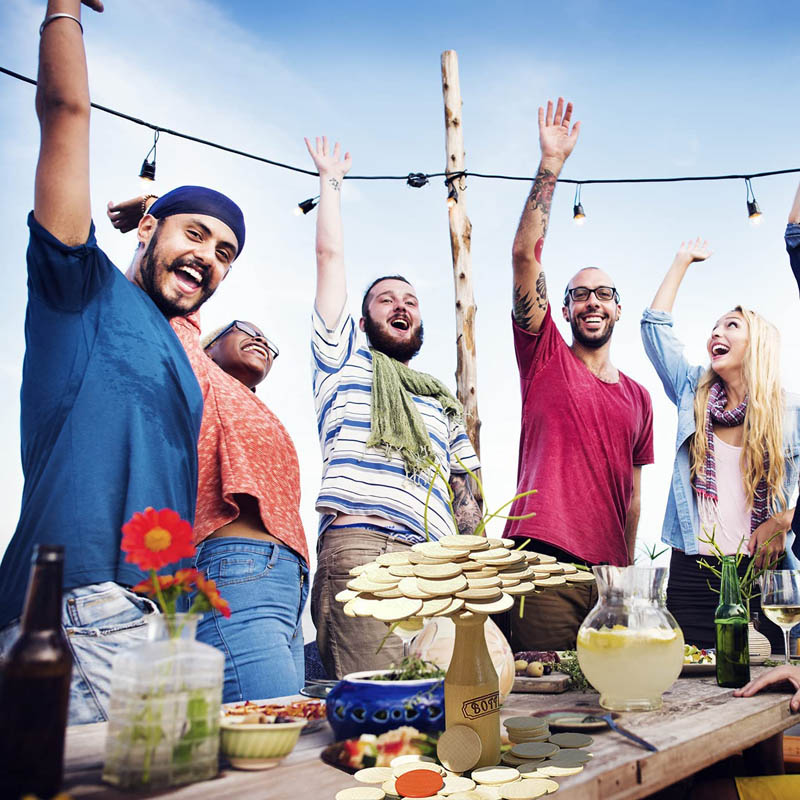 [buy here]
Quaggle Stacking Balance Game
Quaggle is a unbalanced, balancing game that is a must have for friends and family game night! Take turns stacking the Quaggle pieces on the table top base. Each piece added can create a whole new shift of weight and balance, allowing for the sculpture to transform into something completely different. BEWARE, one wrong move could send it all crashing down!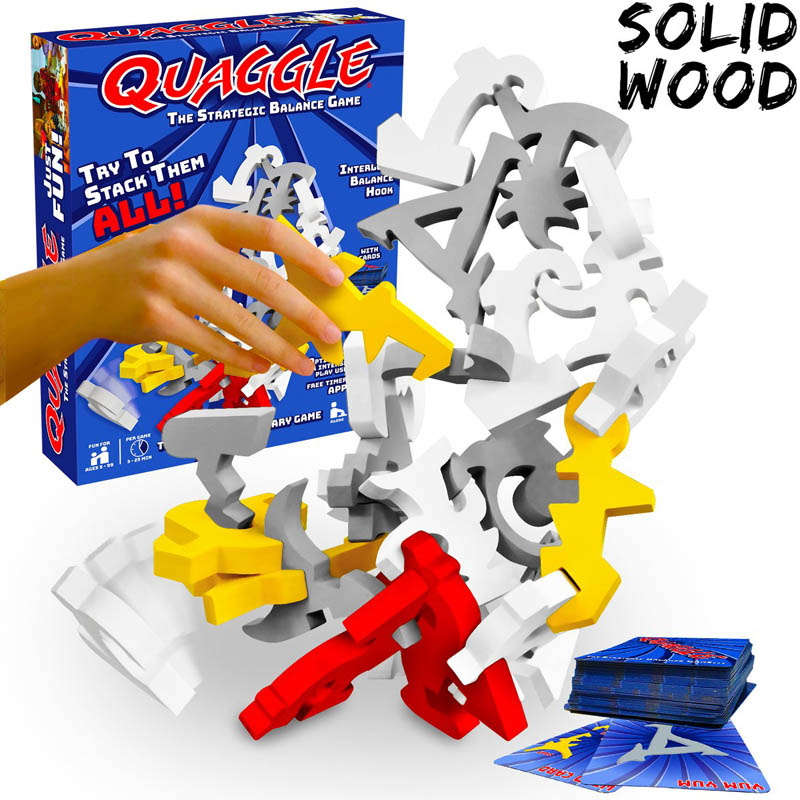 [buy here]
Wooden Sorting Stacking
This wooden blocks set with 36 wooden rocks offers kids even more creative play options. They can stack the stones one by one to keep their balance from falling down, and also, they can use them to make some new patterns.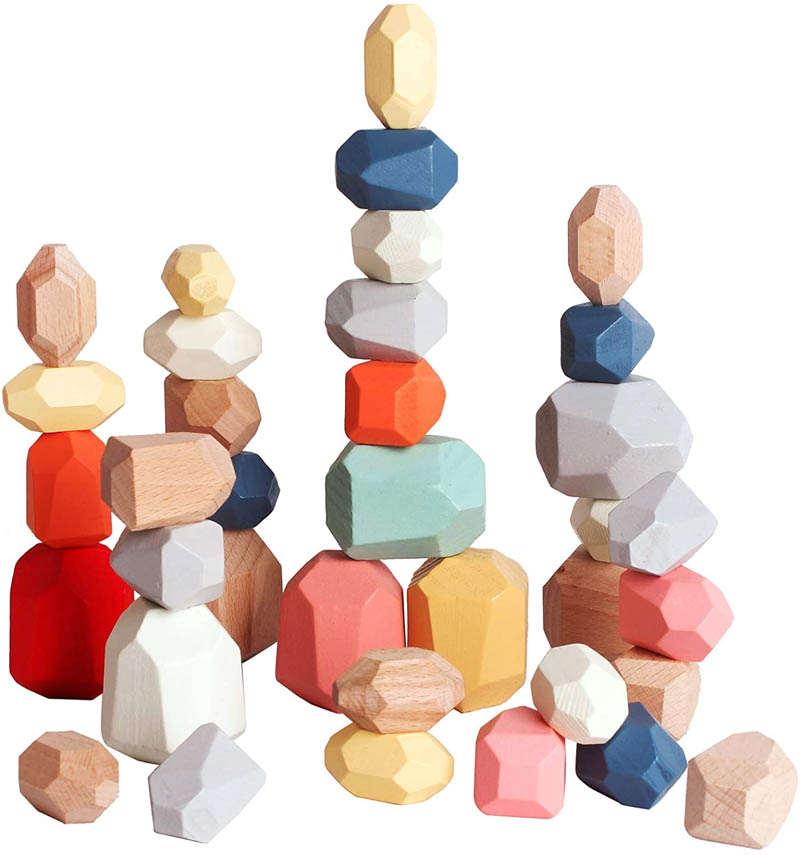 [buy here]
Stack Rollers
Place the chalk-shaped blocks onto the rotatable game base
The higher you build, the more it wobbles
Spin the spinner for placing 1 roller, placing 2 roller, or rotating the base
Make a tower as high as possible until it collapses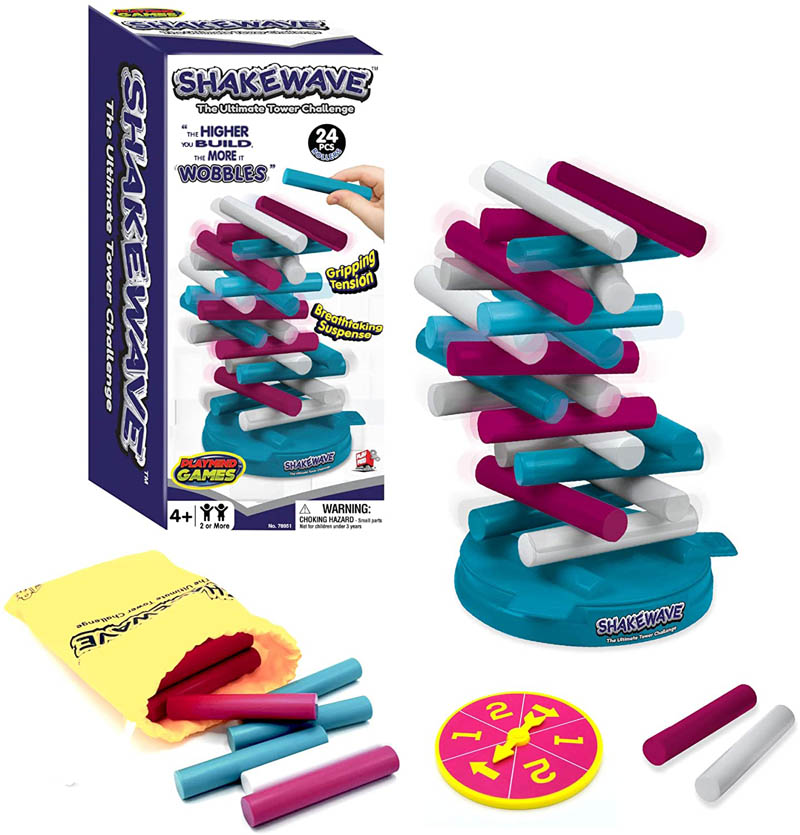 [buy here]
Circus Kittens stacking
This Montessori-inspired balancing stacker set is sure to impress your little one. 30 lovely kittens can be stacked in a breathtaking bridge, a marvelous tree or any other shape you can imagine.
Set includes: 30 kittens, dice, scheme book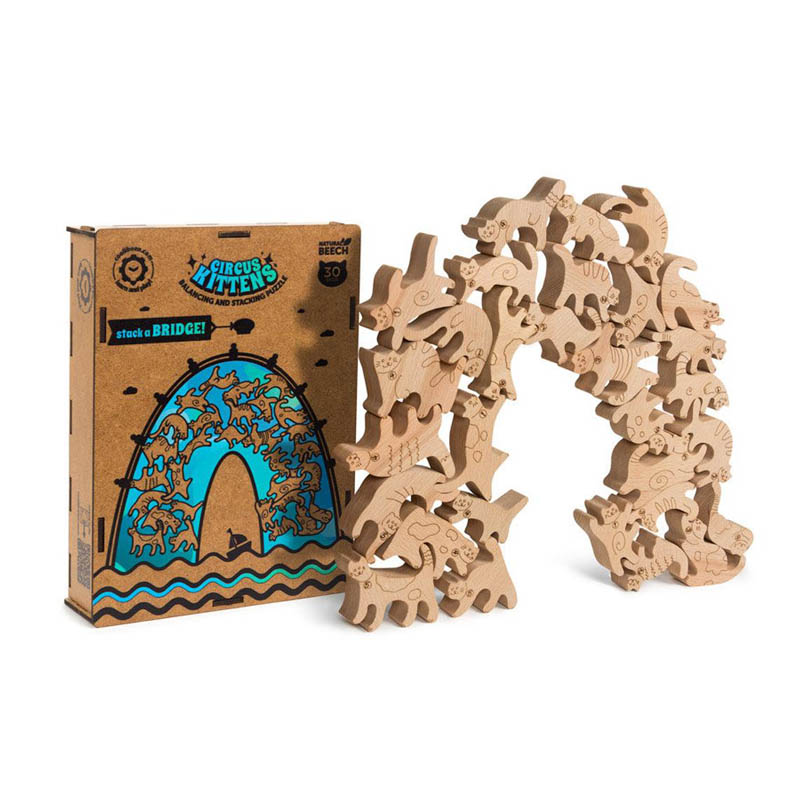 [buy here]
Jenga Classic Game
Pull out a block without crashing the stack to win at Jenga
Includes 54 Jenga hardwood blocks, stacking sleeve with instructions
Simple, solid, and timeless
It takes skill, strategy, and luck. Challenge yourself or play with friends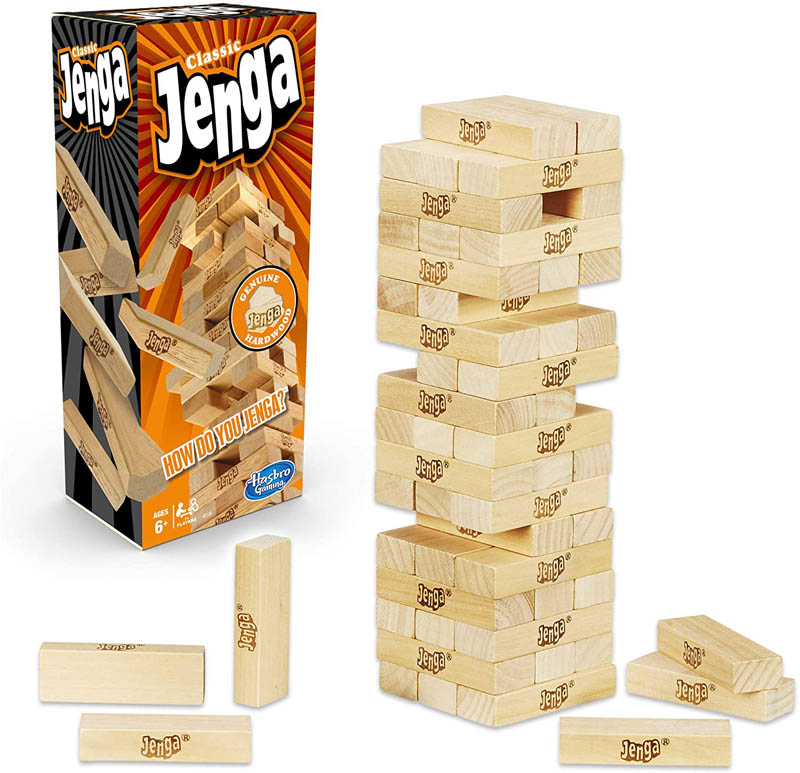 [buy here]