Creativeness is something that is driving our fashion world to a different level altogether. Just like our today's topic: 10 creative and unusual bra designs. Yes, bras! Before I prepared this list, I won't even imagine which other functions we might want for bras except comfort, protection and attraction. But apparently, there are lots of other functions beyond my imagination such as charging phones, boozing on your favorite drink and finding a perfect guy for marriage. And in some people's view, bra is not only for women, men also need it… Just scroll down and think that what fashion are you going to adorn!
Bra doubles as a golf putting green [link]
Lingerie maker Triumph International Japan has unveiled a new concept bra designed to appeal to the hardcore female golfing enthusiast. Called the "Nice Cup In Bra," the lingerie consists of a grass-green top that, when removed, conveniently unfurls into a 1.5-meter-long putting mat. When the user sinks a putt into one of the cups, a built-in speaker pumps out a cry of "Nice shot."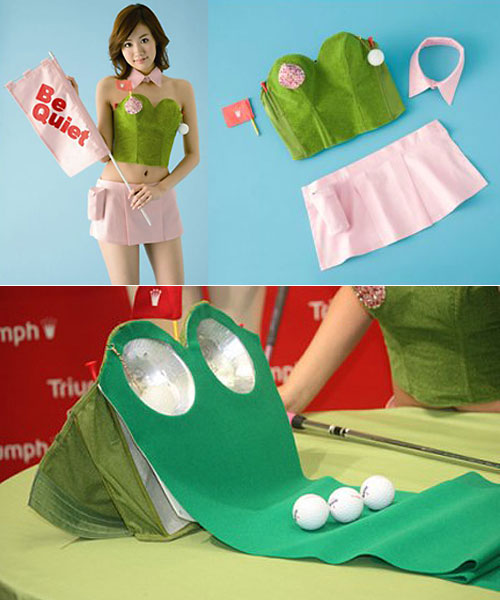 Chopsticks Bra [link]
Lingerie-maker Triumph International Japan has just unveiled the "My Chopsticks Bra" in Tokyo to promote the use of reusable chopsticks. The not-for-sale concept bra, which has a Japanese dining-table theme, comes with a pair of collapsible chopsticks. The right cup consists of a rice bowl, while the left comprises a miso-soup bowl.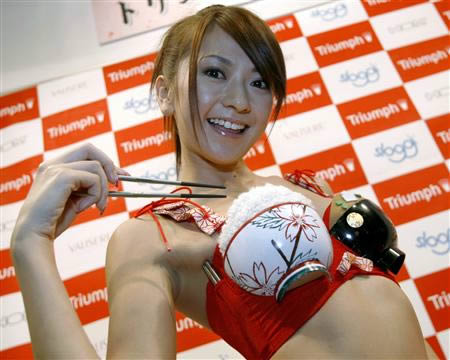 Lumigram LumiTop Bras
[link]
These pretty and shining bras by French design house Lumigram. They are the luminous fiber optics top, they are the Lumigram's new collection – light for style. It powered by 1.5V replaceable batteries, which will light the top for more than 12 hours. A small switch on the battery box allows to light the fiber on/off. They give you a dazzling luminous effect in darkness, cool!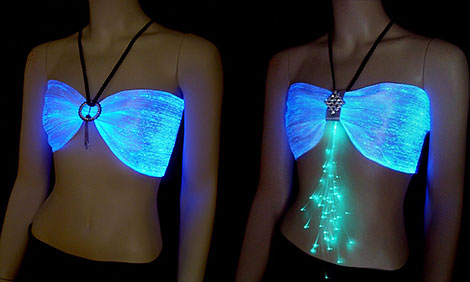 Spiky bras
[not available]
These Spiky bras are bound to whip up excitement. Hand made by a designer at the forefront of her discipline, dominant in the lingerie field, it is the perfect gift for wife or mistress. Any slave to fashion will jump to handcuff herself to this brassier. Keep your lovelies in better bondage.

The Wine Rack: It's a Bra
[
link
]
This is a really creapy design to me!
The "Wine Rack" is a bra that can be filled with up to 25-ounces of fluid and emptied through a convenient bite-locked tube. There's no way to discuss this without offending someone, so I offer you a choice of three descriptions by which you can be scandalized:
• Boobze. (Bonus: Camelfront.)
• Perfect for duplicitous, predatory transvestites–as your shrinking breasts belie your masculine nature your guzzling target will be proportionately less concerned.
• Bubbly in your jubblies!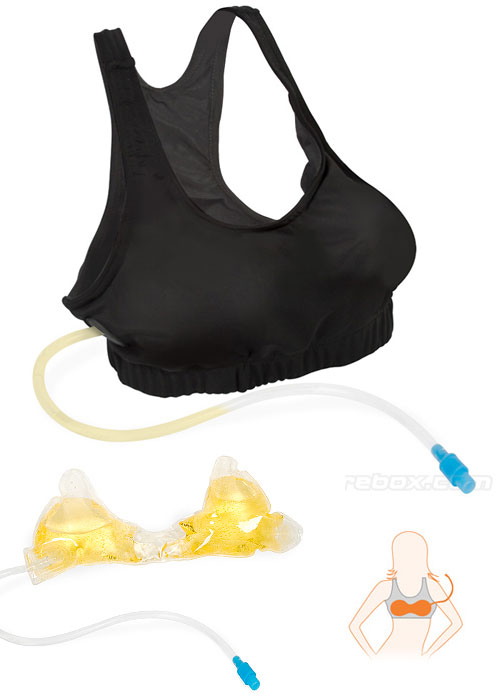 Solar-Powered Bra and also has a built-in beverage holder
[
link
]
Lingerie maker Triumph (Triumph International Japan Ltd.) is a bra with solar panels. Stampede-like solar panels mounted on the waist, can be characterized by power point wiring and connected devices. Bra center has a mini electric bulletin board is installed, you can see the characters by solar panels and connect. The pad is put inside your favorite drink, the bottle is also available for mobile. Lead to a bust-up Increasing the amount of volume of beverage. To use a straw to drink beverage side-mounted cup bra.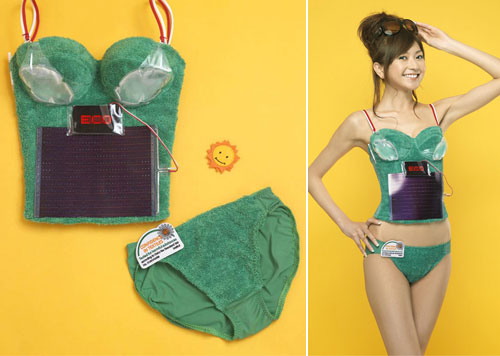 Marriage Preparation Bra
[link]
The bra is equipped with a timer that counts down until one's wedding day and a ring holder that stops the countdown. It has an in-built digital timer indicating how much time's left before the woman wearing it must get married and if she is not married by that time then she is a leftover.
That is totally crazy!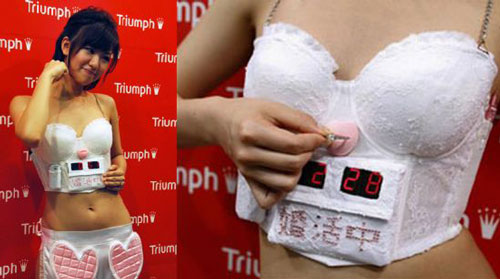 Gas Mask Bras Wins Ig Nobel Prize
[
link
]
The Public Health prize went to Dr. Elena Bodnar of Hinsdale, Illinois and colleagues who designed and patented a bra that can be quickly converted into a pair of gas masks, one for the brassiere wearer and one to be given to some needy bystander.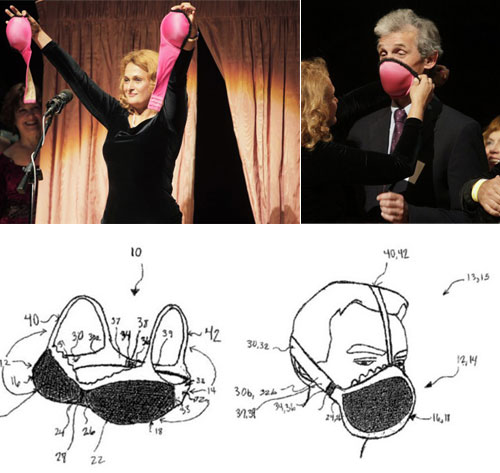 The Mixed Message Bra
[
link
]
This scrolling message bra is now available for custom orders and allows you to tell the world what you want to say about—and with—your mammaries.
It was originally a design project gone commercial. You can program the bra to flash any message you want, which is ……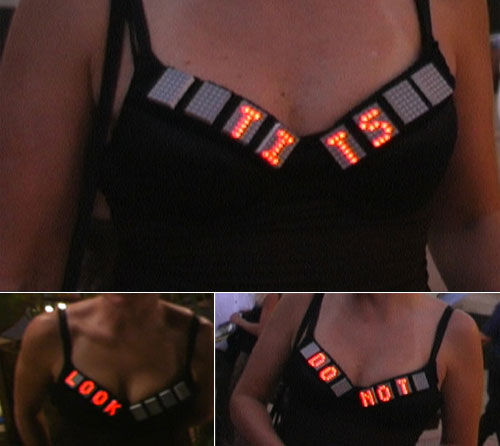 Bras for men
[
link
]
The bra's product page on Rakuten.co.jp proudly boasts that it achieved 1st place in a man's inner wear sales ranking for two consecutive weeks. Even there is some comment like "wow, we'd been waiting for this for such a long time' I still can't figure out what kind of man need those kinds of bra.