Not sure in which place matches still be widely used in the daily life. In my memory, it is a dangerous but attractive game when I was a child. I really enjoy the moment when it lights up and imagine myself is the little girl in the story. However, with the development of technology, I haven't seen it or used for a long time. I thought it would be eliminated from our life. But apparently, people still loved those old-fashioned tool and just gave it a new birth. Then, we got our today's topic – 10 Interesting Design Inspired by Matches.
Calendar made of matches [link]
What a creative idea! Calendar made of matches. Designed by Yurko Gutsulyak, each page is a month and it looks like a comb made of matches that correspond to the days. The matches are real and the construction of the calendar is absolutely safe.
Kind of a reminder that time goes really fast… Just like enlightening the match.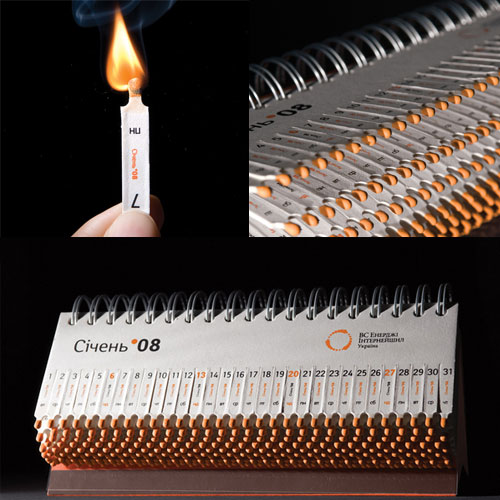 Leave the light on -oil lamp [link]
"Leave the light on" is a wonderful oil lamp from designer Julia Thesenfitz, I love that while the lamp burns the "burning" match never ever goes out.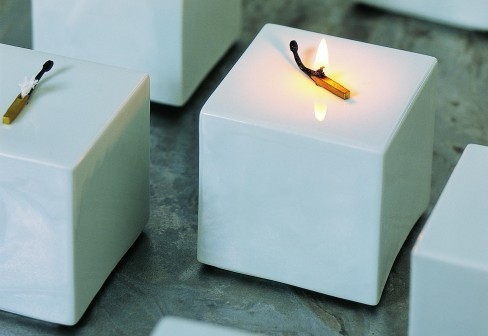 Give match a face [link]
I guess the designer tries to add some interesting flavor to normal matches, so he/she decided give each match an expression. It looks really cute. Just not sure does it worth that.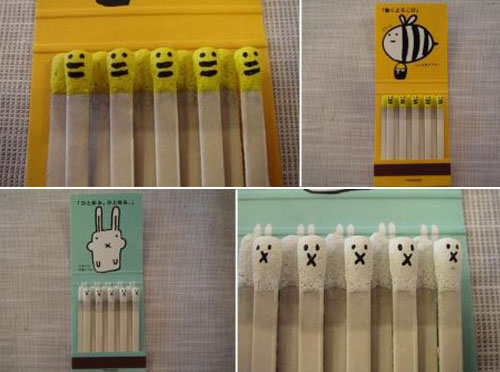 Enlighten your lamp with match – Electric Candle LED Light [link]
This is a lamp, which has been designed to represent a flame flickering on a candle, just they had to use in olden days, but of course, this has been given the modern touch, which means that there is little risk of you burning anything. It comes with its own match which will light up the candle when the tip of the match touches the candle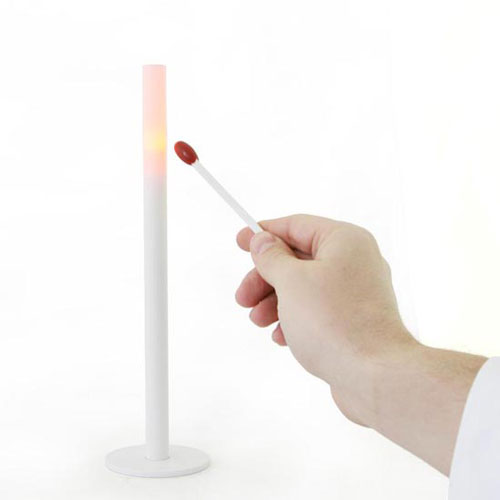 Match Lighter [link]
This is a cute little lighter. It looks like a match, and you just click on this little button on the side to turn it on and off.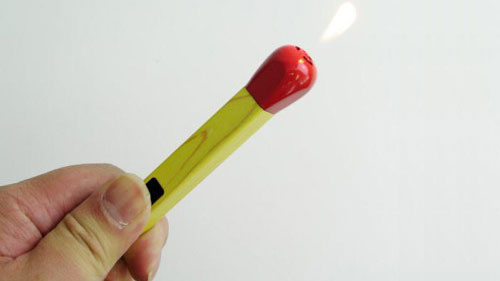 Matchbook business card [link]
It is a really special design I have even seen. Not sure about the function of each match inside the box… but they are not seem to have pratical function – lighting up.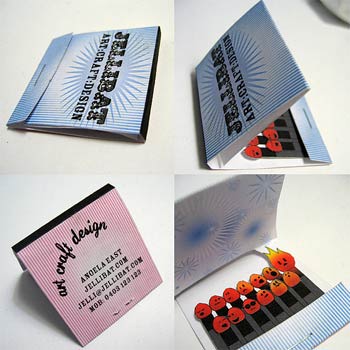 Lucifer – Auto Match Igniter by Clement Eloy [link]
The aim of Lucifer is to reduce the steps to light on a match. It's easier to get fire from a lighter than from a match but a match is more practical (try to light on a candle in a pot with a lighter, you'll burn your nails). To take a match, you turn upside down Lucifer, and once the match wood is outside, the match's head will be jammed by the grater, pull the match to strike it on the orange grater part. The match is automatically lighted. The grater is made of a stone and can be used indefinitely. The base of Lucifer is made of glass to control the matches quantity inside, it is screwed on the top part to refill it.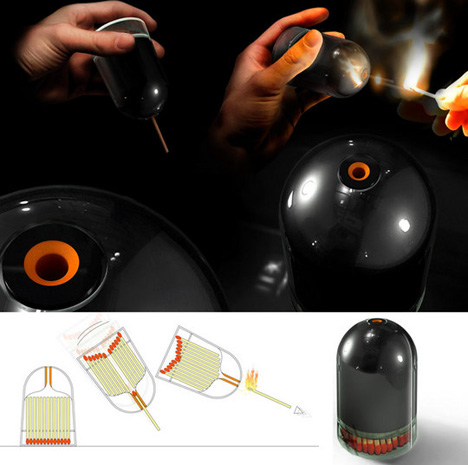 Double match [link]
Paolo Ulian isn't the first to have come up with the double-sided match, but I love the way he's packaged it – with two drawers – one for fresh matches, and one for half-used matches.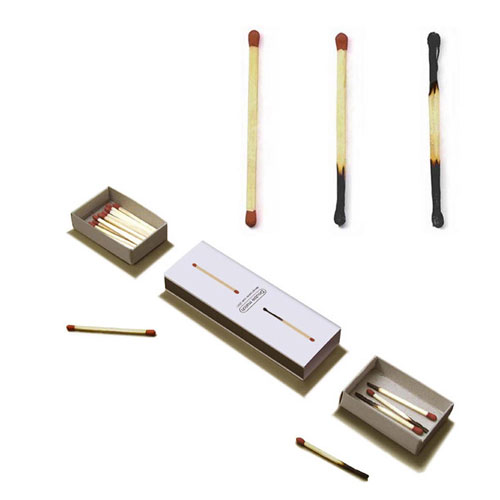 Matches leaves – help you make your decision [link]
Need help making simple decisions? The Instant Feeling concept may just be the ticket. Simply rip off each petal one by one muttering you indecisiveness and let the last petal standing be your answer. It's supposed to stimulate a person's sensitivity with an unorthodox reaction because each petal bursts into flames after pulling it out. A reminder that once a decision is made, there's no going back.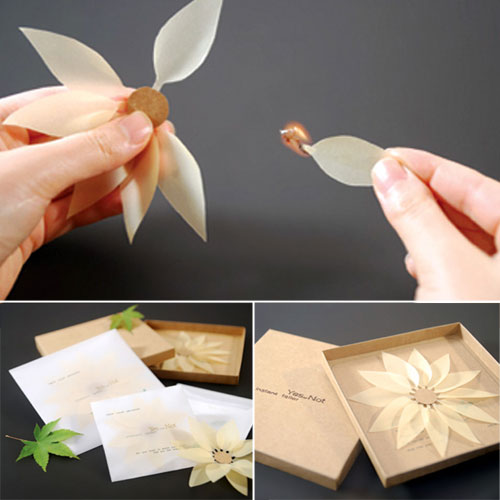 ========The below is not a match related product… But it is a real masterpiece========
Full-Sized F1 Car Using 956,000 Matchsticks [link]
Michael Arndt decided that buying a real Formula 1 car was too expensive, so he spent 6-years building a Mercedes-McLaren replica using 956,000 matchsticks. Look really impressive.