When you consider home improvements, think beyond your four walls. Some of the most valuable upgrades are outside!
Whether you're making a big improvement such as replacing a roof or a small one like adding butyl tape to your deck build, consider the value to you personally, as well as financially. Each year Remodeling magazine ranks home improvement projects by ROI, and exterior improvements rank high. For example, replacing a garage door, adding a deck, replacing windows, and adding manufactured stone veneer are all in the top 10 for 2021.
If you're ready to update your home's exterior and you want the most for your money, consider these improvements: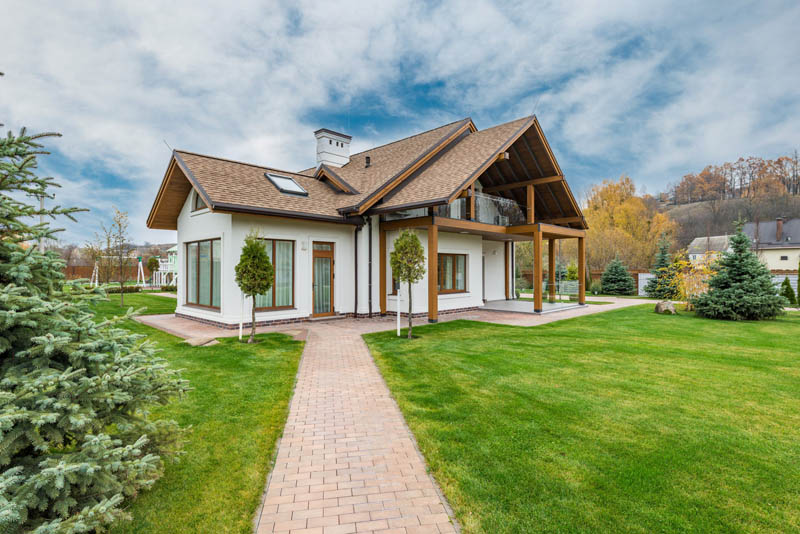 1. Garage Door
A new garage door has the best return on investment (93.8%) of anything on the Remodeling list. A garage door that isn't working well or looks dated is a prime candidate for replacement. According to Zillow, a new door will average $3,907, but you'll get about $3,663 of that back at resale. When considering a new garage door, make sure you get an in-person quote from someone who can assess the size and needs of the home. Stay away from wooden doors unless you want to put in the time for proper maintenance. Keep in mind that heavier springs and more insulation are better, even though they will cost a little bit more upfront. Finally, it's probably wise to replace your opener at the same time as your door, so factor that into the cost.
2. Stone veneer
Stone veneer has become a popular addition to home exteriors, fireplaces, and other accent points in recent years. This manufactured stone is usually a mixture of cement, aggregates, and pigments, which gives it a natural look without the weight of natural stone. For residential use, there are three main types of stone veneer:
Panelized, in which individual stones are fastened onto a single, large panel.
Large format, in which single stones are individually installed much like conventional stone.
Individual pieces.
Panels are the quickest to install, while individual stones take longer but allow for a more custom look. Even though stone veneer has a high ROI (92%), get to know the pros and cons before making a decision.
3. Replacement windows
Window replacement has a high ROI (about 68%), and it can save on energy costs but can be a costly home improvement that requires some thoughtfulness. So before responding to that mailer about replacement windows, do some homework. It can take a very long time to recoup the cost in energy savings, but consider how windows add to your home's value and aesthetic while making it quieter and more maintenance-free.
4. Siding replacement
New siding can vastly increase your home's curb appeal, and it can also make your home more energy-efficient. Be sure to ask about the R-value of the siding to get maximum insulation. Today, there are many color options, so consider whether you want to make a dramatic change or simply update the same color when installing new siding.
5. A deck addition
A deck can double your entertaining space and increase your home's value by more than 66% for wood and 63% for composite. Composite boards, made from recycled plastic and wood particles, can cost a bit more upfront but are virtually maintenance-free. A wood deck is a classic but requires sealing and/or staining every few years. Depending on whether you seal the deck yourself or hire someone, the cost for a wood deck can equal that of composite over time. Adding butyl tape to either during construction will help eliminate rot for the joists and beams that support the deck. If you have a second-story deck, usually with a walk-out basement, consider an under-deck drainage system to give you more useable space.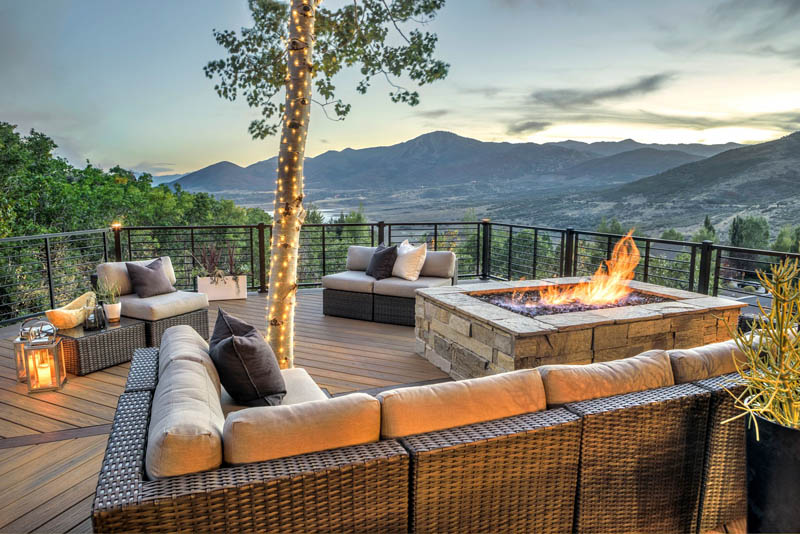 6. Entry door replacement
Before the weather turns colder, check your exterior doors to see if any paint, updates, or repairs are required. An entry door that isn't properly sealed can increase energy costs. Make a great first impression and save money!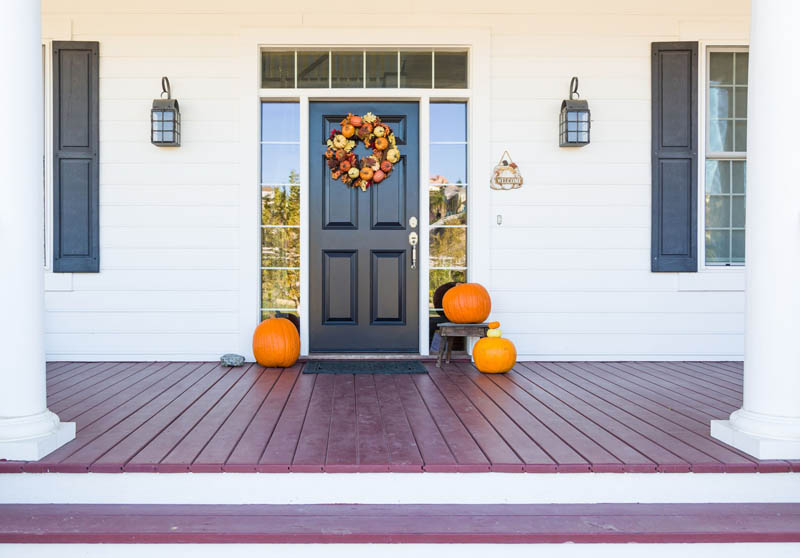 7. Roofing replacement
A new roof may be one of the most expensive home improvements, but it can save you greatly down the road from the cost and heartache of water leaks inside your home. Get more than one quote and ask about roofing options. You might want to go top shelf with 50-year shingles and copper flashing or go old school with a metal roof.
You might want to go top shelf with 50-year-old shingles and copper lights, or go old-school with a metal roof. Consider with a reputable solar company in your area about installing solar systems in addition to roof repairs at one cost, which will significantly reduce electricity costs and increase the value of your home.
8. A creative pergola
Adding a pergola to your deck, patio, or as a stand-alone element in your garden adds height to your outdoor living space and gives you many options for shade. This beautiful addition to your home's exterior provides space for beautiful hanging plants and vines such as climbing roses or clematis. In addition, today's pergolas can come equipped with louvered slats and retractable canopies to offer more cover from the weather.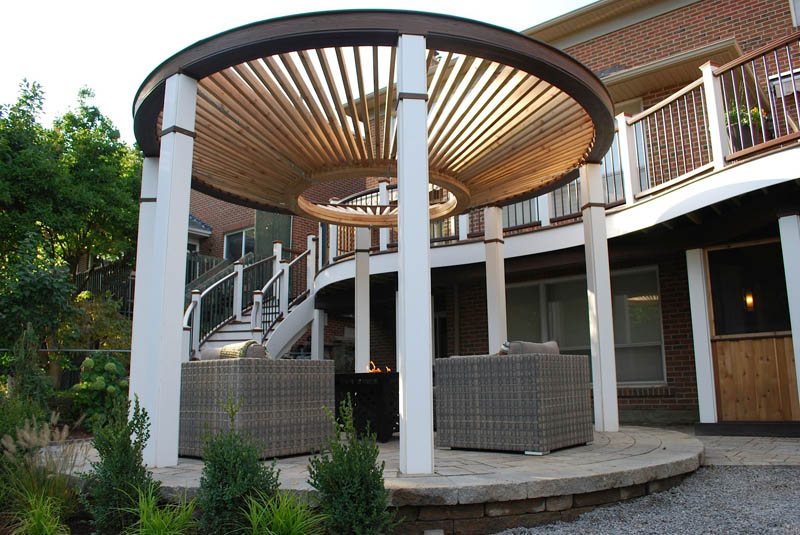 9. A well-maintained driveway
Before bad weather hits, it may be a good time to upgrade your gravel driveway to cement or asphalt. Consider all your options, including brick and block, lighting along the drive, or even add a gate.
10. A greenhouse
With today's boom in gardening interests, a greenhouse can provide enjoyment for you today and serve as a selling point in the future. If you're handy, you can build your own; if not, hire a contractor. Either way, be sure to choose a site with good drainage and sunlight. You might also want to have the option for electricity nearby.
There are so many ways to improve your home, inside and out. Pick a project and enjoy the results now and the ROI for the future!