Watching fish swim is enjoyable and helps to relieve pressure in current high-speed lifestyles. Besides all the health benefits, aquarium and fish bowl can be a beautiful addition to your home that attracts a lot of attention.
Here, we have 11 creative and unusual aquarium and fish bowl for your fish. Now your fish can be set up on the wall, in the sink, on the toilet, in the air, inside the table and even live with bird! How cool it is!
We are a participant in the Amazon Services LLC Associates Program, an affiliate advertising program designed to provide a means for us to earn fees by linking to Amazon.com and affiliated sites.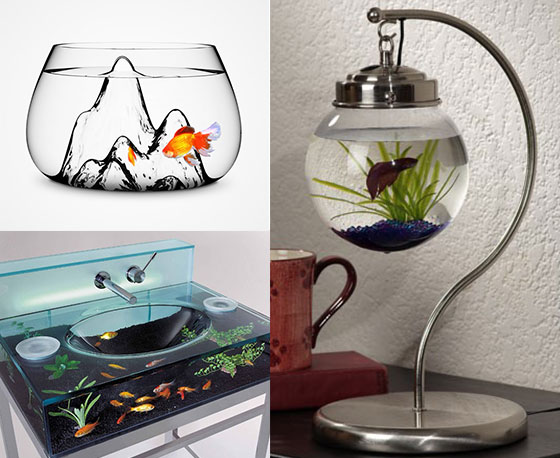 1. Aquarium Sink
This sink would be the sink of every fish lover's dreams. It could even lure any cat into a deep, salivating trance.
Includes:
Decorative stand
Water Pump
Water Filter
Soft lighting
Chrome fixtures
Top can be raised for decorating
2 circular side openings for feeding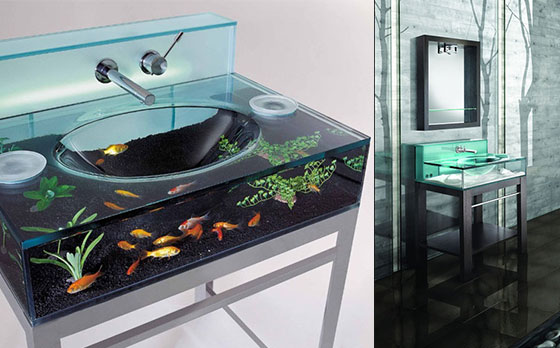 2. Aquarium Coffee Table [buy on amazon]
The 25 gallon style Aqua Coffee Table Aquarium is shaped to fit your interior placement. A solid 3/8′ tempered 36 square glass top completes the system designed to provide years of enjoyment. Complete with lighting, extension cord, decorative plants, gravel, two-stage submersible filter pump and easy-to-follow instructions.
Material: Acrylic and Beveled Glass.-36" Square Glass Top.-25 gal. style. Dimensions: -Dimensions: 15.5" H x 24" W x 24" D.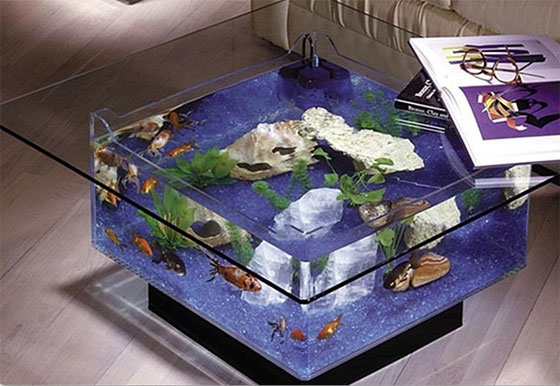 3. Toilet Tank Aquarium [source]
This aquarium kit turns your boring toilet tank into your own personal fish tank and will be turn your bathroom into one of the most talked about things in your home. The kit includes everything you need to get your own 2.2 gallon Toilet Tank Aquarium up and running.
Two-piece Aquarium Tank, Dual-Filter System With Pump, Two Nine-inch Artificial Plants
Basic Aquarium Guide, Flushing System, Flush Valve, Fill Valve
Fits two-bolt tank to bowl configurations with a two-inch flush valve and a bottom-mounted, fill-valve inlet
2.2 Gallon Aquarium Volume Fish 'n Flush 19.5″ length x 8.5 " width x 13.75 " height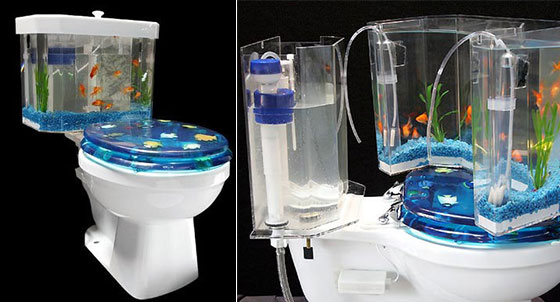 4. Aussie Aquariums Wall Mounted Aquarium [buy on amazon]
Created in Australia, these wall mounted aquariums are a chic and hip addition to any home or office decor. All the basics of your dream aquarium are included. It includes an innovative multifunction submersible water filter, custom fit lighting fixture, pre-cut custom lid, a variety of colorful marine backgrounds, mounting brackets with hardware and all the basics including a fish net, siphon cleaner and grabber tongs.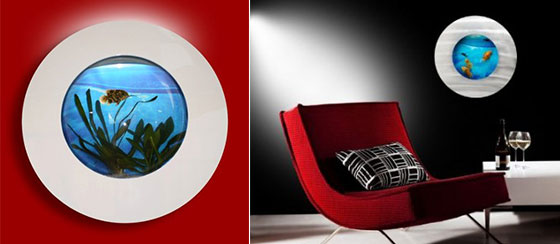 5. Hanging Aquarium [source]
This unique aquarium displays your fish in a very innovative manner.
Material: Silver or brass; Crystal glass;
Height x Width x Depth: 15 x 10 x 8;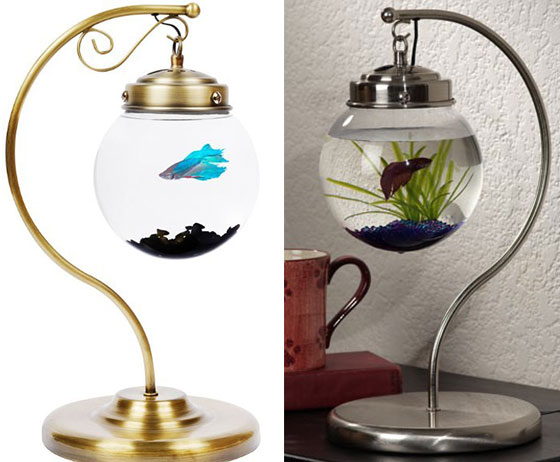 6. Aquarium Sofa [source]
An aquarium sofa is even better than an aquarium armchair! This sofa aquarium has a tank beneath each arm rest, which makes it the perfect piece of furniture for couples who argue endlessly about fresh water versus salt water aquariums. With this, you should be able to sit both fish fans down in one spot without coming to blows.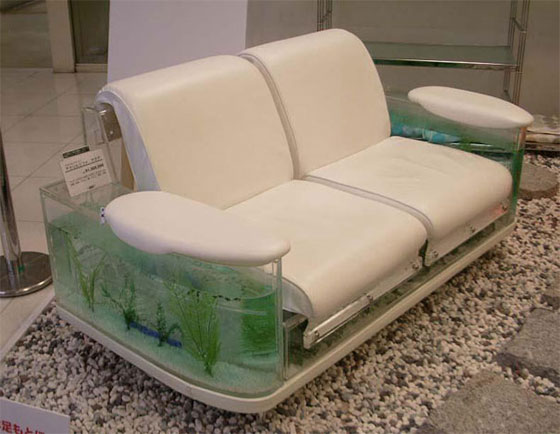 7. Balancing Fishbowl [source]
Just looking at this fish tank makes me uncomfortable, however it "is resting on its counter-balanced weight" so there's probably nothing to worry about. Made from premium glass, hand-blown and slumped by a master glassblower each tank has it's own unique form and individual characteristics.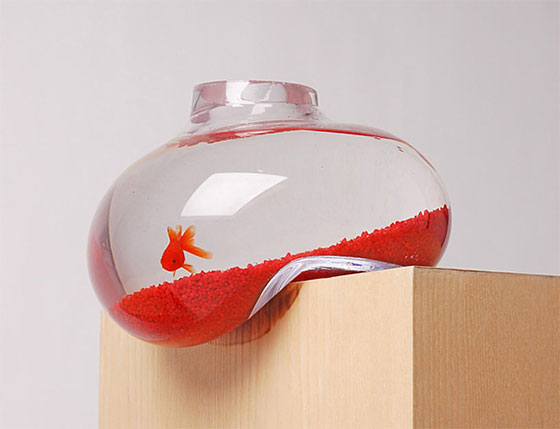 8. Duplex Aquarium / Bird Cage [source]
DUPLEX is an aquarium/cage favoring an improbable encounter between a bird and a fish. The aquarium is thermo-formed so as to create a space where the bird can fly at the same visual level as the fish. A surprising encounter that evokes the impossible fusion between the air and the water world.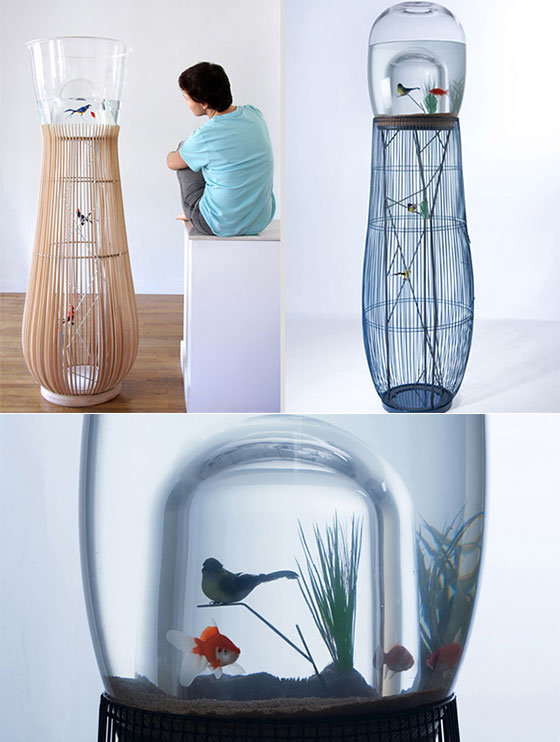 9. Aruliden Fishscape Fish Bowl [buy on amazon]
The Fishscape fish bowl is a modern interpretation of the conventional fish bowl. The Fishscape features an elaborate underwater landscape created by organic-looking bulges, making the glass bottom seem to rise from the water like an oceanic ridge. This innovative design harmoniously combines light and shadow to create a modern, yet functional home for goldfish, beta fish, and other small-scale marine life.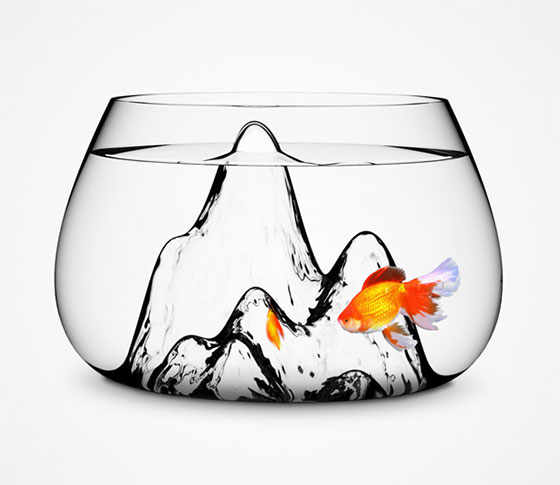 10. Archiquarium [source]
The spectacular aquariums makes you think about modern architecture rather than traditional aquariums. With its clean rectangular shapes is the connection to Scandinavian design obvious. The table is made from massive ash-wood, the aquarium in 8 mm glass.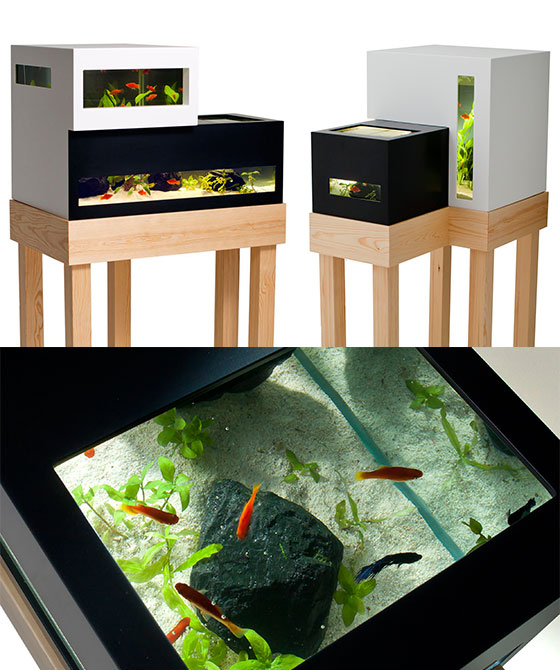 11. Seawater Aquarium Headboard [source]
A king sized headboard aquarium holding about 650 gallons of seawater and some absolutely gorgeous fish! The headboard is currently on display at the entrance of the Sleepland Gallery at Furnitureland South in Jamestown, North Carolina. It gives a whole new meaning to 'sleeping with the fishes'.