Be bored with your regular straw, just check this post, which presents you a collection of 12 Creatvie and Unusual Straws. From playable straw to spoon straw, from steel straw to glass straw, from party themed straw to emergency water filter straw, there so many interesting designs about straws. Hope you enjoy!
We are a participant in the Amazon Services LLC Associates Program, an affiliate advertising program designed to provide a means for us to earn fees by linking to Amazon.com and affiliated sites.
1. Strawz Construct Your Own Drinking Straw Kit [buy on amazon]
* Construct your own ludicrously convoluted drinking straw set-ups
* Part construction system part utterly infantile drinking doodah
* Strawz will keep thirsty engineering-wannabes occupied for hours
* Non toxic and dishwasher safe
* Let your imagination run wild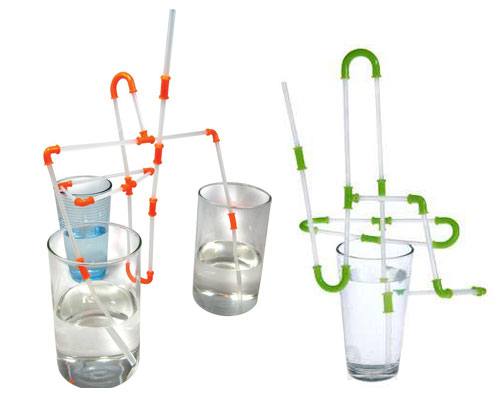 2. Aquamira Frontier Emergency Water Filter System [buy on amazon]
* Emergency water filter system ideal for hiking, traveling, and emergencies
* Particle blend removes more than 99.9 percent of cryptosporidium and Giardia
* Compact body slips easily into a daypack, shirt pocket, or travel bag
* Single unit filters up to 20 gallons of water; improves tastes and eliminates odors
* Weighs less than 1 ounce; use in conjunction with treatment drops or tablets for best results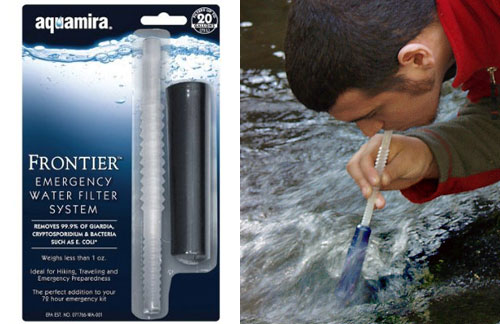 3. Mr. Skeleton is drinking
[
link
]
What would be more dreadful than a blood-sucking skeleton? The red beverage gradually runs into his mouth and Mr. Skeleton then makes a shrill, blood-curdling laugh, "Arghhhhhhhh!!!!!" God, I would say that is a typical scene of the Hollywood horror movies. But here, Mr. Skeleton is just a new type of straw. Awesome!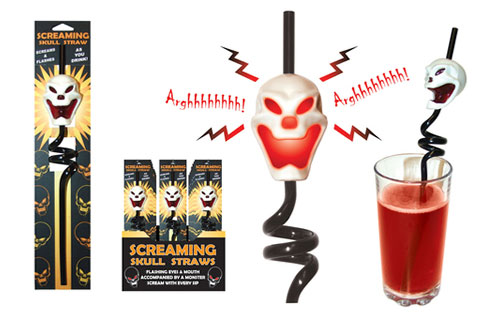 4. Spoon Straw
[
buy on amazon
]
The four swizzle sticks in this set combine a spoon and straw in one, making this cocktail implement highly useful for both stirring and slurping. Each 7-1/2-inch stir has a hollow handle for taking dainty sips of a Long Island Iced Tea or any drink served in a tall Collins glass. The bottom and top of each straw are slightly angled for sucking up every last bit of a cocktail. Affixed at the end of each straw is a curved paddle that either serves as a stir for liquor and ice or as a spoon for fishing bar fruit out from the bottom of the glass. These straw/spoons are made of 18/10 stainless steel and are dishwasher safe. Washing before the first use is recommended as the straws may impart a metallic taste to cocktails.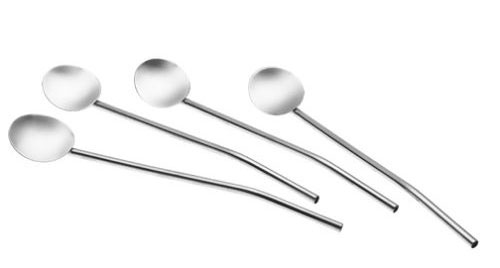 5. Endurance Stainless Steel Drink Straws
[
buy on amazon
]
Serve drinks with a twist! Go green with The Endurance Drinking Straws which are made of stainless steel and are a novel addition to cold summer beverages and dinner party cocktails. Instead of rebuying and throwing away all those plastic straws for the kids, use these high quality polished stainless steel straws instead. Add a polished look to your cocktail parties with these elegant looking straws.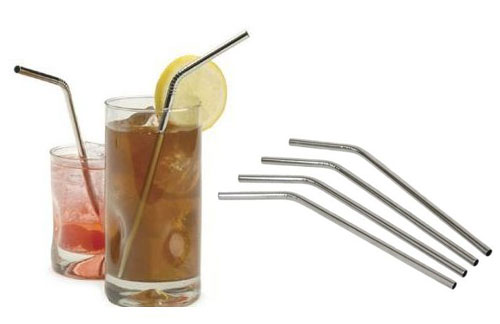 6. Handmade Glass Drinking Straws
[
buy on amazon
]
* Handmade from extremely durable glass.
* Each straw features decorative colored glass dots, making this set a beautiful and unique gift.
* Dishwasher and microwave safe.
* Made in the USA.
* Includes straw cleaning brush.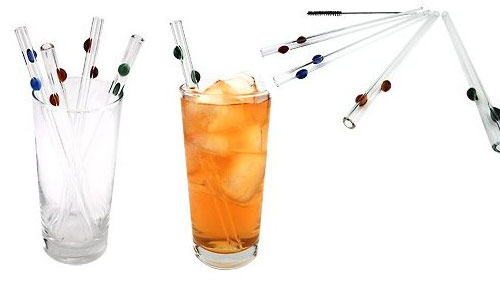 7. Lite-Up Straw
[link]
Pictured here are some awesome lite-up straws. It is 12" in length and be put into any types of cups to win you more attention in the night. As it is not safe to wash the lite-up straws in dishwasher, you're suggested to clean them in warm water after use. One such straw can last for dozens of hours.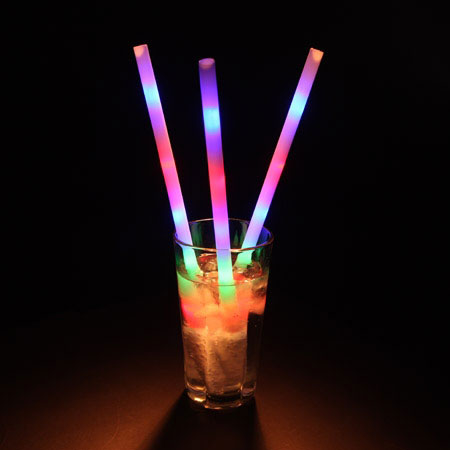 8. Roll cup – Straw cup
[
link
]
This cup is actually made by one single straw, the beverage will be sucked in from the underneath and then flow into your mouth via the upper sucker.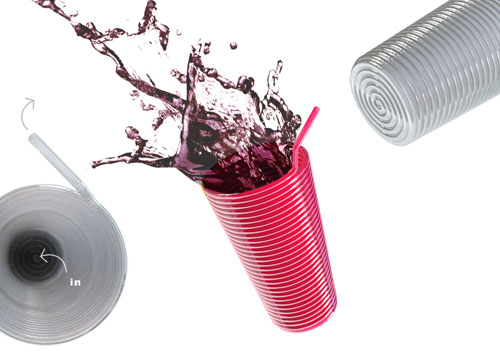 9. Leaf-shaped straws
[link]
Use these leaves while drinking, your feelings will absolutely be different.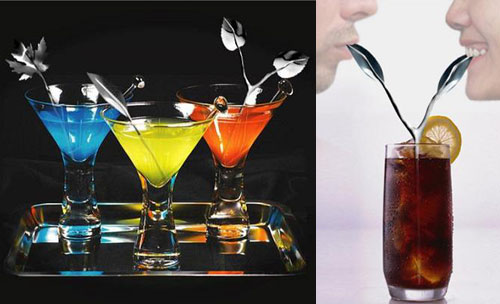 10. Funny Straws
[
buy on amazon
]
* Includes a dozen curly straws
* Fun for the theme party favor
* Kids love them
* Assorted colors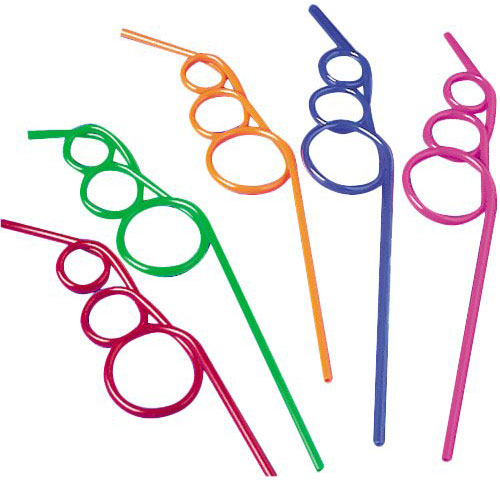 11. More Than A Straw
[
link
]
Never drink alone and get to know more party people with these straws – actually you can't drink alone, so you have to find a partner…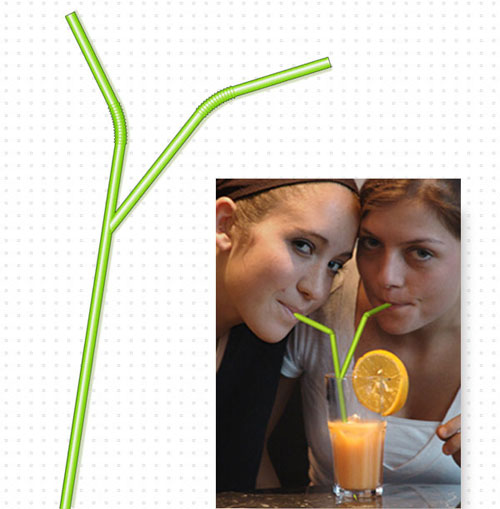 12. ELEPHANT TRUNK SIPPER STRAW
[
link
] [
buy on amazon
]
Quench your elephant sized thirst with our Elephant Trunk Sipper Straw. It's a soft flexible elephant trunk with a plastic straw embedded inside! Great for kids, adults and ridiculous photo ops!