Decorative bowls or centerpiece bowls are a fantastically versatile accent category. Available in circular shapes or more abstract styles, they are the perfect additions to the dining room, living room and beyond.
They can be displayed on their own or used with other objects you already have. Use one as an accent on dining tables, mantles, bookshelves, entryway consoles and more. They can not only be a stage on which you can display decorations but help to organize the everyday essentials around your home as well. Fruits, candy, decoration or personal stuff, get creative with how you can use the decorative bowls.
In this post, we've collected our favorite decorative bowls for any purpose. From small decorative dishes to dramatic sculptural vessels, there's something here sure to suit every style. Now, take a look and let us know which is your favorite decorative bowl?
1. Ceramic Planters Decorative Bowls, Planter
A geometric ceramic planter set is great for centerpieces at your party, but also works as perfect home décor for small succulents and medium plants. This classy planter set makes an exceptional wedding gift or party favor to show your guests your appreciation for attending your event. Simply put your favorite flowers or greenery in the pots and let your personality shine to match your theme. The geo design is modern and sophisticated for all occasions. This simple yet elegant planter will look great as a decoration at your wedding or anniversary party. If you're a lover of greenery, look no further than a decorative plant arrangement as a centerpiece. You can also display this planter at home as a memory of the special day to nurture and love as token from your special occasion.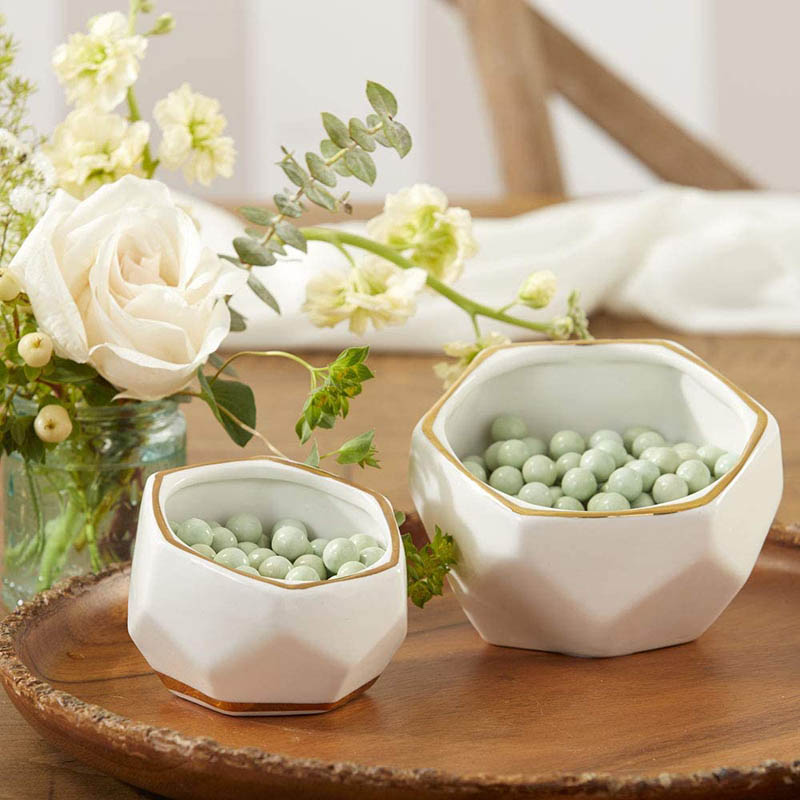 [buy on amazon]
2. Creative Scents Schonwerk Centerpiece Bowl
Masterfully designed, this 10" x 5.5" x 4.5" décor centerpiece bowl ensures maximum durability. Everything from the intricate detailing to the sturdy feet are carefully constructed to keep this decorative table accents bowl looking great. This table top decoration not only looks amazing on its own, but can also be used to hold various items around the house. Hold a flower arrangement, display your tchotchkes, or use it as a
decorative candy bowl.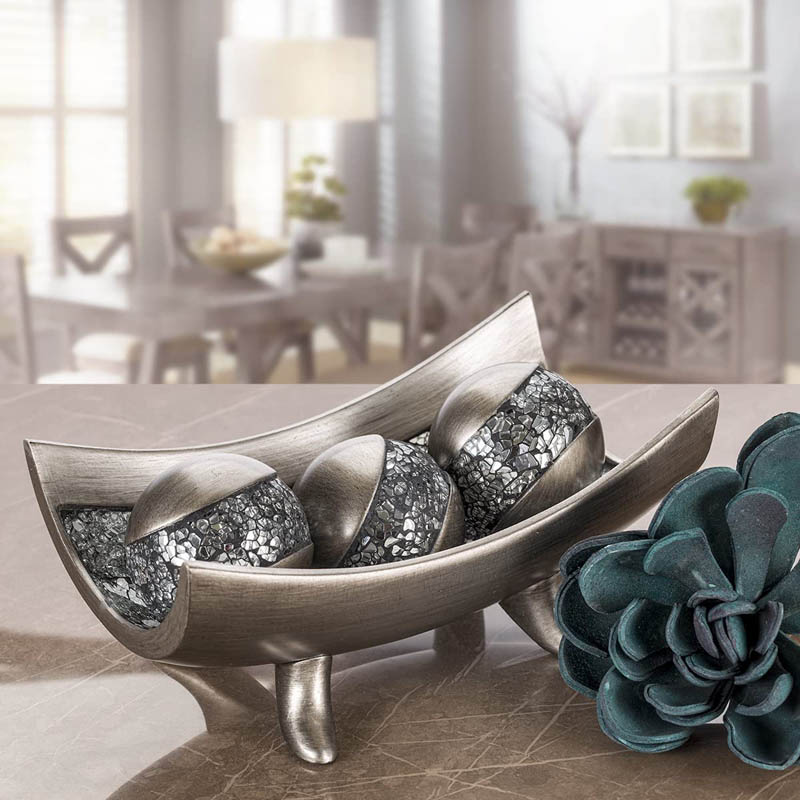 [buy on amazon]
3. Godinger Decorative Serving Bowl
This Bowl by Godinger makes a Beautiful addition to any event, wedding ceremony décor, birthday and Thanksgiving present to your friends and family, great housewarming gift. It's also a good decoration for your dining room table it looks shiny and sparkling, a really good decoration for your Holiday table or
kitchen counter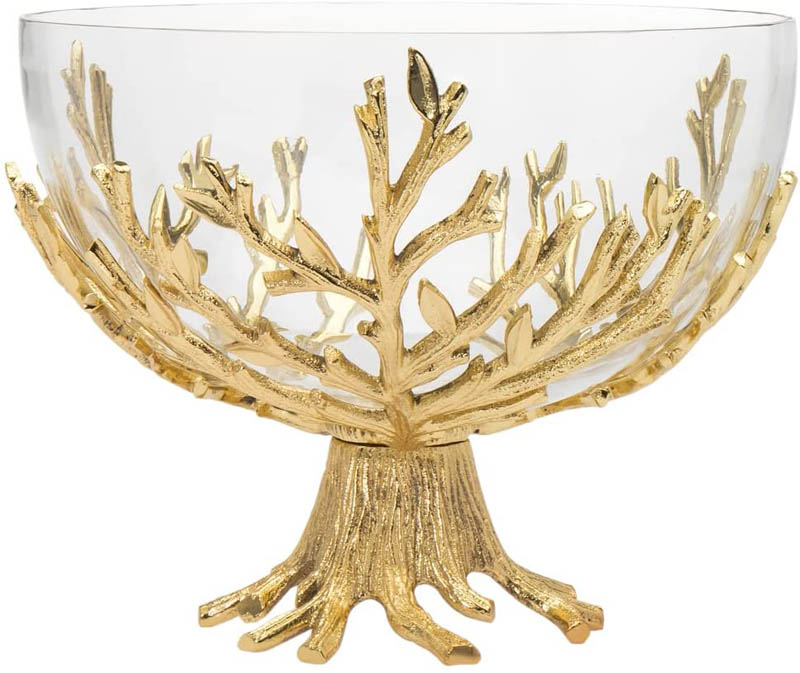 [buy on amazon]
4. Gold Decorative Leaf Shape Candy Dish with Black Branch
This candy dish is the ideal dish to have by any event or occasion. It makes for a stately presence on any table and can be used for many functions- candy dish, condiment dish, cracker dish, chocolate,nut, and chocolate dish, or cookie tray. This bowl is crafted with durable materials and precise designs for longtime
use. It also features a fine vein design that runs through the bowl that is similar to that of a leaf.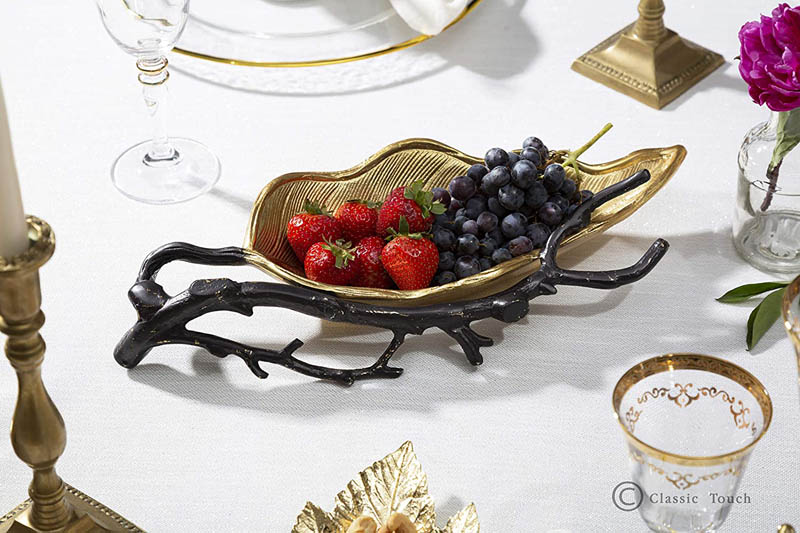 [buy on amazon]
5. 16 inches long Wooden Decorative Bowl
Each dough bowl is 100% made by hand from natural paulownia hardwood. Perfect for that rustic farmhouse style. Wooden dough bowls for decor can be used as a catch-all decorative bowl, candle making, decorative
bread bowl or as wooden fruit bowl for kitchen counter.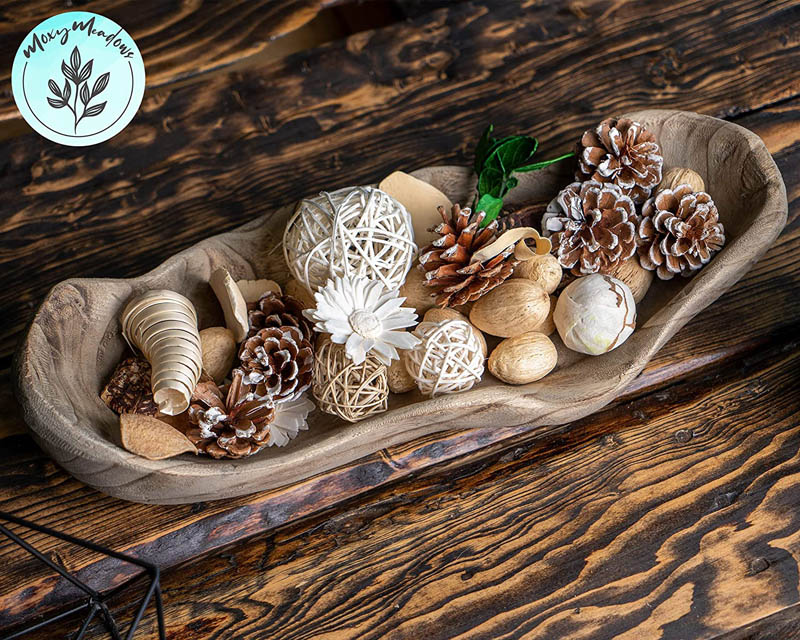 [buy on amazon]
6. Oval Glass Bowl
A scrolled iron base forms a pretty perch for this sleek and stylish oval glass bowl. Display elegant edibles in this food safe design. Graceful iron scrolls and sleek glass are a stunning combination in this decorative
oval bowl.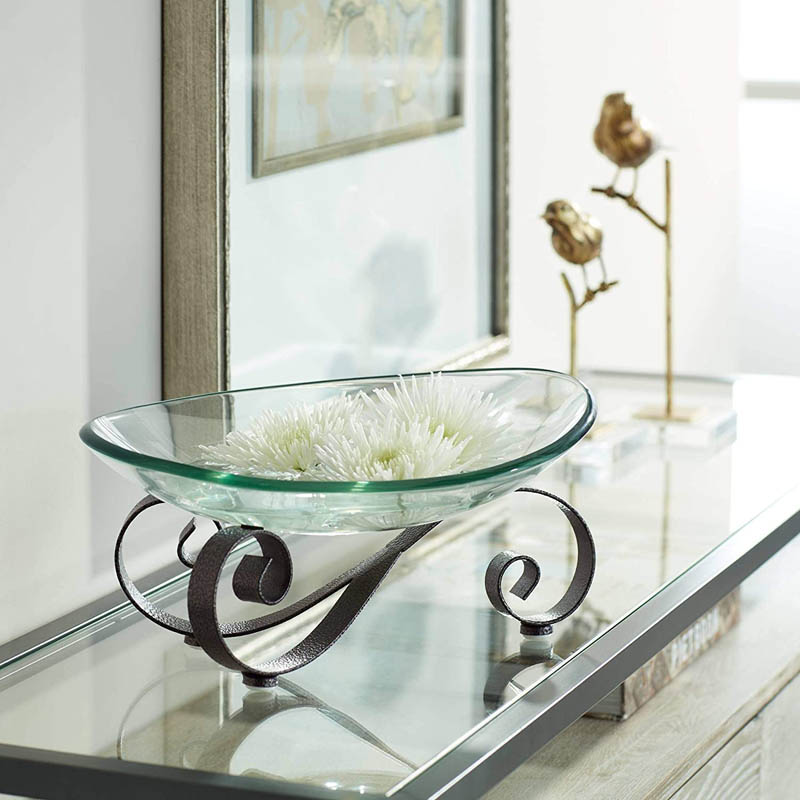 [buy on amazon]
7. Decorative Fruit Bowl
The Mueller Fruit Bowl is a gorgeous fruit and vegetable display unit made with sturdy, food-safe bpa-free ABS and an open design for even airflow. Decorative fruit bowl can be used as either a fruit bowl or centerpiece, with an open circle shape design. Large capacity allows you to store all sorts of fruits and vegetables, such as apples, pineapples, pears, bananas, grapes, mangoes, lemons, tomatoes, bread, and much
more!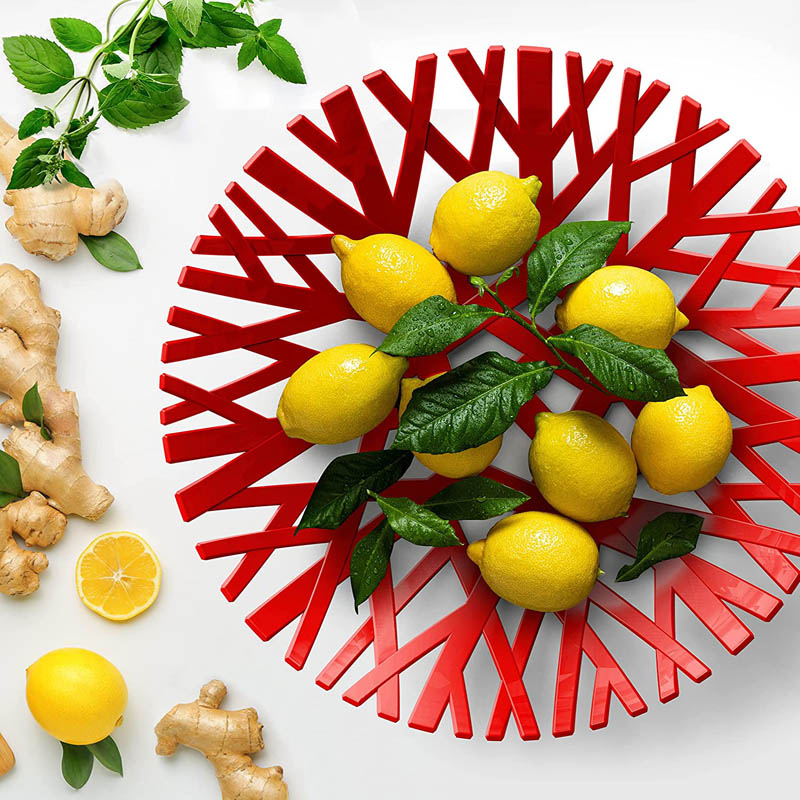 [buy on amazon]
8. Decorative Fruit Stand Kitchen Storage
Rotation fruit bowl is made of high quality stainless steel, non-toxic, rust-proof, durable. Unique geometric design with 16 stainless steel spokes can simply twists to transform in a fruit holder. Foldable rotation fruit basket can be easily opened up and easily folded up for easy storage in the drawer. Opened size: 15″D x
10″H.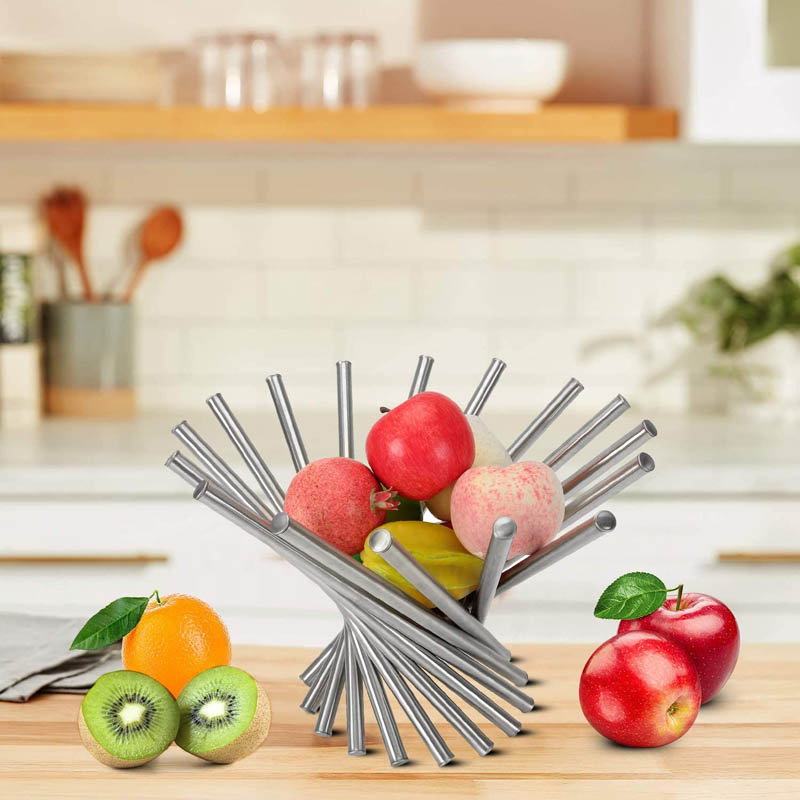 [buy on amazon]
9. Wooden Handmade Decorative Fruit Salad Bowl
Size approximately 18.5″ wide x 12.5″ deep x 3″ tall. Hand carved from suar wood by Indonesian artisan. Perfect for fruits, candy, snacks or as a centerpiece bowl. And unique decor piece for living rooms,
kitchens, dining, beach house, cabin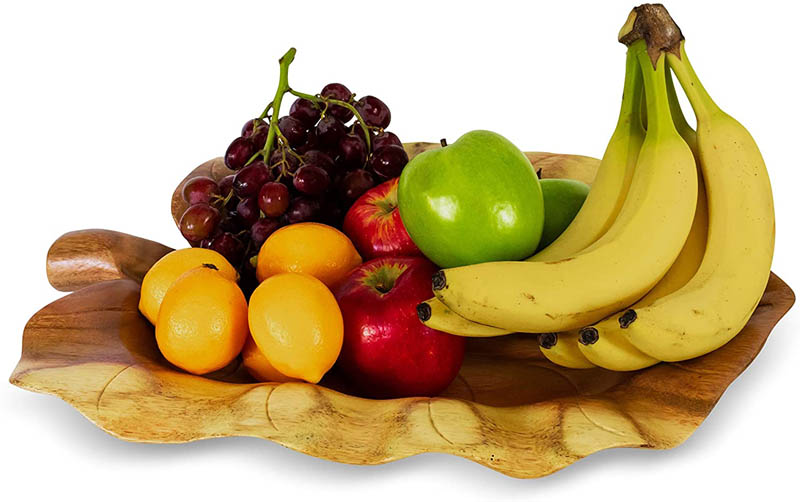 [buy on amazon]
10. 10-Inch Modern Black & Gold Resin Decorative Centerpiece
An elegant black and gold decorative bowl designed to look like flower petals
Add an elegant touch to any dining setting, use to serve up snacks, fruits, candy
A lovely versatile accent piece, this stunning bowl will liven any kitchen, bedroom or office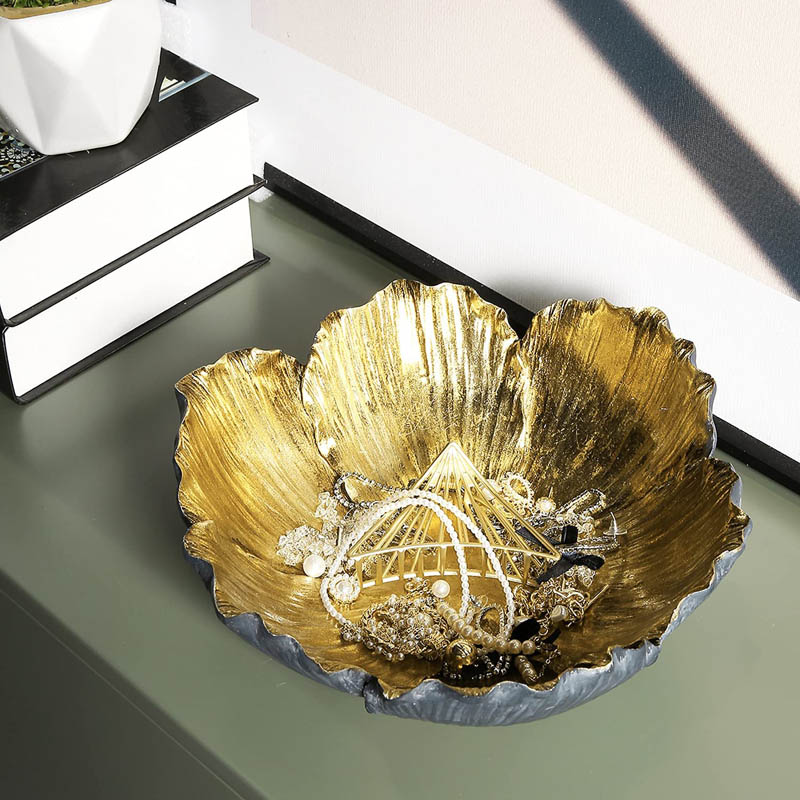 [buy on amazon]
11. Decorative Clear 11 x 11 Glass Bowl with Natural Brown Wood Pedestal Base
Holds decorative items on shelves and tables; Gift to someone else or gift it to yourself
Made of clear glass with a natural brown wood base; Wipe with damp cloth to clean, for decorative use
Measures approximately 11 x 11 x 7 inches; Perfect for a centerpiece or mantel display
Beautiful for decorative tabletop display or as part of a shelf arrangement.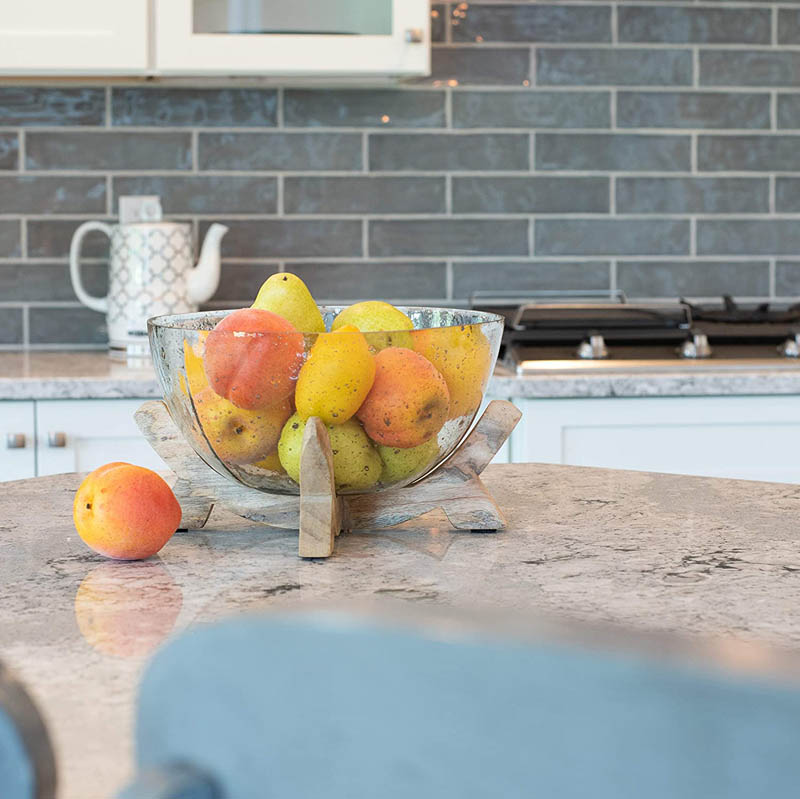 [buy on amazon]
12. Grecian Decorative Fruit Bowl
This elegant decorative bowl with spheres makes a stunning addition to a mantel or a console. This beautifully designed decorative bowl will add a unique touch to your living space. This décor will not only complement your existing home decor style but will add functionality as a decor piece. Includes two matching
decorative spheres to fill the bowl.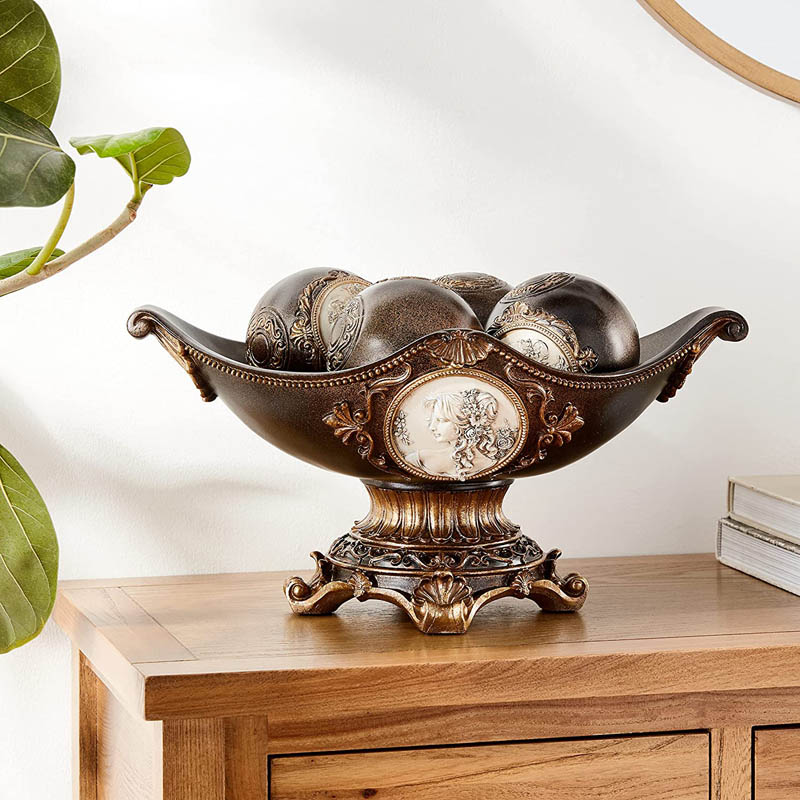 [buy on amazon]
13. Peacock's Bounty Centerpiece Sculptural Bowl
This elegant peacock's train of tail feathers gracefully fans to hold the bowl vessel in this unique and dramatic centerpiece that is the perfect addition to a peacock collection. Artistically sculpted to capture the detail of each individual feather and graceful plume, this vessel stretches over a foot and a half high
for elegant display.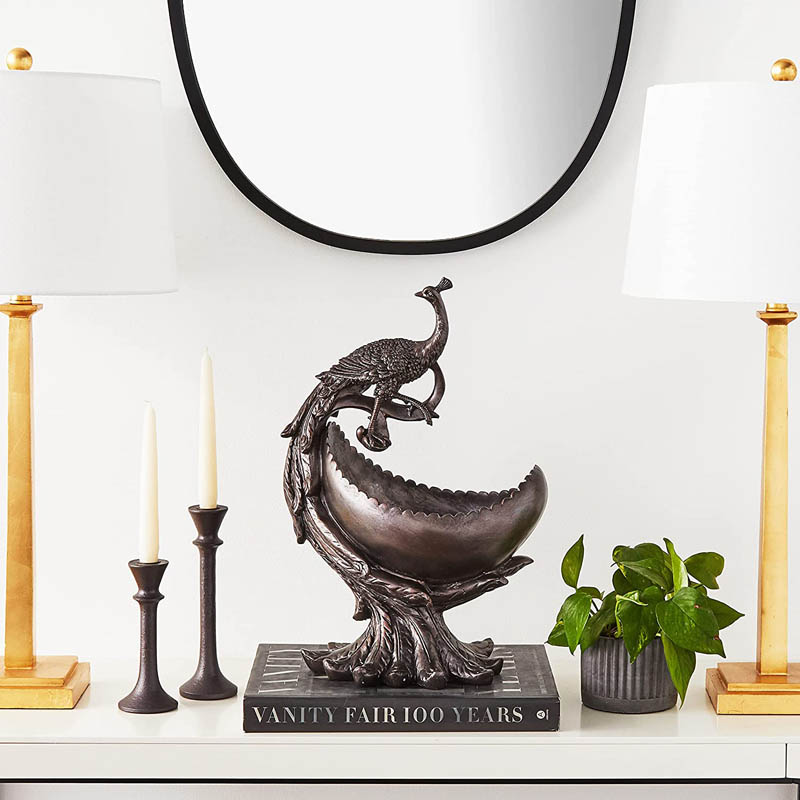 [buy on amazon]
14. Distressed Red Decorative Cast Iron Crab Shaped Dish
How sweet. This little crab is waiting for something to be placed in his tray for him to hold. The red metal figure is the perfect size for holding your soap, keys, rings, or other small items. Take him to work and he
can hold your paperclips or candy to share with your co-workers.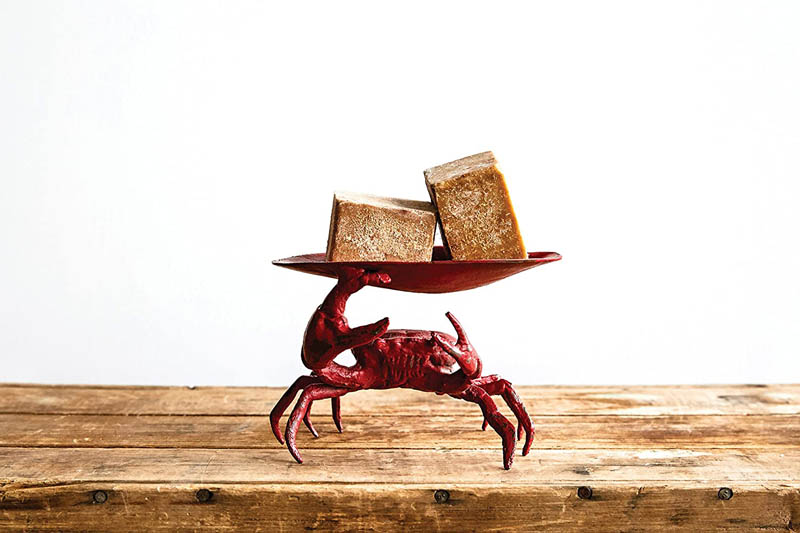 [buy on amazon]
15. Leaf Shaped Fruit Basket Decorative Bowl
Monstera – Swiss Cheese Plant Shaped Leaf
High Quality Material
Durable, Sturdy, Safe
Eco-Friendly
13"x10"x5" Dimensions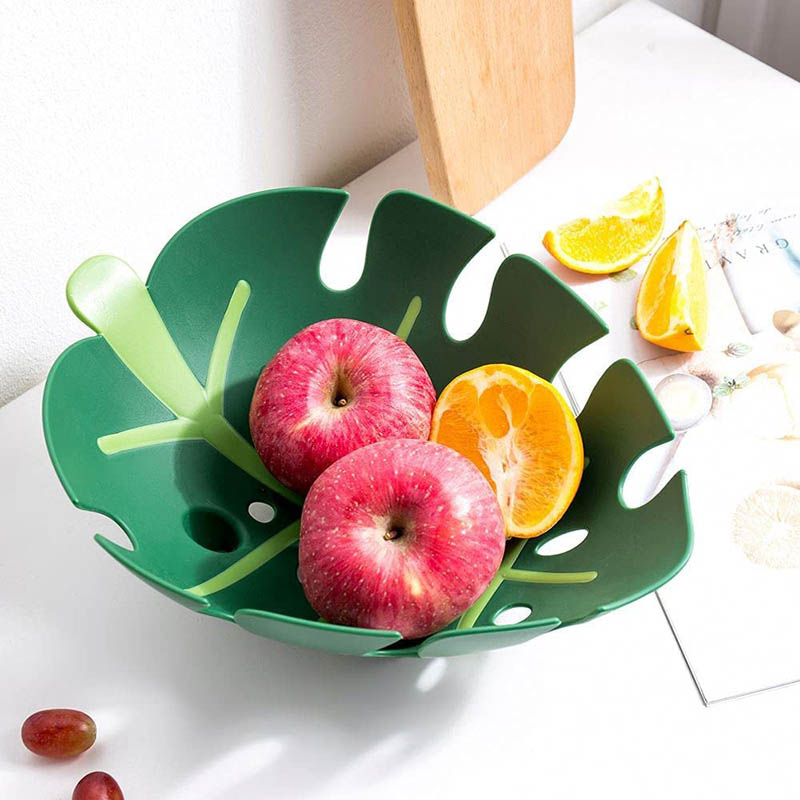 [buy on amazon]