The bedroom represents a very intimate place. Because of that, it should be a space that fits your personality and makes you feel secure and comfortable in it. Your bed is indisputably the most dominant piece of furniture in the bedroom. So it is best to select a model that is subtle. The simplest variant is a box bed without legs. Beds with legs appear lighter and are therefore more suitable for smaller rooms. If you also try to create a visual unity from your bed and the room with colors and materials, it will blend in harmoniously.
You don't have to choose between comfort and style
The most important part of the bed is the mattress. Even if you don't have a bed frame, don't worry, Your bed can still look stylish and be very comfortable by adding little details to it like matching bedding and pillows or putting a nice rug under it. Focus on selecting the best mattress possible. This is the thing that will influence the quality of your sleep and your body.
No Bed Frame – No Problem
There are a couple of tricks that you can use to make your bed look nice even if you don't have a stylish bed frame. Try adding some interesting detailed furniture around the bed. This will make the whole place seem more busy and fun. Additionally, you can place your bed in the corner of the room and put some stylish sheets and pillows on it. This will make the bed seem like it's supposed to be a part of the room even without the frame.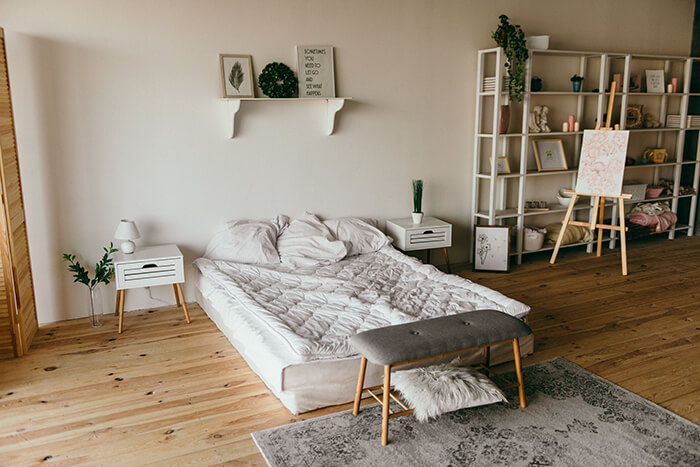 Photo by Dmitry Zvolskiy from Pexels
Color selection
Because the bedroom is such a central place in our lives, it is very important to select the right color scheme for it. This room is supposed to provide a sense of comfort, relaxation and a safe place after a long day at work or doing errands.
Blue-grey – calm and harmonious
Blue-grey color, also known as livid color, is soft and cool. It resembles the sky before the first rays of the sun. At the same time, it has an amazing feature – when combined with pink and yellow it will look joyful and dynamic. Complemented by neutral tones it will become calm and gentle. Paired with a more blue or turquoise color, it will make your room as fresh as the sea breeze.
All shades of green
Green is back as an interior colour again. Natural tones invite you to escape the urban jungle or at least disconnect from social networks. Green will bring you the peace and serenity that is so lacking in the modern world.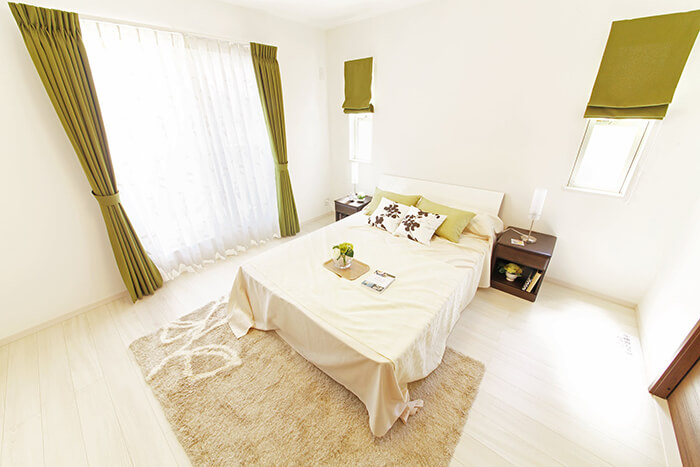 Terracotta – bold and passionate
If all the previous options seemed too neutral and cautious, terracotta would definitely bring a touch of adventure inside. Earthy, warm, sensual terracotta will fill your room with energy throughout the year, making all the objects in its background brighter.
Decorating the bedroom
The bed might be the most important part of the bedroom but it's not the only thing in it. Decorating your bedroom with additional things and furniture that make you feel happy is another big step in making your room the best possible. Here are some things you should consider.
Lighting and proportions
Choose a lamp according to the size of the bed. High lamps look more luxurious, while for a lower bed it is better to choose a smaller lamp. If you have few windows and do not get enough light in the bedroom, make the ceiling lighter in color than the walls and the room will appear more spacious.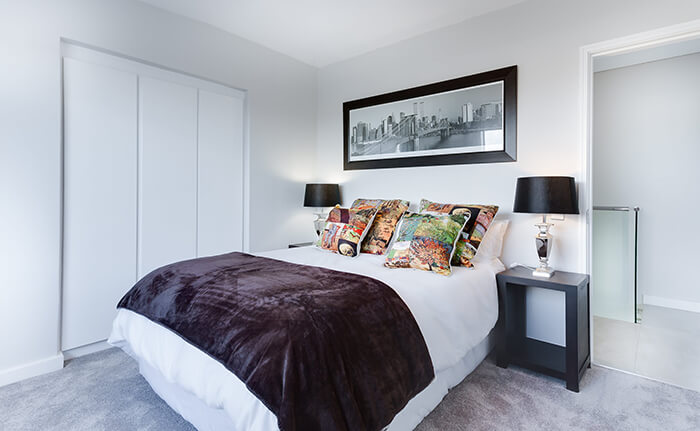 Photo by Jean van der Meulen from Pexels
A mirror for a visually larger proctor
Although it seems obvious, many forget how a simple mirror can affect the interior of a room. Mirrors are both a practical and beautiful decoration that will add to the aesthetics of your bedroom. In addition, mirrors can visually enlarge small rooms.
Carpet that brings vibrancy to the interior
Nothing will ruin a morning more than when you get out of a warm and comfortable bed and step on a cold and rough floor. Do yourself a favor, make sure your first step is comfortable and warm. Therefore, add a soft carpet in front of your bed. A good way to bring vibrancy to a room is with a vibrant rug, especially if it is dominated by darker shades.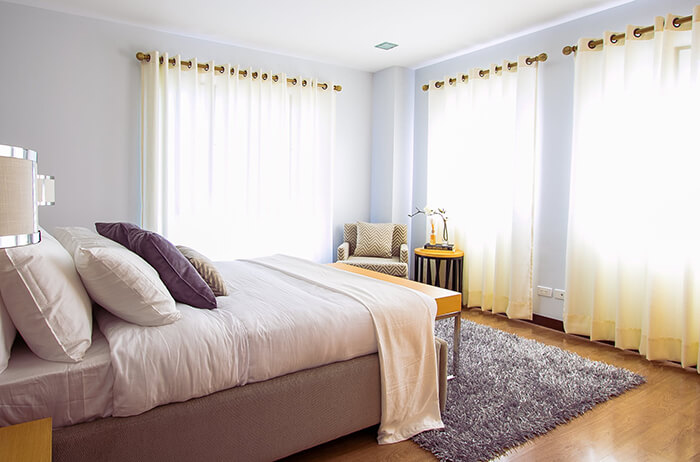 Photo by Mary Whitney from Pexels
Perfect nightstand
A bedside table is a necessary part of the furniture for a good night's sleep. Although it has nothing to do with sleep, it still has to do with waking up. A good nightstand should have room for a glass or bottle of water if you need it during the night, and plenty of extra space to put away your reading glasses, books, magazines and other things.