The kitchen is the hub of the home and the location for many lavish remodeling projects to create a modern and luxurious look. Many people want to reduce the costs of a remodel by designing the kitchen themselves, however, this doesn't always go to plan.
Below are 5 interior design tips for a modern kitchen to help achieve expert finishes and workable layouts.
Designing a modern kitchen layout
When it comes to a modern kitchen, ample space is vital to create a free-flowing, accessible layout that is pleasing to the eye. Obviously, the look is important but first and foremost, a kitchen must be fit for purpose, with everything in easy reach and obstacles kept to a minimum.
Ensure walkways are wide enough and that cabinet and appliance doors do not swing into each other. It is also important to consider how people will move around the area and exit into other rooms, limiting the chance of people bumping into each other, especially if they are carrying hot food or drinks.
If you plan to install a kitchen island, then a second sink may be a good idea so you do not need to move back and forth to complete simple tasks. If you are based in the Silicon Valley area and are planning a job such as this, we would recommend SOD Home Group as a trusted remodeling contractor in San Jose.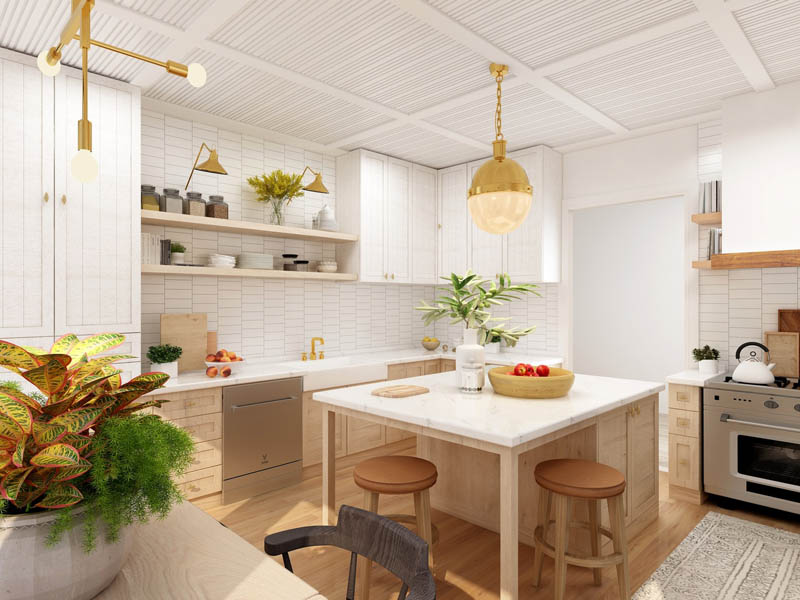 Colors are important
Choosing a slick color palette for your kitchen can bring your cooking space to life, with psychology playing a major role in interior design.
Creating contrast with dark and light colors will help to make rooms look bigger by adding depth. This can be achieved easily by combining a neutral color with something more striking. E.G. white cabinets with dark worktops. Multiple shades can create a unique look but try not to use too many colors, or else your kitchen could become garish and lack a real theme.
If using two colors, try to apply the rule of 70/30 when deciding on a design. Using clean, saturated colors is also popular when it comes to contemporary kitchen designs, so avoid the pastels if this is the aim.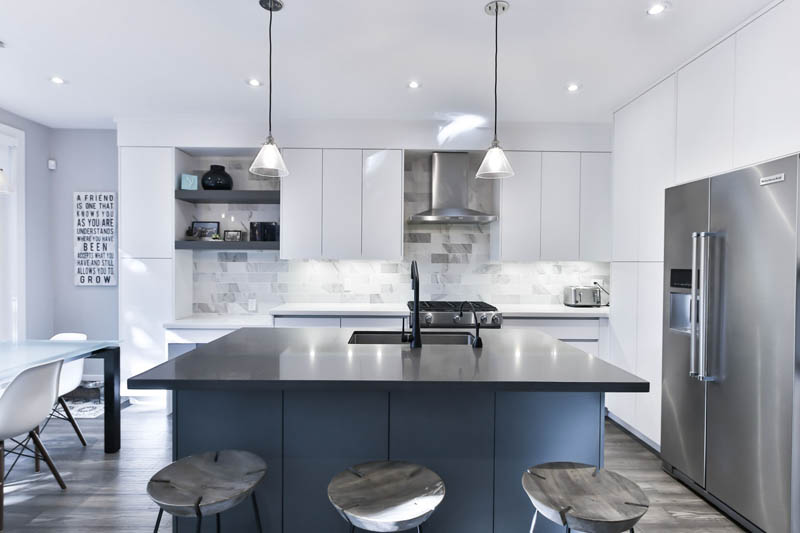 Decide on the perfect finish
Staying on the theme of contrast, clever finishes can take your kitchen design up a level, with the addition of slightly brave material and textures helping to create a one-of-a-kind project which never fails to impress.
Combining a light matte lacquer with a darker wood, or granite surface can result in a striking look that accentuates features and guarantees a unique design. It is recommended to do plenty of research before committing to any materials to avoid any regrets later down the line!
Printed patterns are also making a huge comeback in modern kitchens, particularly Portuguese style tiling which adds patches of tradition to a sleek design. Like any pattern, less is more, so try not to let prints dominate your kitchen.
Consider the smallest details
Even the tiniest detail can let down your new kitchen and be a constant annoyance that could be expensive to fix. This is why it is important to consider absolutely everything which could become an issue if overlooked.
If you are expecting a gap or extra space which serves no real purpose then maybe you could fill it with something useful, such as a chopping board, or spice rack. It is also worth considering hiding the 'uglier' appliances such as the microwave, especially if you don't expect to use them frequently.
Consider the height of things so they are in easy reach, or to keep out of the way of children. Are the power outlets where you need them to be? Is there enough space on either side of the stovetop?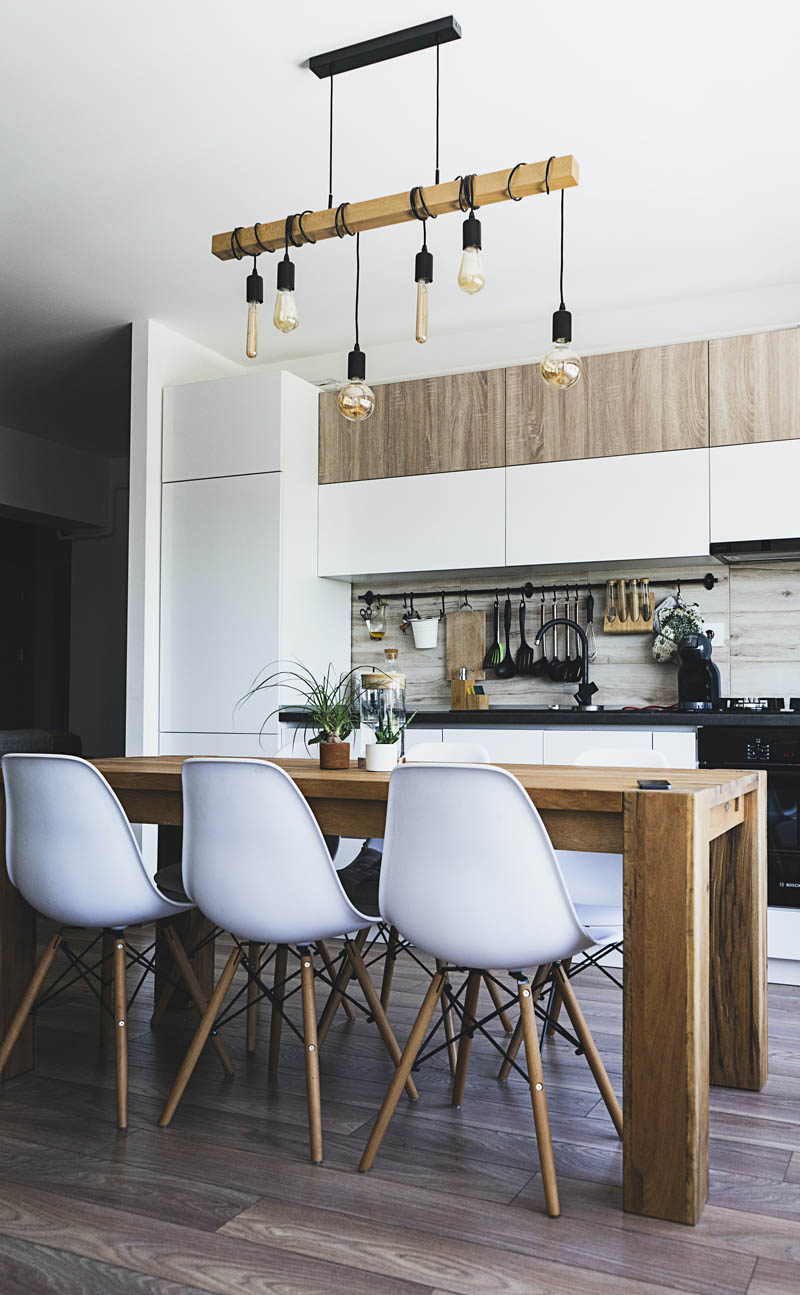 Think about storage for a minimal look
Having enough storage in your kitchen is vital so you need to determine how much you really need and how this can be implemented without impacting your desired look and layout.
Deep drawers can be a great way of hiding bulky items such as pans, crockery, and handheld appliances. Knee-height cabinets can be difficult to access when full, so bear this in mind during the design process. Installing a pantry might also be a useful space saver and help you avoid the standard cupboard layouts.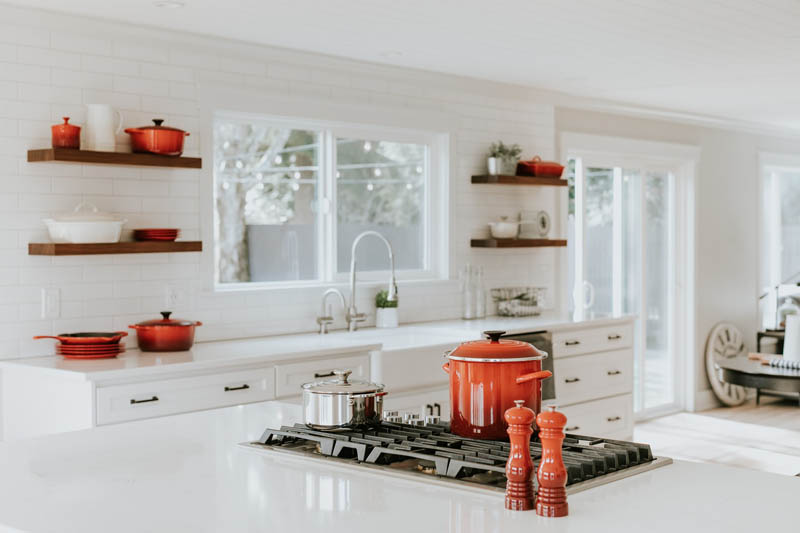 For more handy tips you can browse our home improvement section here.