Balloons, cakes, and a slew of guests come to mind when we think of a birthday celebration. A person's birthday is a time to celebrate with family and friends. Birthday themes and decorations are becoming more important during birthday celebrations these days.
Parties and decorators are even coming up with creative ways to decorate for children's birthday parties. Balloon decoration is one of the few ideas that will never go out of style. The ideal birthday party may be thrown by simply utilizing balloons for birthday decorations at home!
Balloons are a great addition to any celebration. They not only provide color to birthday celebrations, but balloon bursting activities also unite the group. Themed birthday parties centered on balloons have long been a favorite among children and adults alike.
A birthday celebration would be incomplete without colorful balloons, and these would be a great addition. In addition to balloon decorations, you may use confetti, ribbons, laces, danglers, and birthday poppers, which are all readily accessible party supply stores. Continue reading to learn about some simple ways to use balloons to decorate for a birthday.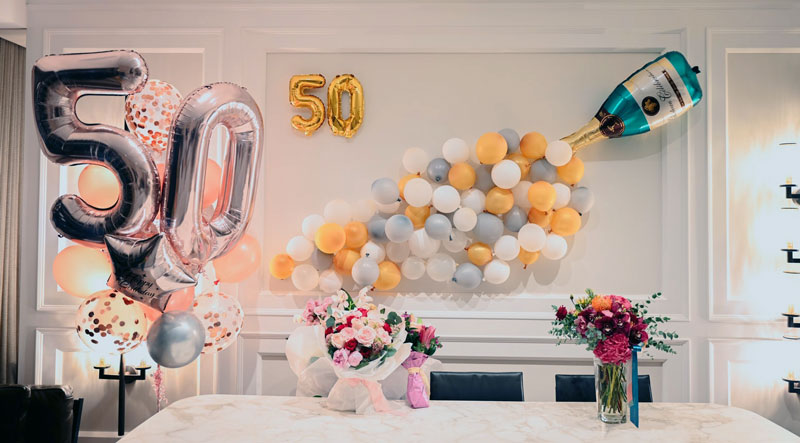 7 Beautiful Ideas for Balloon Decoration
Adding balloon décor to your party is a creative and affordable way to make your guests' day extra special. We've got a few easy ideas to help you make your big day even more memorable. Use the following balloon decorating ideas to make your celebration a success.
Balloon Wands Party Decoration
Unicorn birthday celebrations are made even more magical with Balloon Wands Unicorn Birthday Party Decoration. The pinnacle of balloon stardom! These bright and cheery happy birthday balloons are the life of the party.
The possibilities are endless when it comes to how you can style it. balloon wands are becoming more popular for children's parties since they are quicker and simpler to use than tying balloons.
They are also convenient to store and may be reused many times over (just fill the helium again). They're available in a wide range of forms, including zebra stripes, hearts, diamonds, and other fun ones.
Balloon Arch Decoration
The inflated balloons are tied together to form an arch shape. Adding it to a party or event makes it more visually appealing and stunning. Balloon arches may be made with various balloons, including standard pastel, chrome, metallic, and helium balloons.
This balloon arch may be used to adorn the party venue's entrance or as the centerpiece of the display. Small cutouts or other decorative items illuminated with a spotlight may provide a stunning effect or serve as the ideal addition to any setting. Colors may be selected based on the overall concept.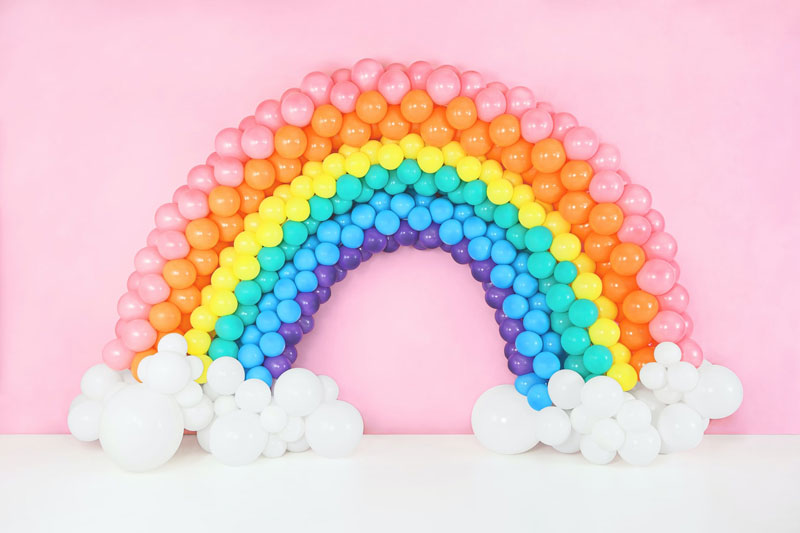 Balloons Filled with Confetti & Sparkles
This is the most popular and traditional method to decorate with balloons for any of these occasions: birthdays, anniversaries, and baby showers.
An impressive backdrop will wow your guests and give your decorations a beautiful appearance at every event where it is used.
A sophisticated appearance may be achieved by filling the large balloons with anything from glitter and confetti to flowers and placing them on top of the table.
Balloon Walls
When it comes to party or birthday decorations, utilizing balloons is very innovative and stunning. Balloons may be decorated in a variety of ways, depending on your theme or personal taste.
Stick them to the walls and ceiling for an eye-catching effect. The simplest and quickest method to add color to your party decorations is to use some creative thinking.
And once you get your special balloon wall ready, don't forget to create a happy birthday video and add special effects using a tool like InVideo.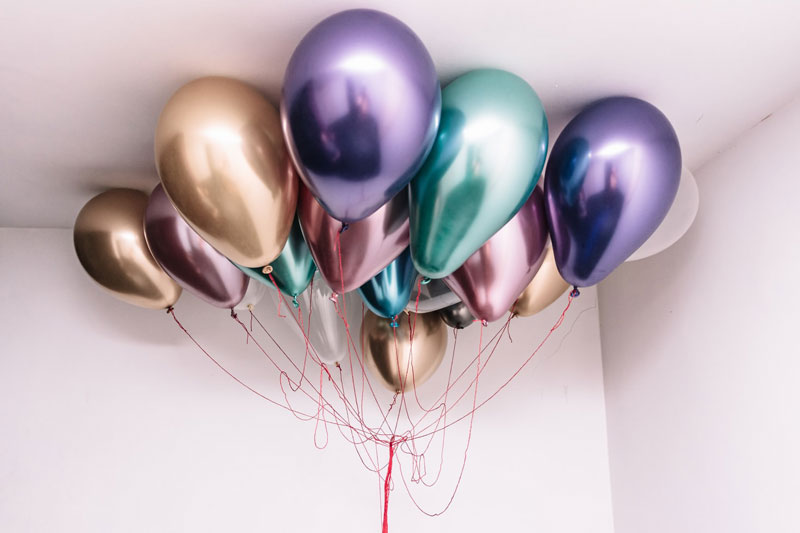 Create a Balloon Bouquet
Sending a balloon bouquet across town to wish someone well on any occasion is a popular and practical practice.
Your Balloon Bouquet may be personalized by adding a name or a greeting on the balloon's vinyl sticker, such as "Happy Birthday" or "Congratulations on Your Engagement."
You can even include chocolates, roses, or other flowers in your Balloon Bouquet. This is a really unique and amazing concept.
Constellation Balloons
Even if you miss the moon, you'll still fall amid these beautiful star-shaped balloons! The preparation of them is a cinch.
For the black foil balloons, just fill them up with helium and attach a black circle balloon tail to the bottom of each one.
Once you've created the constellation form with a few small dots of glue, add silver star confetti to finish it off. Then, using a permanent silver marker, join all of the pieces together!
Llama Balloon Decoration
Nowadays, llamas are certainly trendy, and I'm all for it. Inflate latex balloons, connect each one to a stiff balloon stick, then attach a pink circular balloon tail to each one to create these adorable little creatures. They're easy to make.
Make ovals from tissue paper and attach one to each balloon to represent the llama's nose. Allow it to dry completely before adding a mouth and two eyes using a black marker. Each balloon should have two paper ears and some paper shreds for hair attached to the top.
Wrapping Up
Decorating a birthday party at home may be a challenge. Use pink and blue for girls and blue and purple for males if you're throwing a kids' party.
Use some bouquets of Red Roses in the décor to surprise your fiancée with your creative decorating ideas. Set up a motif of love with the color red.
Do not use a lot of vibrant colors if you are throwing a surprise party for your parents. Make them feel good about themselves by using soft hues and showing off their accomplishments in pictures.
There are many options for celebrating a birthday at home. Go for something new and innovative, and don't forget to surprise your significant other with it.