When I first saw these floating sculptures, my mind was totally blown away. These highly-dynamic sculptures by visual artist Claire Morgan are captivating on so many different levels. Many of the animals in her artwork seem to evoke a potential for freedom and life's poignant vulnerability. The relationship between movement and stillness is compelling in her installations, while the compositional patterns she creates form a beautiful rhythmic tone.
Gone With The Wind.
material: Wild flower seeds, a taxidermied kittiwake gull, nylon, lead, acrylic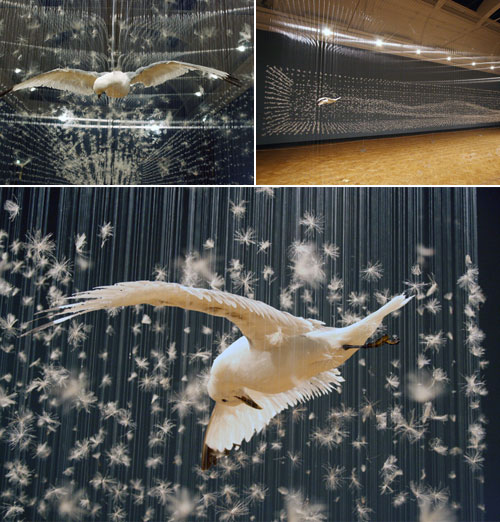 Fantastic Mr Fox
material: Torn black polythene, a taxidermied fox, rotted rabbit meat, fishing hooks, nylon, lead, acrylic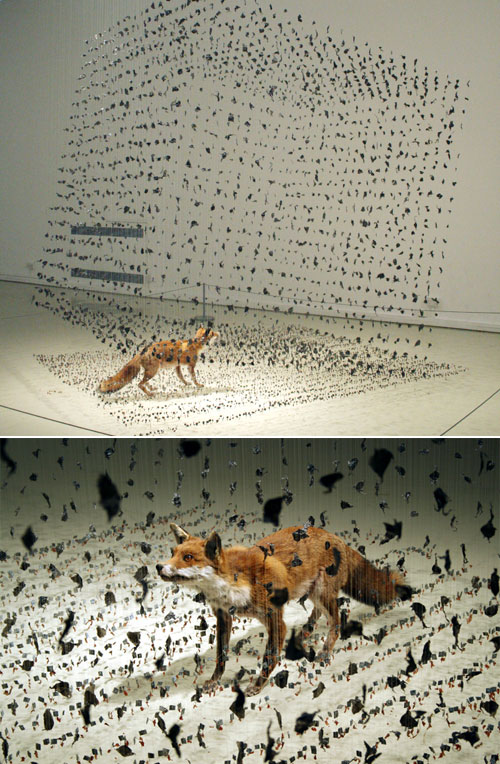 Captive
material: Nylon threads, lead, tawny owl, white mice and torn polythene shopping bags
Claire Morgan, who hails from Belfast and now lives in London, stages through her sculptural installations dramatic contests between natural forces. Her physical constructions point to unexpected outcomes and ineffable realms, such as those of beauty, spirit, death, and mystery.
Red Squirrel – While you were sleeping
material: Taxidermy Red Squirrel, bluebottle flies, lead weights, nylon, acrylic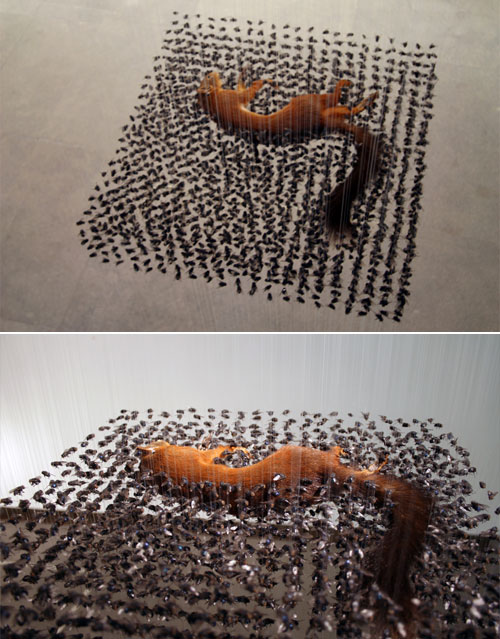 Striking
material: Dandelion seeds, taxidermy canary, nylon, lead, acrylic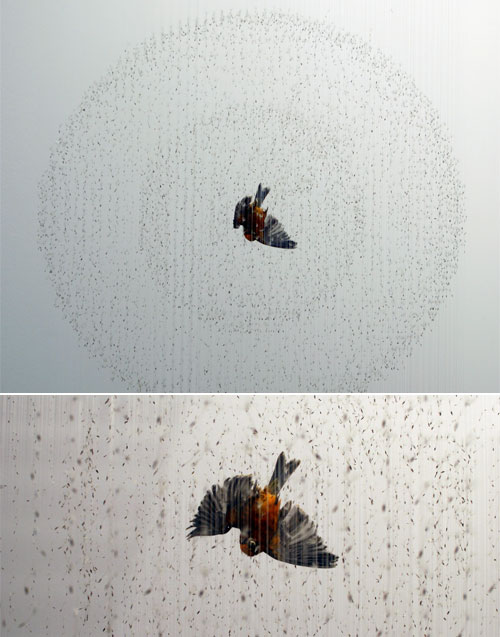 The Blues
material: Morpha Butterflies, torn blue polythene, lead, nylon, acrylic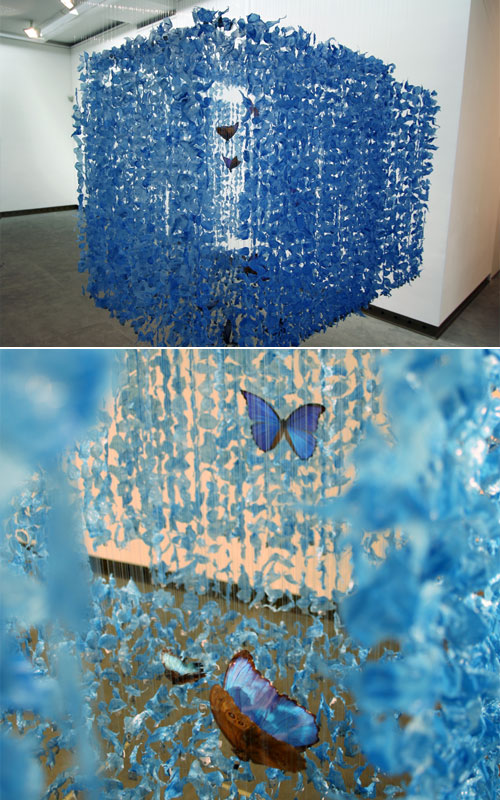 From Claire: "I believe art can have power and in my work I aspire to bring life to contrived situations, through suspension presenting my materials in a state that lies somewhere between stillness and movement. I want to be shocked by, and make other people shocked by, very normal things. In order to achieve this I am always trying to take things a step further than entirely necessary – making sculpture that poses a genuine physical and mental challenge for me and hoping it might have a powerful impact on others who look at it."
Clearing
material: Taxidermy Hedgehog, torn black polythene, lead, nylon, acrylic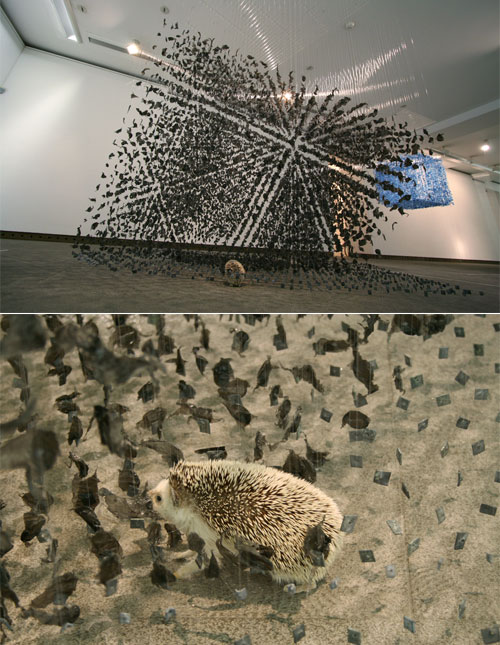 A part at the Seam
material: Taxidermy Jackdaw, thistle seeds, torn black polythene, lead, nylon, acrylic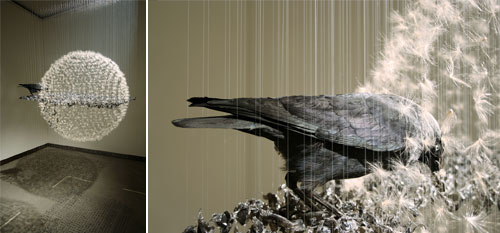 Fluid
material: Strawberries, taxidermied crow, fishing hooks, nylon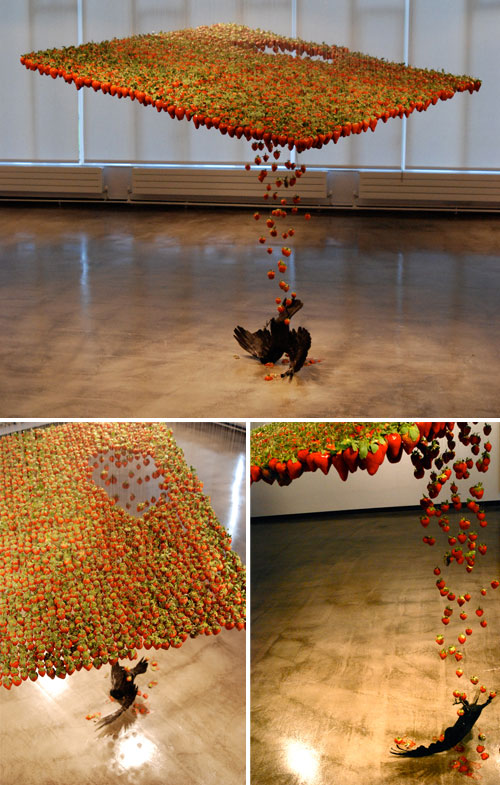 For more Claire's amazing work, click here to check her website.