Balconies are a pretty addition to any building. But, they can also double as some much-needed extra space. Especially if you cover it and add the right touches to make it look more inviting.
If you are looking to utilize your balcony and make the most out of it, there are several ideas to try out. You can experiment with various looks. From a cubicle to a utility kitchen. From the printer room to a coat closet.
The choice is yours! And we can give you plenty of decor ideas for balconies to choose from.
How Can You Find The Right Balcony Design
First, find out what exactly you want to use the balcony for. What sort of space have you envisioned for it?
It is not feasible or practical to transform a balcony just for it to look good. The space should sing and call out to people. It should be inviting, comforting and yet utilitarian. Quite a tall order, we think. But it is possible if you can find the right balcony design.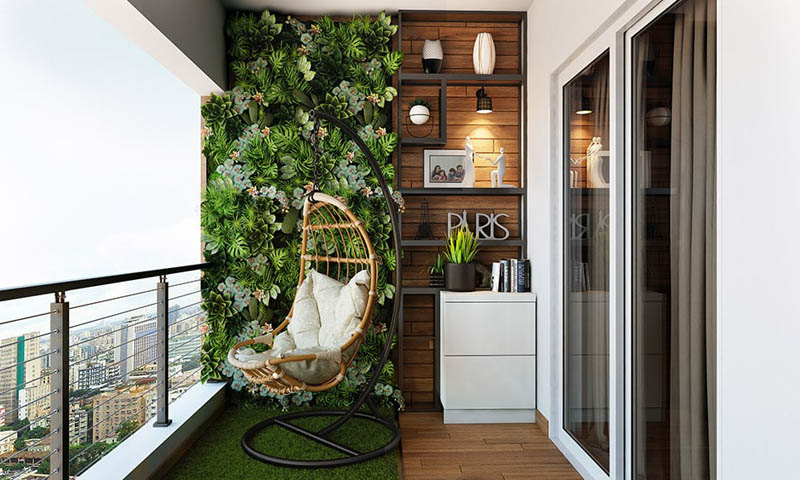 Here are a few ideas for transforming a small balcony that you can work upon. Feel free to tweak them as per your space and requirements:
Storage Space: Perfect for storing all the extra supplies you need. Get some pallet boxes as convenient storage options. Store anything from paperwork to stationary here. Very important if you are looking to downsize. Or if you want to create a multi-purpose area.

You can also opt for built-in storage benches that can be pulled out as couches or day beds. Ideal for this space to double up as a downtime room or even the infirmary at a pinch.

Library: A wall to wall library for your workers sounds like a good plan. Add to it some comfy chairs, bean bags and cushions.

Studies show that if workers feel engaged in their workplace, they are much more productive. So, go ahead, engage your workers with some good books.

Coffee Corner: A cozy little coffee corner is perfect for those small break sessions. All you need is a sturdy table and some cupboards to hold the coffee machine and maybe a microwave.

This can also double up as a small team meeting room for those impromptu gatherings like birthdays, farewells, team briefs, etc.

Breakfast Nook: It's a good idea to turn a smaller space into the breakfast nook. Especially if you do not have a cafeteria.

You don't need to have a covered balcony for a breakfast nook (depends on the weather though).

Incorporate some faux plants into the decor. A few fake flowering plants can give the space a pop of color. And a bright canopy can be perfect for some shade. You can also add an artificial moss wall for the perfect 'back to nature' feel.

Add a few picnic benches along the length of the balcony. Install a table for holding the microwave and a couple of cupboards and drawers for dishware and cutlery. And you are all set.

Gaming Area: Blowing off stress is a major workplace concern. If you are one of those corporations that have gaming equipment for your workers then this piece is for you.

A gaming area, especially if it was taking up a bigger space before, can be the perfect idea for a balcony. And you can use the erstwhile gaming area as an extra seating area.

Coat Closet: Hanging your coats on the backs of your chairs are fine in summers when lightweight apparels are worn. For the heavier winter coats, consider making your covered balcony a cloak closet.

Your seating area will look less cluttered, and the chairs will feel lighter.

Utility Closet: Storing all the cleaning equipment and extra supplies in a small balcony is perfect if you don't have a specific area for them.

This can help declutter your office space as well.

Extra Seating for Restaurants: Restaurants can maximize their seating area if the balconies are utilized in the right way.

A fake ivy canopy, some fairy lights, candle light and music! Who knows, these spaces might even become the most premium seats in the entire establishment.
How to Get The RIght Look For Your Small Balcony
Decided on an idea but unsure how to execute it? Read on to find out what sort of decor items are ideally used for creating the right look.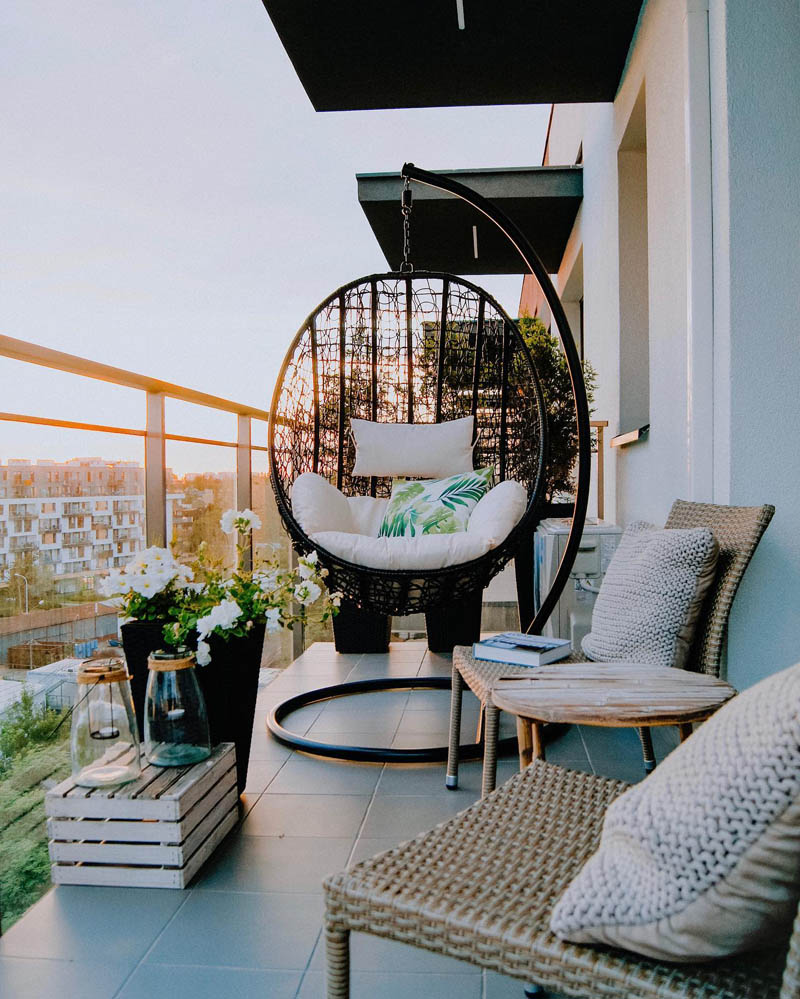 Using The Right Furniture
Using the right furniture can make all the difference. Opt for functional pieces. If your balcony is not covered, opt for furniture that is weather resistant.
You can also look for a seating arrangement that can couple up as a storage space. Ottomans with storage space are a great option. Comfy and practical. Or how about a beverage cooler that doubles up as a coffee table!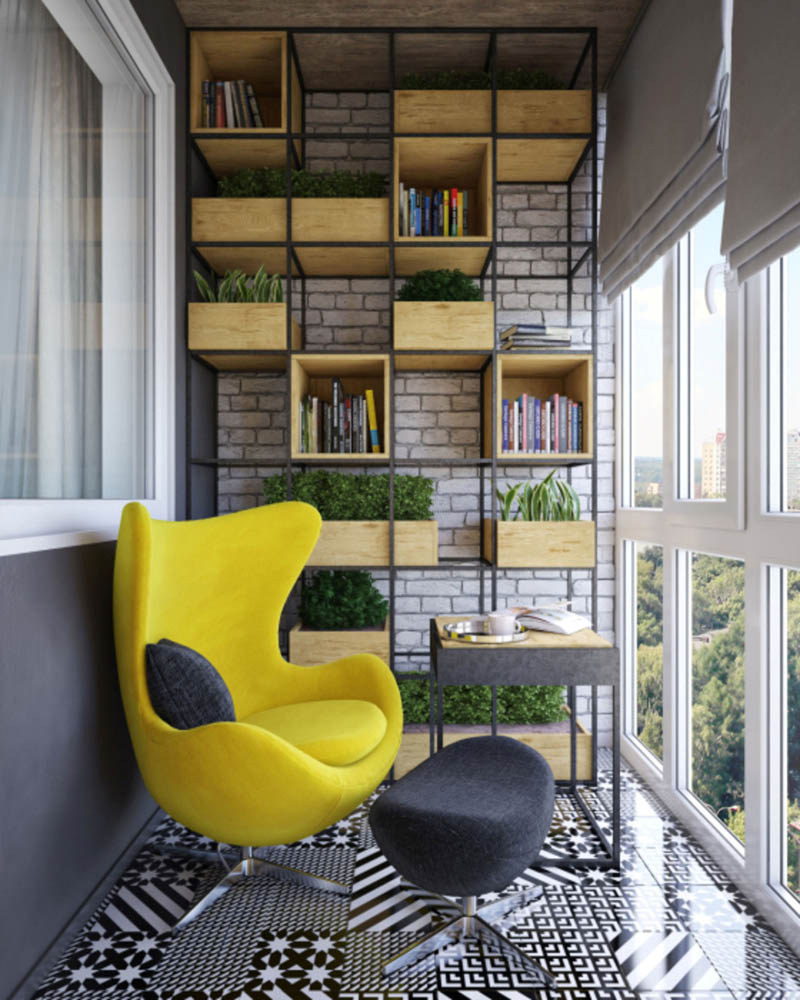 Using Artificial Moss To Create A Statement Wall
Artificial moss is perfect if you want to keep the maintenance efforts to a minimum. No need to water them or prune them. No need for a regular gardener. In short, very less upkeep.
And they look fantastic. Imagine green walls that look absolutely realistic! With everyone stressing on biophilic spaces (green spaces with natural elements and decor), artificial moss walls are becoming pretty popular.
Opt for durable, fade-proof plants and these things could last you years.
A few tips before you go
Don't overcrowd your balcony floor space. If there is no space for people to move around, there wouldn't be much use of the place.
Measure your space before you start putting things together.
Make sure to use your vertical space. Hanging cupboards and shelves are ideal for increasing storage space for any room.
Armed with the above ideas and tips, we hope you will be able to put together the right look for your small balcony. Remember: for smaller spaces, less is more.