Are you planning to start your own studio photography at home, or looking to upgrade your photo studio to the next level? For better setups and shooting experience, your investment in building a photo studio space can be very important.
Before starting your home photography studio setup and considering budget, however, do you know how much space you need for shooting? What is an ideal space for studio photography? If you have such questions before setting up your photo studio, then this article is for you.
Different sizes of space are applied to different types of home photography studios. And that means you need to measure your space and the genre of your studio photography (size of subjects) ahead of time.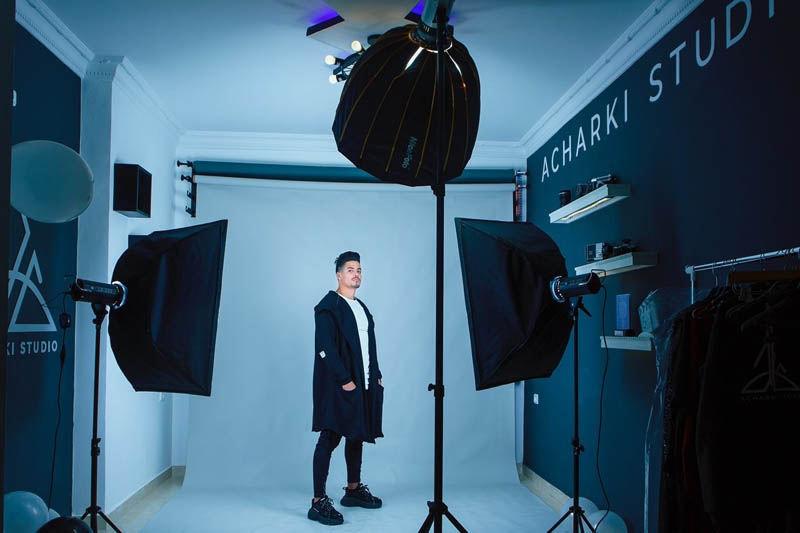 Here are some tips to help you decide on your photo studio space:
The Limitation of Ceiling Height
The most important limitation of a photo studio space is the ceiling height. You have to consider whether the height is enough for implementing a ceiling light and a hair light when you begin your work. To put a light above the model (5.5—6 ft tall when he or she is standing) requires at least another 3 ft height of space.
Usually, a regular 10-12 ft ceiling height is enough for full-length body portrait photography, which means it can also prove the headshot background, half-length shots 3/4-length portraits, etc.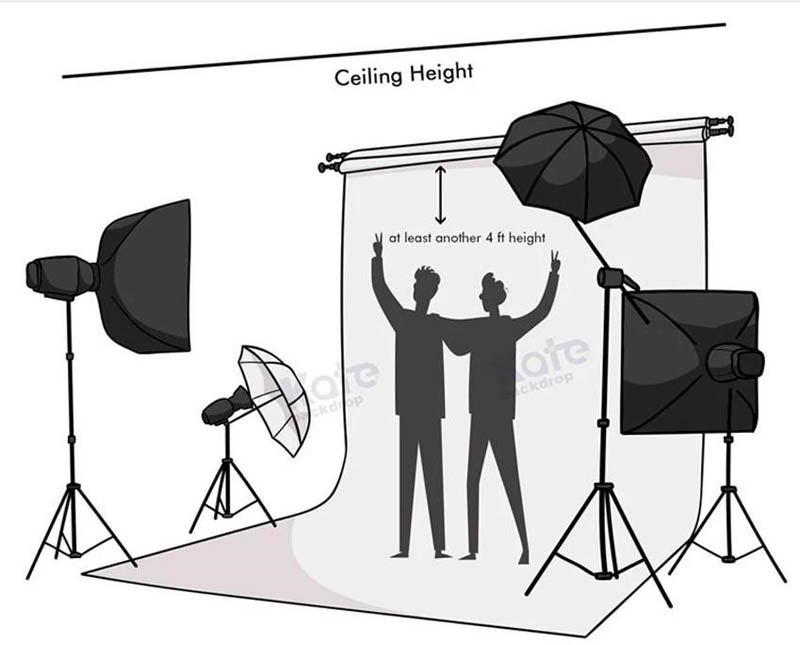 Consider the Space You Can Move
Secondly, you need to consider the photo studio space you can move, which means you should consider the depth and width of space you have. Certainly, you don't want to be crammed into a photo studio with the subject and lots of photography equipment like flashes, stands, reflectors, etc. If you have little experience in photography studio equipment, you need to leave enough space in advance.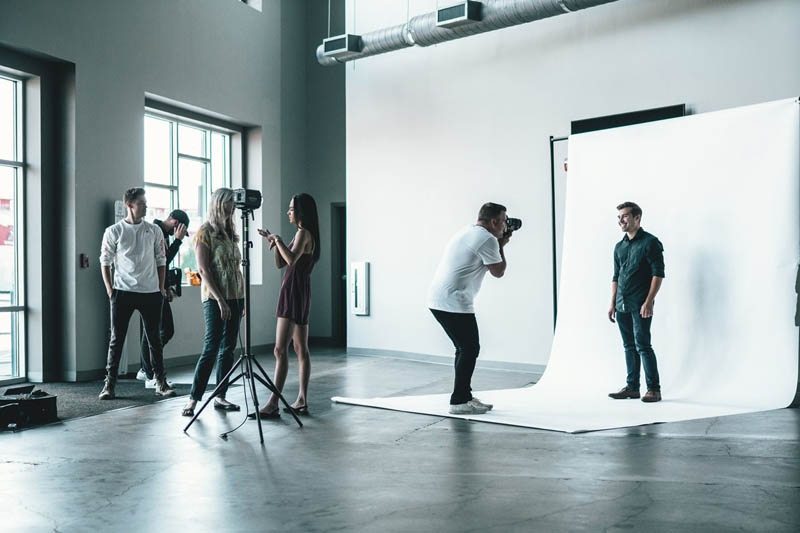 The Limitation of Depth
Then, you need nearly 4 – 8 (1.2m – 2.4m) feet of space between your subject and the backdrop, to get the subject far enough from the photography background so it doesn't cast a shadow. At least 3ft away from your portrait subjects to the backdrop should be assured to prevent shadows and enough space for lighting equipment. Also, most of the time backdrop needs to be extended onto the floor for the model to stand and move. (Or just pair your backdrop with a matching rubber floor mat.)
Besides the above factors, you should also consider the following factors to decide the depth of your studio:
About 2 – 3ft for the backdrop and the stand;
About 2- 3 ft for model's standing, sitting, or other poses;
At least 6 – 9ft for camera-to-subject and studio lighting equipment;
At least 2 – 3ft for camera and tripod space;
At least 2 ft for you to move behind the camera;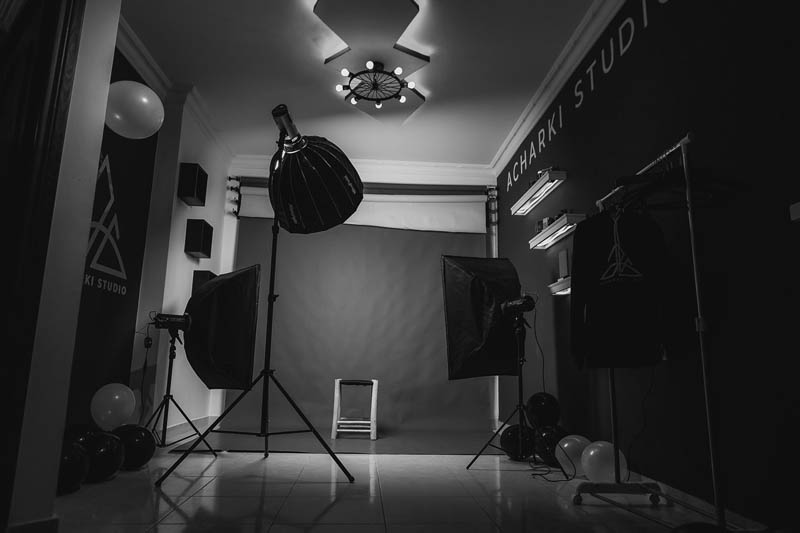 Space for Photo Studio Equipment
To decide your size of space, you also need to consider the photography equipment you must have in your photo studio. You need to evaluate and measure that how much space your setup will occupy, and make a plan how will you set the equipment, according to your shooting.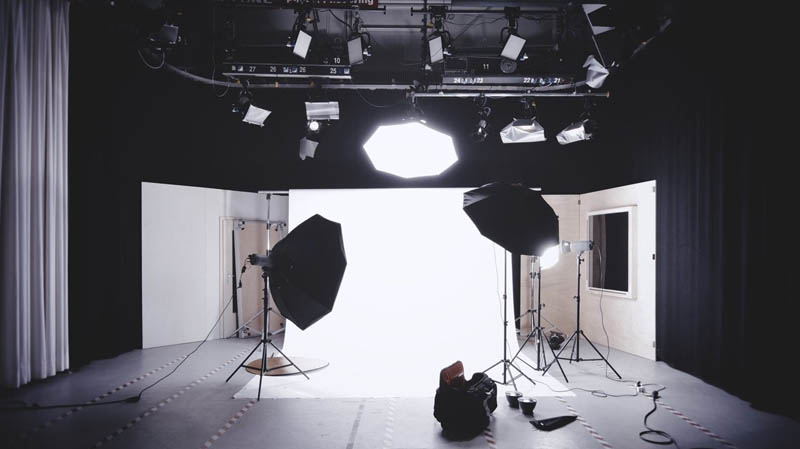 Space for Your Subjects
When it comes to the width, you should not only leave enough space for some photography equipment but also the pose or space you model need or how many people you will shoot. The most direct way to calculate how much width you will need in your studio is to measure the width of your subject's needs.
For kids, headshots, 3/4 -length portraits, and full-length portraits, you will need at least 5 feet of width for a photography background, 1 foot on both sides for the backdrop to extend beyond the edges, and another 4 feet on both sides to place your lights. So you may need 15 feet in total for a single portrait.
And if your subjects may lie on the floor or you will do a group photo, you will need more width. Usually, 8 feet is the least width you may need.
And space for subjects will also decide the size of your photography backdrops. If you'd like to know how to choose the right size, please take this: What Size of Backdrops Should You Choose? as a reference.