If you are the owner of a private house or villa, then you know very well that interior design is just "flowers". The most interesting starts outside the house, in your backyard. It is here that landscape designers get into business and start creating real beauty.
But why designers? After all, you are able to plant flowers in the yard of a private house in a certain order, take proper care of them, water the trees and choose furniture, right?
In this case, the interior and exterior of the house will do without unnecessary financial investment and designer services. A UK company, Junk Bunk waste removal service, brings to your attention an article on how to decorate the yard with flowers yourself, and instead of beds with your own hands, make an alpine hill, a fountain or even a small one.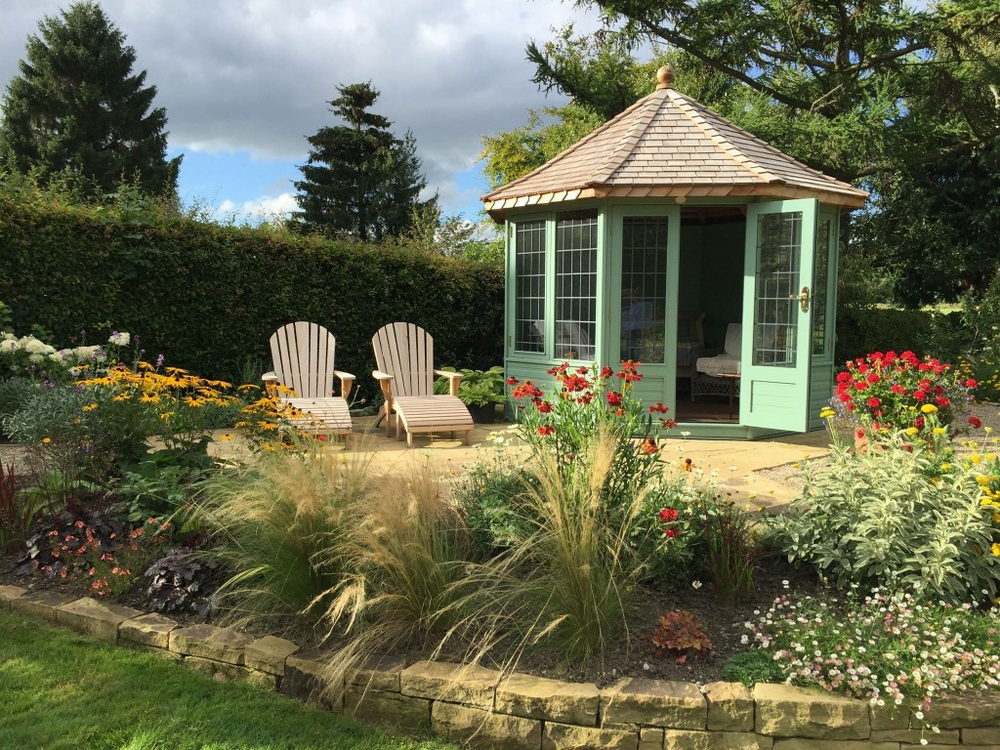 Beauty must also be planned!
What is a yard? This is a territory that is adjacent to a private house and becomes the object of attention not only of its owners but also of neighbours as well as guests. It is safe to say that yards can tell a lot about their owners.
Before you start planning your landscape design, try to answer a simple question: what exactly do I mean by the term "beautiful yard"? For some, it is a mowed lawn and a sea of ​​flowers, while for others it is a large pool and elegant lighting. It depends on the lifestyle you lead if you have pets and small children, and how often you invite friends to the Barbeque.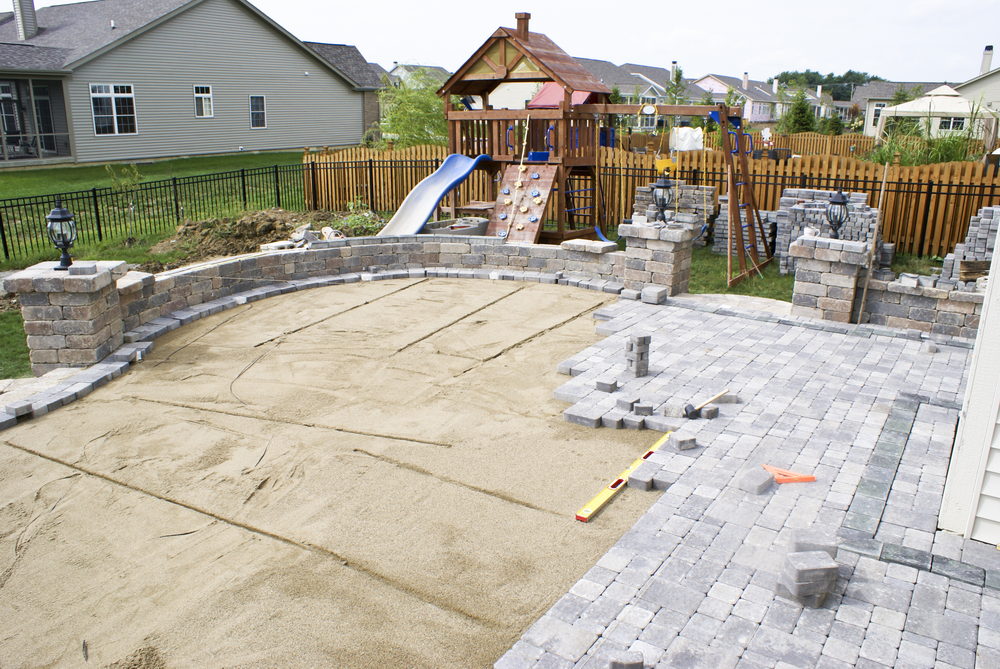 Already in the initial stage of planning, many important nuances can be considered, which will allow you to save money, save from buying unnecessary things and reduce the time that may be required for reconstruction and change.
The next stage of planning is the territory area. If you do not know, be sure to clarify or perform simple measurements. For example, arranging a compact patio will be problematic, especially if you want to install a large gazebo. But on a large plot, the flight of fantasy is limited only by your financial capabilities, the type of land and the features of the landscape.
The design of a small private yard really imposes its limitations. Therefore, you need to immediately set priorities and clearly understand for yourself without which elements your yard just can not exist, and which do not matter. When the area is reduced to a few square meters, it is difficult to place a sandbox, a place for the barbeque, a flower bed and at least a small gazebo above them.
From paths to flower beds
Beautiful paths in the garden are an essential attribute of any design. Try to place them with beautiful pebbles – and it will be much more comfortable to move around the place. Each path performs the function of zoning, which is an important element of decor. The interior of the house does not involve the construction of separate paths, but the territory outside is a completely different matter.
Not only comfortable but also attractive in appearance? To do this, you can place them from flat and at the same time large stones, h2 concrete slabs and gravel, use clinker type bricks and protect them with low edging. Combine different types and materials to achieve the desired functionality and turn an indescribable path into a true work of art.
Where did you see the cascades and fountains?
Making a large and complete pond in a summer cottage is not easy, but the result will surely exceed your expectations. It is possible that you will need to use the help of specialists, carefully study the soil, choose a suitable place and bring communications. Only in this case, you will be able to drink coffee on the gazebo under the quiet and measured noise of water and watch how it flows into the tank.
Yard lighting system
High-quality backyard lighting is needed for at least two reasons:
Communication time with friends can be extended at least until the morning.
Moving in the yard is much safer when you can clearly see every collision and every corner.
In the end, you can simply wrap yourself in your favourite blanket and enthusiastically watch the lights come on in various decoration items. The patio design in a private home includes functional lighting. First of all, the facade of your house, the entrance to the garage, and the main entrance should be emphasized. According to the designers, lighting fixtures should be placed in such a way that the contours of the yard around the perimeter are clearly visible. Special attention is recommended to pay to the steps and paths of the garden.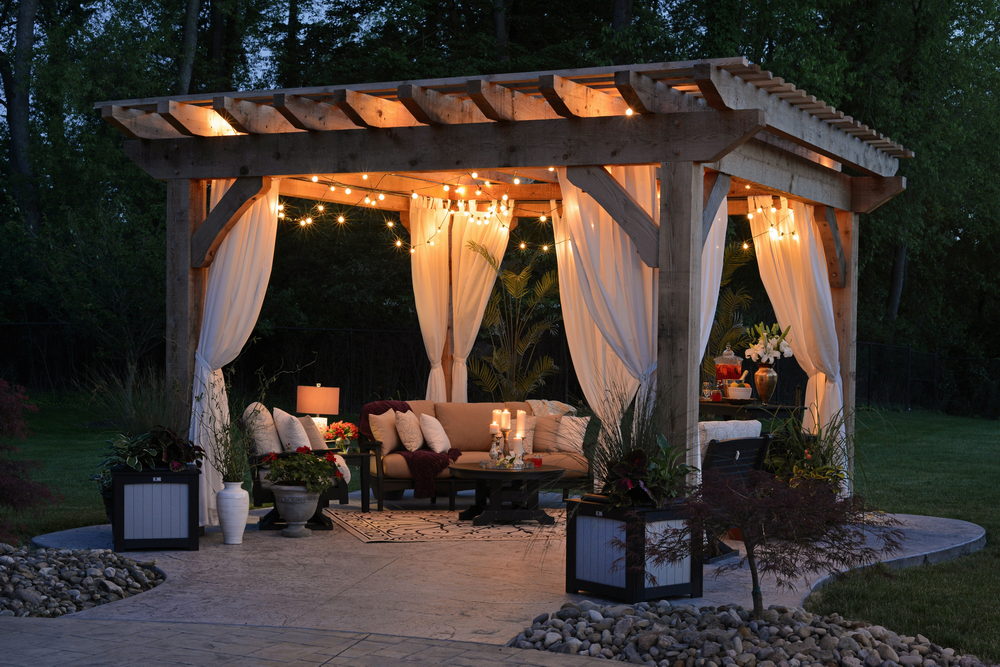 Only after the main lighting is completed, you can start decorating the decorative lighting of a private house with your own hands. A host of lights will look beautiful next to garden sculptures, and. And if you add trees and shrubs with a special LED strip, "lighting without lights" will look no less favourable.
What is a vacation without a cosy hearth?
When the yard is decorated with a handmade outdoor chimney, the territory is transformed almost immediately. However, if you have a choice between a fireplace and a dining area under a tent or an open sky, we advise you to choose the second option. To fix the yard with your hands, you will need to buy chairs and a table. The opportunity to arrange a tent is good because even the most severe weather conditions will not be able to thwart your plans. In the heat, you and your family will be able to talk peacefully over a delicious steak, and in the rainy season, continue your meal.
Backyard options
Private homes do not always boast a large territory. A separate sofa will help you find a way out. It can be portable – with the onset of cold weather, you can quickly hide it in the attic or bring it to the pantry. Rattan furniture looks very respectable.
An immutable attribute of the backyard is a fence. Can be a flower fence for weaving plants. It is a wonderful enclosure of the territory and performs a protective and decorative function.