People have all kinds of motivation for downsizing, but there tends to be two main reasons. Firstly, scaling down after children have moved out, when they no longer need all that space and could do with a bit more money to fund university fees, for example, or getting older; when heading towards retirement, people may choose to downsize in order to fund well-deserved holidays or lengthy travel.
Others downsize due to increases in the cost of living – because they want to live in a different, more expensive area, or because by selling a large property they can afford to buy two smaller ones, thereby giving them either a holiday home or a rental income.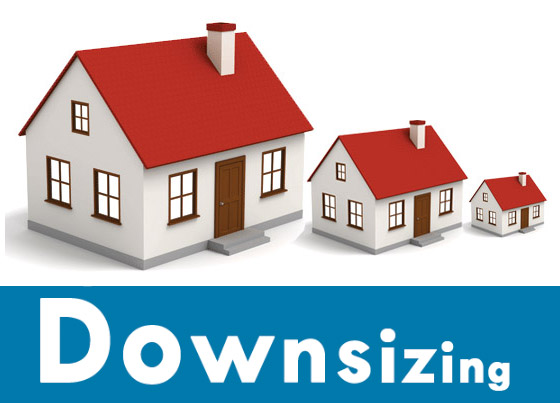 Many people find moving into a smaller property to be challenging – not just from the angle of having to reduce the amount of things they own, which is why storage businesses such as ReadySteadyStore are so vital for holding on to bits of furniture and other large items, but also because in many instances, downsizing requires a change of mind set. For instance, when moving from a house to a block of flats there could be issues with noise or physical fitness and adjusting to a different environment.
Whatever the reason, downsizing, especially if one is not used to living in a smaller property, need to be done carefully so that it works out. Here's some advice which may prove useful.
Assess your actual needs
Take some time to wander around your home and evaluate your possessions. See what you really couldn't live without and what you could easily dispense with. For example a lot of people have unused sports equipment taking up space in spare rooms, or unwanted books, ornaments and DVDs gathering dust on shelves.
Have a clear out
Once you've divided your things into 'keep' and 'lose', you can then begin what some see as the most enjoyable, and others the most difficult, part of the downsizing process – getting rid of stuff! There are various methods – anything of value can be sold, usually online, and you might find you make enough to cover the cost of the whole move; you can give things away around the neighbourhood, to family and friends (especially any old baby stuff), or to charity. Try and keep as much out of the tip as you can. And one other piece of advice on this score – if you live in a block of flats make sure you tell people that 'buyer collects.'
The new place
It should be possible, before moving in, to take some photos and measurements in your new property. This will help you make decisions on what furniture you're taking and what you're either putting in storage or leaving behind. It can be sad to say goodbye to much-loved items, but if they're impractical then you need to be ruthless.
Packing
A common mistake when moving home is to bundle everything together. Instead mark boxes carefully with what's inside, so you have 'kitchen utensils,' 'books', 'winter clothes' – that way you won't spend hours hunting for the kettle on move-in day. It will also make unpacking more orderly, which is essential if you don't have much space to move around in.
The move
Using a floorplan of your new home, come up with a schedule as to which boxes and furniture are going into which room. That means most of the heavy lifting will be done when you have plenty of energy or while the removals team are there, so you don't have to shift things around later.
Storage
As mentioned earlier, storage units are a lifesaver when it comes to downsizing because you know your valuable items will be protected and you can retrieve them at any point. But things can't keep gathering dust in storage forever so a good rule of thumb is that if something has been stored for 12 months, it's probably safe to dispose of it. For smaller items, it's handy to buy some stylish boxes that you can stack on shelves, under the bed or in wardrobes to keep things close but out of sight. The famous designer William Morris once said: "Have nothing in your home that you don't know to be useful or believe to be beautiful." That maxim holds true today!
Strategic interior design
With less space available to you now, you need to make good use of what you have. Advice includes painting walls in light colours and having plenty of mirrors to give the impression of space, and giving furnishings neutral tones instead of busy patterns. Also, utilise furniture to prevent clutter on surfaces – so plenty of bookcases and cabinets.
Enjoy the process
Lastly, although downsizing can be traumatizing for some, try to see it as a cathartic experience – you're saying goodbye to one part of your life and ushering in another. It's an opportunity to turn a new page and clear your life of things you didn't need and which took time to maintain.