Backyards have always been a source of amusement and joy to the whole family and are often utilized for unwinding and relaxing after long stressful days. Having a pleasurable outdoor place with some nice furniture is one of the best things one can come home to. In order to have a cozy backyard, you need to make sure that it's not cluttered with furniture and equipment, or else it's going to appear chaotic and uncomfortable. Get rid of the stuff you don't want, like children's play stuff, unfitting furniture, or broken accessories. Start with cleaning and clearing the area of things that don't really belong to a yard, give some care to the gardening work, maybe think of adding a touch of flowers and ornamental plants. Outdoor living space is very promising when taken care of. It's a great getaway for some fresh air and sun, where you can kick back and enjoy some time doing things you like, such as reading, having dinners with family and friends, or working out. Read through our article if you want some useful ideas for a cozy backyard.
Landscape
One of the most important things when planning on renovating your backyard is the landscape. Choosing the right plants that adapt to the environment you live in is one of the things you should carefully consider. If you don't have enough experience in such a field, it's better to use the help of professionals. They'll be able to select what's best for your space and climate. There's nothing more beautiful than enjoying a backyard that reminds you of the best places you visited on vacation. Nature's beauty is something that everyone would love to enjoy every morning. It can do wonders for your mood and overall mental health.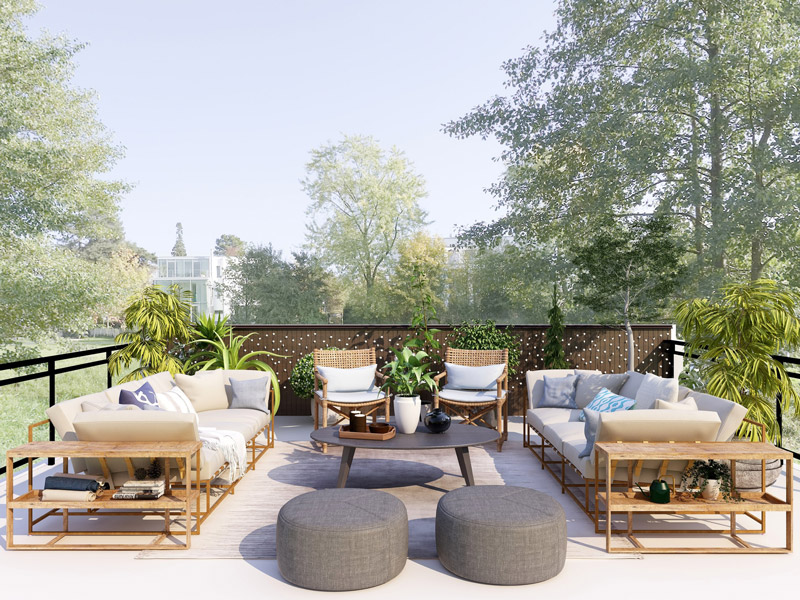 Seating Area
Choosing a seating area for your backyard depends on how much free space you have. Take measurements of your place before heading to the store; if you have enough room to put a comfortable seating set that has loungers while also adding a dining table, that would be perfect. If not, just go for a comfortable seating set that will allow you to stretch out, relax, and enjoy more time outdoors. Fire pits are a very important item to enjoy warmth in the cold winter afternoons. They will add a lot of coziness to your space and can be placed right in the middle of your seating area. Many companies can get shipping fire pits across Australia, so you can easily order one that fits your space. A custom fire pit can also be a great idea for a gift to a couple or a family moving to their new dream house. Don't just waste your outdoor space and keep it as slab concrete with scattered cheap plastic chairs. A little effort can transform it into a cozy getaway.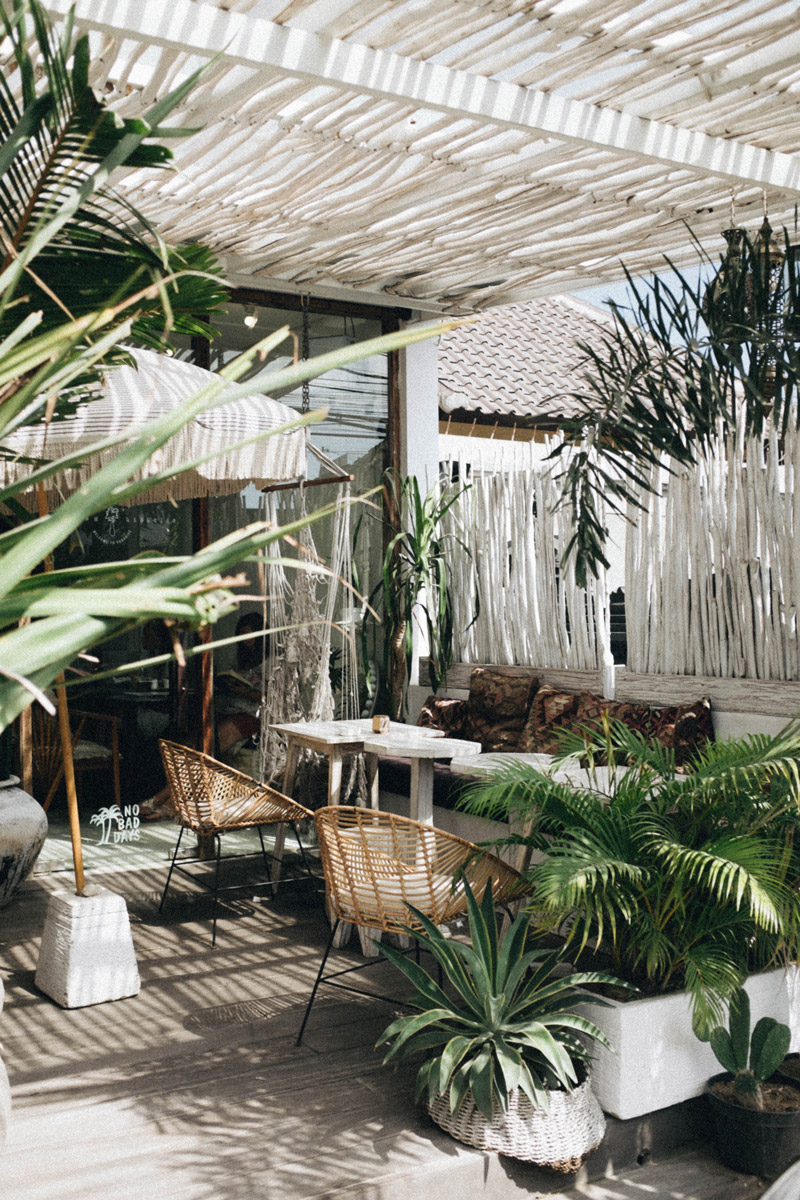 Lighting
There's a huge effect that lighting has on the outdoors. Choosing the right lighting will turn it into a magical experience and will encourage you to enjoy more activities out there. There are endless ideas for lighting. It can be used to emphasize the garden path. Using ground lighting to highlight ornamental plants and flower trees is one of the most used techniques to add beauty to your nighttime yard experience. If you're interested in a moonlight effect throughout the year, adding fixtures on top of trees or high places will reflect amazing shadows on your patio. The right lighting will give you an exceptional ambiance and a captivating experience. Imagine spending a night outdoors around a fire pit and a cozy moonlight effect with your partner; it feels like living the feeling of a romantic vacation every night.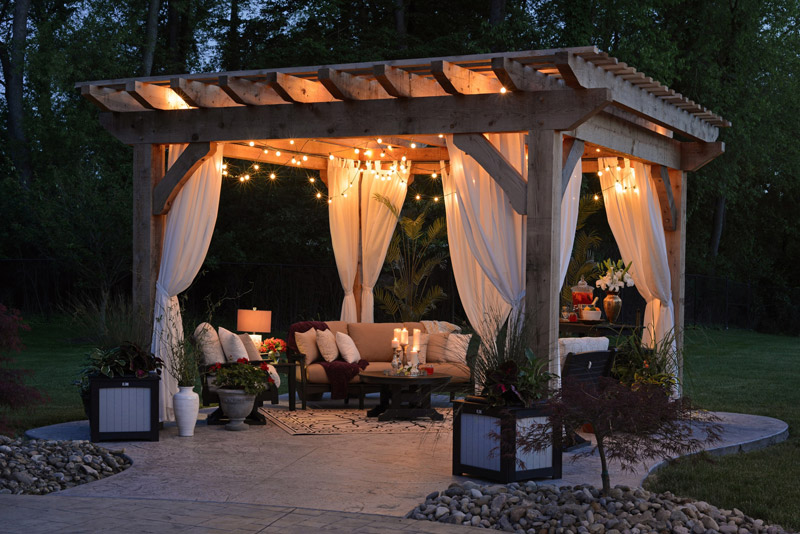 Privacy
Creating privacy in your outdoor space is a crucial aspect that will give a sense of security and relaxation. A backyard has to be a free space with no walls to obscure your surroundings but having some privacy wouldn't harm you; instead, it will make you feel a lot more relaxed. The best way to have the recommended privacy without suffocating your outdoor experience is by surrounding it with thick bushes, tall shrubs, or bamboo. Your choice should depend on the overall atmosphere of your place's design. It will also create more shade to enjoy a nice stay on sunny days without irritation.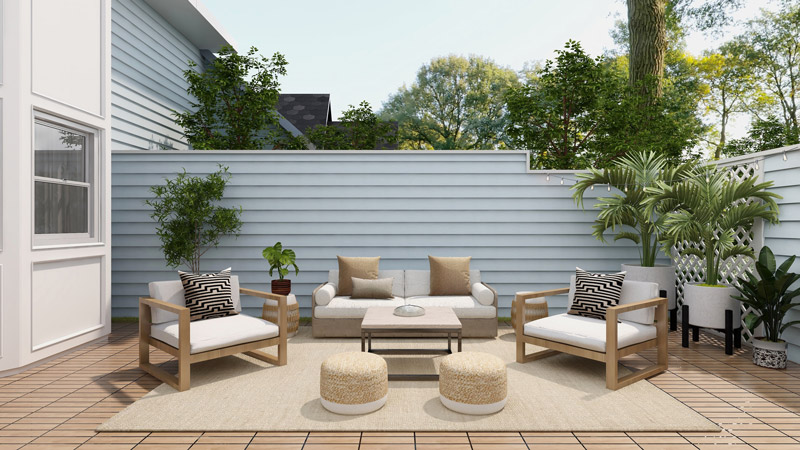 Having a backyard that is cozy and pleasant is everyone's dream. Outdoor living areas are one of the best options to create your own getaway and a place to destress after a long working day. To make it more pleasant and relaxing, get rid of items that do not fit the place. The choice of furniture will either make it or break it if you intend to spend more time out there and enjoy some fresh air and morning sun, select comfortable seating and the right landscape that compliments your surroundings and adapt to your environment.