Boxetti collection is one of the most fancy furniture designs I've ever seen. It is driven by three basic design principles – functionality, advanced technologies and contemporary aesthetics of minimalism. Each of Boxetti modules is designed to achieve maximum efficiency of particular demands for functionality and suitability. The capability of the modules to be transformed into compactly solid blocks is essential for the design concept in order to obtain an unobstructed and comfortable space – free of uselessness.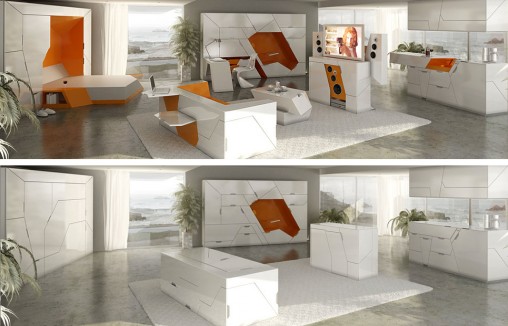 1. BOXETTI_PRIVATE – bedroom module
Boxetti Private contains the set of basic bedroom functions –a double bed, night stand and a wardrobe. The foldaway bed platform is automatically lifted by a remote control, together with a built-in night stand. The unit is equipped with a spotlight and an ambience lighting fixture above the headboard. The integrated wardrobe consists of six sections including shelves, drawers and a clothes rail.