This month is a big month for all football lover. We have to work, study, live and watch games. Now, coffee is an essential for me … to keep me wake up and focus … Hence, I decided to write a list of coffee related products, help us to enjoy the coffee as well as the games.
We are a participant in the Amazon Services LLC Associates Program, an affiliate advertising program designed to provide a means for us to earn fees by linking to Amazon.com and affiliated sites.
Fred & Friends Fisticup Mug [buy on Amazon]
This man-size coffee mug packs a serious punch! Do you take your morning brew light and sweet, or are you a hard hitting black coffee type?
Either way, you'll get a fistful of your favorite beverage with this smashing new mug. Sleek ivory high-fire ceramic contrasts dramatically with the steely metallic handle.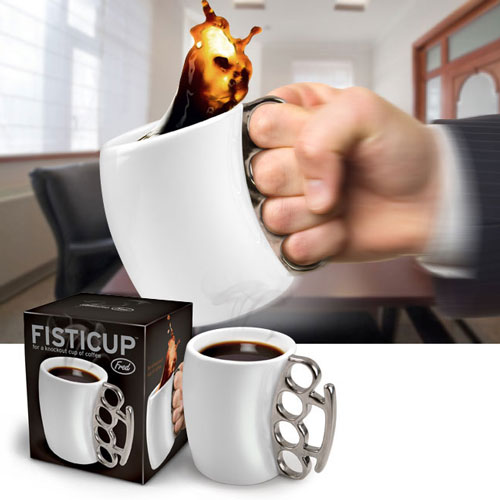 Java Wand Portable Single Serve Coffee Brewing Tool [buy on Amazon]
The Java Wand is a mini French Press filter attached to a hand crafted glass straw that brews and filters coffee, tea leaves, herbs, and infusions in the convenience of an ordinary cup. The Java Wand is packaged in a lightweight, indestructible carry case that contains a special compartment to transport your favorite coffee or tea.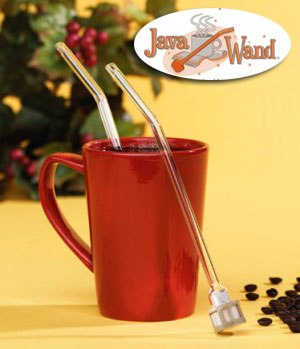 Cool Beans Ice Cube Tray
[
buy on Amazon
]
Love the chilly goodness of iced coffee, but not the way melted ice waters down the flavor? Your java jolt will keep stronger longer with Cool Beans made from real coffee. Just brew a batch, let it cool, fi ll your Cool Beans ice tray, and you'll never suffer watery iced coffee again. Our Cool Beans ice tray is molded from super-strong, dishwasher safe pure silicone.
Self-Stirring Mug
[
buy on Amazon
]
This unique 12-oz. stainless steel mug stirs and mixes your coffee, soup packets or hot chocolate with the press of a button. Quality made of double-wall stainless steel with polypropylene inner liner, each mug features a powerful 4,000-RPM motor that efficiently and quietly blends without need for a spoon. Mug features splash-proof lid with viewing window. Mug is totally submersible but hand washing is recommended.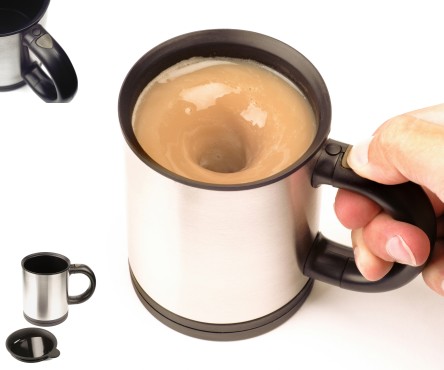 SHORT STACKED MUG SET
(discontinued)
The only thing better than a shot of espresso is TWO shots at once! So we took the classic demitasse cup and doubled it up. Now the refill's built right in. If this thought makes you feel a tad jittery just hold it by both hands! It's the espresso cup that will have you seeing double!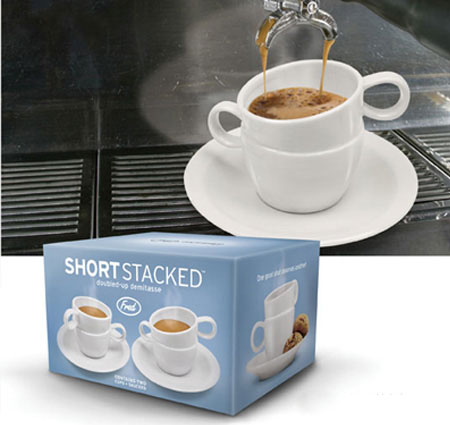 Coffee On A Stick
[
link
]
Allow me to introduce you to the most revolutionary way of making coffee….directly from a stick! The Cappuccino Coffee Stick is a spoon laden with your favorite coffee-fix that dissolves deliciously into a steaming cup of water. Tear away the plastic wrap, dip the instant spoon and a few good swirls later; a piping hot cup of coffee is ready for your consideration.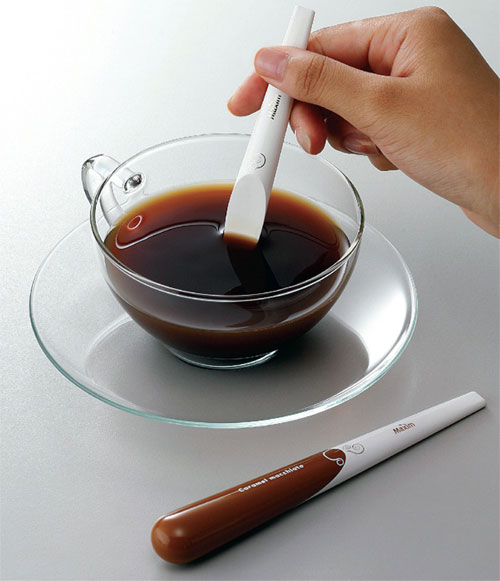 Hot/cold mug takes your coffee's temperature
[
buy on Amazon
]
This simple, clever mug automatically indicates its current state of mind when you pour a hot beverage into it. In its dormant state, the mug offers a black "COLD" display, but once your hot coffee hits the inside, it gradually transforms to read "HOT". A heat sensitive pigment changes the color of the mug from black to white.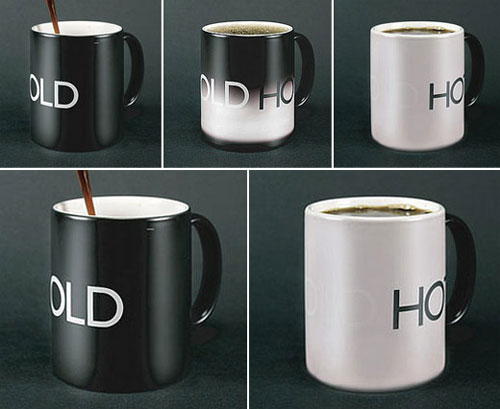 Bodum Pavina Double-Wall Thermo Glasses
[
buy on Amazon
]
The Bodum Pavina Glassware is the best you can ever get for so many reasons. Being made of two clear glass layers is one of their best features, the two layers give the 'suspended' effect when drinks are poured in, which is cool on its own. They also help keep the temperature of the drinks longer, hot or cold, and because it's double walled.. the temperature inside does not affect the outside, so no matter how hot or cold your drink is, you won't feel it on the outside. And as the glasses don't sweat, you can say goodbye to coasters.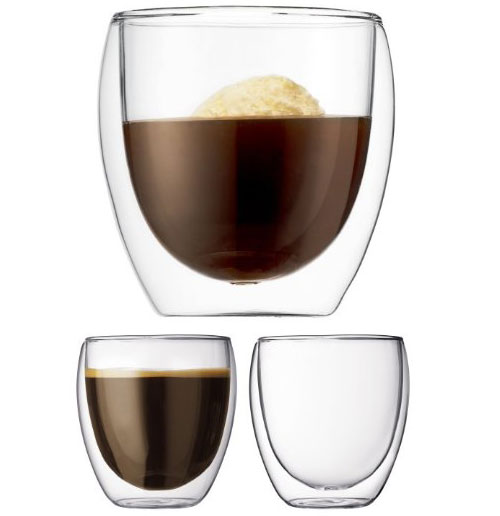 Eva Solo CafeSolo Coffee Maker
[
buy on Amazon
]
Designer Coffee. Discover the real taste of coffee with the CafeSolo coffee-maker – a simple method of making coffee, which gets the most out of the coffee beans. Spoon the ground coffee beans into the glass flask and add boiling water. Stir for 10 seconds and place the drip-free filter funnel and the tip-up lid in the flask. Brewed on the basis of the original method. Without steam or pushing and pulling. Without machinery and filters. Simply coffee beans and water.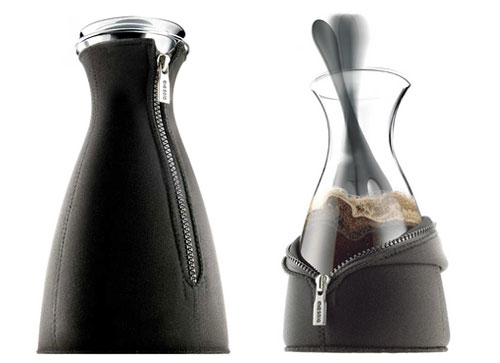 Javapops
[no available]
These are lollipops for the working adult. Guaranteed to keep you going with 60mg of caffeine, Javapops pack a gourmet taste into a handy lickable ball of goodness. Perfect as they are, or stirred into your own caffeine-rich brew.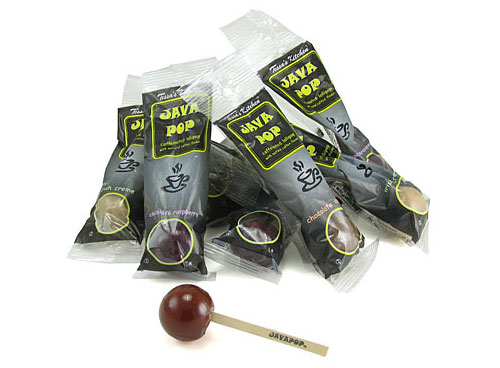 Coffee inhaler
[
link
]
The coffee hits consist of powder inside lipstick-like containers that are pulled open, inserted in the mouth and inhaled. Each stick delivers 100 milligrams of caffeine, the equivalent of a cup of espresso. A whiffer can get up to nine hits from an individual stick, depending on how hard they inhale.