Somehow, food just tastes better in the great outdoors. That is why no camping is complete without a camping stove. Camping stove sizes vary from small tabletop models to freestanding behemoths for large groups. Depends on your group size, camping location, and actual needs, you might need different camping stoves.
In this article, we will focus on portable ones only. To be noted, even all the stoves here are portable, their sizes and weights are quite different. Of course, they run on different fuels as well. We've been boiling and sautéing up a storm in our outdoor kitchen to bring you this list of the best camping stoves, in three categories: wood burn, charcoal burn and gas burn.
We are a participant in the Amazon Services LLC Associates Program, an affiliate advertising program designed to provide a means for us to earn fees by linking to Amazon.com and affiliated sites. Please read our disclosure for more info.
Wood Burn Stoves
---
Camp Wood Stove Portable
Made of strong stainless steel, this camping stove is built to last long even under heavy weight or high heat. The windproof serrated cross stand offers a stable platform for your cookware and increases heat contact.
Wide opening makes it easy to add wood; Double-wall structure wood stove creates a clean gasification and secondary combustion;
Easily collapsible into a compact size (5.4″ x 2.8″) and packed in the mesh carrying sack for convenient storage. At only 1 pound, this portable wood stove is lightweight and minimizes the burden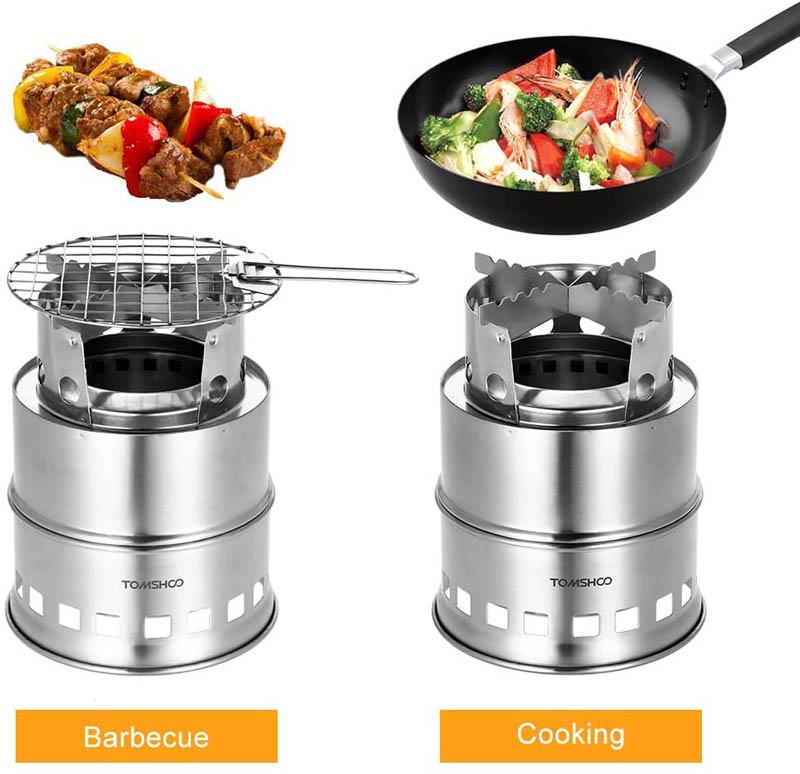 [buy on amazon]
Flatpack Portable Stainless Steel Grill and Fire Pit
Stainless steel grill folds to 1.5 inches thick and fits in a backpack;
Can be used as a fire pit;
Come with two sizes:
regular – 13 x 10-inch grilling area for up to 6 servings
mini – 9 x 6.75-inch grilling area for up to 3 servings
Safely contains fire and keeps fire off the ground; constructed from durable stainless steel to provide high rust and corrosion resistance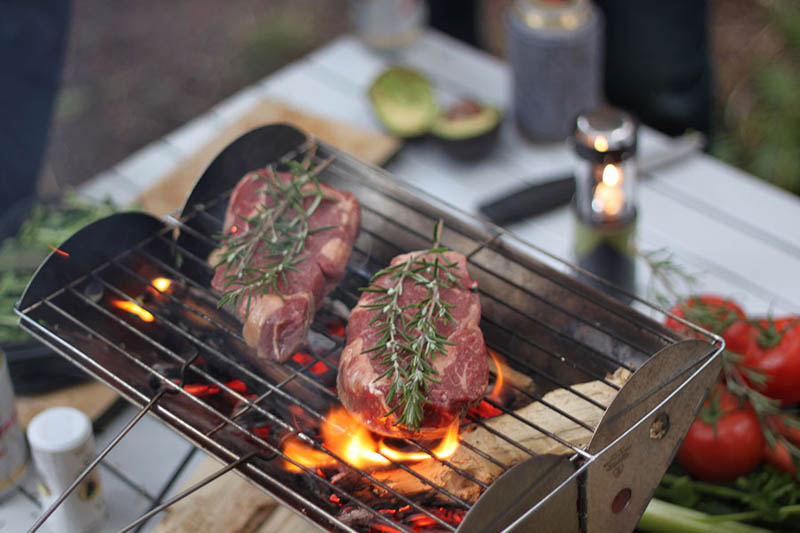 [buy on amazon]
Portable Camping Fire Pit & Wood Burning Grill
Portable wood burning camping grill/stove/fire pit, easy to assemble.
Unfolded:13.8″x13.4″x10.2″(Height) / 35x34x26(Height)cm;
Folded:13.8″x7.9″x3.5″ / 35x20x9cm
WEIGHT: 7.7lb / 3.5kg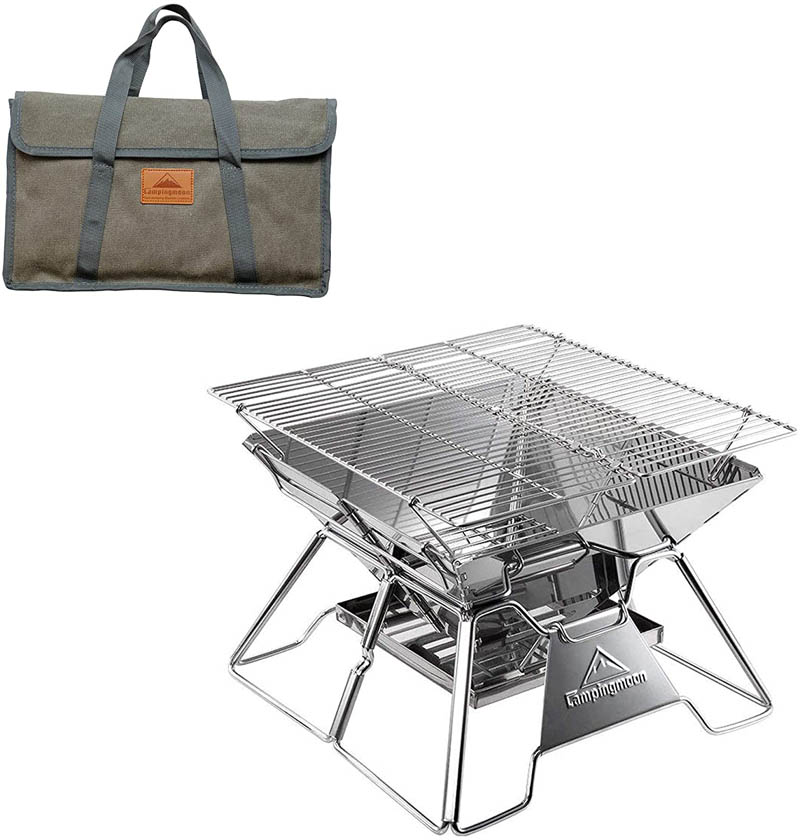 [buy on amazon]
Unigear Wood Burning Camp Stoves
Made of premium quality stainless steel for rugged backpacking.
Unigear camping stove made with stainless steel, which can be folded like a book, and come with a carrying bag for your easy carry.
Camping stove can work with many kinds of pots, which can cook Food, boil water and BBC.
Those camping stove not only can use wood, also can use spirit burner, twigs, leaves, coal, gas and solid fuel tablets, which makes it easy for outdoor camping or hiking.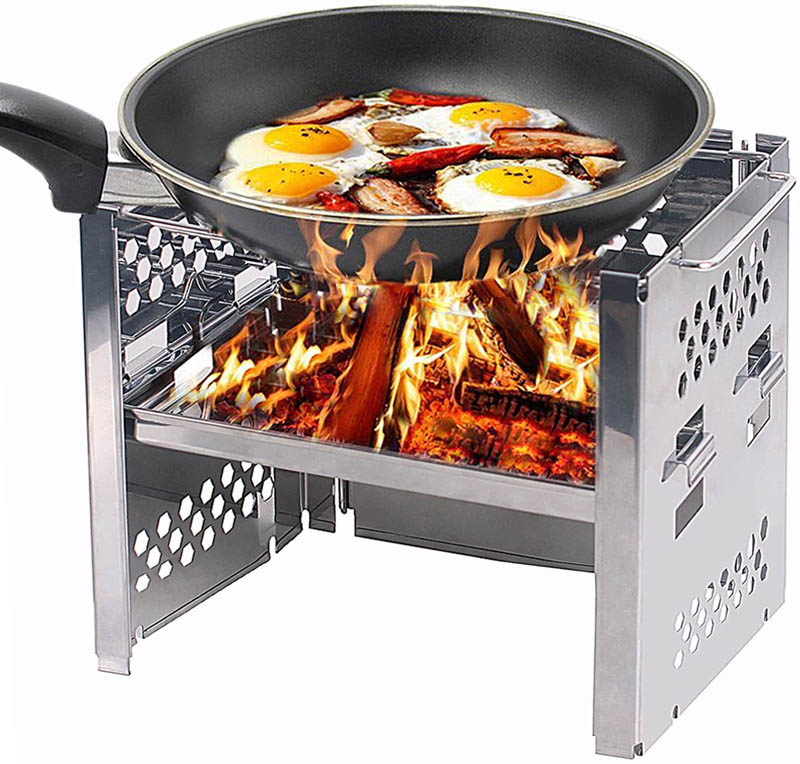 [buy on amazon]
---
Charcoal Camping Stoves
---
Portable Large Charcoal Grill With Storage Bag & Non-Stick Frying Pan
Comes with a frying pan, Choose fried food at the same time as the barbecue
Stainless steel, solid, high heat resistant, durable and easy to clean.
Easy to carry and operate disassemble and assemble, Features 3 shelves for convenient placement seasoning
Offering you 39.4 inch long and 13.2 inch wide cooking area, super long size grill panel.
Scientific design, beautiful appearance, safety, and health.
2 vents help charcoal burn, allowing you to bake food faster.
Folding Portable Barbecue Charcoal Grill
17 inch long and 10 inch wide of chrome-plated cooking grate gives you enough room to get your whole meal on the grill at once
When the flat pack portable grill is unfolded, it forms a four-corners supporting structure on ground to stay stable during use.
Lightweight and portable, only 4.4lbs/2kg
Fold to super slim flat with handle, 17x10x2.1 inch(LxWxH) easy to carry and storage.
Supsiah Portable Charcoal Barbecue Grill
This portable BBQ grill use traditional vintage suitcase element, compact and lightweight for grilling on the go, also can buy it as a gift for birthday, wedding and travel, nice-looking and good practical decoration for our life.
𝗙𝗿𝗲𝗲 𝗔𝘀𝘀𝗲𝗺𝗯𝗹𝗲 𝗕𝗕𝗤 𝗚𝗿𝗶𝗹𝗹 𝗚𝗿𝗮𝘁𝗲: the charcoal grill BBQ grate fold open to two sides, anti-corrosion, anti-deformation, easy clean and anti-rust after long use.
𝗧𝘄𝗼 𝗖𝗼𝗺𝗽𝗿𝗲𝘀𝘀𝗶𝗯𝗹𝗲 𝗖𝗵𝗮𝗿𝗰𝗼𝗮𝗹 𝗕𝗼𝘅: Large capacity charcoal charcoal box, the first layer has unique air vent for better combustion. After BBQ, just wait the ash to cool down and and take out the charcoal box to pour the ash to safe place.
This Charcaol grill suit people for 2-5 person.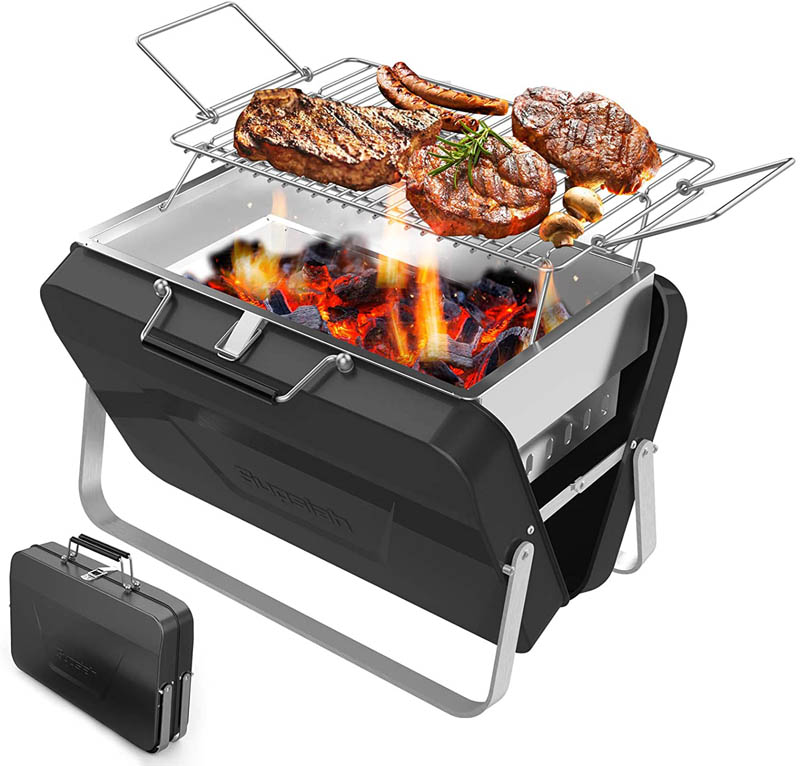 [buy on amazon]
---
Gas Camping Stoves
---
Coleman Gas Camping Grill/Stove
2-IN-1 DESIGN: Use grill and stove at the same time; 130 sq. in. grilling area; stove fits a 10 in. pan
COOKING POWER: Up to 20,000 total BTUs
PRESSURE REGULATOR: Pressure-control technology provides consistent performance, even in extreme conditions
PERFECTHEAT TECHNOLOGY: Offers more efficient cooking with less fuel
2 ADJUSTABLE BURNERS: For precise temperature control
Portable Butane Gas Stove Automatic Ignition
Highest Safety Standard: CSA (US & Canadian Standards Association) Approved Portable, Easy To Use, Reliable For Camping, Outdoor Cooking, Home Emergency Kit, Etc. Equipped with Fuel Cartridge Injection safety feature, If the stove defects 0.7 kilogram force from canister, It will automatically ejects butane canister from the stove
Automatic Starter – Piezo-Type Electric Starter With Safety Shut-Off System; No Matches Or Lighters Required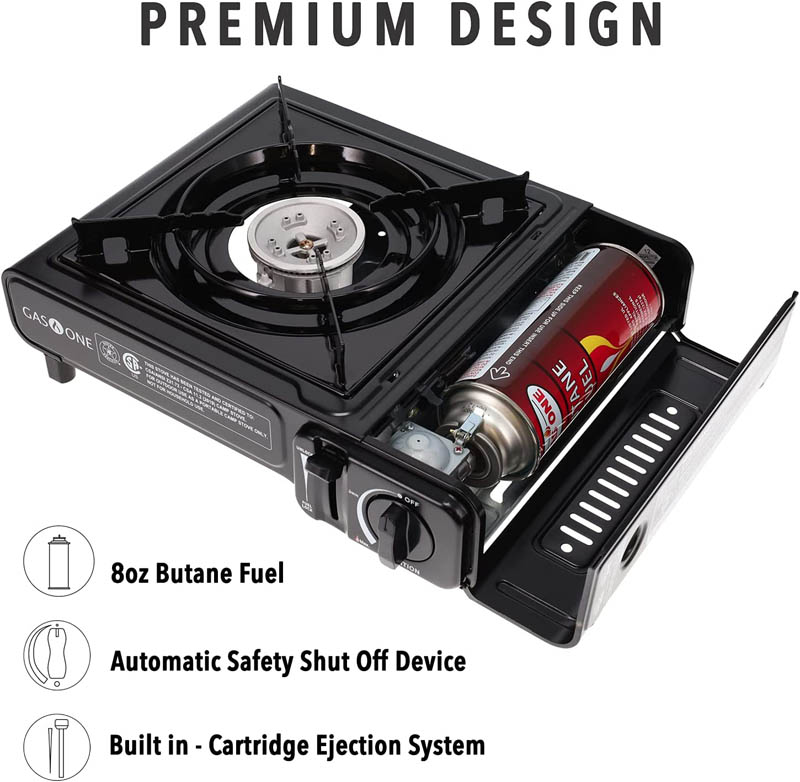 [buy on amazon]
Ultralight Backpacking Camping Stove with Piezo Ignition
The Ultralight Backpacking Stove is small, portable and lightweight, It's perfect for simmering or boiling water and comes with a protective plastic case.
It is made of stainless steel and aluminum alloy which can stand high weight and temperature. built-in pot supports and a piezo igniter for ease of use.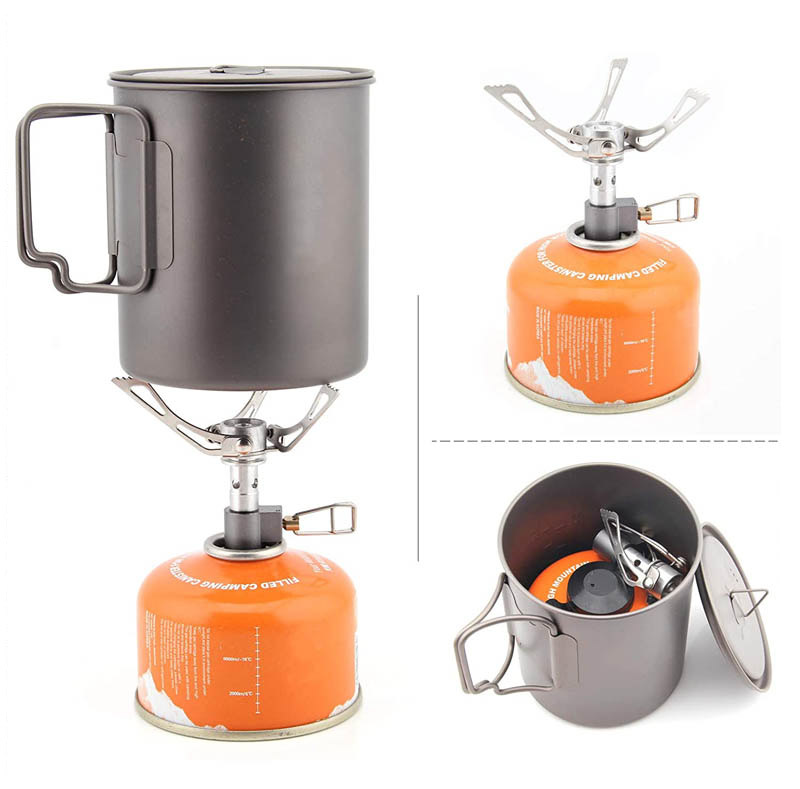 [buy on amazon]
RoadTrip Portable Stand-Up Propane Grill
The Coleman RoadTrip 285 Portable Stand-Up Propane Grill features sturdy quick-fold legs and 2 wheels for hassle-free setup, takedown, and transport so that taking your grill on a camping trip or to a tailgate is easy.
Push the Instastart ignition button for matchless lighting, then select your heat with the enhanced temperature control of 3 independently adjustable burners (outer left, inner, outer right).
With a range of grilling power from 3,250 to 20,000 BTUs and 285 sq. in. of cast iron grill grates coated in porcelain, you'll wow your friends and family with an array of perfectly cooked meats, seafood, or veggies every time.
The Swaptop interchangeable cooktops let you switch the grill grates with a griddle or stove grate (both sold separately).
With two sliding side tables to keep utensils and sauces handy, cooking with this grill is just as convenient as traveling with it.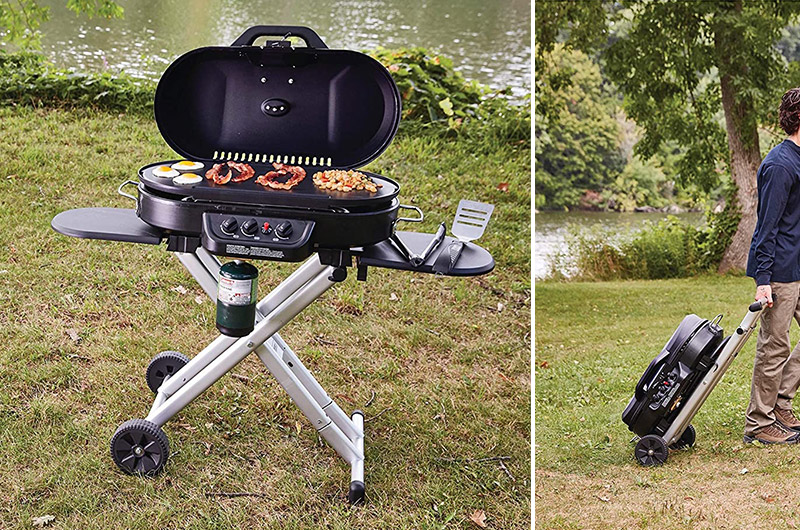 [buy on amazon]