Does cat need scratcher? Cats need to scratch to keep their claws sharp, exercise and stretch their muscles and mark their territory. They used to do that to be a good hunter. Now even if cats have become pets, the habit of scratching has not changed. If you fail to provide an acceptable area to scratch then your carpets, furniture and wallpaper may get damaged.
Hence, cat owners will prepare cat scratching boards and cat climbing posts for their feline friends. If you want to create an environment for your cat that combines rest and scratching? Try the Scratch Lounge or Omega Paw Ripple Board Scratch Massage Cat Bed. Don't worry about the cat scratcher becomes eye-sore in your home. There are many well designed scratcher not only make your cat happy, but look stylish as well.
Below are some of the collection picked up my our editor. Take a look and help you can find a one fits your cat mostly.
Cat Scratcher Sofa Bed
Made of high quality cardboard, using the best material for cat scratch and exercise its paws. As a scratcher, this product protect your furniture and doors, help your cats become more well-behaved.
The cat scratcher include a faux fur mat, which make it not only be used for cat scratching, but also can be used as a comfortable bed;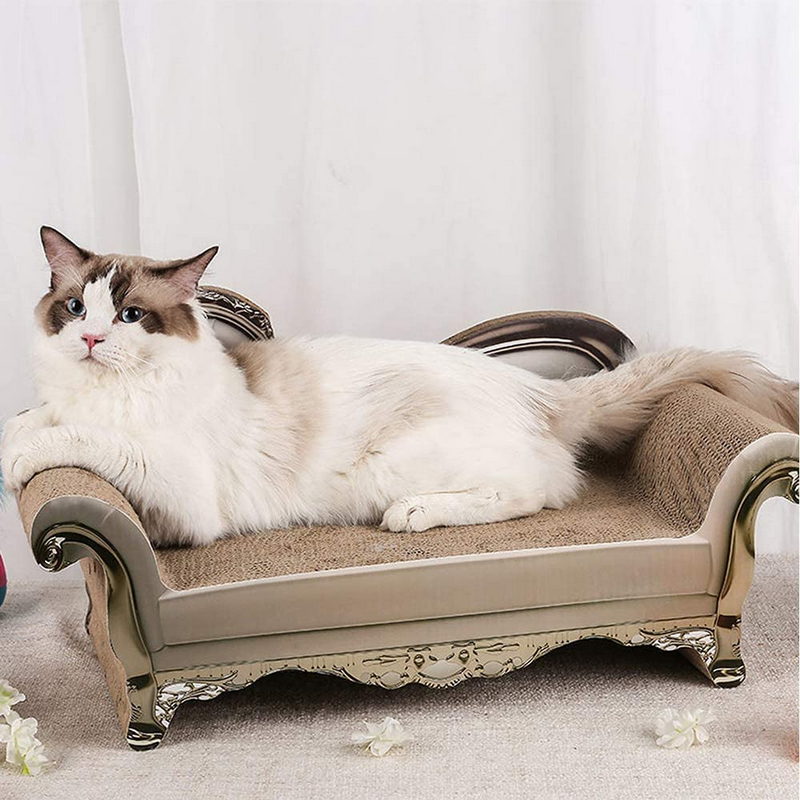 [buy on amazon]
Large Cherry Cat Scratching Post with Hammock
High-quality harmless PVC pipe is wrapped with natural tight sisal rope from top to bottom, which is wear-resistant and corrosion-resistant, providing sufficient space for your lively kitten to extend the claws from all angles. The wide base provides reliable stability, prevents any chance of shaking or overturning, and fully supports the daily enjoyment of your energetic cat.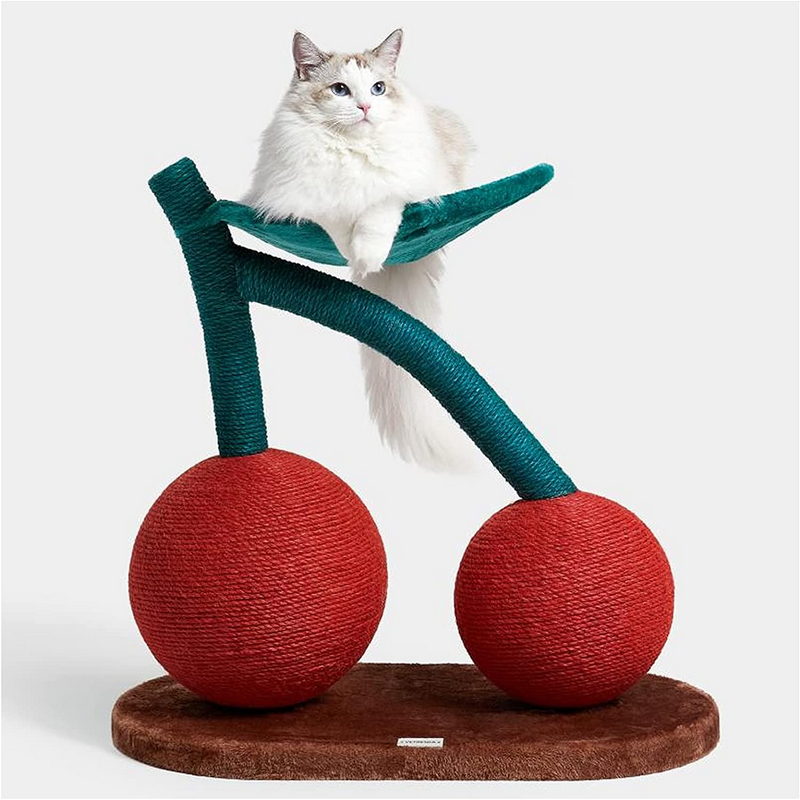 [buy on amazon]
Purplecat Cat Scratcher
This behavior is very important and we need to understand living with them. We can find various type of cat scratching product. This cat face design scratcher can be a good scratching helper and also present cozy house function with large size. Strong cardbord material will be long lasting without change of original shap. Furthemore it makes less dust which is always problem by week cardbord paper.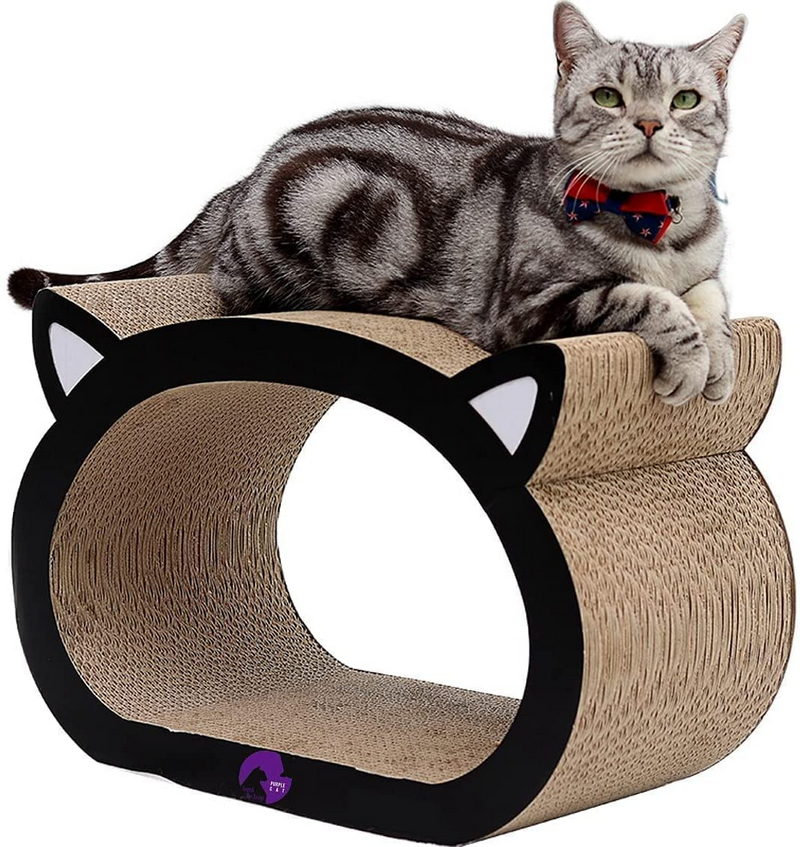 [buy on amazon]
Multi-Surface Cat Scratcher with Catnip Toy
Multi-surface and multi-angle scratcher and hangout with catnip feather toy
Mixed sisal and carpet scratching surfaces with angles to satisfy your cat's need to scratch
Curved ramps provide rest and hang-out surfaces and attached toy entice kitty to play
Size: 17.75 x 11″ x 6.5″
Designed to meet or exceed all applicable safety standards; 100 percent customer satisfaction guarantee from Petlinks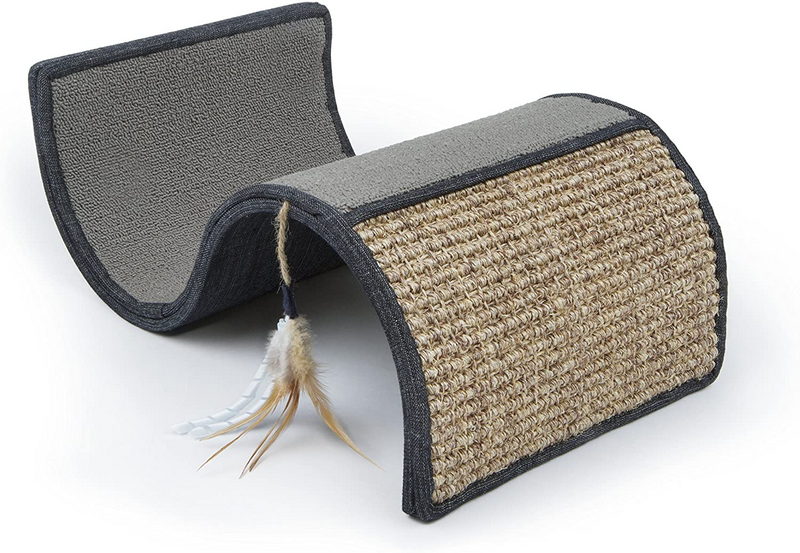 [buy on amazon]
Cats Premium Scratch Sisal Mat
A versatile scratcher with extra large scratching surface that can also be placed on the floor with fun , protect the furniture, or turning into a small coffee table. High density sewing machine lockring with durable construction not only lasts longer but also no chips.Non-woven fabric and anti-slip epoxy latex design of sisal mat that is stable, not easy to deform and easy to clean.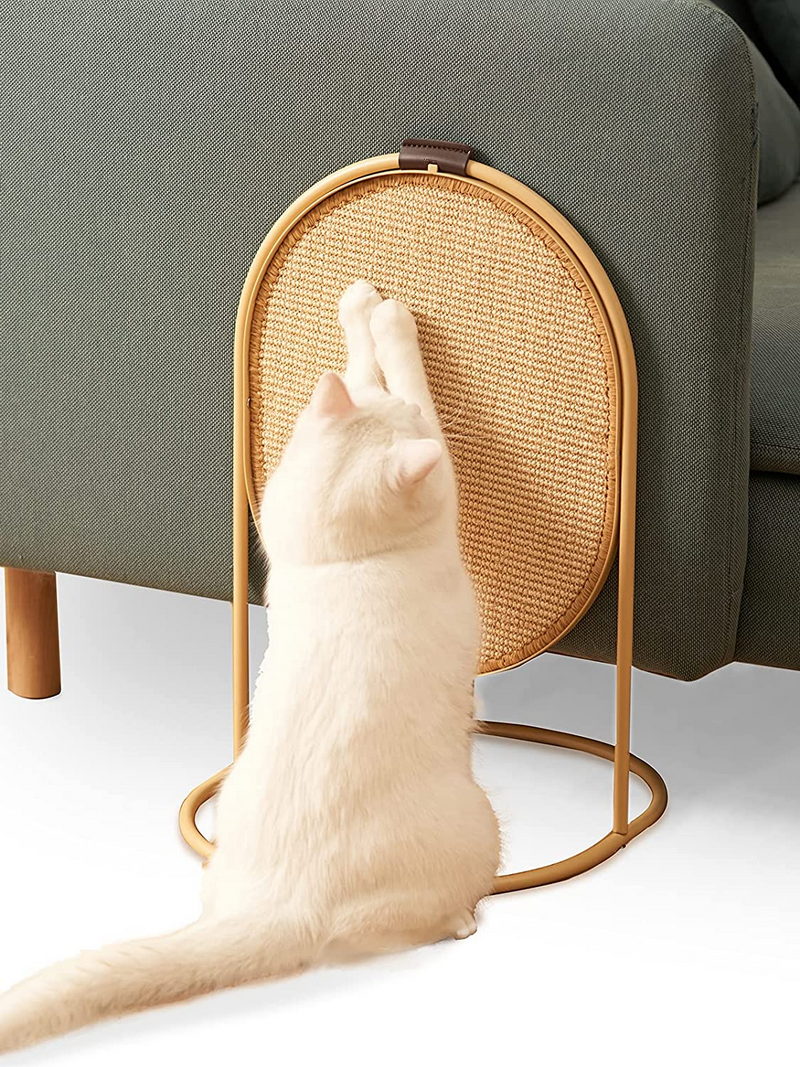 [buy on amazon]
Cat Scratcher Couch- Natural Sisal Furniture Protection from Cats
Suitable for most sofas with handles, or recliners, or can be laid flat on the bed to protect your furniture. The materials are selected from the finest sisal and thick fabrics. Sisal is a pure natural woven material, environmentally friendly, safe and scratch resistant.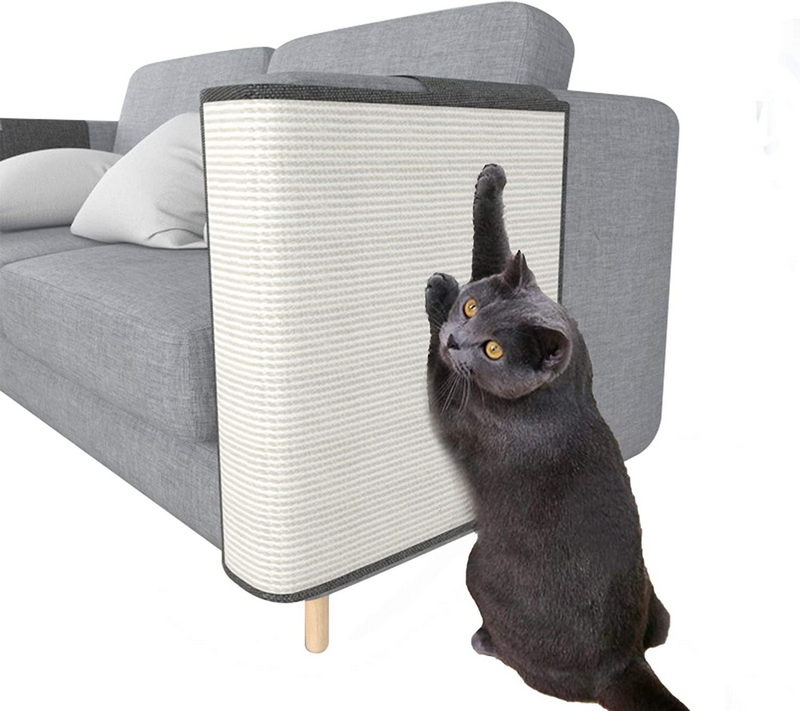 [buy on amazon]
Durable 3 in 1 Reversible Cat Scratcher
The 3 in 1 design cat scratch pad could be used as a cat lounger, cat stretching pad and resting cat scratcher bed. This cat scratching board can be used both in the way of vertical and horizontal, and it is fully reversible. Curved design makes it easier for cat's scratching, and also comfy rest and stretch.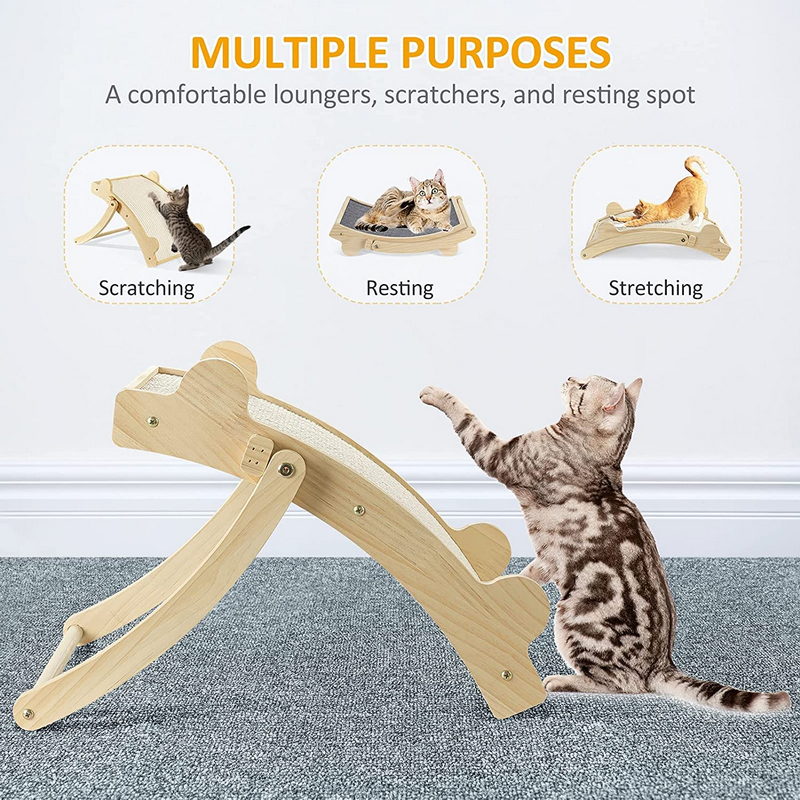 [buy on amazon]
Triangle Cat Scratch Bed
Unfold the small triangle part of this scratcher, when you change the placement of this scratcher, your cat will get different angles to scratch and train different muscles. Made with recycled corrugated cardboard, the cat scratcher is recyclable even after your cat is done with it to minimize your carbon footprint;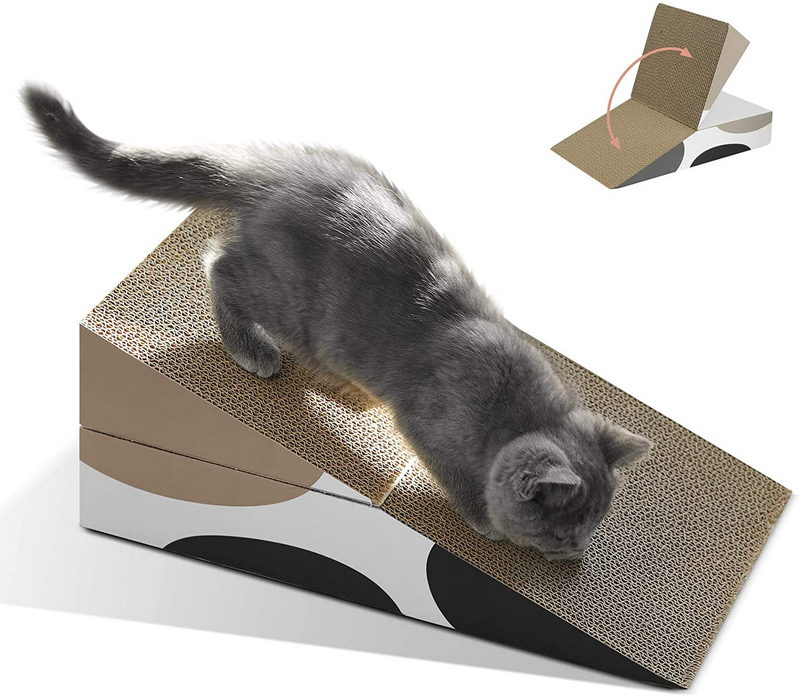 [buy on amazon]
Cat Scratching Ball
The diameter of the sisal cat scratching ball is about 6.3″, the solid wood base size is 8.3"x 8.3"x 8.3", the stick length is 10.7″, the height is 9.5″ after assembly. Size is appropriate for most cats and kittens. The unique hollow design meets the curiosity of cats by combining with the characteristics of cats' natural love of drilling holes. The spinning sisal ball can also greatly attract the cat's attention.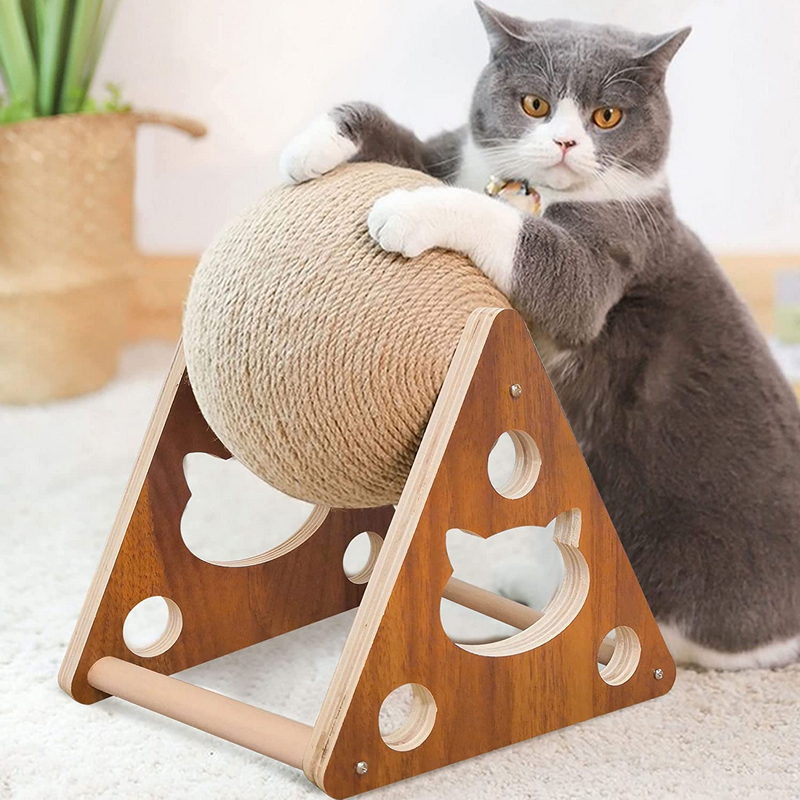 [buy on amazon]
PetFusion Cat Scratcher Lounge
A scratcher, lounge, & SO MUCH MORE (see video on left). Incl premium USA organic catnip leaf. Natural scratching = healthy claws, great exercise, & stress reliever. Curves make for easier scratching & a more comfortable place to rest & play. Naturally attracts cats.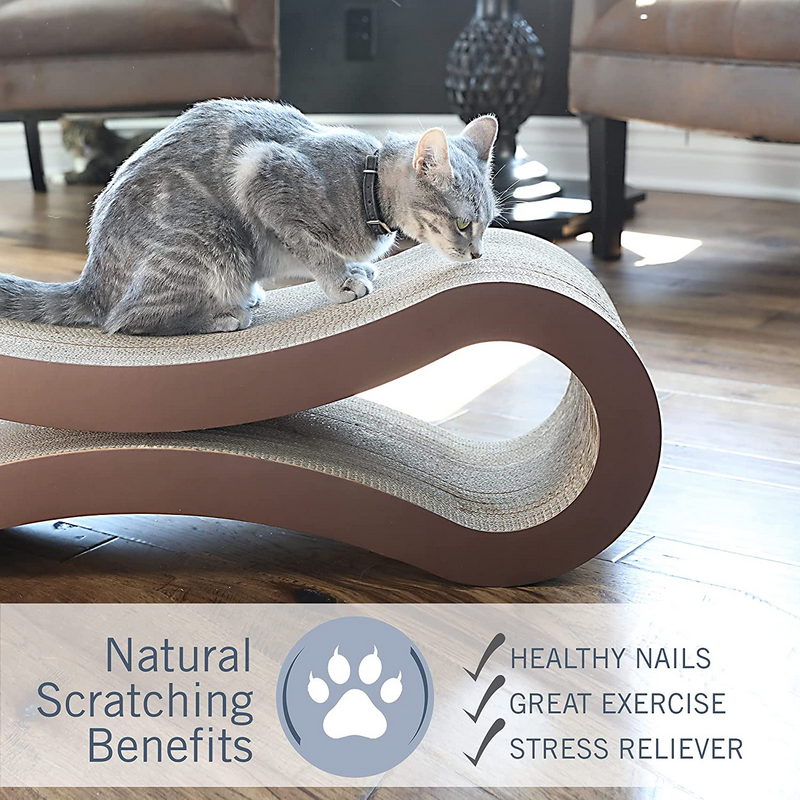 [buy on amazon]
Coconut Tree Cat Scratching Post
Tall Cat Scratching Post for Large Cats Gives Your Cat a Complete Stretch – at 31 inches tall, allows most adult cats to complete a satisfying, full vertical stretch of their claws and joints. Made from Natural Sisal, a Feline Favorite – cat scratchers for indoor cats are wrapped in high-quality sisal, a fiber used in many types of carpet. Stands up to your cat's rough and tumble play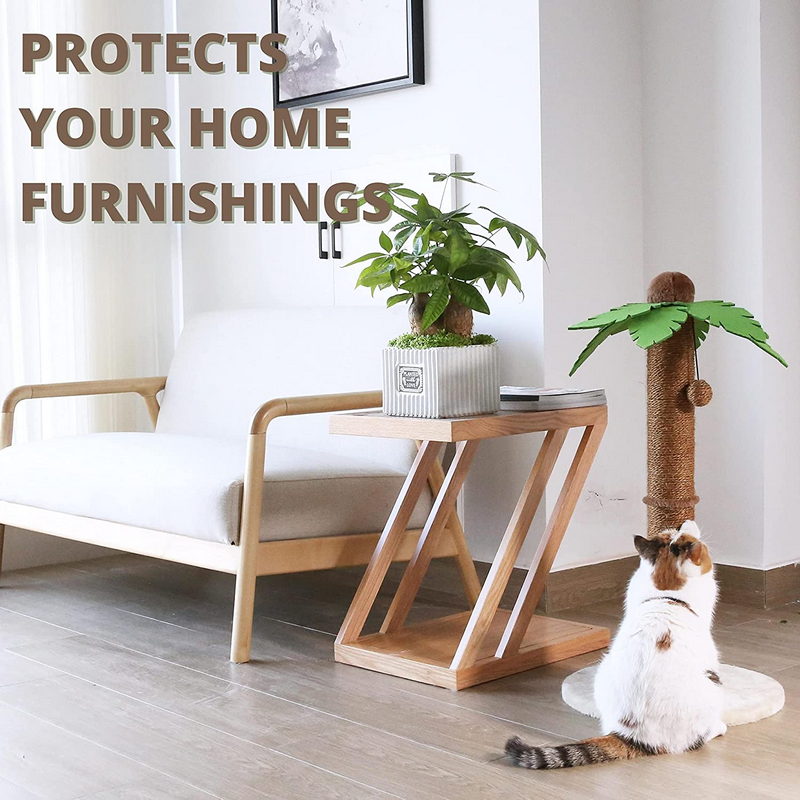 [buy on amazon]
Sunflower Cat Scratching Post
The Sunflower Shaped Cat Scratching Post helps answer cats' natural instinct to scratch while saving home furnishings.
Cat scratcher is made of felt, rope, and artificial turf. With its whimsical design, scratching post can fit in with any decor. Comes packaged in a sturdy box and only entry-level assemble required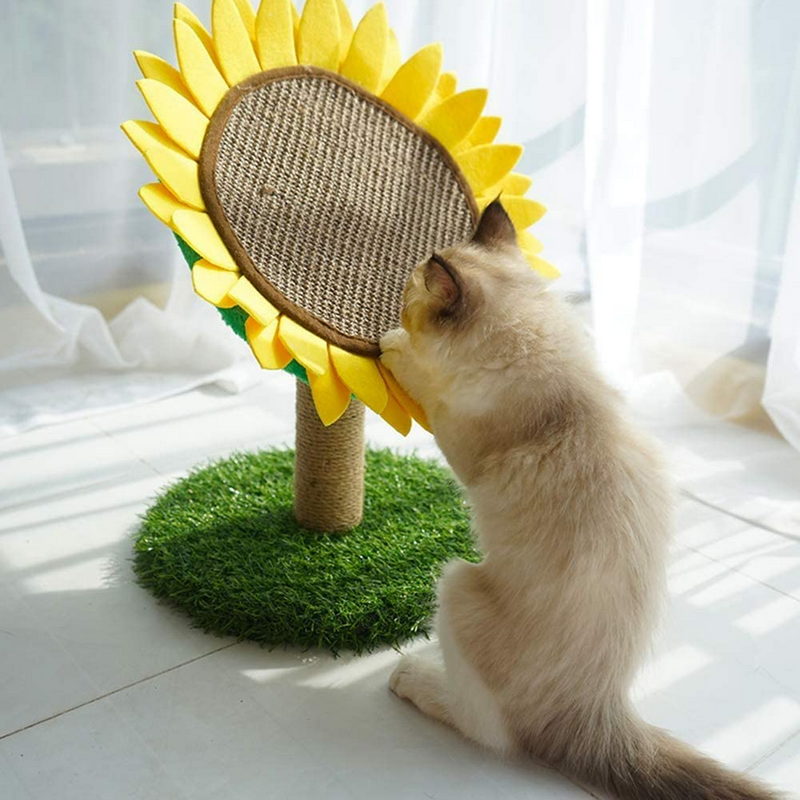 [buy on amazon]