Camera is a wonderful design which help us to capture meaningful moment. In this post, I will present you 12 Innovative and Unusual Camera Designs. They might not the most professional cameras but they should be one of those most innovative and unusual designs. Some of them are still concept while some of them will be released soon or already can be purchased. And the interesting part for me is, I really don't know camera can be made in so many different shapes.
We are a participant in the Amazon Services LLC Associates Program, an affiliate advertising program designed to provide a means for us to earn fees by linking to Amazon.com and affiliated sites.
1. Pentax Optio NB1000 Is A Camera For Lego Lovers [link]
The Pentax Optio NB1000 is a 14.1 megapixel camera with 4x optical Zoom and 720p video recording. Oh, and it's front face is like a Lego board so you can attach anything you want on it. The camera comes in two colors: a monochromatic white or safari green. And is expected to release later this year for around $240.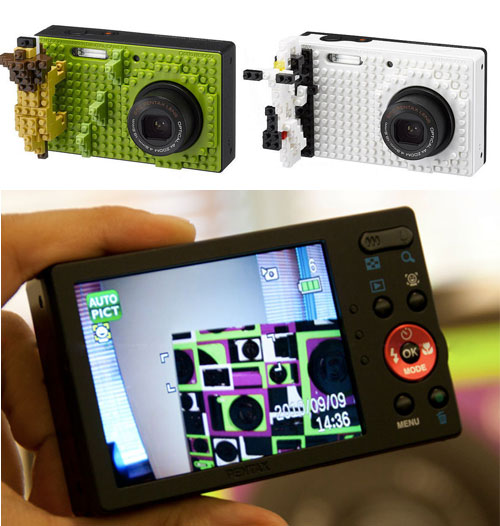 2. Periscope Shaped DSLR Camera [link]
This is an interesting camera concept. The camera body is one in the same with the camera lens, while the curve at the end shows the image to your eyeballs through a fabulous rectangle interface. Another interface appears along the side which control the details of photography.
3. Gun Shaped Digital Camera
[link]
Gun camera concept by Franziska Dierschke takes small, pinhole-shaped images without the aid of a viewfinder, putting less emphasis on picture quality, and more on the playful act of taking the picture. Unfortunately, Aimat gun camera is only a concept and is not for sale right now.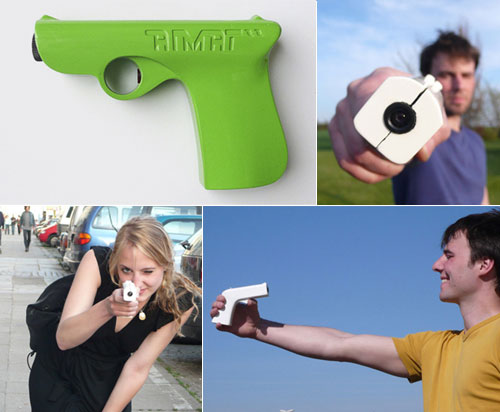 4. 3d DLSR camera, a concept by Dean Francis
[
link
]
Photographer Dean Francis has brought us a concept design of what a digital camera would be like in its 3d supported version. There is no drastic change in terms of hardware which includes only the addition of separate module to add the 3d functionality. It basically involves attaching a module to a DSLR camera to enable 3d and another module on the opposite side of the 3d module to add to comfort of holding and using it.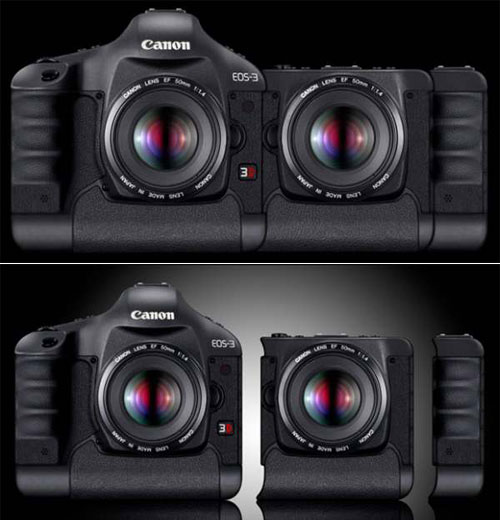 5. Flee – Throw camera into the air for catching images
[
link
]
What you see in the picture is not a volleyball being played by a group of people but actually a camera thrown into the air for capturing images. Is it difficult to digest? This is what makes Hakan Bogazpiner's designed camera concept – Flee different from the regular ones. In fact, the camera helps you click photos which you wouldn't be able to do otherwise.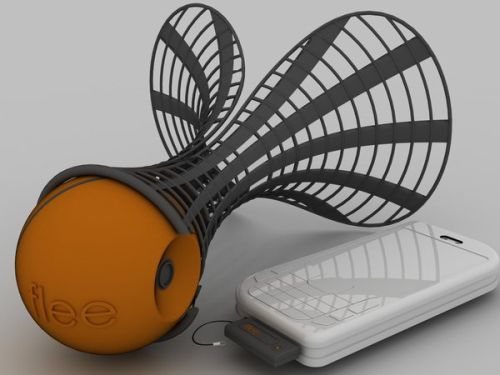 6. Polaroid One600 Classic Instant Camera
[
buy on amazon
]
Get a little closer with the Polaroid One600 Ultra Instant Camera, which lets you get as close to your subject as two feet (24 inches). It's great for home use, outdoors, surprise parties, family occasions, and more. Featuring a sleek, folding design, the One600 Ultra features a focus free lens, an autoflash that helps to illuminate pictures in any light with red-eye reduction mode, digital LCD picture counter and feature setting display, and self-timer.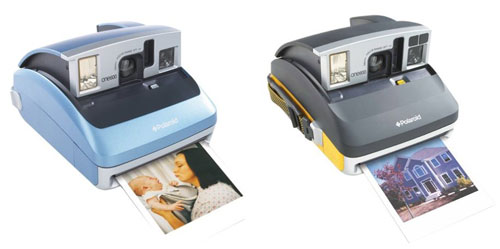 7. nova DSLR camera concept
[
link
]
California college of the arts student erin fong developed this DSLR camera concept to update the digital camera form factor. her nova camera takes the standard DSLR format and modifies it by splitting the control over two arms putting all the control right at the user's finger tips. the arms can move around the central lens allowing a multitude of picture taking positions. the design is perfect for right and left-handed users and can even be operated with only one handle, borrowing from the camera phone style of picture taking. the design aims to explore the form of the camera now that it isn't dictated by the conventions of film.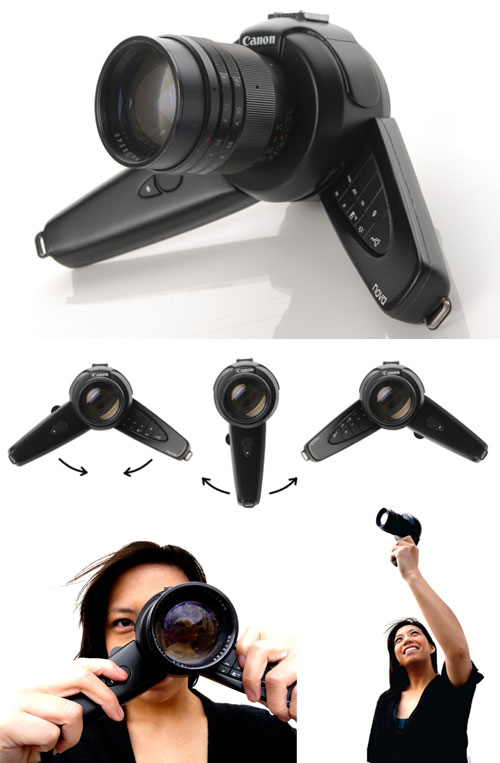 8. Bushnell Image View 8×30 Roof Prism Binocular with 2.1MP Digital Still Camera
[
buy on amazon
]
When memories fade, print another copy. We combined the outstanding optical performance of Bushnell binoculars with a high-resolution digital camera, so you could see the moment with amazing clarity and save it to memory-built-in RAM or SD card-eith the push of a button. Image View binocluars are compact enough to fit in a pocket and come in a variety of models to suit everyone from sports fans to adventure travelers. Remember these, and unforgettable moments are a lot easier to come by.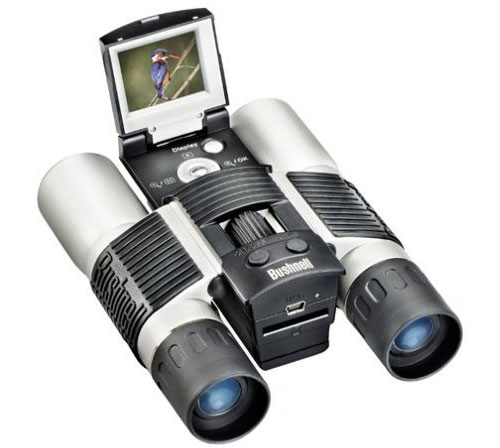 9. USB Digital Camera
[
link
]
Designer Sungwoo Park has created the "EazzzY", a USB drive / digital camera with no buttons, no LCD screen and no viewfinder. The idea is that every time you plug the camera into your PC to download your pics, you will be surprised as to what's on there. The idea is to combine the "feeling of how an analog camera works" with the ease of digital portability and image retrieval.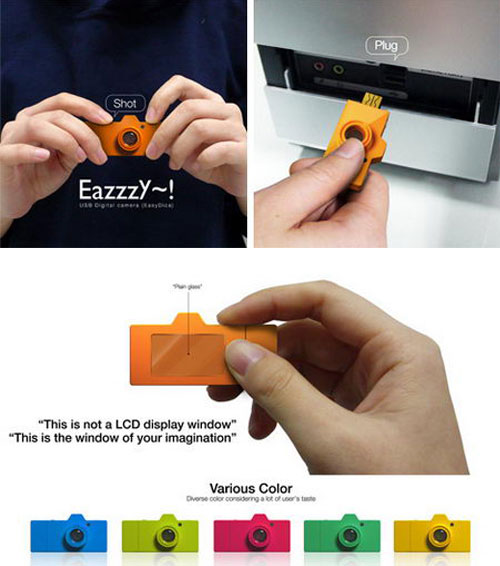 10. Stampy Digital Camera
[
link
]
Is that will be fun if your digital camera that doubles up as a rubber stamp? As of now digicams offer a variety of options and modes (sepia, landscape etc.) to take pictures and edit them. Stampy Digital Camera gives you the option of creating a rubber-stamp version of your photograph, so that you stamp it onto any sheet of paper or surface.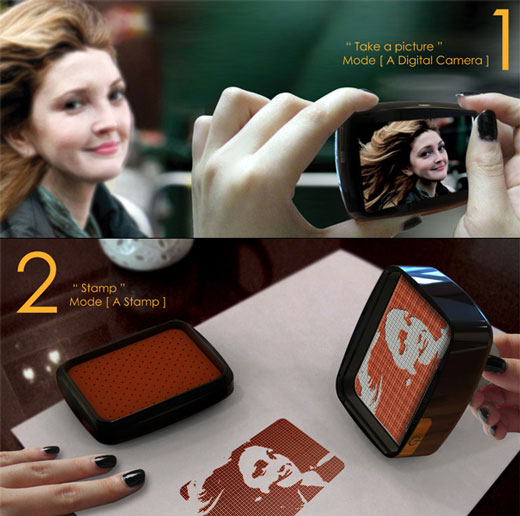 11. Canon Snap – a concept camera-ring
[
link
]
This miniature camera in a ring which you can carry on your finger everywhere, is developed by designer David Munscher. Canon Snap has only one button, and a miniature size does not affect the quality of the photographs. That will distinguish this concept from the current micro-cameras which (because of the tiny sizes) are far from quality pictures/video.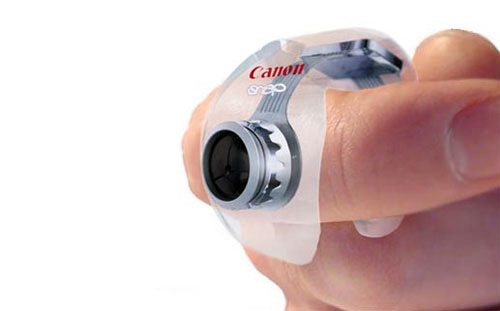 12. Yang Ying digital camera
[
link
]
Two flat, droplet-shaped halves connecting to become a round digital camera. One half holds the lens and LCD screen while the other appears to contain the flash memory and a USB port. That would mean no cables would be necessary to offload your digital pics to a PC, a nice bonus that's inherent to the design.