Whether you're a coffee drinker or tea drinker, there's one thing everyone can agree on: The cup/mug you use is just as important as the beverage you drink. In this ultimate collection we've gathered 15 most unique, most stylish and most beautiful cups/mugs from all over the web. They differs from their shapes, materials, functions, but there are one thing in common – They are not those regular boring everyday cups/mugs.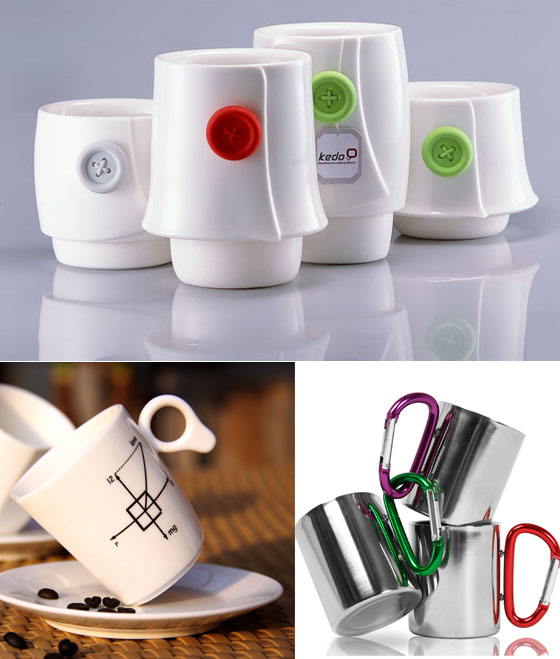 We are a participant in the Amazon Services LLC Associates Program, an affiliate advertising program designed to provide a means for us to earn fees by linking to Amazon.com and affiliated sites.
1. Ctrl-Alt-Delete Cup Set [source]
The stylish design of the cups hides the true face of the set when it is not turned upside down. The black plastic cups look chic and the cool stylized circuit-board tray accentuates their true design while keeping the cups neatly arranged.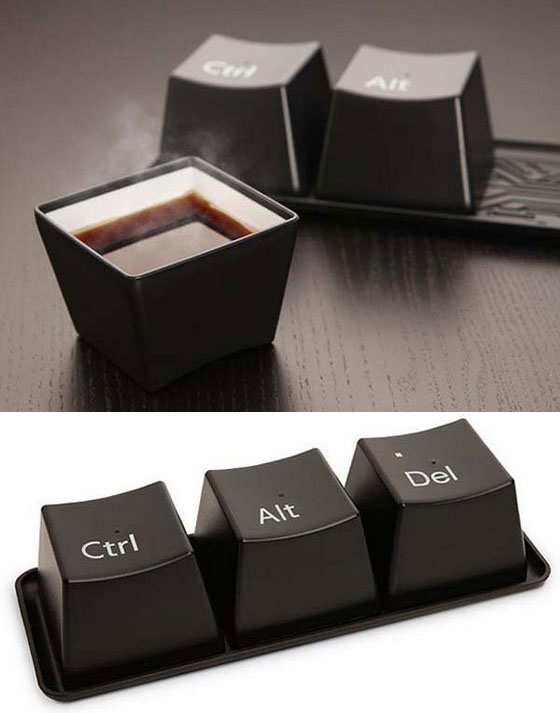 2. Tie Tea Cup [buy on amazon]
Tie Tea solves the eternal problem of fishing around for that tea bag that's inevitably fallen into your cup. Simply tie your teabag to the tab and you're all set. Designed like a boat dock cleat – your tea bag wont go floating away!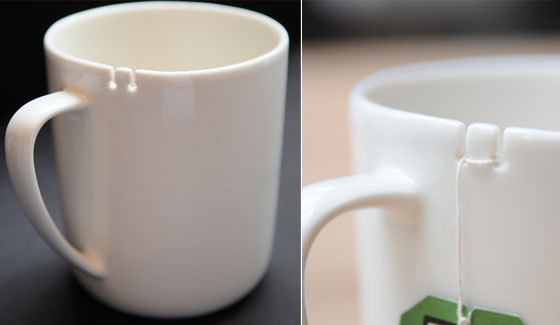 3. My Cuppa Coffee Mug [buy on amazon]
Youll mix the perfect amount of cream in your coffee every time with the color-matching coffee mug. Choose a coffee-creamer ratio, then add creamer until your java matches the corresponding color bar. Color guide levels include milky, regular, dark and strong, and black.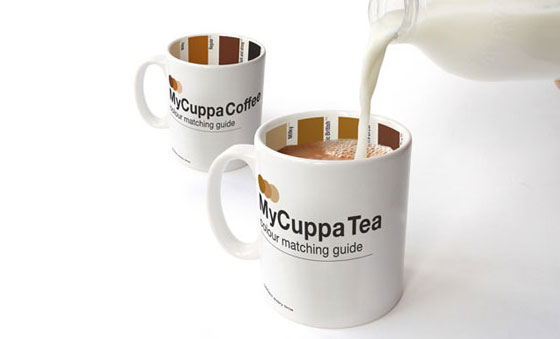 4. Double Walled Porcelain Tea Cup with Seal-able Cap [buy on amazon]
This porcelain tea cup is designed to make lid-sliding simpler so that even beginning tea-drinkers can master this difficult movement by moving only their thumbs. Lid-sliding represents tranquility and balance, an image projected by the lotus flower. The double wall porcelain cup keeps your tea hot and the outside cool to the touch.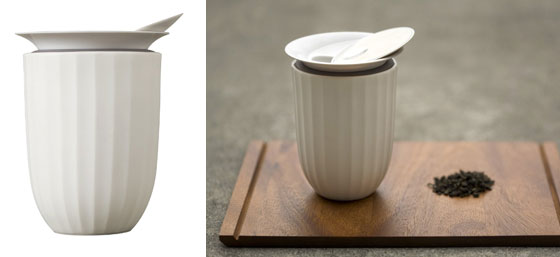 5. Tea-Code [source]
Are you bored with this tea bag which couldn't behave itself? Kedo present you great solution! Tea Code Cup has a look of a sleeve with cute button on it. Just lace up your tea bag around the button and relax with hot delicious tea.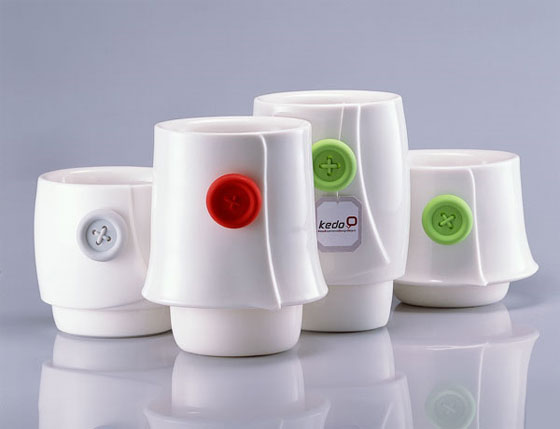 6. Suck UK Mug Drink Selector [buy on amazon]
No longer does there have to be that awkward polite complaint when someone offers to make a cup of tea and you subtly say 'just a bit less sugar than last time'. You can now give them a second chance. Simply select the drink required, whether you want milk and how many sugars are required. If the teaboy still gets it wrong they no longer have an excuse and you have good reason to complain, so feel free to torment them or send the unsuitable beverage back.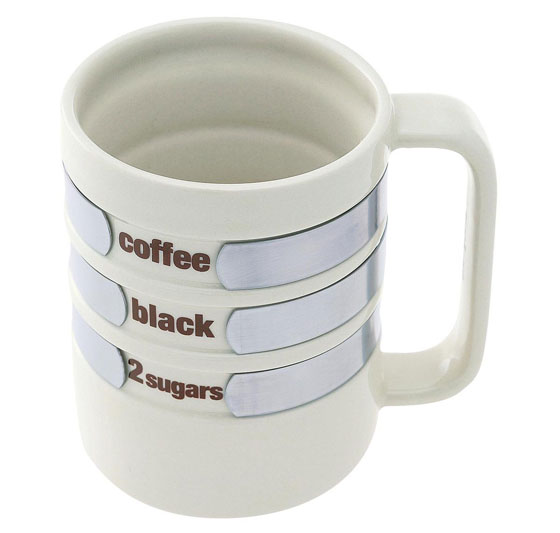 7. Snap Cups [discontinued]
3 ounce ceramic cups with metal clothing snaps embedded in outer cup walls. Extra snaps included to install cups anywhere: under your cabinet, by your desk, or to your bike handlebars. Neither microwave nor dishwasher safe; completely food safe.
8. Ultimate Coffee Cup [source]
• 8 oz.(237ml) and 12 oz.(355ml) sizes
• Lead-free
• Microwave and dishwasher safe
• Superior ergonomics
• Made of the finest translucent high-fire vitreous porcelain
• Saucers double as heat-retaining lids and enable artful stacking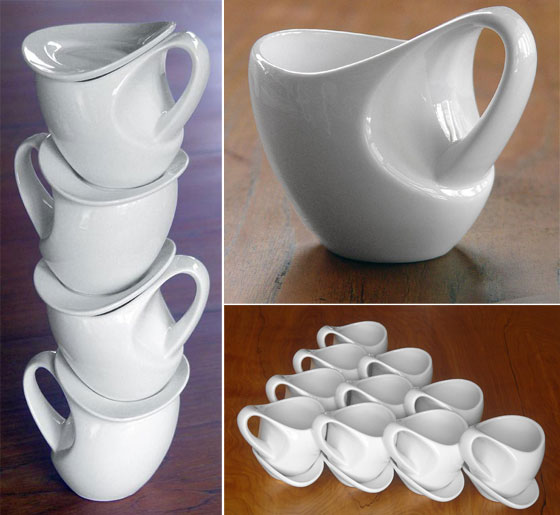 9. Carabiner Mug [buy on amazon]
8 oz. stainless steel double wall insulated mug with a strong-welded 8 cm carabiner handle
Great for clipping on backpacks. Goes anywhere
Four vibrant colors to choose from
10. Face Mug [buy on amazon]
Put a smile on that mug with a hungry mouth chubby that bites off more than you can chew. Perfect for serving milk and cookies, coffee and doughnuts, tea and biscuit, or your favorite snack-time combinations.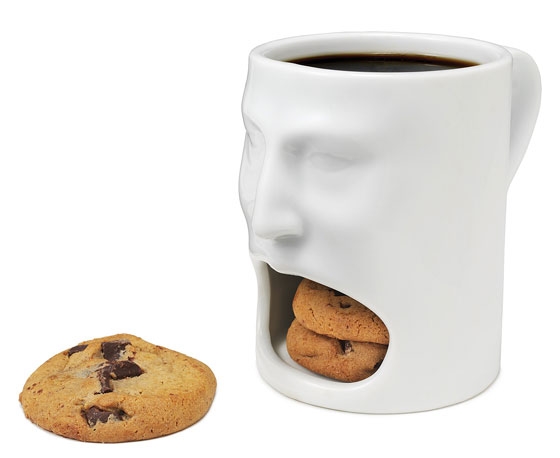 11. Tiny landscape in a coffee cup [source]
When a product is created, it is as though new born, with no memory or understanding of the world around it. These relationships are formed through user interaction over time, the product "ages" and gains knowledge of it's purpose in the world.The stain's image is a representation of the products feelings, memory as the product ages through use.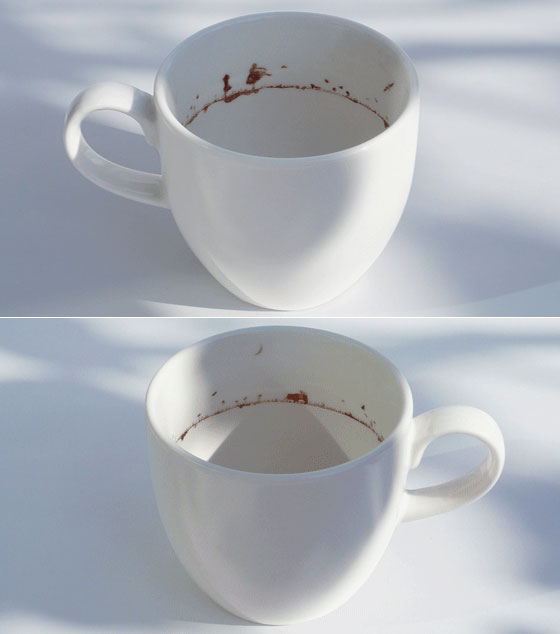 12. imm Living DC069-Fox Hidden Fox Teacup [buy on amazon]
One ceramic teacup
High fire ceramic for durability
White ceramic teacup with fox shape in the bottom of the cup
Dishwasher safe, non-microwaveable
Cup capacity is 16-ounce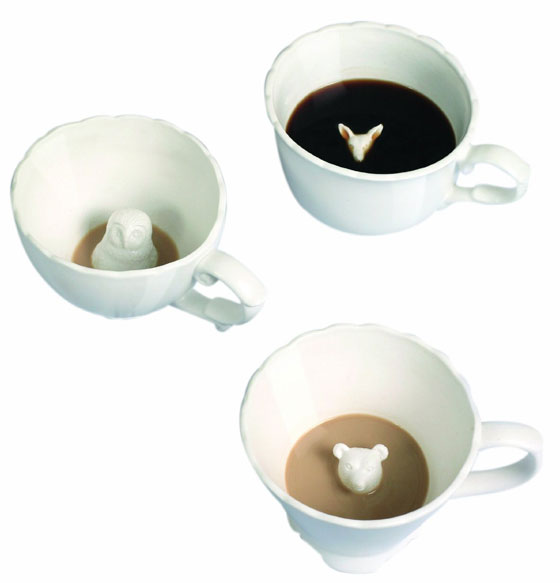 13. Zero Gravity Mug [source]
Creative tea and coffee mug that you can easily balance on its side.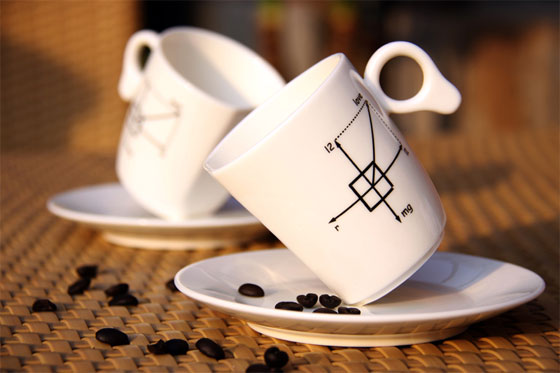 14. 2 Carat Cup, Gold Diamond Ring Coffee Mug [buy on amazon]
Made of white porcelain with gold glaze and clear sparkling Swarovski crystal Packed with 2 carat cup in an elegant over-size jewelry box.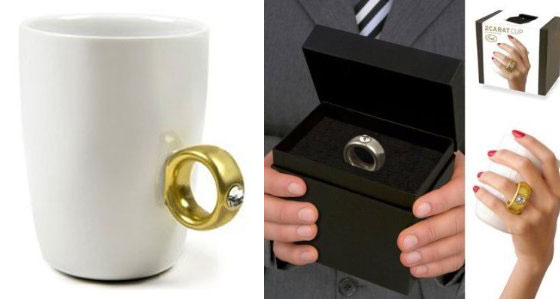 15. Curvaceous Cups [source]
A tea cup that invite the user to wrap his or her hands around for a warm drinking experience. Single cups have a unique organic shape. As a set, the cups interact with each other when placed side by side. Slipcast in ceramic stoneware or earthenware, finished with food-safe glazes. Available in white with contrasting interior colors. Dimensions: 3″ × 5″ × 3″. Holds 4 ounces of liquid. Please note – pricing is for 1 single cup.