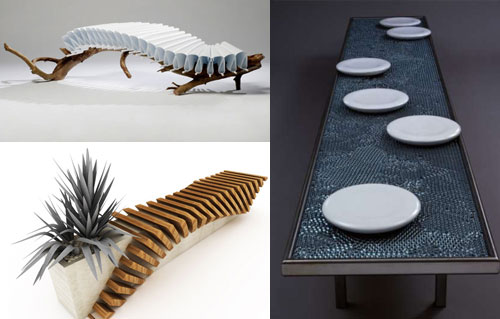 How many ways to design a Innovative and unusual bench? More than you may have thought. In this post, we will showcase
16 Innovative and Unusual Bench Designs
collected from the world. Some of these emphasize artistic execution over functional stability. Others take ideas of function to the absolute extreme, which means you need to sit on the solar battery panel (Not sure how that will feel). But in turn, your bench will provide you with WIFI hot-spot and night-lighting. From artful to artisan, tentacle to transforming , have a seat and enjoy!
1. Bench No. 3 by Floris Wubben [link]
Bench No. 3 is a design by Floris Wubben that asks the question of whether or not benches are for sitting. This bench is made of polypropylene, wood and lacquered metal. The wavy polypropylene is attached to the wooden branch with metal rods. As a consequence, the shape of the polypropylene is given by the shape of the branch. The polypropylene forms a fascinating combination along with the natural wood. Although completely different materials, they both need each other to conquer the whole design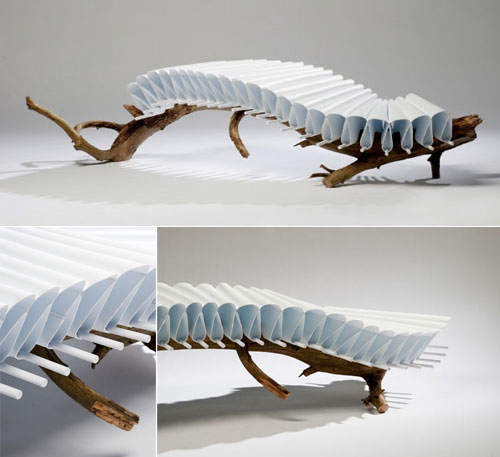 2. Coffee Bench by BEYOND Standards [link]
Coffee bench – a project with adjustable table space within. The idea is about supporting smart use of space. The inspiration came from the need of having a coffee in the garden and no space to place the cup or newspaper. Space of seat and table is adjusted by rotating elements of the bench.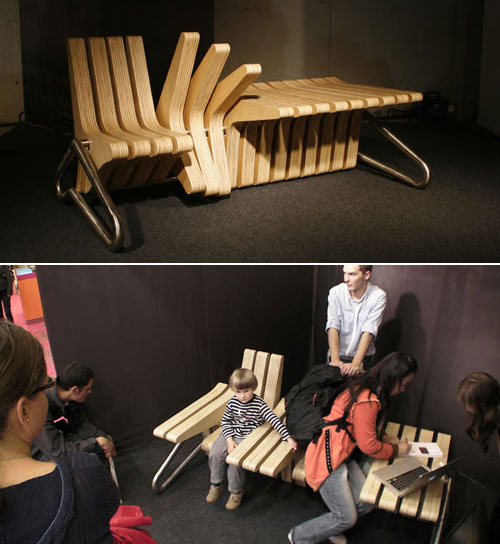 3. Wolfgang Keyboard Bench
[
link
]
The Wolfgang keyboard bench is made up of 2,000 keys embedded into a layered Baltic birch wood. Each key is pressable and actually makes a clicking sound when pressed. The tactile effect of the bench also makes a playful interaction with the bench because you engage with the piece of furniture in a very up close and intimate manner while pressing in the keys.

4. Union Bench
[
link
]
The union bench product is a contemporary seating design that significantly enhances the public and urban experience. With Union it is self-chosen, depending on the state of mind, whether one wants to interact with other or to be on its own. Design by "I do design".

5. Solar Bench
[
link
]
This is a new approach of thinking about what a bench is. While playing the traditional role, this bench becomes a WIFI hot-spot and night-lighting with the thin-film solar battery. Moreover, it is made out of aluminum and recycled plastic regard of eco-issue.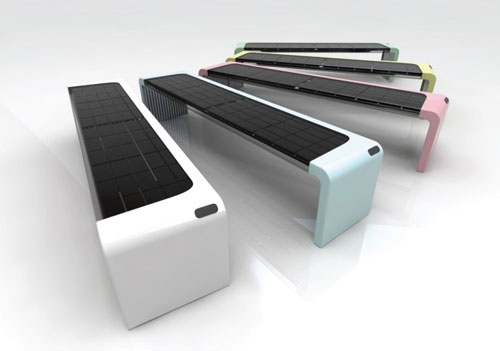 6. Nail Bench
[
link
]
The artist Jay-Hyo Lee creates beautiful and pleasing benches from old nails that are hammered into the surface of natural wood. These nails are then bent to create patterns that evoke the ripples of water or currents of air. Once the hammering and designing job is complete, the artist grinds the nails, exposing raw silver metal to make sure that not even one nail is in a wrong position.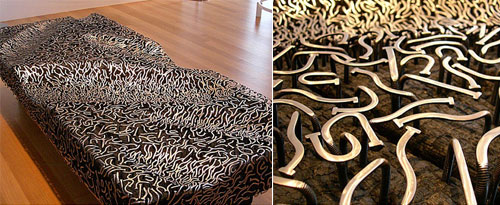 7. Ribs Bench
[link]
Contemporary bench designed by Stefan Lie from Sydney, Australia.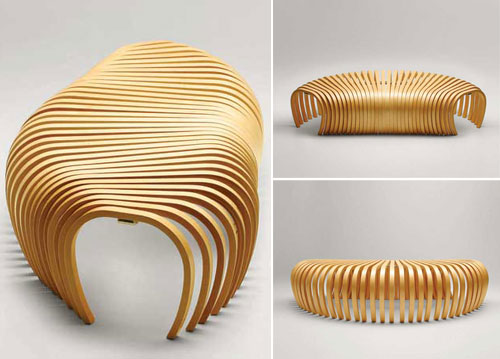 8. Sang-Hoon Lee's Swing Bench
[
link
]
Sang-Hoon Lee's Swing bench brings to mind that episode of FRIENDS, where Rachel is petrified of the swing and how Ross helps her overcome her irrational fears. For the life of me, I can't imagine my childhood without the thrill of swinging in the park with innocent abandonment. Now that I'm all grown up (and a few pounds heavier), the kids won't just let me take the joyride again. I guess I'll have to make do with the Swing Bench to satisfy my urge to be a kid again.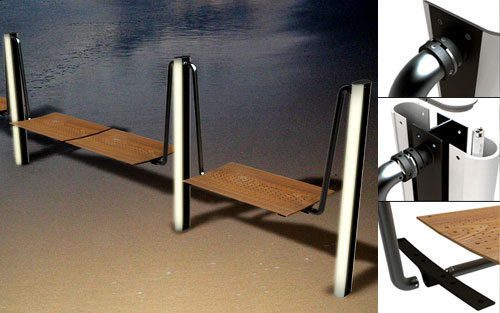 9. The Rolling Bench
[
link
]
The Rolling Bench looks like an ordinary bench with the exception of a winding handle. You can find it on the right side of the bench. The handle rotates the seat surface to expose the dry/clean one. So, after a rain shower, just turn the winding handle and, please, have a sit!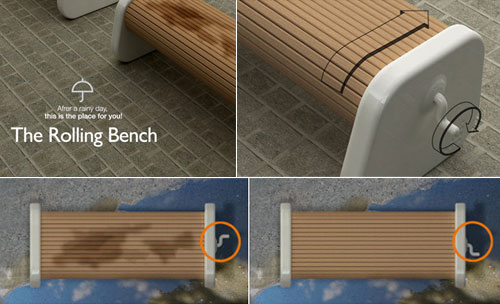 10. Soft Bench
[
link
]
Soft Bench is a bench with a familiar line which suddenly undulates and bends to propose a flexible and relaxed seating on half of its length. The design asks its user to slow down, take time, investing in both object and place.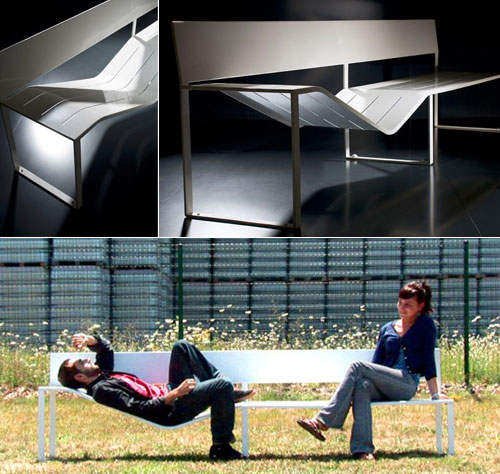 11. slot bench by John Glinister
[
link
]
A bench produced as flat parts, which are then slotted together by the end-user, without the need for fixings such as screws or bolts. Comes with cushions ready-fitted, available in a variety of fabrics, colors and patterns.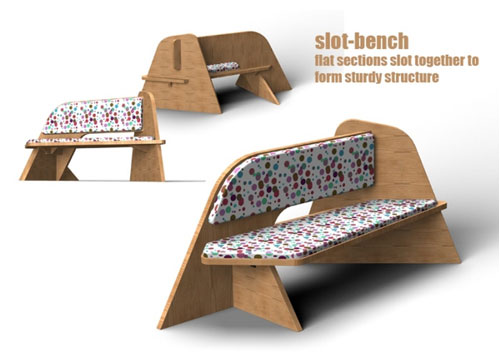 12. E-Turn Sculptural Bench By Brodie Neill
[link]
e-turn is a sculptural bench that's entirely handmade in lacquered fiberglass. it represents the state of the art of today's 3D modeling. e-turn embodies a continuous morphing ribbon – an endless line in 3D space – that twists and turns from seat to structure before overlapping and returning again in the configuration of a seat.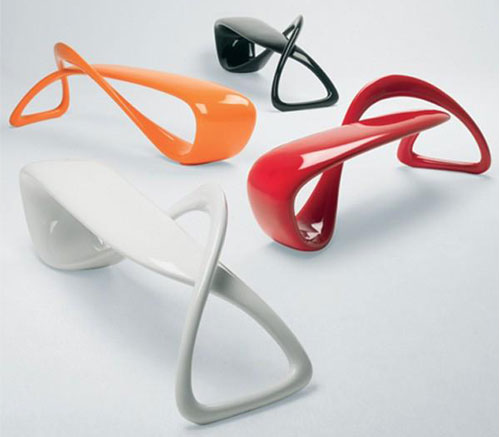 13. Juampi Sammartino bench
[
link
]
Juampi sammartino from argentina has designed the 'cisca: urban seat'. the seat is made from concrete and plates of wood, it can be used in a series or on its own. the design incorporates a section for pot plants and can be used in both commercial and residential environments.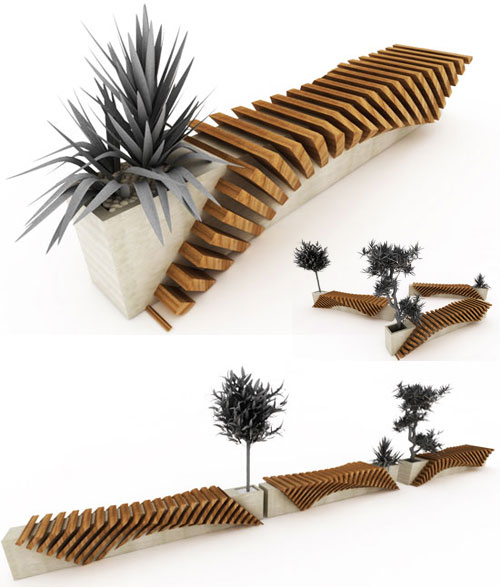 14. Campus Bench
[
link
]
This privately-commissioned Akbank Campus Bench is the work of Turkish designer Joshua Saling. It is designed with the idea of magnetizing interaction of students on college and university campuses. The modified X-shape form of the low-maintenance Dupont Corian white benches can be combined in multiple configurations.
The modular design of the Campus Bench is effective in the adaptation to limited spaces and to personalize on-the-fly to meet the requirements of the users themselves.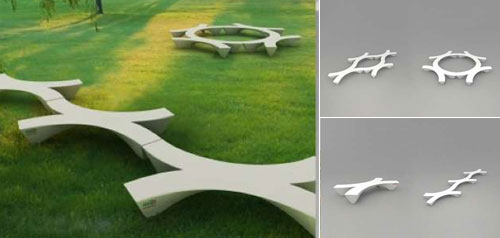 15. Sliding Public Bench
[
link
]
Have you ever wanted to move a bit closer to someone without making it too obvious?
Well now you can with the Come a Little Bit Closer Bench, designed by Nina Farkache for Droog. The bench features individual seats on a bed of marble that you can shuffle and slide to your heart's content.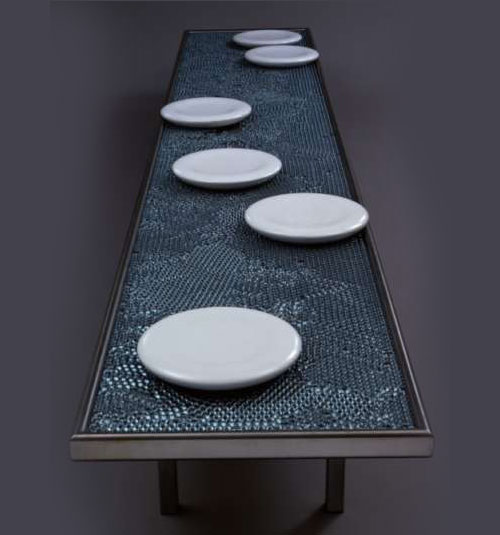 16. Andy goldsworthy style bench
[link]
Each different piece of furniture looks like a unlikely random pile which on the contrary was precisely designed following standard design rules such as ergonomics, stability and use. The different elements are either upholstered, or lacquered / polished."