Why are dining rooms often the last thing we think about in home design? We put so much effort into making our living rooms and bedrooms cozy that the place we eat becomes a secondary thought.
But no matter the size or shape of your dining room — whether it is a corner of your kitchen or a different room entirely — here are a few hacks that will make your space immediately more welcoming.
1. Use a Wide Range of Materials
When designing a room, it is easy to get stuck using one single color or one material. But adding a range of shades and textiles adds warmth to a room. This could be done by using a combination of fabrics, creating an accent wall, or by placing different materials throughout the room.
Adding elements such as wooden picture frames, fruit bowls, and shelves create instant depth. For those who are more hands-on, these additions can sometimes even be made at home. Whatever your capability — whether you work with power tools and often look for table saw recommendations or whether you simply craft — there is likely to be a homely addition you can become involved in.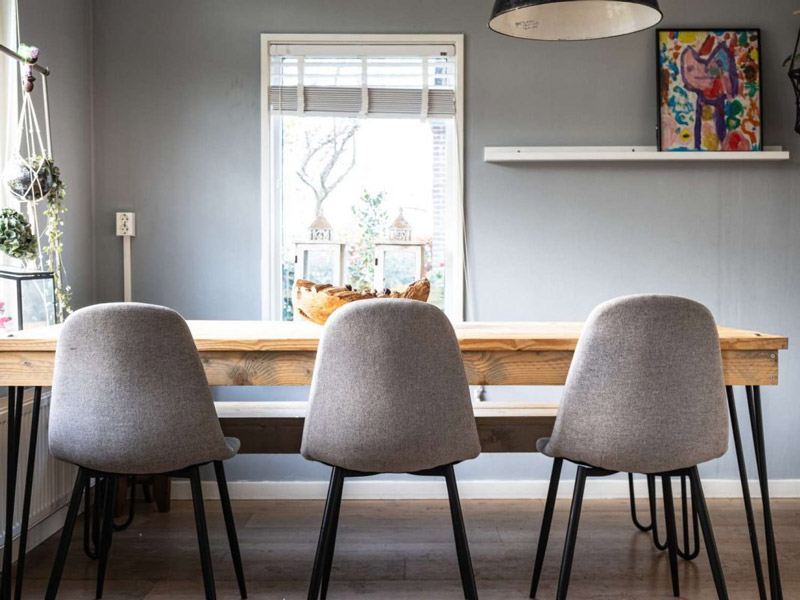 2. Include Some Art
Why does art always light up a room? Whether you select a print, a painting, or a graphic, a large piece of art can transform your room. The same is true for dining rooms. Choose a piece that has hues that complement the objects and colors in the room. It is really up to you and your tastes, but the idea is to find something that you love and calms you. For those working with a small space, putting up art also often expands the feeling of the room size.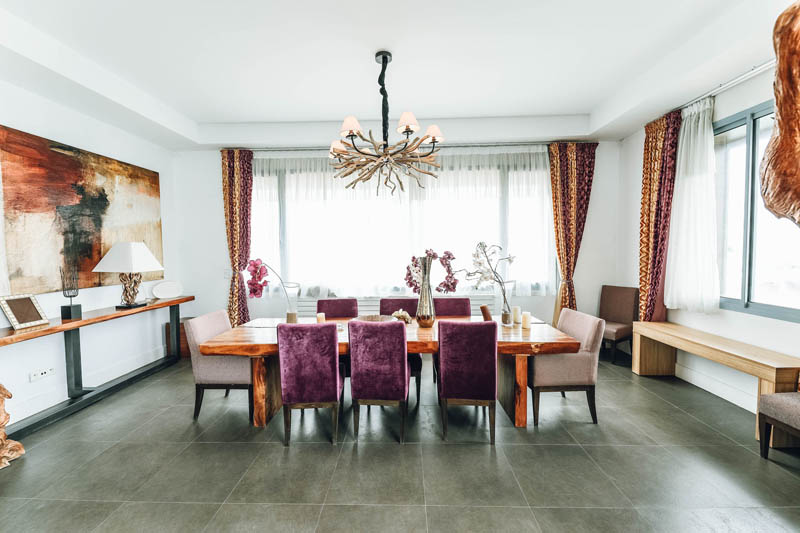 3. Remember to Add Memories
We put photos of loved ones throughout other parts of our homes — why are dining rooms often forgotten? A selection of different sized photographs, arranged across the wall in matching frames, can create a beautiful focal point while bringing happy memories into the space. According to Time, spending time with friends is beneficial for your health, so having photos of them nearby is surely the next best thing.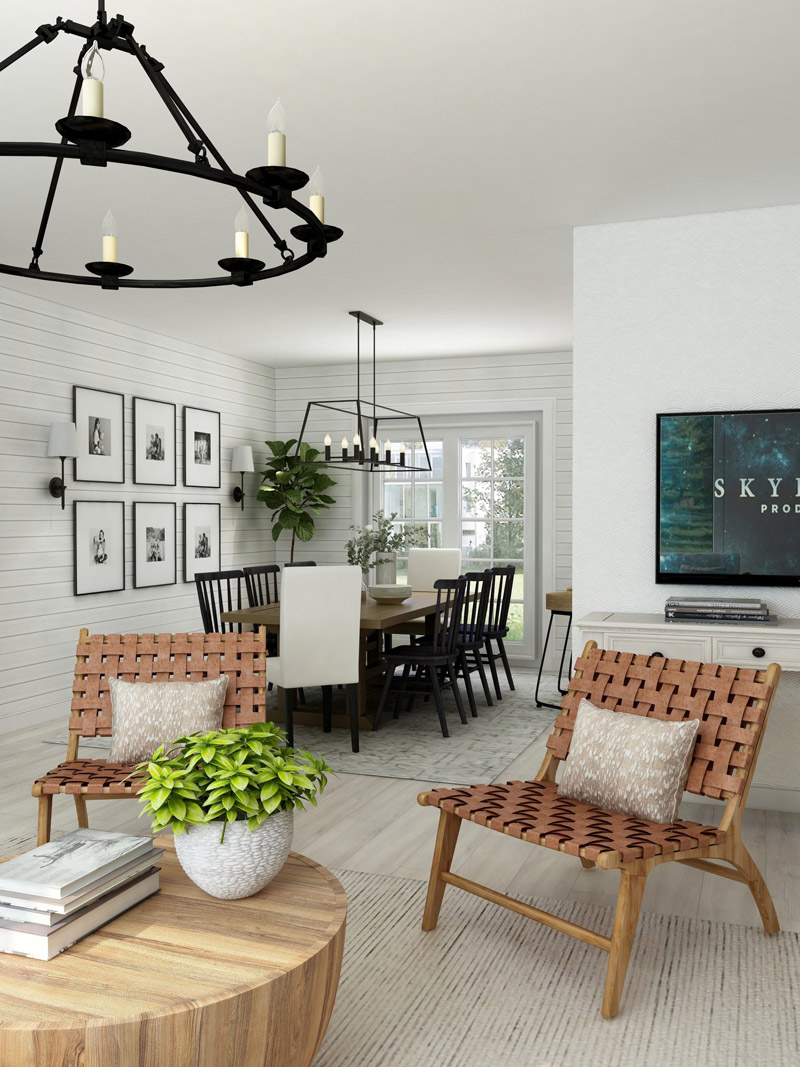 4. Double up Your Rugs
Add another cozy dimension by doubling up on your rugs, a trend that has been replicated in all sorts of homes and written about in Architectural Digest. Place the smaller rug over the larger rug for a relaxing effect. Do not worry about the fabric combinations either. The idea is to loosen the space up while keeping it bright, homey, and elegant.
For those who prefer pared-back, minimalist looks, this technique can work for you, too, but focus on layering rug texture rather than color or print.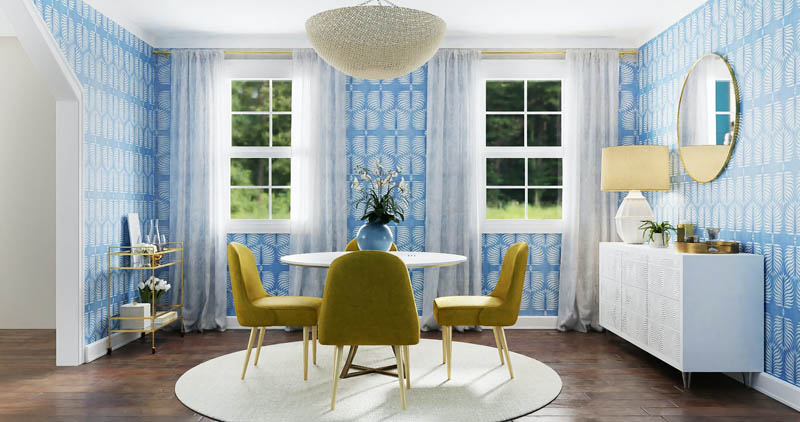 5. De-Clutter to Create Tranquility
Dining rooms often end up being used for multi-purposes. They might become the children's homework spot or a place to pile laundry. This isn't a problem, of course, but clearing out unnecessary belongings helps to encourage everyone to use the dining room area for its given purpose. It will also help the other elements in the room to harmonize and will make it a more enjoyable space to welcome family and friends.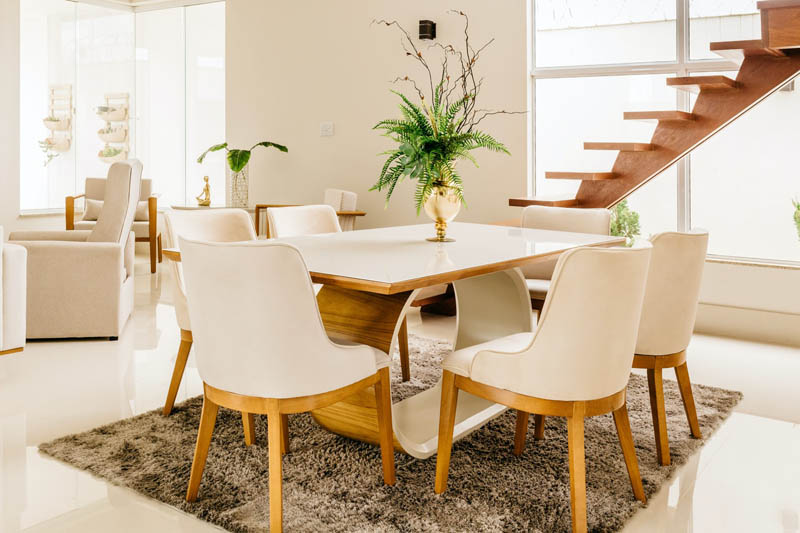 Transform Your Dining Room With These Tweaks
These changes may seem simple, but they will start to alter the whole feel of your dining room. Adding photos and art, combining textures, and clearing out some belongings are all changes that should help to create a restful and comfortable area where you will undoubtedly want to spend more time.