If you love plants but have some trouble of watering them – always over watering or forget water at all, take a look at the cool gadgets shown in this post. These gadgets help you to give right amount of water your plants need and save your time of watering them day after day. These gadgets can be devided into two groups: self-watering planter or water supplier. Self-watering planter has a water reservoir built-in planter and water supplier is an extra accessory you inserted into soil or just place on top of soil, both of gadgets allow water gradually passed to plant.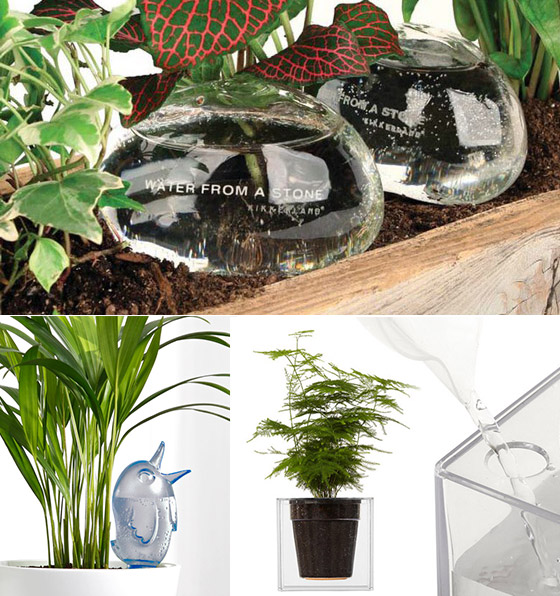 We are a participant in the Amazon Services LLC Associates Program, an affiliate advertising program designed to provide a means for us to earn fees by linking to Amazon.com and affiliated sites.
1. Scheurich Water Supplier Bördy [buy on amazon]
Bördy is simply inserted into the soil of the potted plant and is filled with water through its beak. Then the water is gradually released through the clay pointed end. Bördy´s transparent, plastic body will easily show when it needs to be refilled.
saves over watering
stores and supplies water for up to 4 days
cute bird design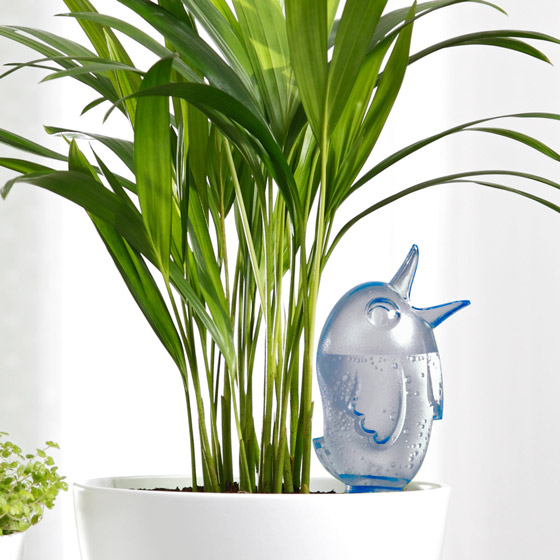 2. Aqua Globes [buy on amazon]
As soil becomes dry, it releases oxygen into the Mini Aqua Globe watering bulb, which in turn releases the exact amount of water your plant needs. Waters plants perfectly for up to 2 weeks.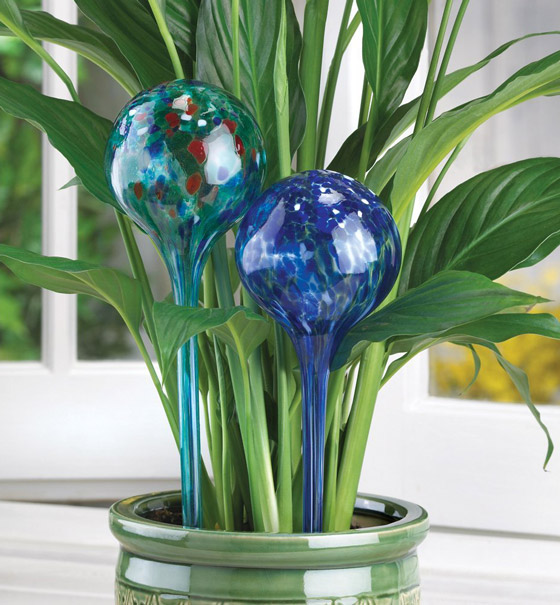 3. Boskke Cube Small Planter [buy on amazon]
The cool new Boskke Clear Cube Self-Watering Planter not only lets you view the exposed roots and soil of your plants, flowers, or herbs, it also keeps them at the perfect level of moisture as well. To water, simply fill the outer reservoir with water and the permeable terra-cotta disk at the base of the inner pot will allow it to soak in over time to self-water.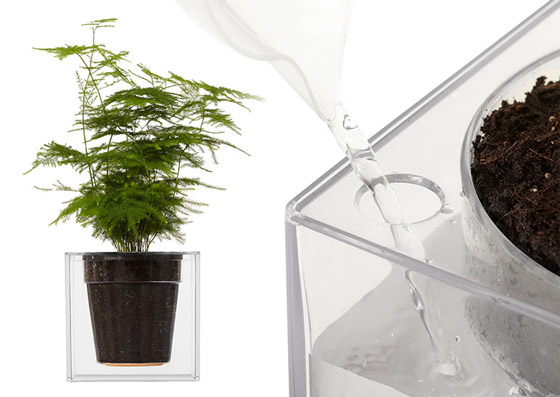 4. Oasis Ceramic Self Watering Planter [buy on amazon]
Marduk products consist of double-lined containers made from a single mold that allow plants to automatically absorb the right amount of water through the lining of the interior wall of the planter. The primary advantage of the Marduk patent is to allow for regular watering approximately once per month and to provide continuous, regular watering on an "as needed" basis for the plant. Thus, the Marduk planter allows for easier care of a variety of "difficult" plants, including those that demand more "regular," "tender-loving-care."
All one-piece ceramic. Outside wall is 6″x6″x5″. Inner wall is 4″x4″x4″. Planter comes with saucer, lid and instructions.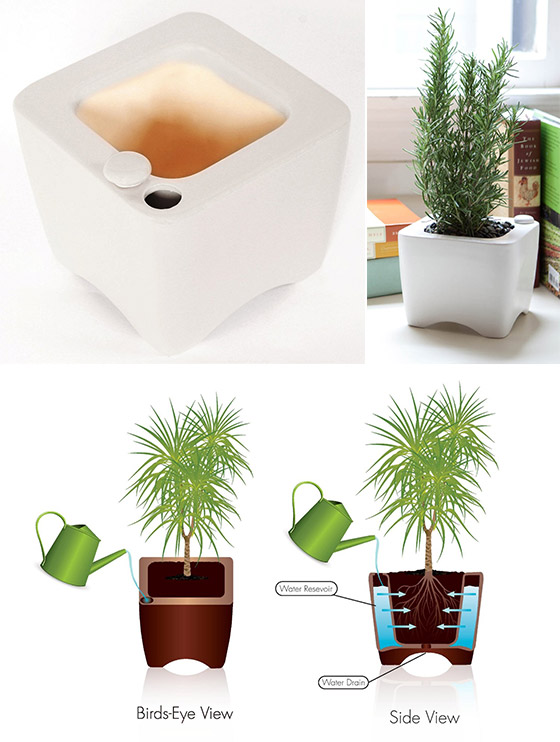 5. Lechuza Square Lechuza Cubico Self-Watering Resin Planter [buy on amazon]
Designed with a removable liner and a sub-irrigation, self-watering system, this ultra-modern square planter will give your plant just the right amount of water and nutrients required for ideal growth with little effort on your part! Once the irrigation system is set up properly, you can leave your plant completely alone for one or more weeks at a time, depending on the size of the plant.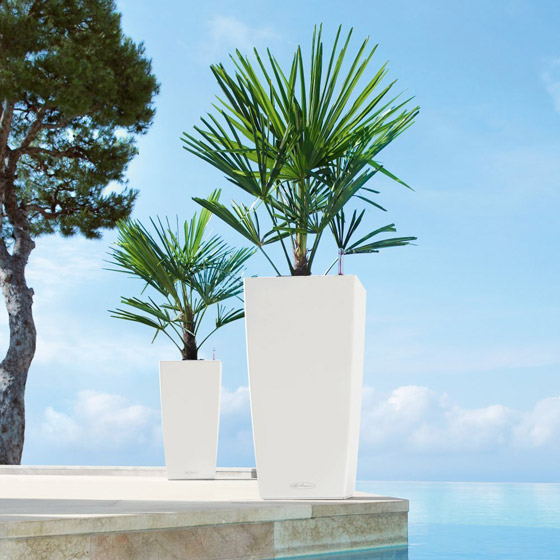 6. Eva Solo Orchid Pot [buy on amazon]
The Eva Solo self-watering orchid pot provides just the right growing conditions for orchids. The nylon wick in the water filled base of the pot ensures that the plant can draw up the water it needs to fresh. Made of glazed faience.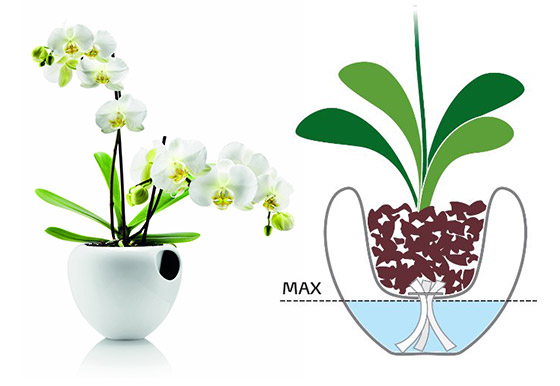 7. Eva Solo Self-Watering Herb Pot [buy on amazon]
The Eva Solo self-watering herb pot enables you to have fresh herbs on hand in the kitchen. The herb pot ensures optimal growing conditions for plants using a nylon wick in the bottom of the pot that draws water up from the bottom pot stand filled with water. Herbs absorb the amount of water they need to stay green and fresh. Made of ceramic, frosted glass and plastic. Includes nylon wick.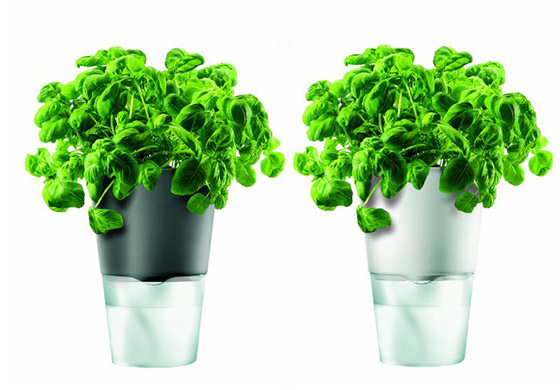 8. Water From A Stone [buy on amazon]
eep your plants perfectly watered! Water From A Stone, slowly lets water out into your planter over the course of 3-4 days. A useful addition to any gardener's home. Made from hand-blown glass. Holds 7-ounces of water.