The backyard is a standard feature for homes, providing a space for barbecues, stargazing, gardening, or lounging on decks or patios. However, it can be challenging deciding how to make an underused or underdeveloped backyard more functional for outdoor living. Luckily, people are discovering that installing an outdoor kitchen is an excellent excuse to spend more time outdoors.
Instead of showing off culinary skills to friends and family behind closed doors, outdoor kitchens are changing how we interact with food and each another. There are plenty of versatile and budget-friendly approaches to building a stylish, functional outdoor kitchen to improve a backyard and entertain guests.
Whether a backyard has a small, large, or odd layout, an outdoor kitchen raises the property value and creates an opportunity to get outdoors. There's nothing like hosting an al fresco meal under the stars, surrounded by family and friends, drinks, and lighthearted conversation.
Create A Serene Dining Oasis to Entertain
Spending time outdoors is an excellent way to reduce stress levels, improve your mood, and strengthen the relationship with nature and other people. If you need some outdoor kitchen ideas to help create an inviting, calming space to eat, drink, and partake in outdoor living, design an oasis. Select a pre-fab kitchen setup for the backyard or surround a fire pit with an oven, bar, and counter space.
An outdoor kitchen built near a backyard garden, flanked by a grove of fruit trees, or under the eaves of a covered deck is aesthetically pleasing. Outfit the range and sink of an outdoor kitchen with elegant backsplash tiles. Install dimmable lighting to set the mood during the day or night, and display pots and pans openly using hooks or floating shelves. If your outdoor kitchen is against wall, it probably is a good idea to install elegant backsplash tiles as well. It is not only easy for cleaning but can serve as a decoration feature as well.
Ensure an outdoor kitchen has a nearby dining area, complete with iron-wrought cafe-style tables and chairs or natural wicker furniture. Use plants, privacy walls, and curtains to give a backyard a more cozy, intimate vibe and get away from it all while still comfortably at home.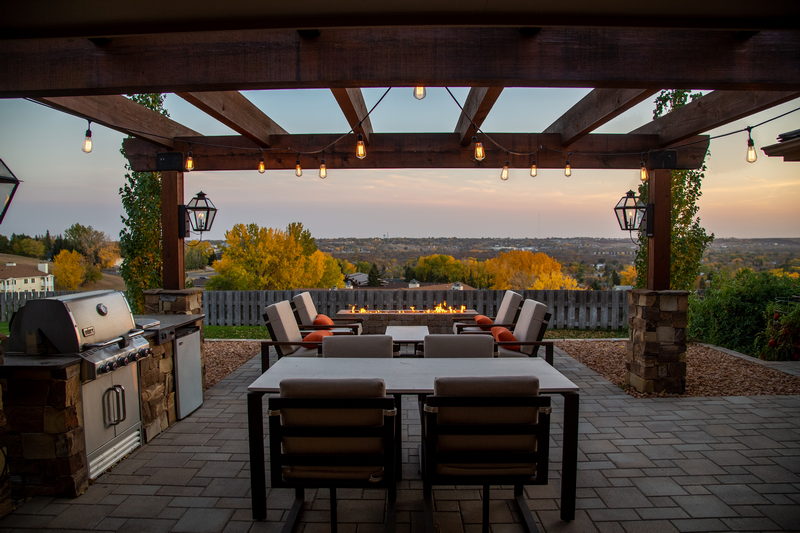 A Shady Poolside Retreat Steps Away
When warmer temperatures return with the arrival of spring and summer, spending time by the pool is a fun, family-friendly activity. It's easier to grab something to eat or drink when you have an outdoor kitchen a few feet from the diving board. A kitchen close to the pool makes it a pleasure to eat, drink, and live the good life.
Indulge in an at-home vacation with tropical drinks and a luau style feast, all made in an outdoor kitchen. Install a kitchen under a covered deck or veranda for an inviting space. Don't forget to add weatherproof shades or curtains to adjust lighting and add a layer of privacy.
Take inspiration from luxury vacation destinations to create a budget-friendly outdoor kitchen that is easy to navigate, cook in, and clean. Ensure appliances, furniture, and accessories establish a laid-back, relaxing place for outdoor living. After spending time doing laps in the pool or showing off a cannonball, an outdoor kitchen and dining space is a place to feel at ease. Of course, having your very own mancave may be the best thing that you can have in your backyard, check out some of the best mancave shed ideas that can work for you.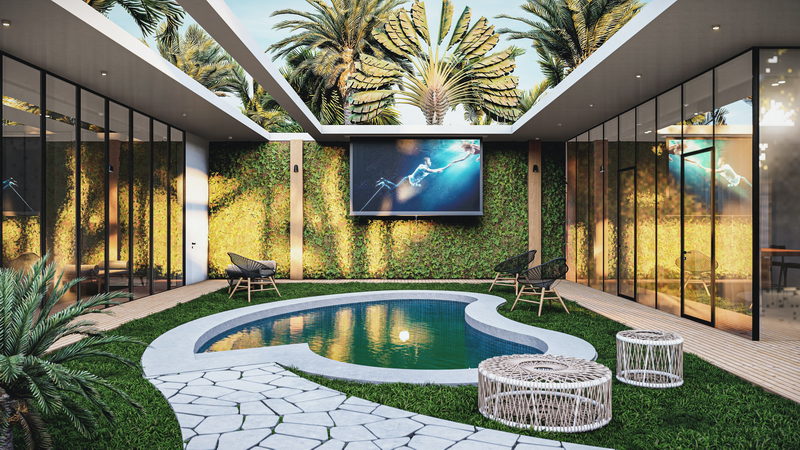 Safely Engage in Open Flame Cooking
If a budget allows, it is possible to get all the bells and whistles when building a functional, attractive kitchen in the backyard. There is nothing like the flavor, texture, and experience of biting into food cooked over an open flame. However, an outdoor kitchen is an absolute must-have to enjoy cooking with fire safely.
Indoor kitchens are not suitable for cooking over an open fire because it risks setting off fire alarms, creating smoke, and leaving lingering odors in a home. Engage in a bit of cooking theater, delighting guests with skewers slowly developing flavorful char marks, or help kids make s'mores. Outdoor cooking makes memories.
Entreat guests to gather close to an open fire pit to roast meats, vegetables, and bask in the glow of the flames. A kitchen in the backyard with an open-flame grill or fire pit makes dining outdoors an unforgettable experience.
Upgrade a Backyard Deck or Patio for Gatherings
Connect indoor living to an outdoor kitchen on an adjacent deck or patio. When it's time to invite guests over, wow them with a beautifully curated outdoor living space. Make a pizza oven the star of an outdoor kitchen, with ample counter space, a farmhouse villa-style sink, and open storage.
Place an outdoor kitchen steps away from rustic tables and chairs, with stylish modern lighting hanging overhead. Whether you want to celebrate a major holiday, get together to watch a game, make a deck or patio the place to be. If an outdoor kitchen is under an open-air structure, add sliding or folding doors to block off parts of the kitchen from the elements and adjust the layout.
Build an At-Home Luxury Bar and Grill
When it isn't possible to get reservations at a favorite upscale restaurant, bring the luxury restaurant dining experience home with a chic outdoor kitchen. Focus on including a bar and grill, so guests can easily select a beverage on tap while waiting on seasonal seafood, steak, or veggies. Take advantage of a raised deck or veranda to build an open-air kitchen.
Consider placing an island with barstool seating steps away from the food preparation area in the kitchen. Install attractive string lighting and a privacy wall using plants or a cut metal screen with a decorative design. Don't forget to include sturdy, beautiful outdoor lounge furniture and tables for additional seating and ambiance.
Spark up the grill, shake a cocktail, and relax in the comfort of an outdoor kitchen. Unlike indoor kitchen spaces where smoke and odors present safety concerns, a modern bar and grill allow at-home chefs to work confidently in a ventilated open-air setup.
A modern, functional outdoor kitchen in the backyard encourages people to spend less time indoors and enjoy more time outside. Entertaining and cooking outdoors keeps guests engaged, reduces energy costs in warmer months, and increases the value and aesthetic appeal of a home.