Surfing, even as an extreme sport, is frequently growing in popularity and its community is one of the most determined and specified in the world. Wave riding is all about stamina, technique, adrenalin boost and equipment.
One of the most distinct surfing features are definitely surfing boards and even if to an ignorant eye they look the same, there are actually many types and designs, depending what skill level are you at or the effect you want to achieve.
For many surfers, their board is an extension of their body and they constantly look forward to a new design or a way to make a statement, send a message or simply stand out in the community.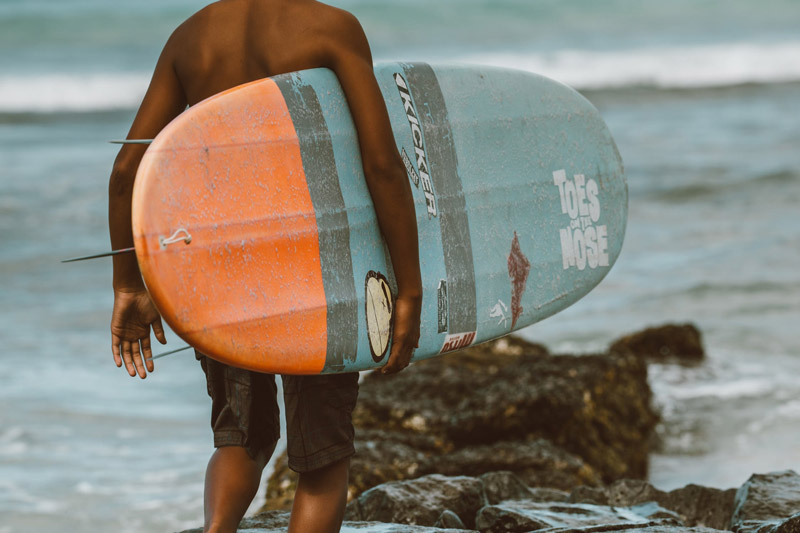 Polishing Your Skill
Firstly, have you been wondering what your posture is telling everybody about your surfing technique and skill? Have you had a longer break from the sport and you are looking for a way to improve your body position, performance and flow on the waves?
Favorably, there are ways to "polish" your technique before you focus solely on your board. Besides practising other forms of surfing (wind, kite, paddle, wake, etc), and focusing on your form, flexibility and fitness, there are organized surfing training and usage of various surfing tools. One of such tools are Smoothstar skateboards which are voted as the #1 best surf trainer. These skateboards are particularly designed and tested to mimic surfing and its elements like wheelbase, deck shape, length and concave give the best surf feel.
Nevertheless you are looking for a way to get back to surfing shape or improve your skill, make sure to reach the moment of satisfaction, because nobody's going to pay attention to your board unless the whole image is up to the test.
(It's) All About the Board
There can be many types of boards, including surfboards, stand up paddle boards (SUPs), bodyboards, wave skis, skimboards, kneeboards…
But, we are mostly talking about surfboards as an important equipment gear, and advancing the same as a professional piece of work or as a DIY project. They were originally made of solid wood and were large and heavy, but luckily most modern surfboards are made of fiberglass foam (PU), with one or more wooden strips or "stringers", fiberglass cloth and polyester resin (PE).
A more developed, stronger and lighter construction is construction made of epoxy resin and Expanded Polystyrene foam (EPS). But even newer designs blend materials such as carbon fiber, fiberglass and epoxy or polyester resins. These boards are generally lighter and will float better and faster than the traditional boards of similar size, shape and thickness.
Even though they're easier to paddle, many advanced surfers do not give positive feedback and prefer that their surfboards are made from traditional materials.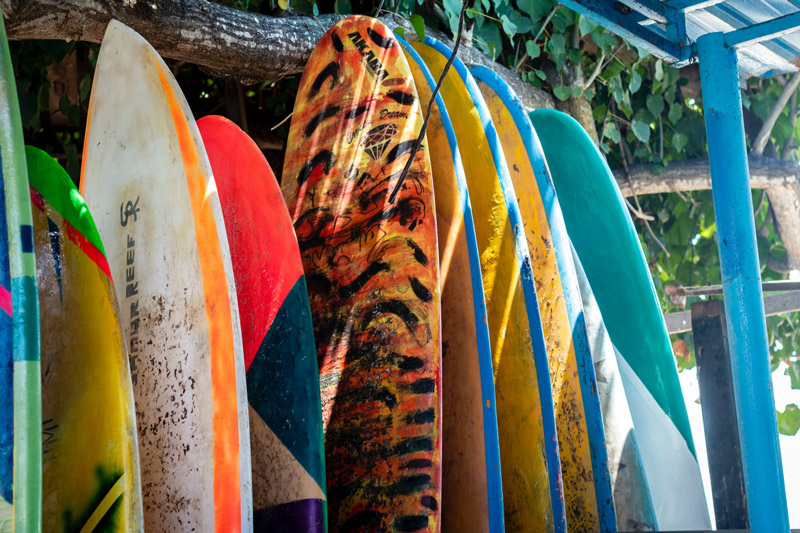 Look at That Board!
Many times the look and design of a surfboard is what draws everybody's attention.
Before you step into battle with the wave and after, when you step out victorious, your board makes an announcement of who you are and what is important for you as a surfer and a person.
Nevermind the shape of your board (short, fun, long, fish, gun, hybrid) you can have the first layer designed and colored or have your board custom made.
Spray paint
If you know how to use a can spray paint, this DIY project is for you, if not, maybe the best would be to leave it to somebody who can.
After cleaning the surface with acetone to remove all the dirt, wax and oils, grit it with sand-paper to rough up the shiny surface so the paint will hold. Assuming you already have the color scheme decided, you can start masking off where each color will go and use painter tape to actually tape off whatever you don't want the paint to get on.
It might require some tape in different sizes and masking paper but this is the point where you can show your creativity and design skill as well.
Make sure to use primer first, acrylic based color and to put two or three layers of protective coat afterwards.
Paint pens
This is a great way to paint a surfboard if you want a small, detailed, characteristic illustration. You can hand draw them directly onto your board if you have artistic skill for drawing. The process is more or less the same – you're just not using can spray actually, but acrylic pens.
Whatever the methods mentioned above you plan to do or use the software and artists to design the board for you – no doubt you will have a board that will stand out in the lineup and in between the waves. Another good thing is that you can try different designs on different boards or you can change your message with every new season.