It is said "When it comes to modern watches, the more complicated and the more technically innovative, the better." Even though it doesn't agreed by everyone, but we have to admit that, these days, we don't just look to watches to tell time, we look to them to make a statement. We look for ingenuity and uniqueness. In this post, we will present you with 10 Cutting-edge and High-tech Wrist Watches. Take a look at our list and then let us know what you think.
We are a participant in the Amazon Services LLC Associates Program, an affiliate advertising program designed to provide a means for us to earn fees by linking to Amazon.com and affiliated sites.
1. HD3 Slyde
Designed by Jorg Hysek Jr, son of famed French watchmaker Jorg Hysek, the stylish HD3 Slyde has an LED screen with a sapphire crystal cover that curves to conform to your wrist. With no physical buttons, the watch has just three battery indicator lights on the side and a light sensor to automatically adapt the brightness of the screen. Everything is controlled by taps or slides on the touchscreen. Sleek and sexy. Price TBD.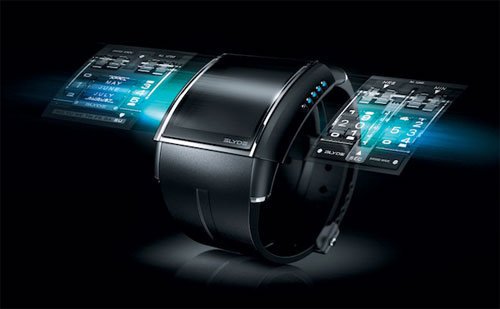 2. Ziiro Watch [link]
Look ma, no hands! This ultra-modern watch has no traditional hands, you'll have to follow the circles to tell time. The tip of the inner swirl represents the current hour, while the outer swirl displays the minutes. The watch combines silicone and metal to form a flexible bracelet watch.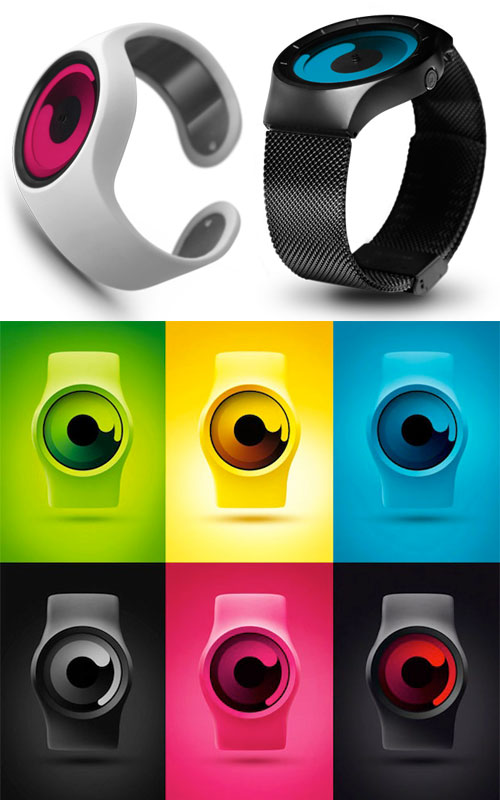 3. MB&F HM4 Thunderbolt Watch
[
link
]
This aviation-inspired watch is stylish to the extreme! This 300-plus component watch is based around the complex HM4 engine and has dual dials – one displays time and the other one shows you how much power you have left. Every component and form has a technical purpose; nothing is superfluous and every line and curve is in poetic harmony.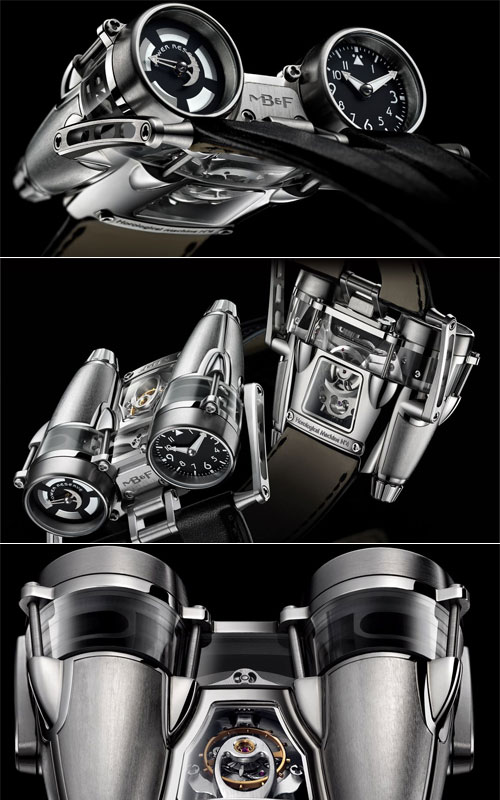 4. Olivier Demangel's Solaris Watch
[
link
]
A concept watch for Tokyoflash, the Solaris features solar cells as an integral part of the design. It definitely has that almost "too hard to use" quality found on most Tokyoflash watches but theres something about this design I find extremely appealing. Perhaps because it looks like a device a sci-fi hero would use to jump through time.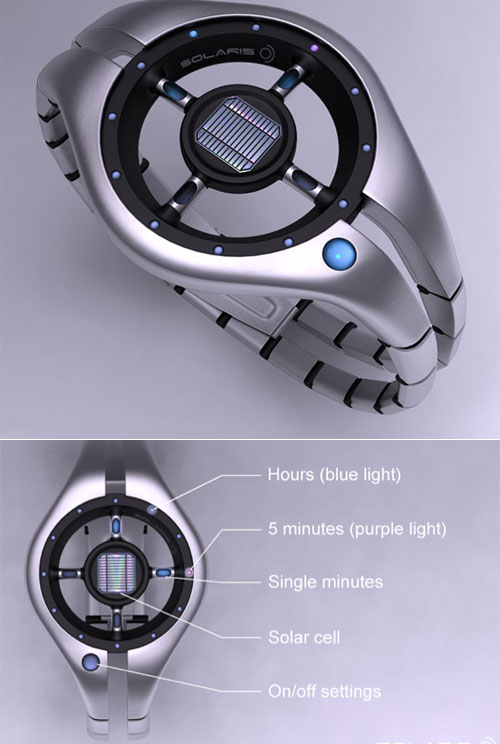 5. Television Remote Control Wristwatch
[
link
]
This very 'gadgety'/'techie' looking watch not only does the essentials like telling the time and date, but also serves as the ultimate universal remote. The six buttons sticking out on the bezel control volume, power on/off, channel up/down, as well as play, rewind, and fast-forward for movies and possibly DVRs. Like any other universal remote, you just need to know the three-digit code for the device you wish to assume control of, enter it in, and the power is in your hands (or, rather, on your wrist).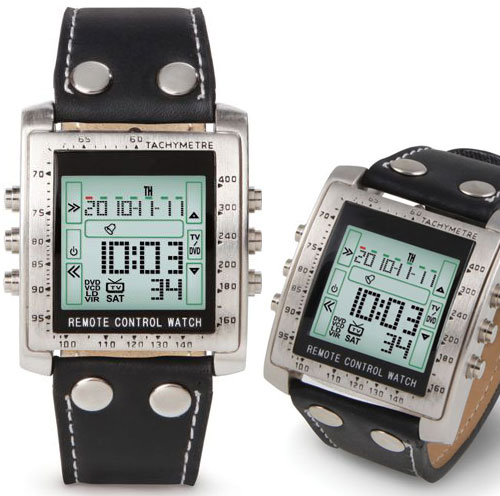 6. Tread 1 is by Devon
[
link
]
The Tread 1 is no ordinary watch by any measure. According to Devon, it's a reinvention of the humble watch with a patented system of what they call Interwoven Time Belts, the very belts that lend the device its singularity. The belts are powered by compact microstep motors providing power and accuracy, the latter being of particular importance to watches. Counting 86,400 seconds per day is no easy task after all. The watch is powered by a lithium polymer battery and one charge will last you a couple of weeks.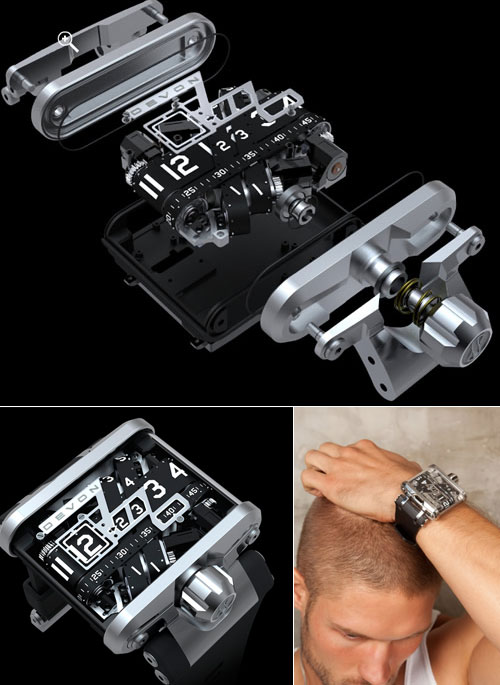 7. Romaine Jerome Steampunk Watch
[
link
]
The Steampunk is large at 50mm wide and the bezel is oxidized metal (going with the Titanic DNA theme). The "X" motif of the bezel claws are continued with screws that go deep into the dial. These screws are also meant to resemble steam engine pistons. The large Roman numeral hour markers for 12 and 6 are large and purposes done in a scratched-up texture. It is pretty neat and still feels wild. A watch like this is easy to poke comments at, but think about it… you'd probably gladly wear it.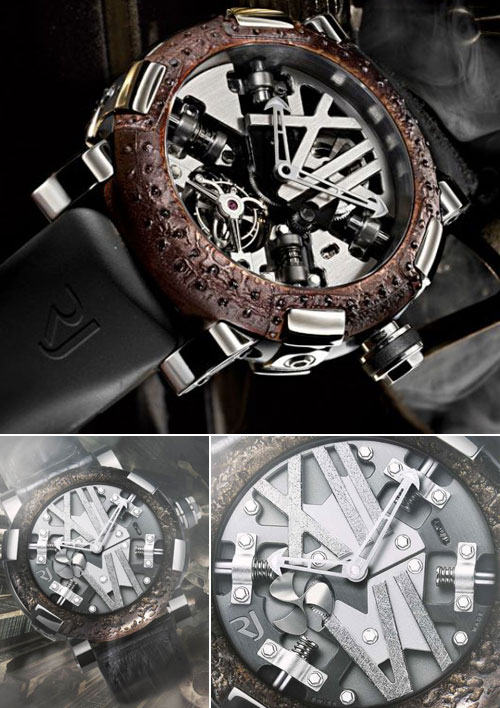 8. Sony Ericsson LiveView
(discontinued)
Making and receiving calls on a watch may be a little too geeky for the average guy, but how about just being able to check your phone without digging it out of your pocket. The recently introduced LiveView, which will launch later this year, does just that, connecting to your phone via Bluetooth and displaying information like missed calls, texts and Facebook updates. This is more like an auxiliary 1.3-inch OLED display for your SE Android 2.0+ smartphone. It even includes a music player and Android app support.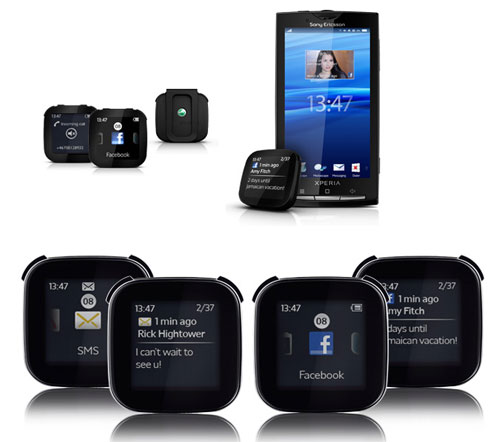 9. Quiksilver The Ray Eco-Watch
[
link
]
The World's first eco-friendly timepiece, a hand-built watch that has been designed to not only be built from recyclable materials but also do so with a minimal carbon footprint. It doesn't require a battery and runs on automatic movement. It's also kind of a conversation piece.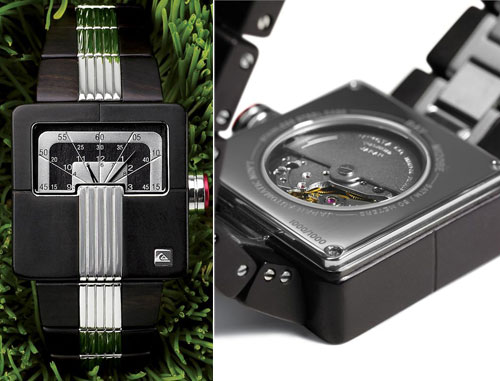 10. Phosphor E-INK Curved Leather Band Watch
[
buy on amazon
]
The digital display utilizes the revolutionary E Ink electronic paper display featuring its paper-like, high contrast readability that is sure to be noticed by others around you. A standard numeric digital display in one mode, a graphic hour clock display in another, and ability to switch between white-on-black to black-on-white time display give this digital watch a style all its own.
* Case width: 38.0mm
* Edge thickness: 8.0mm
* Overall case thickness: 12.5mm
* Water resistance: 5 ATM – 50m
* Display: 12 hour only
* Alarm: Built-in alarm